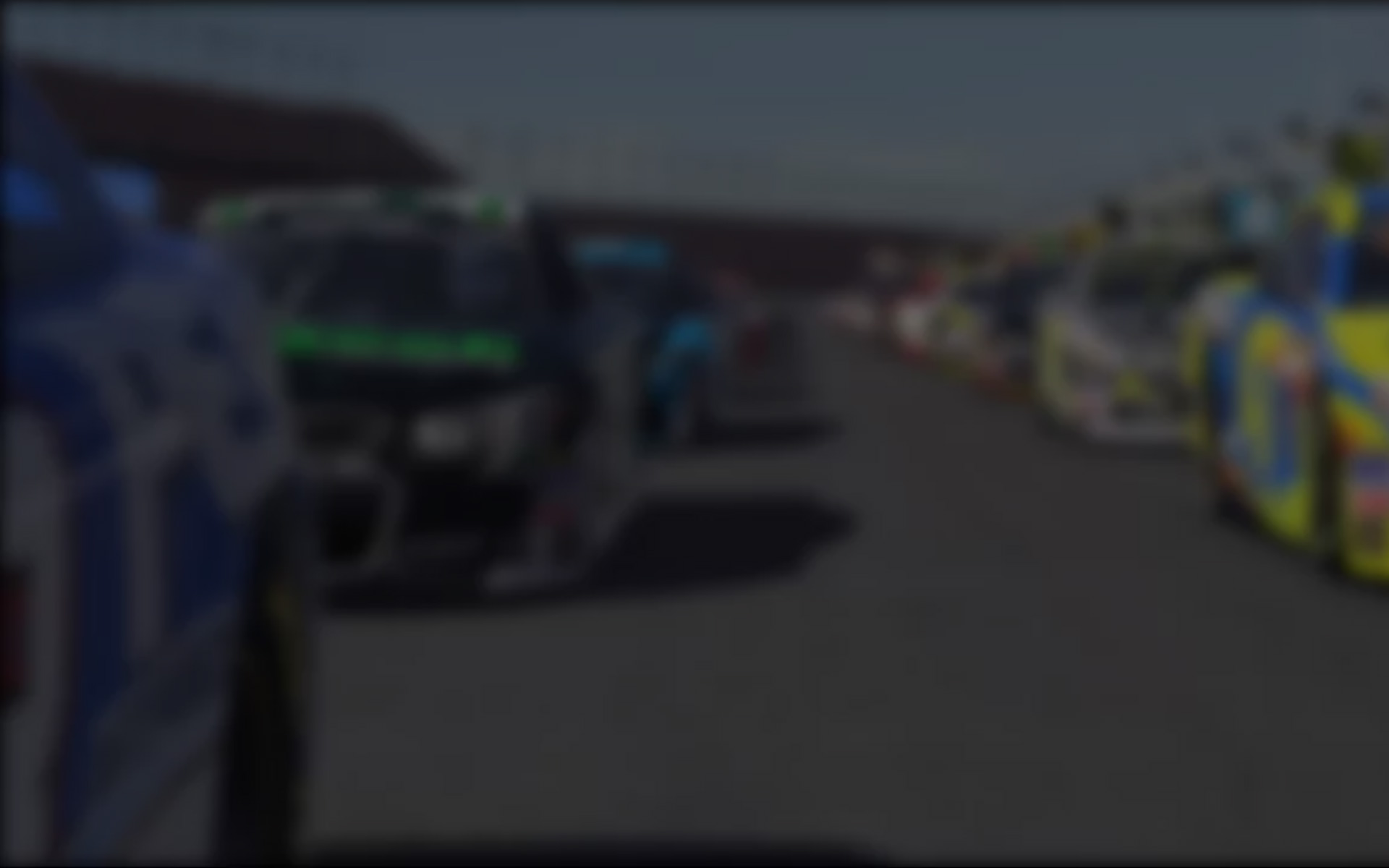 Atlanta Motor Speedway has built its physical world reputation as being fast, slick, and downright tough to get a grip on . . . literally. All the same characteristics transferred over to iRacing's virtual version of the facility and it showed as only the best of the best were able to make a charge at the aging track. Although its 1.5 mile layout may tempt some to classify AMS as a typical "Cookie Cutter," competitors in the NASCAR iRacing.com Class A Series learned that claim is half-baked.
In the week's top slit, Steve Sheehan and Bob Bryant had a dogfight to the finish, much resembling Jeff Gordon and Jimmie Johnson's ten lap brawl to end the Sprint Cup race early Tuesday. Unlike Johnson, Sheehan was able to track down the leader late and find enough grip to make the pass. Bryant did not roll over easily.  Like a true competitor Bryant made Sheehan earn it . . . and he did, going around the outside of Bryant with only three laps remaining. As hard as the two were racing for top honors, the battle was as clean as can be.
The second highest race of the week came only two hours later on the Sunday evening that left NASCAR fans itching for entertainment after a rainy night in Georgia. After the fantastic finish between Bryant and Sheehan, this race had very high expectations.  It not only lived up to them, it surpassed them.
With Sheehan and Bryant both taking the green flag in this race as well, spectators knew this could be another race decided within the last five laps. Unfortunately for Sheehan, an early incident would damage his car, while Bryant proved to be a strong contender. Brad Davies, Josh Berry, and Bryant all pitted with fifty laps remaining in the one hundred and ten lap race, right on the edge of the fuel window. The race would go green to the end and those three sim racers broke away from the field. With Bryant clutching the car to save gas, Berry and Davies were able to get under the leader and shuffle him to an eventual third place finish. The race between Berry and Davies looked all but settled with Berry to come out the victor, when he ran short on fuel only 200 feet from the finish line. Davies had enough to edge him at the line, and claim the 5209 SoF race.
With the majority of NASCAR iRacing.com Series World Championship competitors taking part in multiple races on the week, it hurt their point averages and enabled some Class A drivers to sneak in big totals on the week. Both Nick Ottinger and Alex Warren once again put-up huge weeks to go along with their huge seasons thus far. Mitchell Hunt went fourth overall with a stout 287 to put him right back in the points battle. Bob Bryant was consistent enough in all five of his race to throw down 278 points, while Del Mears impressed everyone with a solid 272. Justin Thompson continued his quiet, yet very impressive season at Atlanta, bringing home 266 points on the week.
Jeremy Thornton embarrassed his competition Week Five at Atlanta, winning all eight of his starts. With only three poles, Thornton had to overcome poor track position at times but was able to persevere. Tyler Hudson had the second most wins of the week, taking six victories in thirteen starts. Gabriel Solis lapped the field in starts, taking to the slick oval thirty-two times over the course of seven days. Solis completed a staggering 3,223 laps, and managed nineteen top fives and two wins. Jesse James (no not that one) started fifteen races, and finished in the top five in seven of them.
The NiCAS goes from one extreme to the other, as next week finds the Class A drivers racing under the lights at Richmond International Raceway. This short track will not only challenge drivers to be calm under the most tense situations, but also to take care of their Impalas over the course of the 140 white knuckle laps. Be sure to head over to iRacing.com to get in on all this racing action and more!
---
You may also like...
---