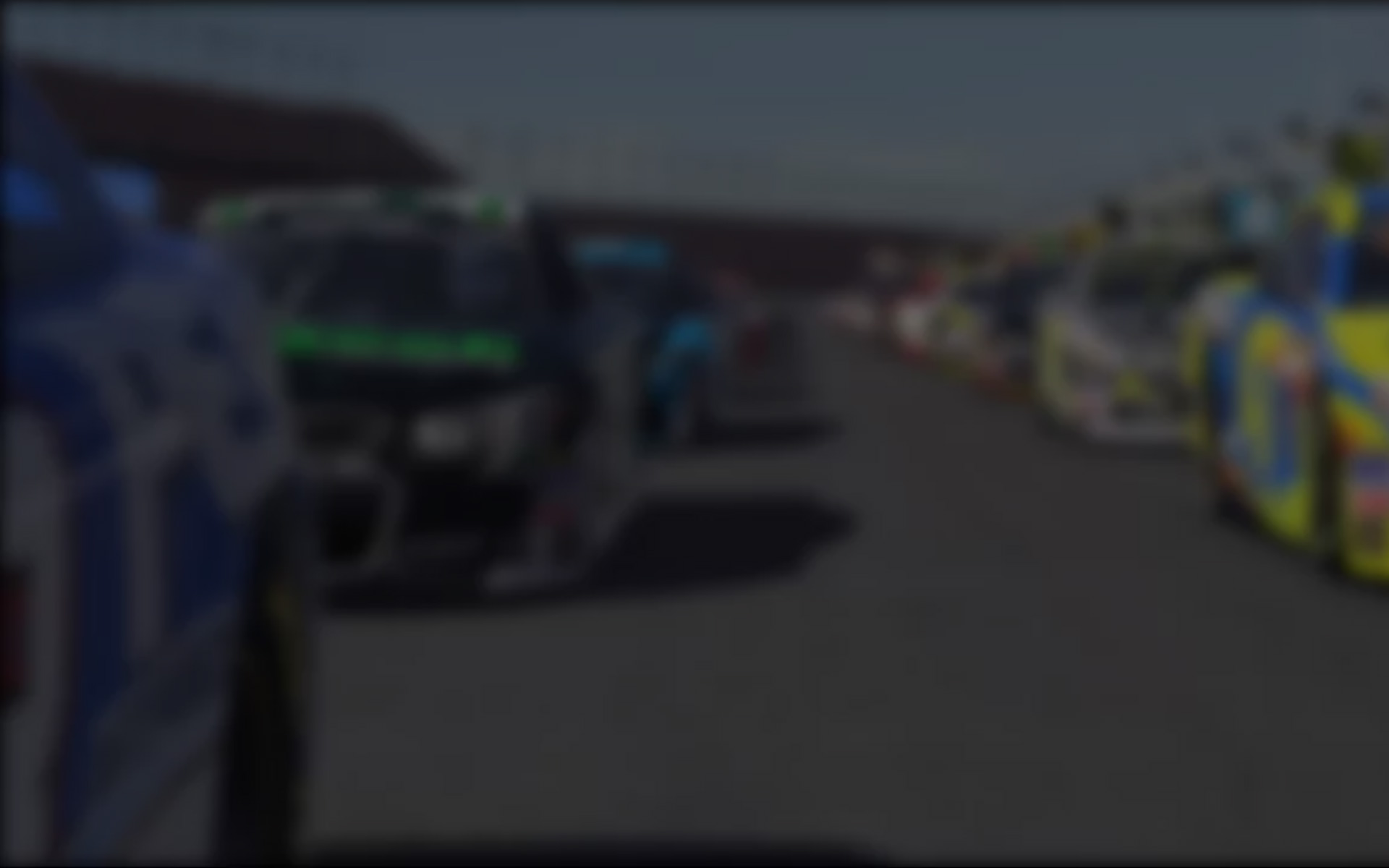 Kenny Humpe made his second trip to Victory Lane in as many NASCAR iRacing.com Pro Series races, this time getting the best of the field at Richmond International Raceway. Humpe held-off Josh Berry on a late-race restart and took the win when the caution came out just as he was about to take the white flag with Berry right on his bumper. Chris Overland was third, Justin Trombley finished fourth, and Brandon Schmidt came home fifth.
Humpe started from the outside pole and hung around the front of the field all race, showing good pace on both short and long runs.  When it came down to getting the win though, it was pit strategy that helped him the most.
When the caution waved on Lap 164, Humpe was third behind Berry, who had been extremely fast on the long run all night, and Mitchell Hunt. Berry chose to pit out of the lead and change his 20 lap old tires, which turned out to be the wrong call as roughly half the lead lap cars stayed on the track. When the online race restarted with 32 laps to go, Berry found himself all the way back in fifteenth.
Those fresh tires proved beneficial as Berry quickly sliced his way through the field, but the cautions kept flying, hurting his chances to gain more ground on the leaders. While Berry was slicing through traffic, Hunt and Humpe were going at each other for the lead. Hunt made a valiant effort but Humpe's car was just too strong and he completed the pass with 19 laps to go.
Meanwhile, Berry had moved into fourth and the yellow flew a short time later, allowing him to catch the three frontrunners. On the ensuing restart, Berry passed Hunt for third and now only had Justin Trombley between himself and Humpe. Unfortunately for Berry, another yellow flew waved, costing him even more laps. By the time the race restarted for the final time, there were only five laps remaining, meaning Berry had to move fast. He dispatched Trombley in one lap and when Humpe crossed the line to make it two laps to go, Berry was less than two car lengths behind.
However, the two were not destined to see the checkers under green as Nicholas Morse spun with two laps remaining, bringing-out yet another yellow which ended the race. Still, with so little time to make up his lost track position, Berry impressed in a big way and only came up one position short.
"When we got that green flag run I just got outwheeled . . ." – Chris Overland
Third-placed Overland was also pleased with his result and looked comfortable out front, leading a race-high 87 laps after grabbing his second pole in seven races. "I'll take it, but when we got that green flag run I just got outwheeled," Overland said. "The guys passing me were certainly better drivers and I still felt pretty good to be running top five."
Overland's third place run allowed him to extend his point lead slightly over Schmidt. Overland is now 29 points ahead of Schmidt heading into the two-week winter break. Berry is third, 40 points back,while Landon Harrison's continued his backward slide with a P16 at Richmond and is now in fourth. Bryan Blackford rounds out the top five following last night's eighteenth place finish.  Humpe also continued his meteoric rise in the standings. Two races ago he sat thirty-eighth; now he is tenth with one less race counted than all but one car in front of him.
After two weeks off the NASCAR iRacing.com Pro Series field will turn right for the first time in series history as the series makes its debut at Watkins Glen International. The race will run without cautions, so qualifying will be of upmost importance, especially since who knows what might happen the first time through Turn One and the Bus Stop. In any case, it should be a wild show as Overland looks to maintain his point lead while Humpe and Berry attempt to close the gap. Be sure to catch all the road racing action on January 7!
---
You may also like...
---