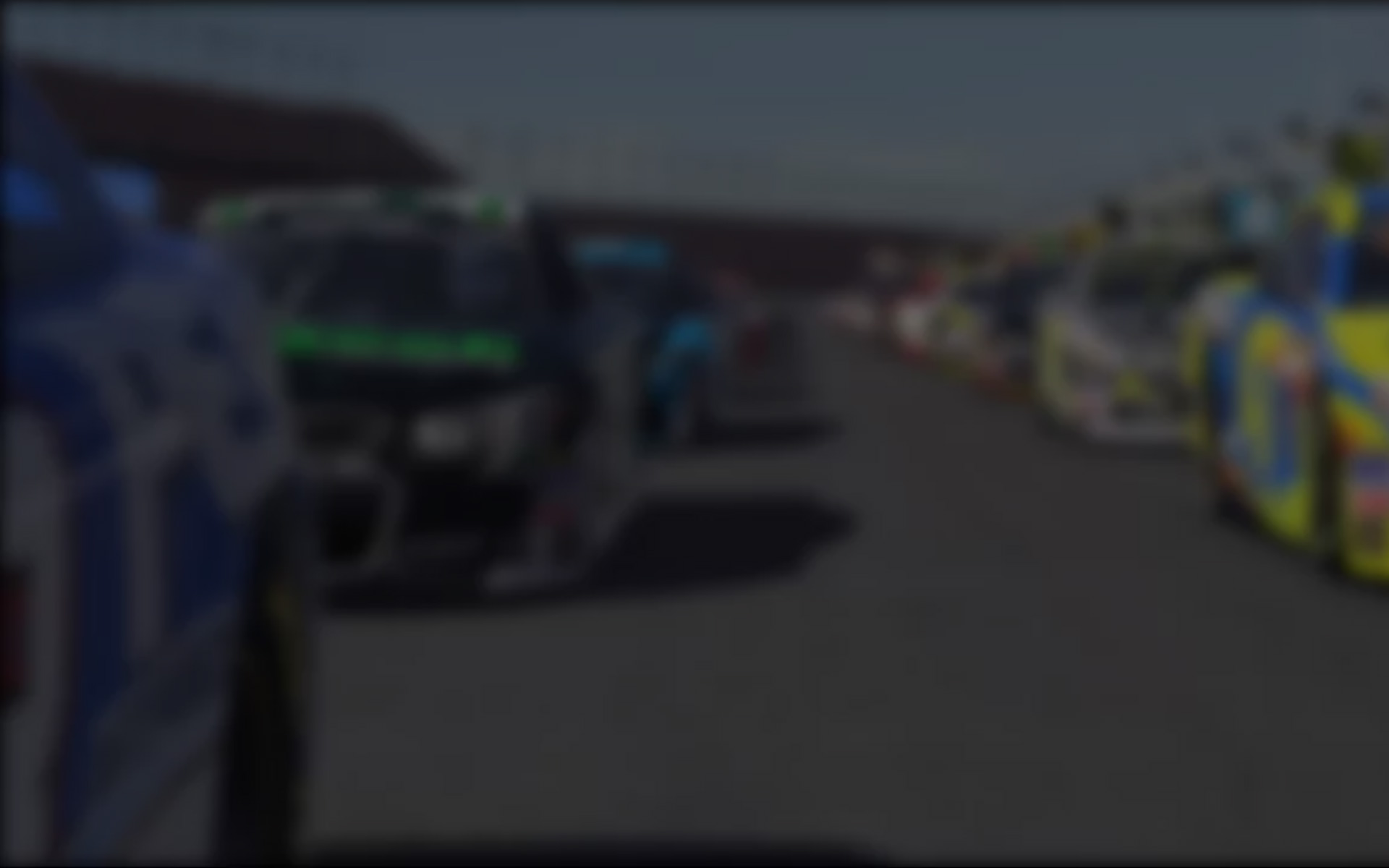 In a toughly-fought 47 laps around the virtual Road America, Greger Huttu battled his way to the front to take victory at the chequered flag. Huttu's second win of the 2013 season puts the reigning champion equal on points with Hugo Luis, with the pair the only drivers to secure wins this year.
Starting from pole position with a lap time of 1:34.839, Huttu was immediately swamped at the start, as fellow front-row sitter Martin Krönke and third-placed Atze Kerkhof made near perfect get aways. Approaching Turn One in a three wide formation, Kerkhof moved to the front after slipping through the middle of the William-Toyota FW31s with Team Redline stable-mate Huttu beneath his rear wing. "My start was amazing," Kerkhof told inRacingNews. "Everything came together and I took P1! That wasn't something I was counting on, because I changed my set-up to drafting instead of leading in clear air."
For the next few laps Kerkhof, Huttu and Krönke established a three car breakaway, with tenths barely separating them. That was until their third time around the four-mile circuit, when Krönke was forced to check-up behind Huttu on the approach to Turn Five, allowing the Team Redline cars to escape from the German's clutches.
With Huttu filling his mirrors, Dutchman Kerkhof was feeling the pressure and a small error at the end of Lap Six enabled the Finn to make a run along the straight and move into the lead approaching the opening corner. Whilst Huttu continued to put the hammer down, Kerkhof remained on his tail, with the duo never split by more than two seconds as they approached their first scheduled pit-stops on Lap 29.
"My race was good with no mistakes." Huttu wrote this week. "The start wasn't optimal and Atze passed both myself and Martin with a great start. The draft plays a big role here so I thought 'I'll just follow Atze and try to work together during the first stint to pull away from the guys behind.'
"I thought 'I'll just follow Atze and try to work together during the first stint . . ." — Greger Huttu
"I seemed to be just a little bit faster and on Lap Six I think Atze made a couple of small mistakes and then decided to let me go by on the front straight. That was great teamwork from him and it paid-off as we started to pull away more from Martin and Hugo in the middle part and end of the stint."
Meanwhile, Luis who'd struggled to a fifth place qualifying position, was now making his way up the order and heading for the podium. After getting past Luke McLean at the start, Luis had remained hooked on to the tail of his My3id teammate Krönke, until Lap 15, when he moved into third as the pair negotiated Turn Five. With Kerkhof and Huttu a distant three seconds ahead, Luis was able to put in some quick laps, so when he rejoined the circuit following service, second position was just two-seconds away.
But despite his best efforts, Luis was unable to get close enough to the Dutchman to apply any real pressure whilst, at the front, Huttu was able to relax with a five-seconds advantage in his pocket. That was how it was to remain, as the top three played out a stalemate to the finish line, with Huttu taking victory honours ahead of Kerkhof and Luis.
Although the run to the finish line was relatively calm for the front-runners, the fight for a top-five placing wouldn't be decided until the penultimate lap of the race. Electing to run 'long' on his first stint, Max Dell Orco had worked his way from eleventh on the grid to sixth by the time he made his scheduled pit-stop on Lap 31. Ahead of him was McLean, who'd also started with a heavy fuel tank, and Krönke, who by now had dropped to fifth position. It looked as if this would be the way the trio would finish, but with just over five laps to go, Dell'Orco was gifted fifth position, when Krönke bobbled at Turn Five. Then with just two-laps remaining on the board, an earlier fuel calculation error by Redline's McLean saw the fourth-placed sim-racer take to the pits again for a splash-'n-dash, which would eventually consign the Australian to a ninth place finish – and hand Dell'Orco and Krönke fourth and fifth spots respectively at the flag.
"Unfortunately my brain was just not into gear, especially in the first 10 laps," McLean explained post race. "Countless off-tracks and almost crashes dropped me off Hugo and Martin. I intended to go one lap longer yet I was a hair too short so I had to pit with everyone else. Than I miscalculated my fuel AGAIN and had a pit right at the end. Massive shame as I felt I had really good pace here, just a comedy of errors."
Also benefiting from McLean's demise was Jake Stergios, who made no net gain on his sixth spot on the starting grid by the end of the race. However, it was by no means plain sailing for the American as he had to fend-off a late attack from Team MMM's Fulvio Barozzini, who'd leapt into seventh by virtue of a fast pit-stop. "I was about 1.5 seconds behind him but our pace was exactly the same," Barozzini explained about his battle with Stergios. "In the final eight laps I did a maximum effort and managed to catch his slipstream. He could get the best from some lappers he found in the straights, so I really got close to him only in the very last lap. He had an awesome run out of Turn Two so I had no chance for a true attack and I ended-up in seventh."
"I did a maximum effort and managed to catch his slipstream." — Fulvio Barozzini
Although Andre Boettcher lost positions when taking on fuel and tyres, the Frenchman was several seconds clear of Aleksi Uusi-Jaakkola with 10 laps to go, and looked set to secure ninth spot. But with the bit between his teeth, Uusi-Jaakkola reeled-in Boettcher to sit on his gearbox with five laps remaining. In tandem the pair snaked around the 14 corners of Road America, until Uusi-Jaakkola seized his opportunity to take the position from Boettcher. However, as the pair exited Turn 12 side-by-side, an innocuous contact between them sent Boettcher hurtling into the wall and out of the race. Unscathed, Uusi-Jaakkola was able to continue in a ninth place that was destined to become eighth once McLean headed to the pits for a late fuel stop.
Whilst McLean was ruing his fuel calculations, Orion Race Team's Davy Decorps was celebrating a jump of 12 positions, one that saw him grab a top-ten finish behind the Australian's Team Redline Williams-Toyota FW31. Starting from the eleventh row on the grid, Decorps made up the lions-share of positions on the opening lap of the race, when a collision involving several cars saw him vault to twelfth by the end of his first circuit. Then a mistake by Emil Spindel on Lap Six awarded him eleventh position, which would later become tenth when Boettcher was forced to retire with heavy damage.
With four rounds of the 2013 iRacing.com World Championship Grand Prix Series in the books, Luis and Huttu share the top spot on the leader-board with 175 points each. The second place finish for Kerkhof consolidates his third place on 143 points, 37 clear of Stergios who is a further ten clear of Kronke.
Round Five of the Championship heads to Phillip Island in two weeks time. With Huttu's bid to retain his title gaining momentum, can Luis bounce back and remain at the top of the standings?  Tune in to iRacing.com/live to see all the action as it happens, then read about here at inRacingNews.com.
---
You may also like...
---