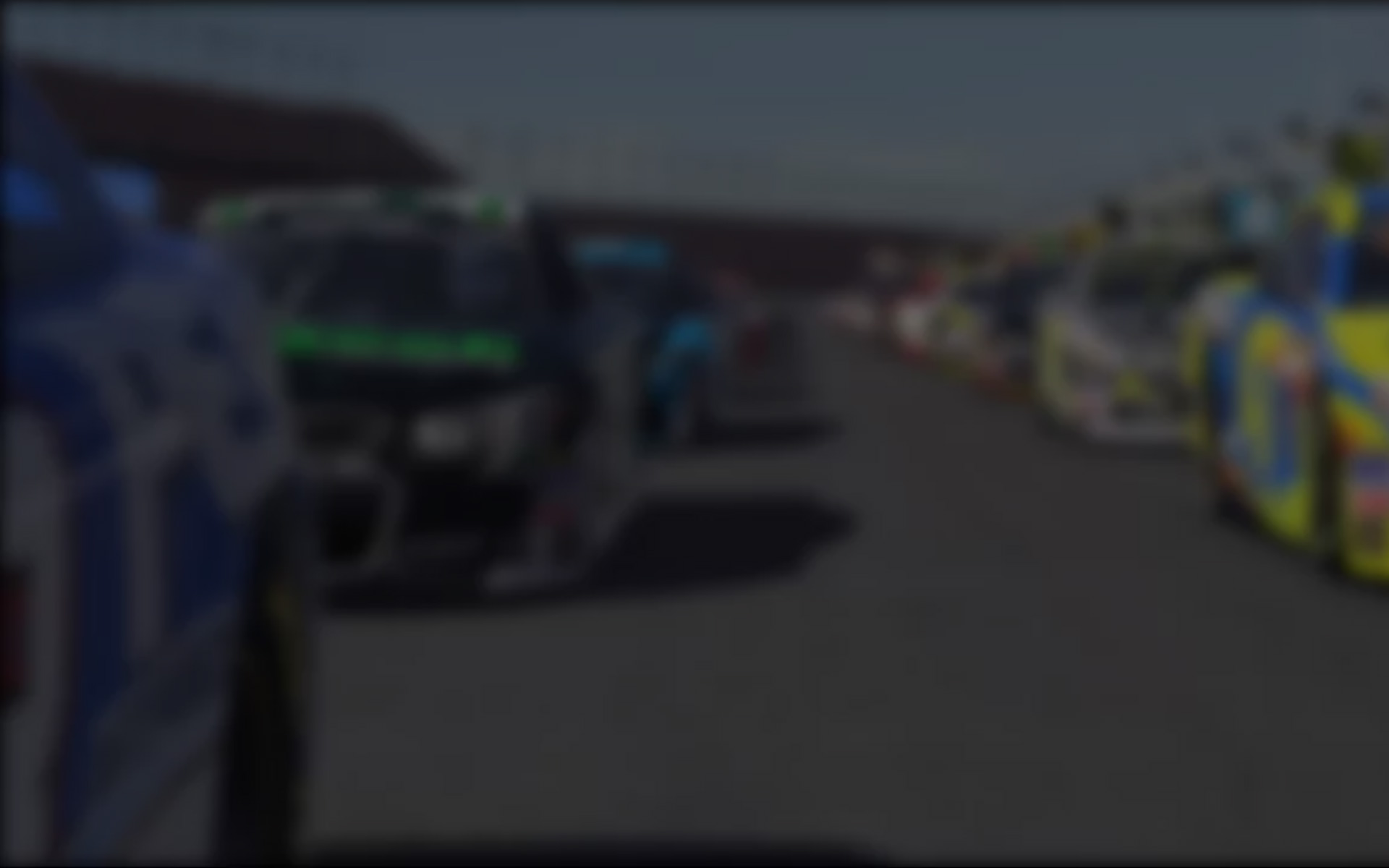 On one of the toughest circuits of the 2012 iRacing.com Grand Prix Series World Championship, Greger Huttu took another huge stride towards reclaiming his lost crown at Road Atlanta with his eighth win of the season. However, it was no easy stroll for the 2010 World Champion, who struggled to qualify in the top-five and exchanged paint with defending champion and iGPSWC rival Hugo Luis who retired with race-ending damage as a result.
Starting on the third row of the grid behind the likes of pole-sitter Riku Alatalo, Stephen Michaels, Jake Stergios and Luis, Huttu jumped two positions in as many corners at the drop of the green flag. Whist Michaels and Stergios struggled for traction off the line, Luis slipped past the two of them with Huttu's Team Redline Williams-Toyota FW31 in tow.  As the championship chasing protagonists battled for second spot, Alatalo broke clear and established a lead of a few seconds. It was an amazing start by the CST Ajira pilot, who became one of only four names to start on pole position in 2012.
With six laps on the board, the race took a dramatic twist, when Huttu and Luis came together in a collision that effectively neutralised the Brazilian sim-racer's championship hopes. Approaching the high speed Turn One, Huttu's momentum gave him the opportunity to get alongside Luis, who defended valiantly and remained by the Finn's side through Turns Two, three and Four. Then a seemingly innocuous contact between them, sent Luis hurtling off the track and into the barrier, whilst Huttu continued unscathed.
"At the end of lap five I think Hugo made a small mistake out of the last chicane," Huttu explained after the race. "I wasn't expecting to get a run but he also seemed slower than before on the front straight so I got alongside. I wasn't planning on making a move into T1 at that point but I think he backed off a bit early so I found myself side-by-side with him. I decided I'll try to overtake if possible but took it really safe and wide into T3 and seems like Hugo was giving plenty of space as well. It seemed we had gotten through the worst spot and I was on the inside for the left-hander when suddenly I saw his car flying off. "
As Luis limped back to pit-lane for his inevitable retirement, Huttu set about eating into the three second lead that Alatalo had carved out. By the time the field were considering making their first visit to pit-lane for fuel and tyres, Huttu had cut the deficit to mere tenths and applying severe pressure to the rookie leader. Alatalo absorbed the pressure on the track but, heading into pit-lane on Lap 26, handed Huttu the initiative to post a couple of hot-laps on a clear track.  Thus by the time Huttu pitted and rejoined to the track, he had snatched the lead by two seconds.
With his virtual Williams-Toyota FW31 at the front, Huttu powered on to extend his lead over Alatalo to eight seconds by the time he made his final pit-stop on Lap 55. In the final run chase to the chequered flag, Huttu continued his unstoppable form, and finished 10 seconds clear at the line.
"I managed to build up the gap and the car felt good as I was running less fuel than on the first stint," Huttu said. "Brought it home for the win which . . . doesn't feel as good as normally after seeing Hugo go out of the race like that."
Although Alatalo was unable to recover the lead as he gave chase, the second place finish was his best ever placing in the iRacing.com Grand Prix Series World Championship, and marked him as man to be recokoned with in the future.
"Brought it home for the win which . . . doesn't feel as good as normally after seeing Hugo go out of the race like that." — Greger Huttu
"I had no answer to Greger's pace, and the rest of the race was just maintaining steady lap times" Alatalo shared this week. "Only in the last stint did I really find pace, and I was able to consistently hit .2s and .3s, but it was too late. Still, finishing second is a great result which I would have never ever imagined I would be able to achieve, especially in my first year of sim-racing!"
Another championship rookie who enhanced his reputation at Road Atlanta was Michaels, in only his second start of the season. Building on a top-ten finish at Mid-Ohio in the previous round, the American battled for the entire 75 laps in a bid to secure a podium finish. After dropping from his second spot at the start, Michaels ran in third spot following Luis' exit, just adrift of Alatalo, and with a few seconds advantage over his countryman, Stergios. Following his first visit to the pits, Michaels had banked three seconds in his pocket over Stergios, but by the time the second scheduled trips to pit-lane arrived, there was just tenths between them.
Stergios headed to the pits first, pulling out of Michael's wake on Lap 51 for fuel and tyres. Four laps later, Michaels headed down pit-lane, and rejoined with Stergios alongside him heading to Turn Two. With more momentum, Stergios swept past to snatch third as the duo approached the blind Turn Three.  Despite hanging onto the coattails of Stergios' car, Michaels was unable to force the experienced sim-racer into a mistake.
"After the pitting around 55 or 54 I let Jake go ahead since I didn't want to have a problem with both of us being crashed and losing our positions and ending our race." Michaels told inRacingNews. "So I just let him go and kept right behind him applying as much pressure I could give him while trying to not make more mistakes than usual."
Electing for a 'safety first' strategy, Fulvio Barozzini was rewarded with a top-five finish, his first of the 2012 season. During the early stages of the contest the Italian edged his way up to fourth position, before succumbing to Stergios. Undeterred, the Mortadella Motor Mission Race Team driver completed an accomplished run to the flag, several seconds clear of any traffic.
"After a few laps Jake was pressuring me and at the first occasion he ran alongside me on the long straight and I opposed no resistance," Barozzini declared. "I tried to follow him but he and the other guys ahead were having a different driving style, that's it. I may have been too much safe to stay with them but I wanted to finish the race at all costs!"
"I may have been too much safe to stay with them but I wanted to finish the race at all costs!" — Fulvio Barozzini
Roland Ehnström's sixth place at Road Atlanta was a perfect tonic to his DNF at Mid-Ohio two weeks ago. After defending his position from Matthias Egger for the first two-thirds of the race, Ehnström was able to break free and almost challenge Barozzini in the closing stages.
"In the final stint I had fresher tires than Fulvio, but by now I was in a safe sixth position, so I felt I couldn't afford taking any risks," Orion Racing's top performer explained. "So I drove a safe and boring stint to the finish, just fighting to keep my focus and concentration in those risky places."
Seventh place for fellow Orion Racer Egger means he jumps three places up the standings, a just reward after passing Pablo López and Martti Pietilä on his way to the finish line. López' ninth place finish behind Petteri Kotovaara came at the end of gruelling 75 lap battle that saw the pair running line-astern throughout, with Andrew Slocombe also joining in the fun. However, technical issues saw the Grenadian drop down the order with just a few laps remaining, and yield the position to Pietilä.
Following Luis' second DNF of the season, Huttu now holds a 97 point lead in the iRacing.com Grand Prix Series World Championship standings and looks an odds favourite to retake the title he lost last year. Stergios' podium finish reasserts his claim to third in the championship, with a 31 point margin over Ehnström. Although Dutchman Atze Kerkhof didn't make an appearance at Road Atlanta, he still occupies fifth on the leader-board, five points clear of Egger.
Round 13 of the Championship heads to the virtual Spa Francorchamps in two-weeks' time, where the drama looks to continue to unfold. Follow all the action on iRacing.com/live and inRacingNews.com.
---
You may also like...
---