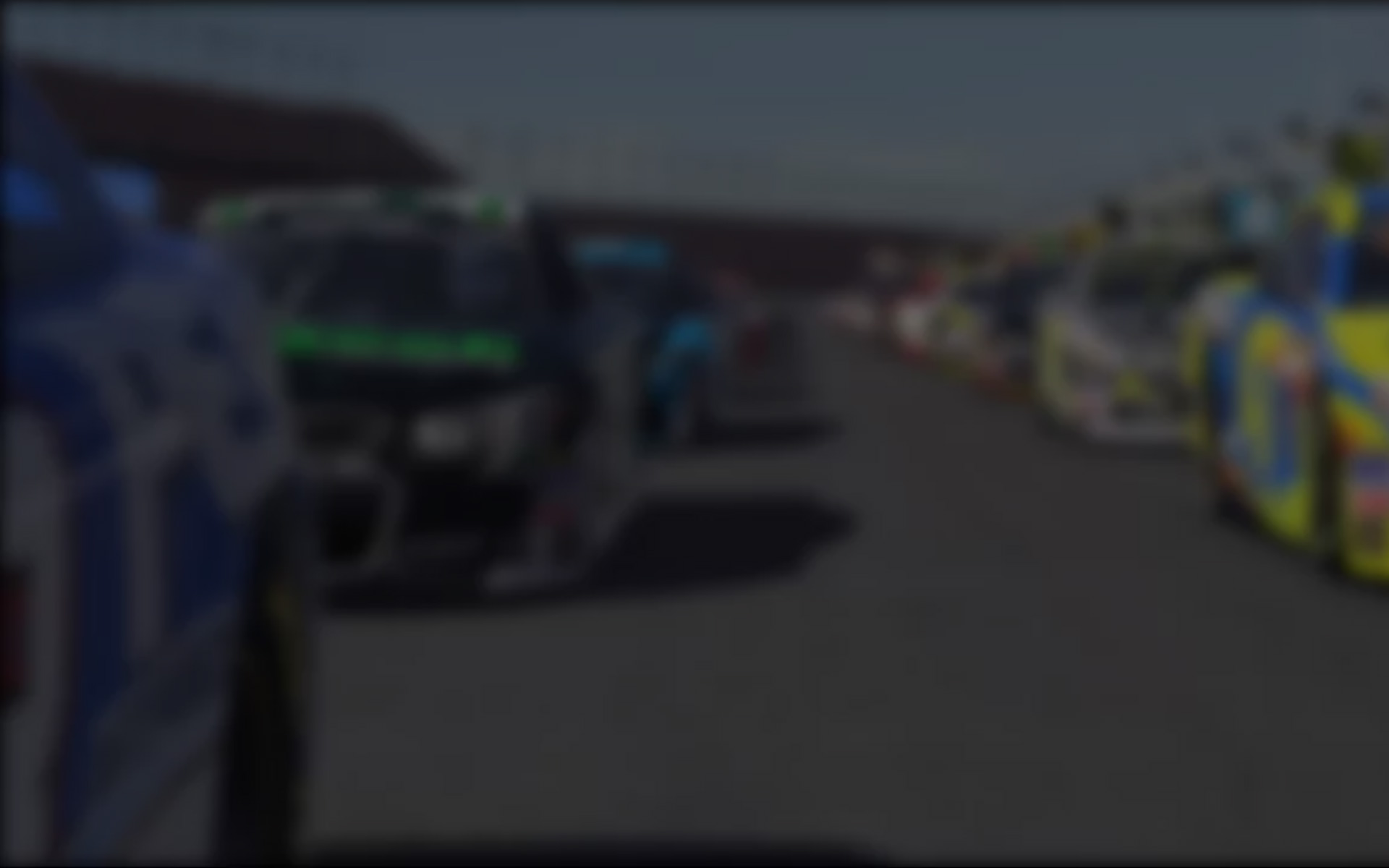 As the iRacing.com Sprint Car Series departed from Langley Speedway, drivers looked forward to the upcoming action at Iowa Speedway. As shown in past seasons in the iSCS, Iowa Speedway was sure to deliver side-by-side racing and quite a few memorable finishes. Featuring multiple racing grooves for 7/8ths of a mile, skilled sprint drivers can drive flat-out on the long straights and slide around the progressively banked turns faster than most other tracks in the series. It's because of this that Iowa Speedway is not only a favorite of most sim-racers, but of spectators as well. For Week 3 of 2012's Season 4, there would be plenty of shows to be seen.
A revered name to the iRacing sprint car community, Alan Binder brought his fastest ride to Iowa's high banks, blazing an incredible 21.454s lap time, placing himself firmly on the pole position for all the online races he entered during the week. Fred Lampela found himself the groomsman once more as he placed runner-up in qualifying for the week with a 21.542s lap. Plenty of other drivers enjoyed fast times for the week, as a total of 127 race entries were seen, which was by far the highest number of entries in a week in recent memory.
Tuesday brought the first round of excitement as Binder led the field to the green and checkers, capturing his first win of the week. Garry Loney finished in second place, while Dustin Herner completed the podium by placing third. Marcus Dean and iSCS rookie Matt Anderson rounded out the top five.
Tuesday's second split event produced the first the week's many close finishes. Coming back from a disappointing week at Phoenix, Scott Kelly put his sprint in the pole position and led the field to the green flag. Kelly was challenged early on by series veteran Ronald Williams, and after a caution flag bunched the field, Williams took the lead on Lap 18. On Lap 28, Joey Mclaughlin's front end met Kyle Odaynik's, and sent Odaynik for a spin to bring out the second caution. With less than 20 laps to go, the field took the green once more. Kelly and Williams battled side-by-side for the lead, oblivious to the sprints of Brett Waldrep and Paul Mepyans behind them, also battling for position. Waldrep and Mepyans soon caught up to the lead cars, and a four-way battle for the lead commenced for multiple laps. On Lap 46, Mepyans and Kelly touched briefly, getting Mepyans' car loose. With Mepyans trailing behind slightly after a skillful save, and only a few laps remaining, it was a toss-up between Waldrep, Williams, and Kelly. Waldrep took the lead with two-to-go, and was able to hold off his challengers to capture the win. Williams came in second, with Kelly close behind in third. Mepyans held on for fourth place. Dana DiMatteo completed the top five.
"It was awesome to not only score a pole, but be a part of the great racing in the lead pack," Kelly said after the race. "Honestly, after how my past few weeks have gone, getting third feels just as much a win as I'm sure Waldrep is feeling in victory lane. Great clean driving by all the guys tonight, what a race!"
"Great clean driving by all the guys tonight, what a race!" — Scott Kelly
Tuesday hosted a third race which was filled with 14 contenders, some of whom had already experienced Iowa action in the previous events of the night. On the pole was Binder, and when the green flag fell, his flame-painted Beast pulled away from the likes of Michael Willard2, Michael Linder and Kelly as countless instances of three-wide racing unfolded throughout the field. While riding in third on Lap 10, Kelly lost control after bottoming-out in Turn 2, putting him into a 360 degree spin before he regained control. With no caution flag waved for the incident, Kelly found himself back in the pack and out of contention. Binder went on to win the yellow-free event to collect his second win of the week. Willard2 was the runner-up to Binder, earning a great points night, while Williams scored another podium finish with his third place run. Garry Loney and Michael Linder rounded-out the top five.
After a much needed break from the action, the iSCS drivers returned to Iowa to duel once more. In the top split, a full field of 17 drivers made up the highest SOF-rated event of the week (3158). With three cautions featured, the field was constantly meshed, and racing was found on every inch of the track, including up front with Binder, Vinnie Sansone and other familiar names of the series. On Lap 18, P.J. Stergios went three-wide on the bottom with Fred Lampela and Steve Linder for position. However, Stergios got loose slid into Linder, and while gathering the car back up again, broke loose once more in Turn 4 and slammed the SAFER barrier wall. As the race drew to a close, it shaped up to be a classic battle between Sansone and Binder. With two laps remaining, Binder got loose in Turn 2 making Sansone, who was inches away, check-up a bit before quickly regaining composure and re-applying the heat. On the white flag lap, spectators were on their feet as Binder and Sansone touched wheels in Turn 4, coming to the checkers. Binder came-out on top just .077s in front of Sansone. Watching the action in front of him, Brandon Buchberger finished in third, just .448s behind the duel. Fred Lampela came in fourth, and Steven Hunter completed the top five.
"[W]ent for it on the last lap and Alan kept it tight," said Sansone post-race. "[We] banged nerfs but kept them straight and just ended-up a little short. This is one of those races where if I was gonna beat Alan this season, it was gonna be this one."
"If I was gonna beat Alan this season, it was gonna be this one." — Vinnie Sansone
In the second split found Ronald Williams and Brett Waldrep at the front, picking-up where they left off on Tuesday. In this race, however, it was Williams who would find victory lane, with Waldrep finishing just .128s behind. Michael Linder completed the podium, while Joey Mclaughlin and James Lamb rounded-out the top five in a race marred with three cautions and high tension.
Thursday's last top-rated event featured yet another battle down to the wire. Going caution-free, Fred Lampela led the first 17 laps before losing control of his sprint in Turn 4, almost collecting Sansone and Stergios. With Lampela dropping to third, it was all up to Sansone and Stergios to put on the show. They didn't disappoint. For the remaining four laps, the leaders went wheel-to-wheel. When the checkers finally flew, it was Sansone taking the win by using the momentum found on the high line, finishing just .060s in front of Stergios. Lampela finished third, while Willard2 and Edward Eastley completed the top five.
After a fast and furious Thursday, the sprints had one more day of racing at Iowa. In the highest SOF rated event of the day, Sansone led a full 17-car field to the green flag. There were two cautions, one of which involved drivers in the lead pack on Lap 39 (Willard2 and Marcus Dean). With less than ten laps before the checkers, Sansone was hard-pressed to keep in front of Michael Lampela and Petteri Kotovaara. In the end, he found himself in victory lane once more, finishing .268s in front of Lampela moments before Kotovaara lost control in the last turn and crossed the line grinding against the wall but still able to hold off Willard2 for third place. Anthony Roselli completed the top five.
"It feels damn good to win with the help, support and encouragement of all of you drivers in this series." — Eric Nordhoff
With a total of ten races that went official during the week, the iSCS saw one of its most exciting weeks yet. On Thursday, Eric Nordhoff celebrated his first ever sprint car win, beating the likes of Steve Linder and the Lampelas. After the race, Nordhoff was ecstatic. "I have never worked so hard to learn a car as I have this one and it feels damn good to win with the help, support and encouragement of all of you drivers in this series. Thanks for making this a win to be very proud of."
Michael Lampela also won two races on Sunday, earning a great points payout for the week.
With Iowa in the books, it was time to look forward to Week 4, where the sprints will find themselves back at the short track at Thompson Speedway; an unfamiliar track to a majority of the current drivers in the series. Alan Binder continues to lead the way in points for the season. Will he step up to the plate at Thompson? Will the iSCS be awarded more first-time winners? Find out next week on iRN!
iRacing.com Sprint Car Series Championship Standings
1. Alan Binder (544)
2. PJ Stergios (-115)
3. Fred Lampela (-138)
4. Steve Linder (-157)
5. Garry Loney (-191)
---
You may also like...
---