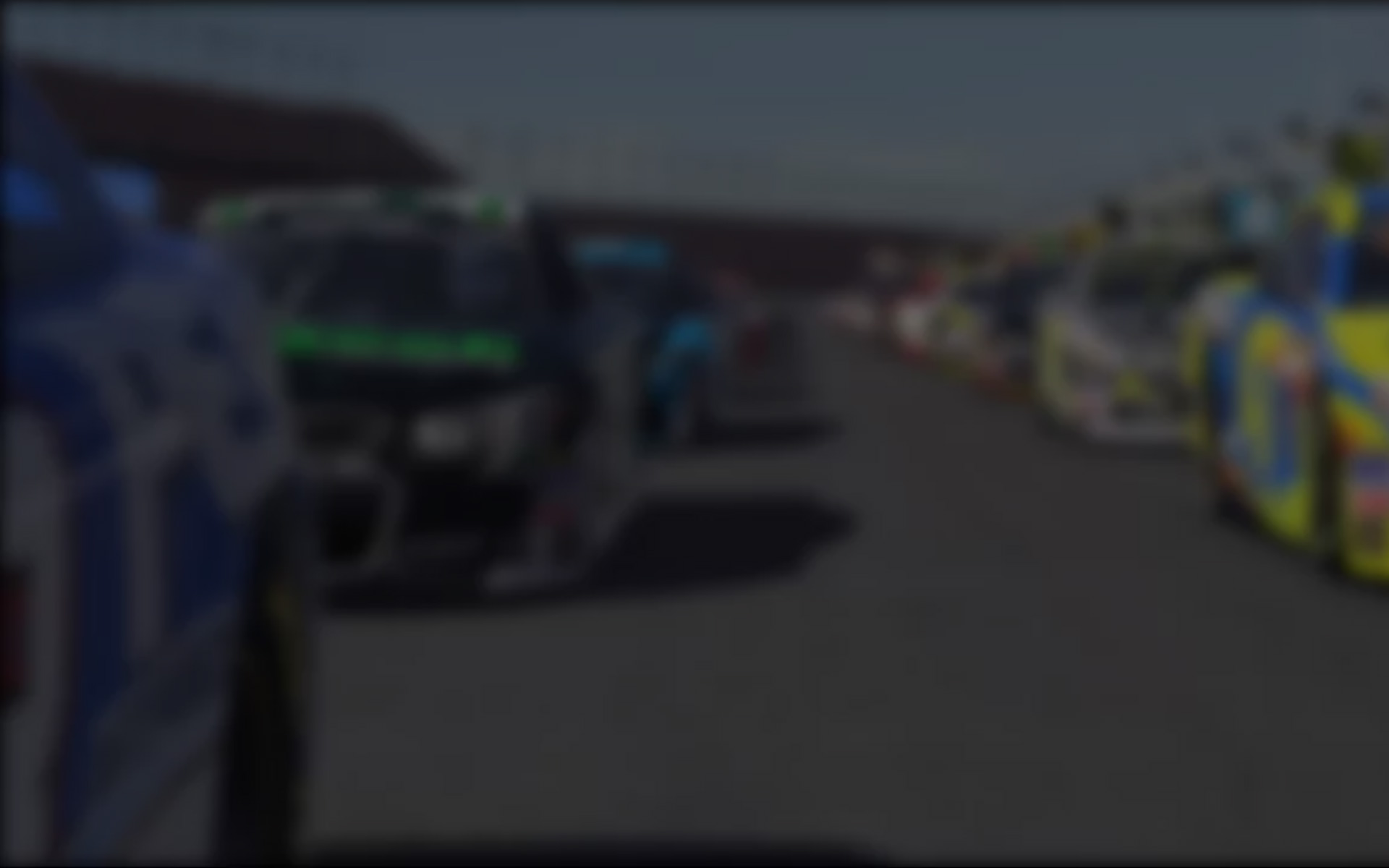 Ray Alfalla, Jon Adams, Patrick Fogel and Brad Davies are some of the many drivers who compete in the NASCAR iRacing.com Series World Championship, but have you ever wondered how they got there? They started iRacing as a rookie in the Legends car, then they worked their way up through the Late Models, Class C trucks, Class B Nationwide car and the Class A Cup car. Next they had to qualify for the NASCAR iRacing.com Pro Series then, after that, they earned world championship status. The driver I interviewed this week is one step closer to racing in the NiSWC by locking himself into next season's Pro Series.
Joshua B Gerrald may be only 19, but he is one of the best sim racers on iRacing. The 19 year old driver from Texas has started 703 oval races and has visited victory lane 103 times. Last year, he won two Class A championships, one in the first season for Division 6 and the other in season two for Division 2 and is currently the points leader in Division 1 for the Class A series. By being where he is in points, he has locked himself into the 2012 NASCAR iRacing.com Pro Series Early last week, I asked him about how he started in sim racing, how he felt about his career so far, and where he plans to go in sim racing…
Q:    How long have you been sim-racing?
A:     I started sim racing for the first time in 2008. I believe I was about 15 years old and I had just had my tonsils taken out. I remember I had to stay home for a week or two and had gotten really bored. Over that time period I discovered ARCA Sim Racing and purchased a wheel. I think I am one of the few guys who did not start out on the old Papyrus games.
Q:    How did you get started in iRacing?
A:    I got started in iRacing just from hearing about it on Arca Sim Racing. I watched a lot of YouTube videos of the Legends and Late Models and thought it was really cool. At the time I really didn't have a job or any way to afford the tracks and cars. So I began mowing yards in my neighborhood and every time I got paid I would pick up a few cars and tracks.
Q:    What has been your most memorable accomplishment in iRacing?
A:    I would say making pro this season is my most memorable accomplishment. Becoming a pro and getting into DWC has been a goal of mine since I started running iRacing and being able to accomplish that this season has been huge to me.
Q:    What type of hobbies do you do outside of iRacing?
A:     Outside of iRacing I do a great deal of fishing. I am a big health nut, so I do spend a few hours a week in the gym. I am also a full time college student, so that by itself takes up a great deal of my free time.
Q:    When the Oval Pro Series does start, what would be your main goals for that series alone?
A:    I feel like finishing top 10 in points is a very realistic goal for me. I also have very high hopes of getting a win somewhere on the schedule. If I could do those two things, I feel like it will be a very successful pro season.
"I really didn't have any way to afford the tracks and cars,  so I began mowing yards in my neighborhood.  Every time I got paid I would pick up a few cars and tracks."
Q:    What is one long term goal that you hope to still accomplish in iRacing?
A:    I would like to solidify myself in DWC as someone who can run competitively on a regular basis. In my opinion, DWC is pretty much the best of the best when it comes to sim racing, so to be able to compete and contend in that series is definitely a major goal of mine.
Q:    What type of racing do you like to watch on TV?
A:    Pretty much everything NASCAR. I also tend to watch the ARCA and Indy Car races when they are televised. I have tried to get into the F1 stuff, but it just doesn't really hold my attention like oval racing does.
Q:     How do you think your fellow iRacers see you?
A:    I have tried pretty hard to run as clean as possible with people in iRacing. There have been times when I have lost my cool and done things that I regret. I like to think for the most part my fellow iRacers see me as somebody who races hard, but clean.
Q:    Who is Joshua B Gerrald outside of iRacing?
A:    I am just a normal guy outside of iRacing. I do normal 19 year old things. I like to hang out with friends and go swimming and go to the movies. I usually keep my social life and iRacing separate. I really don't even think most of my friends know that I race on iRacing.
Q:     If there was one thing you could change about iRacing, what would it be?
A:    I would like to see more grooves at race tracks. It's a little depressing watching a race at Atlanta Motor Speedway and seeing the guys up by the wall rim riding and when I jump on iRacing to try that, it's a second off of the pace. So more realistic racing lanes and groves would complete the experience for me.
Q:    What is one thing that you love the most about iRacing?
A:     My favorite thing about iRacing is the friendships I have been able to make and the people I have been able to meet. When you get to know everyone and form bonds within the iRacing community it makes the experience more enjoyable in my opinion. Being on a great team like C2C where everyone gets along and has fun together is great.
Q:     Overall, how do you rate your success on iRacing?
A:     I feel like I have gradually worked my way up in iRacing. I know when I first started out I wasn't as competitive as I would have liked and I had absolutely no clue what I was doing with a setup. I tested a ton trying to get better both behind the wheel and in the garage. There have definitely been people like Jon Adams, Brian Schoenburg, and Carson McClelland, who have taken the time to work with me on both my driving and what everything does in the setup of a race car. Overall I feel like I have come a really long way from where I used to be, but I still have a little bit of room for improvement.
---
You may also like...
---