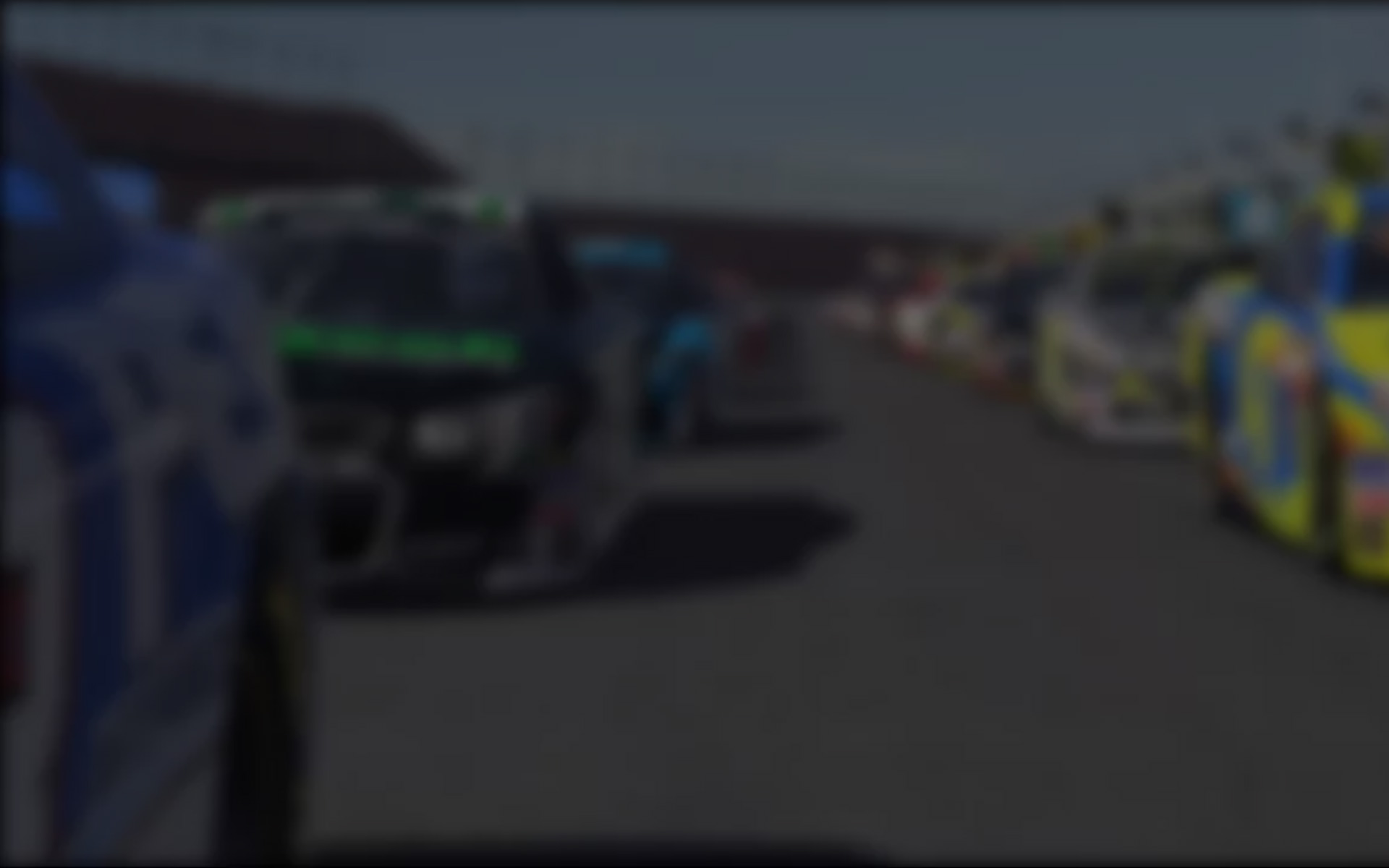 As most of us know, the iRacing population is mostly filled with adults. But there are also plenty of teenagers and young kids who take part in sim-racing. Logically, if you compare adults to the overall youth on iRacing, the adults should run better and win more races based on the years of experience that the teenagers and kids lack.  Yet, these teenagers and kids should not be underestimated just because of their age.  I'm part of the youth group on iRacing and I have achieved a fair amount, including 16 top fives, six poles and a win at Daytona in 70 oval starts. There is one person though, who is leading the youth group and has taken iRacing by storm: Michael Conti.
In two and a half years, the Woodland Park, NJ resident has won 114 oval races and 12 road races and is currently sitting in second place in the NASCAR iRacing.com Series World Championship, 16 points behind defending series champion, Ray Alfalla. In this latest installment of iRacer of the Week, well learn about Michael's start in sim-racing, his life outside of racing and some of his greatest accomplishments in the world of iRacing.
Q:    How long have you been sim-racing?
A:    I started sim racing really young. On my fifth birthday, my family surprised me with NASCAR Racing Season 2002. None of us really knew that NR2002 was a state-of-the-art NASCAR sim and would ultimately be the start of my sim racing career. Mind you, I was only five at the time so the beginning months on the sim were tough. My Dad and I started off at Daytona, racing with the keyboard, and then later with a cheap wheel (and pedals that did not work) set. I'll never forget my first time going to Martinsville. To put it shortly, I learned where the brakes were really quick!
Q:    How did you get started in iRacing?
A:    Honestly, I can't really remember. Being a Dale Earnhardt Jr. follower, I most likely heard about iRacing in one of his interviews. The thousands of videos on YouTube really sealed the deal. Coming from the lackluster EA NASCAR games, seeing all of the features iRacing offered was refreshing. I officially started iRacing in December of '09 and have never looked back.
Q:    You are one of the younger drivers on iRacing.  How does it feel when you win a race, knowing that you beat other drivers who are likely older than you?
A:    I tell you what, beating people way older than me is a huge accomplishment in itself. They theoretically should be way better than I am. Their judgment, precision, and focus should be far beyond that of myself, but apparently I've really developed into a good racer at a young age. And quite honestly, I've not only been able to win races against guys way older than me; through the years I've been able to gain respect from the guys, and girls, that I've had the pleasure to race against.
Q:    What has been your most memorable accomplishment in iRacing?
A:    Man, there's been so many in such a short amount of time. I'd have to say though, this past May really was a great month of sim racing for me. In mid-May, iRacing hosted the Indy 500/World 600 doubleheader- full length races in the same day — 1,100 miles of intense racing. So, on the Saturday of the races, the Indy 500 was first. Thanks to P1 Racing and their Indy setup, I was able to capture the win in my split of the Indy 500. Now, I'm thinking, "If I can win the 600, I'll probably be one of the few, if not the only person to do so."
That night, I finished second in the 600 to none other than the man who I sit second to in this year's NiSWC points standings, Ray Alfalla. Completing 1100 miles in one day, and completing all of those miles with a win and a second place is something that I'll never forget.
"It's a shame (PokerStars doesn't) allow you to play for real money any more . . . I'd be a very wealthy teenager."
Q:    What type of hobbies do you do outside of iRacing?
A:    I proudly play tennis for the Passaic Valley Tennis team. I'm not very good, but I enjoy it. I also like to play with friends on the PS3, collect NASCAR diecast cars, hang out with buddies of mine, and kick butt on PokerStars. It's a shame they don't allow you to play for real money anymore, because if they did, I'd be a very wealthy teenager. The funny thing though is that half the time I win a hand, I don't have the slightest clue how!
Q:    You are currently second in the NiSWC points and have been very consistent this season. Do you feel like you can win the championship and do you see yourself winning a race this season?
A:    I told Tim Terry, co-announcer of the NiSWC broadcasts on iRacing Live, that with five races to go, I'll really know if I can win the championship. Right now, I'm focused on gaining more experience every race and getting a win or two before the season is over. It'll be hard to knock Ray off the top of the standings, but I believe the InsideSimRacing.tv/rSeatusa.com crew backed by JScho Motorsports will have a good shot a doing so.
Q:    What is one goal that you hope to still accomplish in iRacing?
A:     Simple, win a NiSWC race.
Q:    What type of racing do you like to watch on TV?
A:     NASCAR all the way! I pull for Hendrick Motorsports every week. Seeing Jr. win at Michigan a few weeks ago was awesome.
Q:     How do you think your fellow iRacers see you?
A:     I think everyone knows that I'll race clean, probably too clean sometimes and some people try to take advantage of that. The past couple of weeks ago, the more aggressive side of me has come out in the NiSWC, and I've noticed that people are more reluctant to cut me off now. The good ol' #5 car had a couple of donuts on the right side of it after Charlotte and Pocono. My basic principle that I race by is, "You give me respect, the respect will be returned. You give grief, the grief will GLADLY be returned."
"Until I win a NiSWC race (and hopefully a championship someday) my success will not be at the level that I want it to be."
Q:    Who is Michael Conti outside of iRacing?
A:    I'm kind of a quiet kind of kid. I'm not the most popular guy at school and I don't have a bazillion of friends, but the people who are friends to me are good friends who are always there and always loyal.
Most of the time, I'm either studying for honors classes, which I hear are going to be extremely hard come sophomore year; I'm not looking forward to that! I'm an aspiring race car driver whose #1 goal is to get to the top level of NASCAR and be successful. I only hope that all of the hours that I spend on iRacing will help me someday in a real world situation. I almost got to try my hand at bandoleros last summer, but that didn't work out unfortunately. Right now, whether it is bandoleros, legends, you name it; I'm trying to find a way to drive something.
Q:    What is one thing that you love the most about iRacing?
A:    The way the competition is organized is great. The Safety Rating and iRating calculations are great ways to group similar talent levels together and really makes for great racing!
Q:    Overall, how do you rate your success on iRacing?
A:    I'd say I've had some pretty good success for being one of the younger iRacers. I've earned respect, won races, gotten top fives, poles, etc. That's all great, however, until I win a NiSWC race (and hopefully a championship someday) my success will not be at the level that I want it to be.
---
You may also like...
---