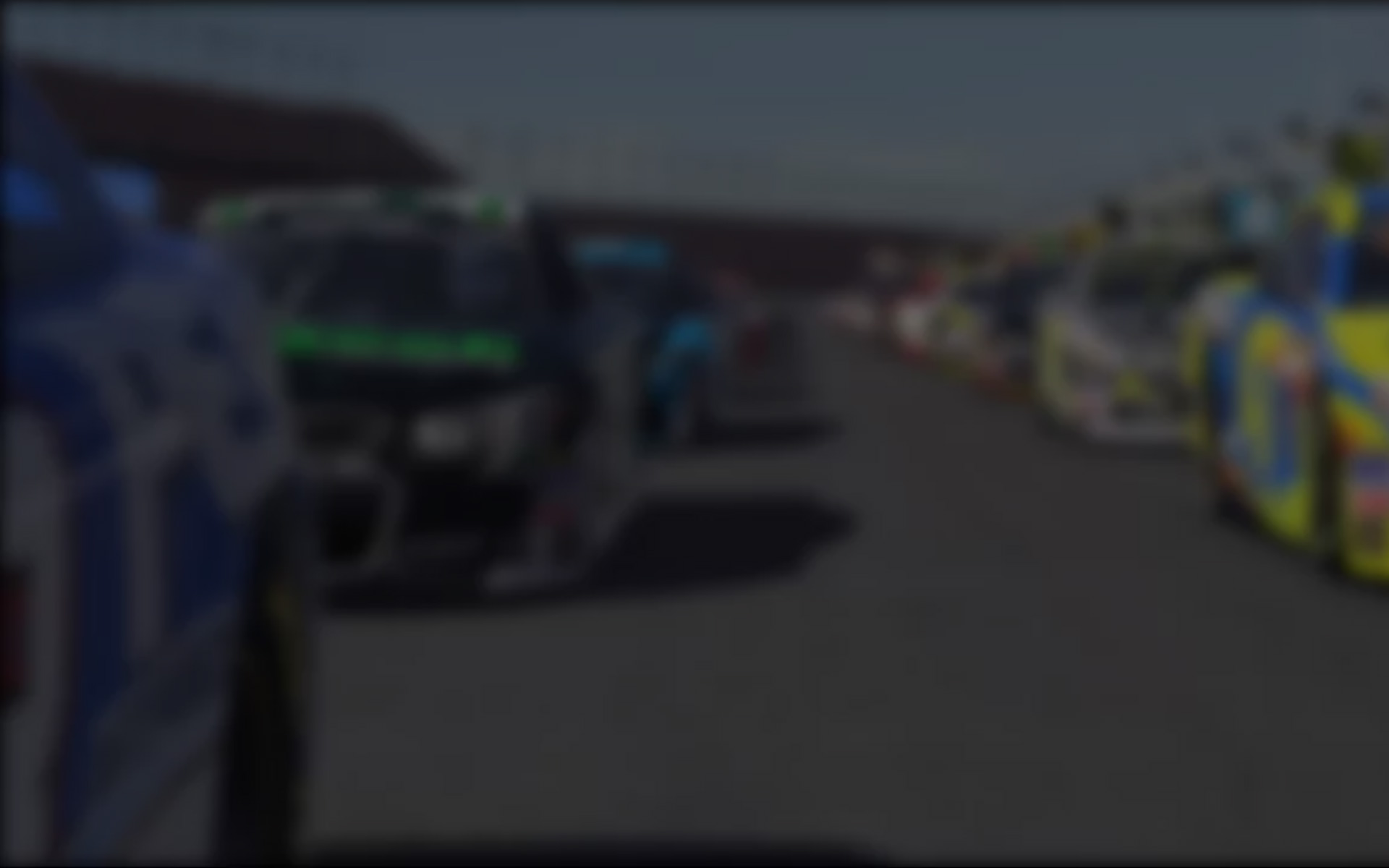 If Blake Townend's name seems familiar, it's with good reason.  A past Star Mazda, Solstice Cup and double England Club champion, the resident of Milton Keynes (UK) has been a top iRacer since joining the service in early 2009.  So much so that he carries an A-license to the ovals and a coveted-Pro license to the road courses where, among other things, he's been a regular competitor in the iRacing.com Grand Prix Series World Championship from the get-go.  Although he didn't figure prominently in the 2010 edition of the WDC, last year saw him fall just three points shy of the top ten in the overall championship.  Although he didn't get off to the best of starts this year, with a DNQ at Watkins Glen and a P21 in round two at Zandvoort, Townend is looking for better things this weekend at the Indianapolis Motor Speedway.
Speaking of which, Townend has already enjoyed "better things" so far in the Premier GRAND-AM iRacing.com Online Sports Car Series.  he's batting 1.000 after two events, having won last week at Barber Motorsports Park after taking the checkered flag at Daytona with a veritable thimble-full of virtual fuel left in his Riley Mk XX.  But then, Townend figures he IS a better tin top/sports car pilot than open wheel . . .
Q:          How long have you been sim racing?
A:         About six years.
Q:         What attracted you to iRacing?
A:         Laser-scanning technologies with the tracks and the cars.
Q:         What are your favorite iRacing cars/tracks?.
A:         Tracks:  Silverstone (home circuit), Road Atlanta, Lanier, Spa, Suzuka and Daytona Road.
Cars: Legends '34 Coupe, Star Mazda, Pontiac Solstice, Riley DP, Corvette C6.R, Ford GT and the F1.  I seem quicker in tin tops and sports cars category compared to single seaters.
Q:         What do you like most about iRacing?
A:        Online mainly – racing with the best, racing others with a lot of respect and meeting new friends.  Racing on laser-scanned tracks is pretty cool as well. Getting the opportunity to race with the pros like Justin Wilson, Will Power, Shane Van Gisbergen and more.
Q:         What would you change about iRacing?
A:         Having driver swaps is a must for iRacing; and dynamic weather.
Q:         How many hours a week do you spend on iRacing?
A:         It varies, racing wise not much, I'm spending a lot of time practicing for the iWCGPS.
Q:         Tell us about the paint schemes on your helmet/car(s) . . .
A:         My normal colours, are Red, Blue and White. Red and blue are my favourite colours. I love my iRacing helmet so much that I would properly use that design if I were to race in real life. I drive for Radicals (www.radicalsonline.com) who have the colours red and black, and white that represents steelseries www.steelseries.com logo and the name SteelSeries on the cars. It gives me great joy whenever my teammates or I place our cars on websites like inRacingNews and the Grand-Am website.
Q:         What other sim racing activities (Forza, Gran Turismo, etc.) do you do?
A:         I don't really have the time to play other games, though I do own GT5.
Q:         What are your favorite video games?
A:         When I was younger I loved the TOCA series. Gran Turismo is another great game where I would spend hours on end doing races.
Q:         What is your most memorable iRacing moment?
A:         I have a few that all seem to be endurance races:
ISRA 2 hrs Winner in the Ford GT with 0 incident points @ Spa
SSCA 2.4 hrs Overall Winner C6R with 0 incident points @ Spa 2.4 hrs in the Grand Am Championship 10pm race, winner with zero incident points @ Daytona Road 0.2 gl left in the tank as I crossed the finishing line.
I've had some interesting strategies during these races, notably not having enough fuel towards the end of the Grand Am race and trying to do one less stop by saving on tyres and fuel in the SSCA race.
Q:         What is the iRacing moment you'd love to forget?
A:         Ah, we all have them. The biggest one that I will remember forever was in last year's iWCGPS race at Spa. I started to push once I knew I had enough fuel to finish, Richard Towler was ahead and I was trying my hardest to catch him. I entered the bus stop for the last time and lost control of the car, as I went to spin the car around, there was a bit of grass and then another bit of grass that was not merged in line with the first bit of grass, this made the rear wheels become beached and my race halted. At the time I was running in 6th place and sadly lost that position with one corner to go. I would be classified in 15th place as the race had  finished.  It took me a couple of hours to sleep off that mistake.
Also, racing the trucks @ Michigan with a Pocono set-up. I somehow forgot to change the set over……..my race didn't last long.
Q:          What car/track would you like to see iRacing add to the service?
A:         Definitely Circuit Gilles Villeneuve and Long Beach. Both circuits would be very special to compete in the iWCGPS and I'm sure they would be good to watch on broadcast.
Q:          What person, living or dead, do you most admire? Why?
A:          Ayrton Senna, Sir Jackie Stewart and Dan Wheldon.  All talented behind the wheel and all very special people outside the cockpit.
Q:          What's your favorite real world racing series?
A:          F1.
Q:          Name the title of the most recent book you read.
A:          Jackie Stewart Winning is Not Enough.
Q:          Name of your favorite movie/TV show?
A:          There's too many to have one.
Q:          How many of your close friends are iRacing members?
A:          School mates none (all for football!). I class my teammates as my close friends so a lot of them.
Q:         Has competing with iRacers all around the world influenced your opinions/outlook on life/world events? How?
A:        I've seen the community on iRacing become very helpful when situations arise, where someone needs a great deal of help and it's guys/girls all over the world that help out. That right there is something special to have, especially when you have never met the person. After signing up to iRacing, I have been more interested in other forms of motorsport like NASCAR and Grand-Am. Had I not joined iRacing it may have been a different story.
Finally, I'd just like to say a Thank You to Radicals and SteelSeries for the continuing support.
---
You may also like...
---