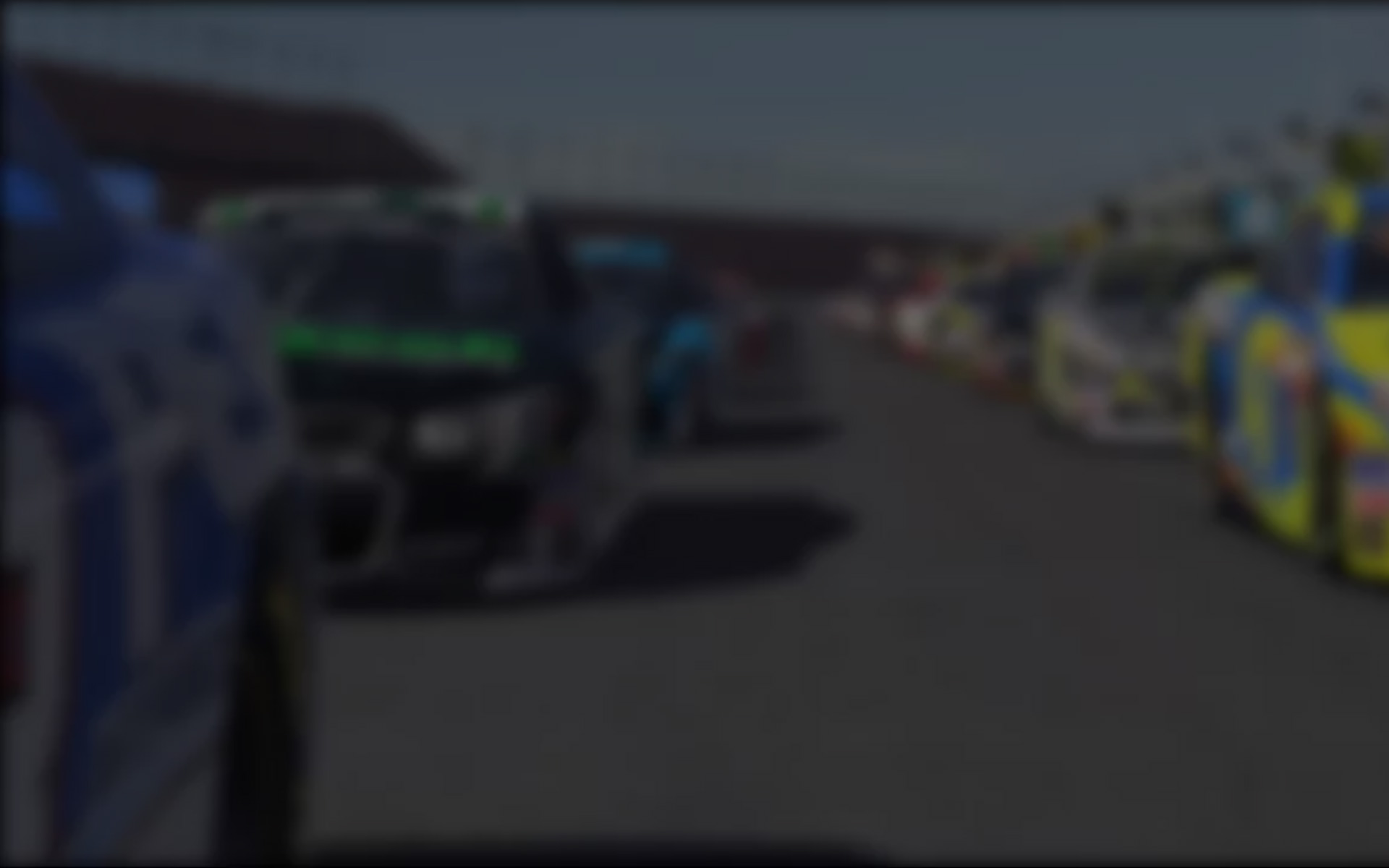 Racing always has and always will be a numbers game.  Lap times and speeds, points races and championships, chassis set-ups, engine settings, gear ratios, margin of victory . . . you name it, if it counts in racing, there's a number attached to it.
And when it comes to racing, no number matters more than One.  Whether it's a 24 hour race or short sprint, a qualifying or practice session, the whole point of the exercise is to be Number One.
With 154 wins in 868 starts on iRacing, Halifax Nova Scotia's Dylan Duval is certainly no stranger to Number One.  But he earned a unique first in 2013 Season One when he took ten wins from 30 starts to finish Numero Uno in the NASCAR iRacing.com Class A Series in the debut of the Gen6 Chevrolet SS and Ford Fusion, besting Brandon Atkinson and Kenny Humpe to the title.  Doubtless other sim-racers are destined to collect their own NiCAS titles with the Gen6 cars, but only one will ever be the first to do so:  Dylan Duval.
Q:     How long have you been sim racing?
A:      I began sim-racing in 2008 with the EA Sports titles NASCAR 08 and NASCAR 09. I really wouldn't call them sims at all but that is what got me interested in online racing. I played NASCAR 09 primarily until December 2010 and that's when I got iRacing. It was a dramatic change but it's one that I don't regret and, to be honest, I wouldn't consider trading it for any other sim.
Q:     What attracted you to iRacing?
A:     There were multiple things that attracted me to iRacing, such as the level of competition, laser-scanned tracks and lastly the realism of it. If I really had to pinpoint which of those attracted me the most I would probably say the level of competition.
Q:     What are favorite iRacing cars/tracks?
A:     My favorite iRacing car is the new Gen6 Chevy SS for sure.  It's a bunch of fun to drive and I've had quite a bit of success in it since they released it. My favorite track without a doubt is Pocono. It doesn't matter what races there, if there are races being held you can find me in them. It's just such a fun track to drive. The fact that it has three completely different corners makes it such a unique and fun track to race on. Sometimes the cautions can get out of hand, but if you get grouped-up with the right guys you won't find a track that is more fun to race.
Q:     What do you like most about iRacing?
A:     Honestly, my favorite thing about iRacing is like I mentioned before is the level of competition. There is no other place to find the amount of competition that iRacing has. It doesn't matter what you sign-up to race, you know that there is going to be someone in there that can challenge you for the win.
Q:     What would you change about iRacing?
A:     If I had to change anything about iRacing it would probably be adding multi-groove racing. It's not that we don't have it at all because there are a couple of tracks that multiple grooves work, but most we are stuck running all the way against the wall or pinned right down on the bottom. It would be so much fun to be able to have the option of two or even three different lines that you could make work and be competitive in. That's the main thing that I would like to see changed.
Q:     How many hours a week do you spend on iRacing?
A:      I would say I spend on average three hours per day on iRacing. Most of this time I spend on iRacing is usually just practicing for whatever track I have plans to race at. I would say I practice about 80% of the time I spend on iRacing. That's pretty much what you have to do if you want to be fast though.
Q:     Tell us about the paint schemes on your helmet/car(s).
A:     I am sponsored by GX Gaming (http://www.gx-gaming.com/ )so that is what I run on my Chevy SS which is what I primarily race. I run their colors which are black and red – it's a really cool paint scheme in my opinion. JD Laird at JDR Graphics designed it; he does all of my schemes and they are always perfect.
"(iRacing) has taught me to be respectful of people around you even if you don't know them because you never know when you could run into each other again."
Q:     What other sim racing activities (Forza, Gran Turismo, etc.) do you do?
A:     I don't do much of any other sims to be completely honest. Sometimes I will hop on NASCAR Racing 2003 Season and do a league race but I don't do it very often. I really enjoy when I have time hoping on Formula Truck Sim by Reiza. That's a really fun game – it's something different when I want to take a break from iRacing.
Q:     What are your favorite video games?
A:     My favorite video games are the Grand Theft Auto series. I absolutely love these games and I have been playing them since I was about eight. My favorite one in the series I would probably say is Grand Theft Auto 4. Very close behind it is Grand Theft Auto San Andreas. I'm super excited about GTAV coming out in September. It looks like it's going to be incredible.
Q:     Do you do any real world racing? Has iRacing been of any benefit?
A:     Unfortunately I have not done any real life racing, I really wish I could but it's just such a financial burden that neither my family nor I could afford.
Q:     What is your most memorable iRacing moment?
A:     It's a tie between two of my accomplishments. The first being as a Pro driver in a NASCAR iRacing.com Series World Championship series I managed a fourth place finish that was huge me for and it gave me a whole bunch of confidence. Also the other one would be winning the first Gen6 Class A Overall Championship (2013 Season 1) by 271 points. That was my first ever championship and I'm extremely proud of it.
Q:     What is the iRacing moment you'd love to forget?
A:     The moment I would love to forget would be the whole entire 2012 NASCAR iRacing.com Pro Series. I had high expectations going into the season and nothing worked out the way I wanted it to. I was pretty slow most of the weeks and when I wasn't slow I usually ended-up wrecked somehow or some way. I also had two suspensions that ultimately ended my chances of making the 2013 NASCAR iRacing.com Series World Championship.
Q:     What car/track would you like to see iRacing add to the service?
A:     I would love to see iRacing add the NASCAR Canadian Tire series cars. They just look like there a whole bunch of fun to race and I feel it would be the same way on iRacing. I know it would probably be impossible for iRacing to add it but I would absolutely love to race at Monaco. That's such an incredible track and it would be amazing to have it on iRacing.
Q:     What person, living or dead do you most admire?
A:     There are two people who I admire. Juan Pablo Montoya seeing I am a huge fan of his and also Eminem. I really admire Juan Pablo Montoya's ability to race in just about anything and be competitive. It doesn't matter what he is in he has some sort of success in it. I also really like his driving style which most don't. Lastly I like how he doesn't put up with anyone; he will say it how it is and that's that. The reason I admire Eminem is because of his ability of using the English language and make just about anything you can think of rhyme. For example, in an interview he managed to rhyme orange with about six other words just by pronouncing the word differently. That is what I admire about Eminem.
Q:     What's your favorite real world racing series?
A:     My favorite real world racing series is the NASCAR Sprint Cup Series. It's just what I have followed ever since I realized racing is something I'm interested in. I also enjoy watching F1 and the NASCAR Canadian Tire series when I see them on TV. They aren't something that I will go out of my way to watch but when I see them on I enjoy watching them.
Q:     Name the title of the most recent book you read.
A:     The most recent book I read was Wise Guy by Nicholas Pileggi.  This is the book that the movie The Goodfellas was based on. It's a really good book and that's saying something coming from me because usually I don't read books at all.
Q:     Name of your favorite movie/TV show?
A:     My favorite movie is 8 Mile. It's a movie based off of the life of Eminem. It's really good and shows how he got his name out there. Also I really loved the TV show Prison Break that was aired on FOX. They ended it a while ago but it was the best TV show I ever followed.
Q:     How many of your close friends are iRacing members?
A:     None of my close friends are iRacing members. I'm from Halifax, Nova Scotia, Canada and I'm just finishing up high school. Most of the people in my school don't even follow any type of motorsports so I doubt any of them even know what iRacing is.
Q:     Has competing with iRacers all around the world influenced your opinions/outlook on life/world events? How?
A:     I don't think iRacing has affected my outlook on life much. If anything it has taught me to be respectful of people around you even if you don't know them because you never know when you could run into each other again.
---
You may also like...
---