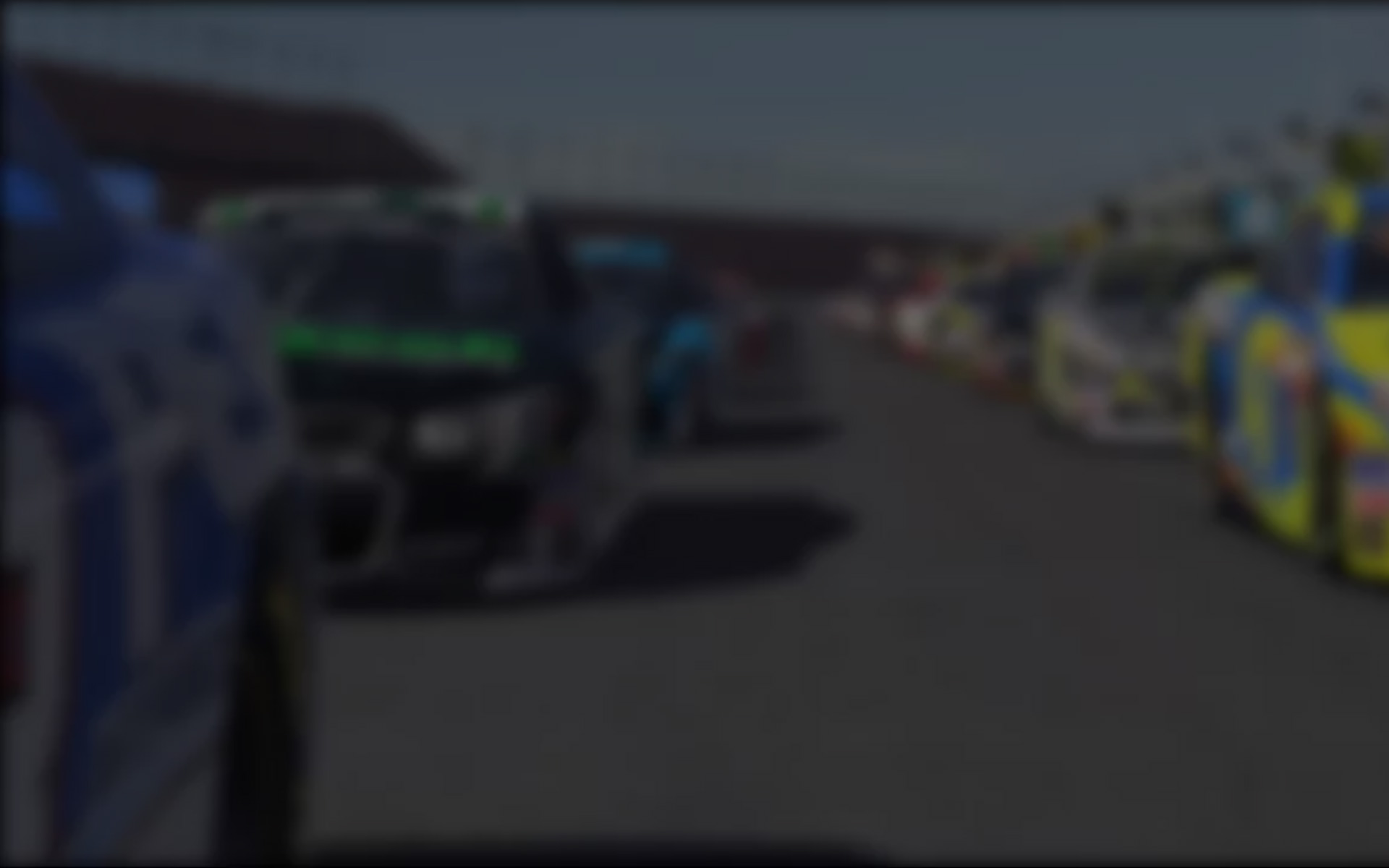 Upon seeing the name "Jérémy Bouteloup" it's natural for inRacingNews readers to think of the Williams-Toyota FW31.  After all, the Parisian drove his Radicals Racing entry to a worthy P7 in the 2012 iRacing.com World Championship Grand Prix Series on the strength of six top five finishes, including fourth places at Silverstone and Twin Ring Motegi – this after placing P2 in the iRacing.co Grand Prix Series in 2011 Season 2.
But Jérémy Bouteloup is far from a virtual F1 specialist, witness the fact that he actually has more starts on ovals to his credit (156) than on road courses (149).  And already in calendar year 2013 he has wins in a Sprint Car and McLaren MP4-12C GT3 to his name, along with a P2 in a Chevy Silverado race.   What else would you expect from a sim-racer who was attracted to iRacing largely by the competition?
Q:     How long have you been sim racing?
A:    I started sim-racing with F1 Challenge and a Logitech Momo Force around 2004/2005. Then, rFactor came out and I began to play online at the same time. That's when I really started to get into sim-racing.
Q:     What attracted you to iRacing?
A:    The competition. I was used to compete in a French league but I felt like I needed to race against drivers from all around the world and way better than me. I wanted to be better and I thought it would be a perfect opportunity. Besides, I needed to take a break from rFactor and the fact that iRacing had laser-scanned tracks and multiple cars was enough to get me into that sim.
Q:     What are favorite iRacing cars/tracks?
A:    My favourite car is obviously the FW31 because it's the fastest car of the service and one of the most challenging to drive. Just trying to keep it on track and being consistent in terms of lap times is a huge challenge, and it's even harder when you have to drive it in the middle of 30 drivers like during the iWCGPS. More recently, I enjoyed driving the  McLaren MP4-12C, the latest addition of the service, which feels really great even though this is not the type of car I prefer.
My favourite tracks are probably the F1 ones, more particularly Silverstone where I love to race because of its layout. But I also have to admit that some non-F1 tracks attract me, such as Oulton Park and Road America.  Regarding oval tracks, I'm a fan of Martinsville even though it's almost impossible to overtake properly.
Q:     What do you like most about iRacing?
A:    What I like the most about this sim is the competitiveness. It gathers almost all of the best sim-racers in the world and it's amazing to be able to race against them. This is what I enjoy the most when I'm playing, knowing that I'm racing against the very best. Moreover, I also like the fact that you can race on a lot of different type of cars, on different tracks at almost every time of the day. It's very flexible and you can either race for fun on any series, or get prepared more seriously for another series.
Q:     What would you change about iRacing?
A:    I would like to have a better force feedback as I'm often having troubles about feeling the car. This makes the sim a little bit less fun and it would be a great addition if this important feature (probably one of the most important to me) could be improved. A real clutch model, like in Live for Speed would also be nice and would allow drivers to enjoy the heel-and-toe experience on some cars.
"I never thought sim-racing could gather people from all over the world so easily. There's no more different cultures, different languages, because we basically share a passion of motorsports/sim-racing."
Q:     How many hours a week do you spend on iRacing?
A:    It depends on the time of the year but I'd say that, during the iWCGPS and with one race every two weeks, I spent between four and 14 hours (only for a couple of races) to prepare a race. Off-season, it's closer to one-four hours a week as I have no important race to prepare.
Q:     Tell us about the paint schemes on your helmet/car(s)
A:    All of my paint schemes are Radicals' paint schemes since this is the team I'm in. Main colours are black and red with a Radicals logo and a Steelseries logo, our main sponsor. The only exception is my F1 skin which is yellow and black
Q:     What other sim racing activities (Forza, Gran Turismo, rFactor, etc.) do you do?
A:    I play a little bit with every other sim-racing game. It mostly depends on what's popular at the moment. Right now, it is rFactor 1 & 2. Sometimes, I also play to Live for Speed because I like the fact that you can race whenever you want wherever you want, a little bit like iRacing.
Q:     What are your favorite video games?
A:    iRacing  and rFactor definitely. I used to spend time on other games such as NBA 2K12/13, Far Cry 3 recently, but I'm quickly tired of these games. This is not the case about sim-racing games.
"It's still a great feeling to overtake the ultimate alien!"
Q:     Do you do any real world racing? Has iRacing been of any benefit?
A:    I don't have the opportunity to compete for real, but five or six times a year, I do some go-karts races on rental karts near Paris. I also had the opportunity to drive a Porsche (a GT3 and a Cayman S) for some laps around a little French track.
I think iRacing helped to improve some aspect of my driving as you can learn a lot of driving techniques through sim racing games. But it also helps a lot about your mental abilities when racing, about anticipation and pressure as this is something you have to deal with when you're sim racing. Unfortunately, I can't really apply what I learned in sim-racing games into the real world because I don't race a lot, and not at a very high level.
Q:     What is your most memorable iRacing moment?
A:    It's quite hard to only choose one but my most memorable iRacing moments happened last year during the iWCGPS. The first one, in general, would be finishing the championship in seventh position because to me it is a great achievement. It was unexpected, and even more after a poor beginning of season. If I only want to think about a memorable iRacing moment during a race, I'd say my overtake on Greger (Huttu) during the race at Road America, in the iWCGPS. Even though we were on different pit strategies and Greger was really heavier than me, it's still a great feeling to overtake the ultimate alien!
Q:     What is the iRacing moment you'd love to forget?
A:    Well, there's nothing I would love to forget, but some things I would like to do better, such as some races of last year's road world championship : the opening round at Watkins Glen (DNF), Indianapolis, Zolder for example. Those are the races where I could have scored important points for the championship but instead of that, I didn't finish for reasons I could have avoided.
Q:     What car/track would you like to see iRacing add to the service?
A:    I would love to see some open-wheelers such as Formula 3 car, GP2, Formula Ford, and also more F1 tracks because this is the main weakness regarding F1 at the moment. Some French touring cars would be great too, mainly the Renault Clio and/or the Megane Trophy.
Q:     What's your favorite real world racing series?
A:    The Formula 1 World Championship of course.
Q:     Name of your favorite movie/TV show?
A:    Suits (TV series), Top Gear, Boss, How I Met Your Mother, etc.. I'm really a fan of TV series and give you the list of my favourites ones would take too much time!
Q:     How many of your close friends are iRacing members?
A:    None are iRacing members since they are not really interested in sim-racing. However, I met virtually a lot of people thanks to iRacing and it would be great to meet some of them for real.
Q:     Has competing with iRacers all around the world influenced your opinions/outlook on life/world events? How?
A:    It did. I never thought sim-racing could gather people from all over the world so easily. There's no more different cultures, different languages, because we basically share a passion of motorsports/sim-racing. It makes things easier because it looks like there's no more barriers between different countries.
---
You may also like...
---