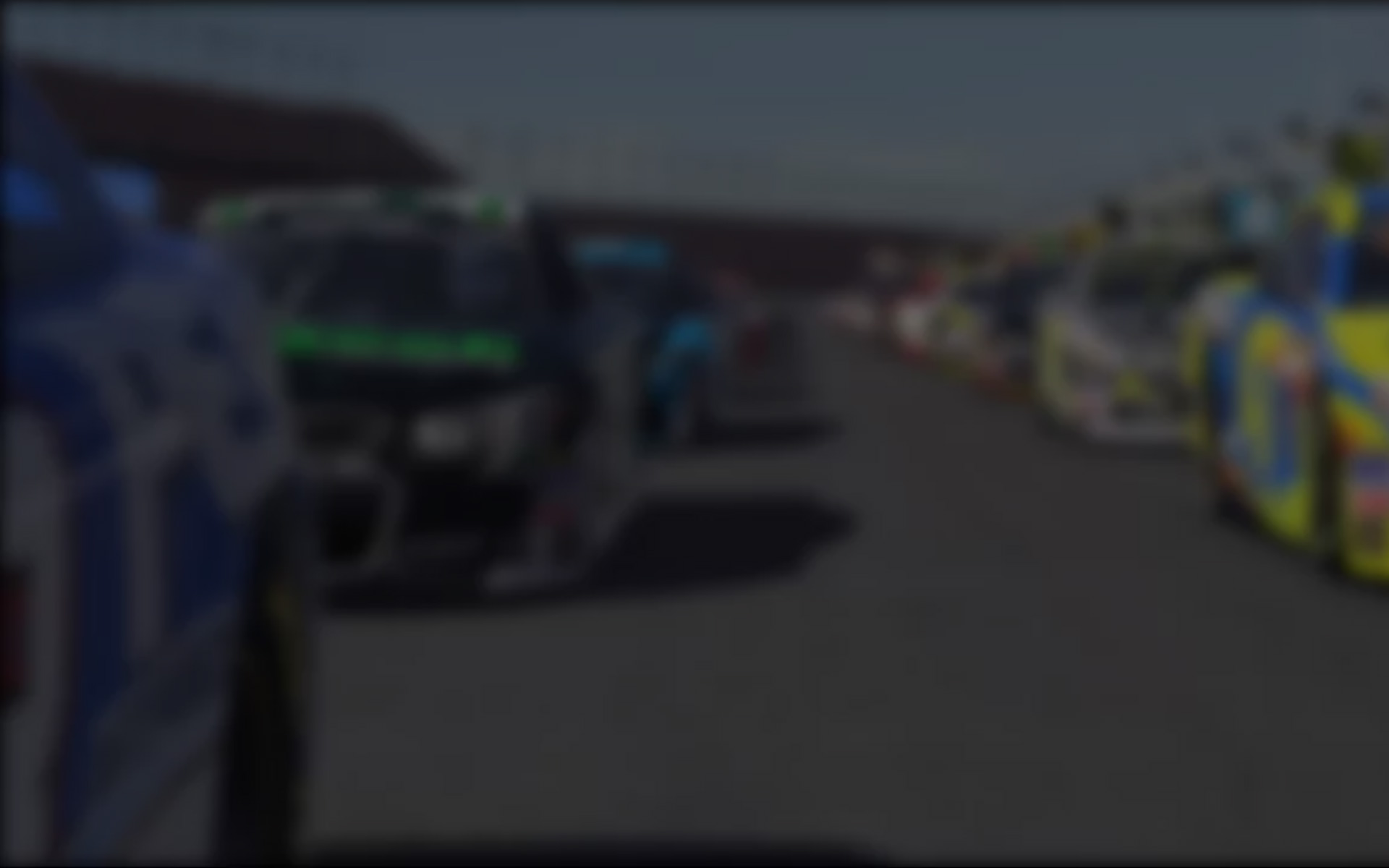 Joshua Muggleton doesn't want to hear about third places.  A few years ago, the Sydney-based iRacer finished P3 in the Playstation GT Academy competition (after he was taken out of the lead) and so missed an invite to the Playstation Race Camp.  And in four seasons competing in the iRacing.com V8 Supercar Series he finished third, third, third and, you guessed it, third.
That all changed in 2013 Season 3 when "Muggo" charged to 23 wins in 34 starts to edge Tatts.com teammate — and seven time champion — Madison Down for the overall series title.  If last week's win in Round One win at Okayama is any indication (the 432nd of his iRacing career), he plans on repeating as iRacing's V8 champion in S4.  He also plans to translate his sim-racing into real world motorsports in the coming year and put the words of Peter Brock into practice:  Bite off more than you can chew, then chew like hell!
Q:     How long have you been sim-racing?

A:    I've been sim-racing for about five years now. More seriously in the past two years though. Before that I was always playing racing games on Playstation.
Q:     What attracted you to iRacing?
A:    The realism, the variety of cars/tracks, the level of competition, and the fact that so many real drivers endorse and use iRacing as a training tool.
Q:     What are your favourite iRacing cars and tracks?
A:    Cars would be the V8 Supercar, Riley DP, Ford GT and Cadillac CTSV-R. Favourite tracks are Mt Panorama Bathurst, VIR, Interlagos, Sebring and Spa.
Q:     What do you most like about iRacing?
A:    I think it has to be the realism. The fact that all the cars and tracks are laser scanned down to the millimetre, and the cars are built with real data from the teams. That along with the physics that iRacing has, it is almost like being in a real car, except without the g-forces!
Q:     What would you change about iRacing?
A:    Not much really! There are features which we have been told the iRacing staff are working on such as weather (rain) and driver swaps, which will be awesome. Other than that, the only thing I would change is my sim rig at home, so I can get even more out of iRacing!
Q:     How many hours a week do you spend on iRacing?
A:    Last season when I was working hard for the V8 Supercar championship, I probably spent an average of 12-15 hours a week. But now that will be scaled back to around five hours due to real life commitments and wanting to spend more time with my family.
Q:     Tell us about the paint schemes on your helmet/cars.
A:    My V8 Supercar is painted in a Tatts.com livery as I am sponsored by them for the V8 Supercar series along with Madison Down. My other cars run our team livery of Trans Tasman Racing (TT-R) with Hyper Stimulator and SimInstruments as sponsors.
Q:     What other sim racing activities (Forza, Gran Turismo, rFactor, etc) do you do?
A:    I have both an Xbox and a Playstation and own Forza and Gran Turismo, however since making the switch to iRacing, I don't really get them out all too often. I did however compete in GT Academy last time when it was in Australia and finished third. I was leading the national final until I was taken out twice and ended up third, missing out on a chance to go to Silverstone and participate in the Race Camp.
Q:     What are your favourite video games?
A:    My favourite video games are the Gran Turismo series, and the Fifa franchise. These are two games which I have consistently played over the years and always updated.
Q:     Do you do any real world racing? Has iRacing been of any benefit?
A:    I don't compete in any real motorsport at the moment, but am looking to start in the new year and hopefully do it more regularly. The closest I have been was hiring a Radical SR3 race car around Sydney Motorsport Park (Eastern Creek) for six flying laps. iRacing definitely helped with that experience and a lot of what you learn in the sim, transfers across to the real thing. My instructor ended up sitting there quietly and enjoying the ride after he told me he was impressed with how I was driving.
Q:     What is your most memorable iRacing moment?
A:    I have two that I can't split. One was winning my first Monday night V8 Supercar race at Spa. I had a good pit strategy and was able to jump into the lead, and then was able to deal with huge pressure from Justin Ruggier behind me to hold on for the win. The second and more recent moment, was winning my first iRacing V8Supercar Championship. A lot of hard work and effort went into that and to come away with the title was a huge relief and very satisfying.
"If you want to do something in life, don't stop at the first closed door."
Q:     What is the iRacing moment you'd love to forget?
A:    I'd love to forget about a bad passing move I made on Justin Ruggier a few seasons back at Silverstone. I got distracted and missed my braking marker, tried to pull the car up but torpedoed into him and put us both out of the race. I pride myself on racing cleanly and try to avoid contact, so that one, where it was completely my fault and it affected someone else's race, is hard to swallow.
Q:     What car/track would you like to see iRacing add to the service?
A:    There are too many to list! I would love to see a Porsche GT3 Cup car added but know that there are licencing issues with that. Maybe an SLS GT3 or Formula Ford. And definitely the Holden V8 Supercar! I would also love to see some of the cars updated to current specs as a few are getting quite dated. On the track side, the Nurburgring GP and Nordschleife circuits. And also Sydney Motorsport Park as it is only a few minutes from my house and has many layouts which could cater for many different series' on iRacing.
Q:     What person, living or dead do you most admire?
A:    I most admire my Dad. He has been extremely successful in sport, both playing and coaching, but also because he has taught me everything I know about life and how to be a good person. I hope that I can continue that with my children and be a good role model for them.
Q:     What's your favourite real world racing series?
A:    The V8 Supercar series. The racing is so close, the cars are awesome, and they are some of the best drivers on the planet. I grew up watching them and the drivers became my heroes. Ever since I can remember, I watched the V8 Supercars and wanted to be a racing driver. I still do!!!
Q:     Name the title of the most recent book you read?
A:    The Art of Racing in the Rain.
Q:     Name your favourite movie/TV show.
A:    Favourite movie would be Days of Thunder. Favourite TV Show is Suits.
Q:     How many of your close friends are iRacing members?
A:    I have made a lot of great friends through iRacing and sim-racing in general. I have gotten a few people on to iRacing over the years and they all love it.
Q:     Has competing with iRacers all around the world influenced your opinions/outlook on life/world events? How?
A:    Not so much on life or world events, but it's awesome to know that there are so many people out there who share your passion for cars and motorsport. One thing I have learned is that if you want to do something in life, don't stop at the first closed door. If you want it bad enough, keep looking until you find that door that is open or ajar. Then jam your foot in there and work your butt off to get in. I'm still looking for my door, but when I do, there will be nothing stopping me walking through it.
---
You may also like...
---