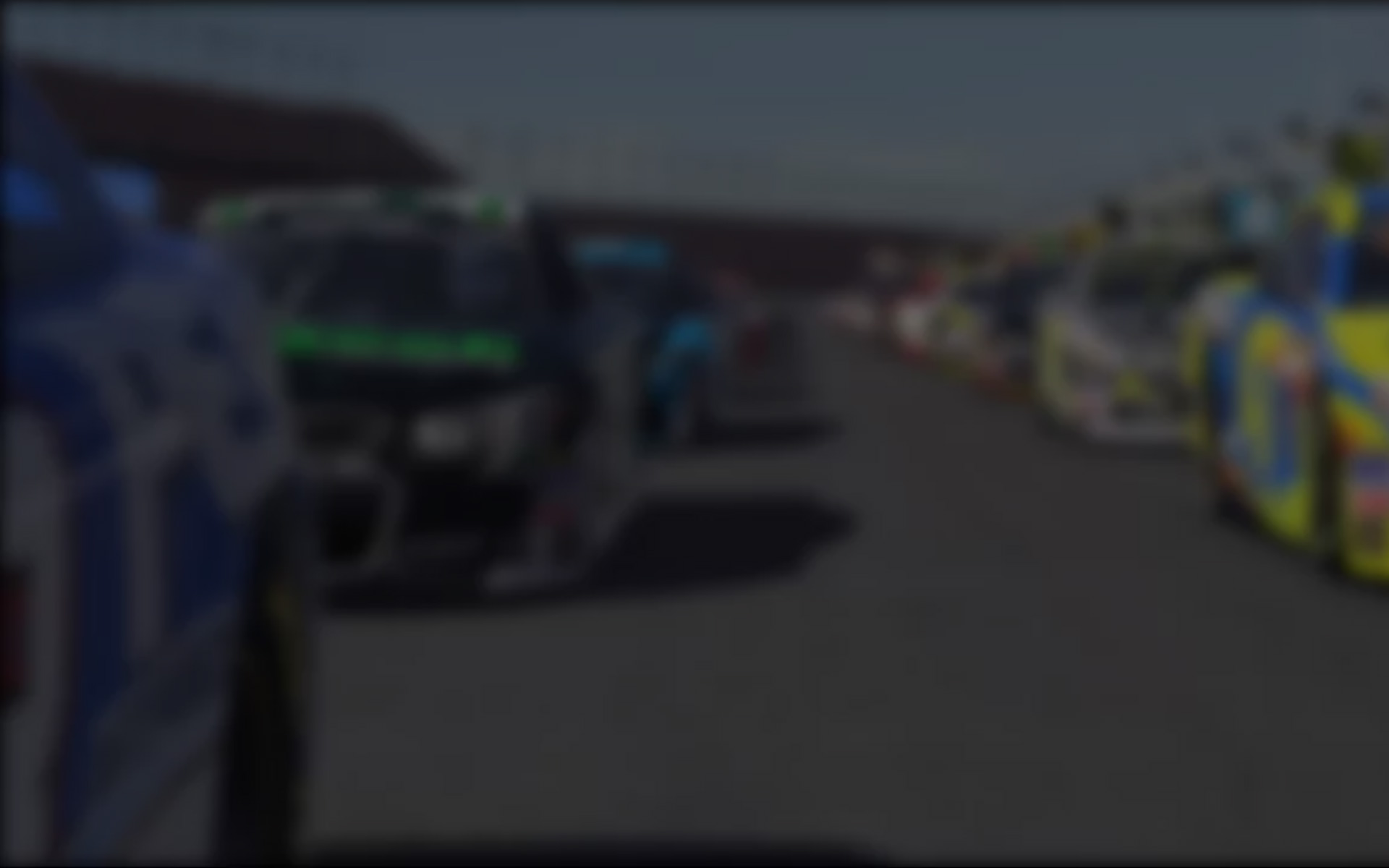 When he's not out photographing rugby (http://michaelbooth.me.uk), Scotsman Michael Booth can be found at the wheel of his sim racing rig.  When he's sim racing you can expect his virtual cars to be equipped with doors and fenders, as Booth had a preference for sedans and sports cars of many shapes, sizes and speeds.  He knows how to get the most out of the modestly powered Pontiac Solstice, witness the fact that he won back-to-back Soltice titles in the inRacingNews Challenge in 2011 Season 3 and 4.
Care to rev-up the excitement a bit?  One of Booth's favorite cars is the Ford Falcon FG V8 Supercar, which he has piloted to 13th spot in the 2012 Season 1 standings so far.  And if that's not quick enough,  try the Corvette C6.R.  Booth currently resides in seventh spot in the 'Vette class of the iRacing.com Prototype and GT Challenge (Fixed) with a trio of wins and 15 top five finishes in 16 starts, this after placing ninth in the 2011 Season 4 standings.  But what elses would you expect from a man who takes his marching orders from fellow Scotsman, the late Colin McRae:  if in doubt, flat out!
Q: How long have you been sim racing?
A: Since April 2008 when I was introduced to the Live for Speed demo by someone I knew on a forum. Started-out on a keyboard before I hooked up my PS3 controller and I've been using it ever since!
Q: What attracted you to iRacing?
A: Originally a one month deal with the Radical and Silverstone. I joined in March 2009 but didn't have the time nor experience to try it thoroughly, so didn't renew.  A year later, with more people I knew joining iRacing, I gave it another go thanks to a cheaper Talladega promotion – not that I've ever raced the track since I got it!
Q: What are favorite iRacing cars/tracks?
A: Cars: the V8 Supercar always puts a smile on my face because it's a challenge to control and get right; I've also been enjoying the Corvette C6R recently as well.
Tracks: Aside from the tracks I've been to – Spa, Brands Hatch, Oulton Park and Silverstone – I would have to say Road Atlanta.
Q: What do you like most about iRacing?
A: The real life tracks (minus the landmines of course) are definitely iRacing's strongest point.  The competition system has its pros and cons but on the whole it's decent enough and generally does its job, and I suppose despite having to wait until a certain time, it does make races generally more of an event than they otherwise would be.
Q: What would you change about iRacing?
A: It would have to be to add proper endurance racing/driver swaps, one of LFS' strong points, and have more stuff like native live timing and a 2D spectator function (LFS remote) available for free to help view races without being an actual spectator.
Q: How many hours a week do you spend on iRacing?
A: Far too many!  Depends on how much free time I have, and also the series I'm running during the week, but usually one or two hours per day – plus forum browsing!
Q: Do you do any "real world' racing? If so, do you use iRacing to practice or prepare for your real world races? If so, how?
A: Apart from some fun karting events that I've done, no real world racing for me unfortunately.  I'm sure like most people, I would if I had the cash!
"It's normally the close battles – whether you win or lose – that are most memorable."
Q:Tell us about the paint schemes on your helmet/car(s)
A: meh Racing came about when I formed a team for a one-off event in LFS, "meh" being the response I got when I enquired with my co-driver about a team name!  As we were both from Scotland we had a simple blue and white scheme, with the flag on each side.
Last year we had Christian Zorner (aka Gerdoner) design a livery for our GT and single seater exploits in LFS.  Since then I have simply converted the schemes for my iRacing cars.
My helmet is basically as close as I will get to the Scottish saltire in the iRacing paint shop – can't be bothered making a custom one!
Q: What other sim racing activities (Forza, Gran Turismo, etc.) do you do?
A: I am still involved in LFS, where I help admin leagues (e.g., Masters of Endurance) or drive for fun without having to worry about getting any incidents that affect my SR!
Q: What are your favorite video games?
A: I don't play many PS3/PC games, so looking back I'd have to say the all time classic that is TOCA 2.
Q: What is your most memorable iRacing moment?
A: Like any racing sim it's normally the close battles – whether you win or lose – that are most memorable. And I've had quite a few of them in every car.
Q: What is the iRacing moment you'd love to forget?
A: Any moment where I make a mistake which takes out others, or one where I crash out when I'm doing well!
Q: What car/track would you like to see iRacing add to the service?
A: Knockhill, which is just 25 minutes up the road from me, and a BTCC Super Touring car from the '90s! Being realistic though, more European content.
Q: What person, living or dead, do you most admire? Why?
A: Not sure I really have any specific person I admire, although Colin McRae is someone who I'll always remember – "if in doubt, flat out"!
Q: What's your favorite real world racing series?
A: F1 and BTCC, though I've been following endurance racing recently through Radio Le Mans.
"Colin McRae is someone who I'll always remember . . ."
Q: Name the title of the most recent book you read.
A: My fiction reading is nonexistent at the moment, so probably a PHP/MySQL web development book.
Q: Name of your favorite movie/TV show?
A: I don't watch much TV or many films, but if I do it's usually sport or something else interesting like crime or thrillers.
Q: How many of your close friends are iRacing members?
A: None – I wouldn't say anyone that I know has heard about iRacing, or racing sims in general.
Q: Has competing with iRacers all around the world influenced your opinions/outlook on life/world events? How?
A: Well it's definitely confirmed some regional stereotypes! But it's also brought to my attention other racing series like Grand-Am and Indycar which I didn't follow as closely before.
---
You may also like...
---