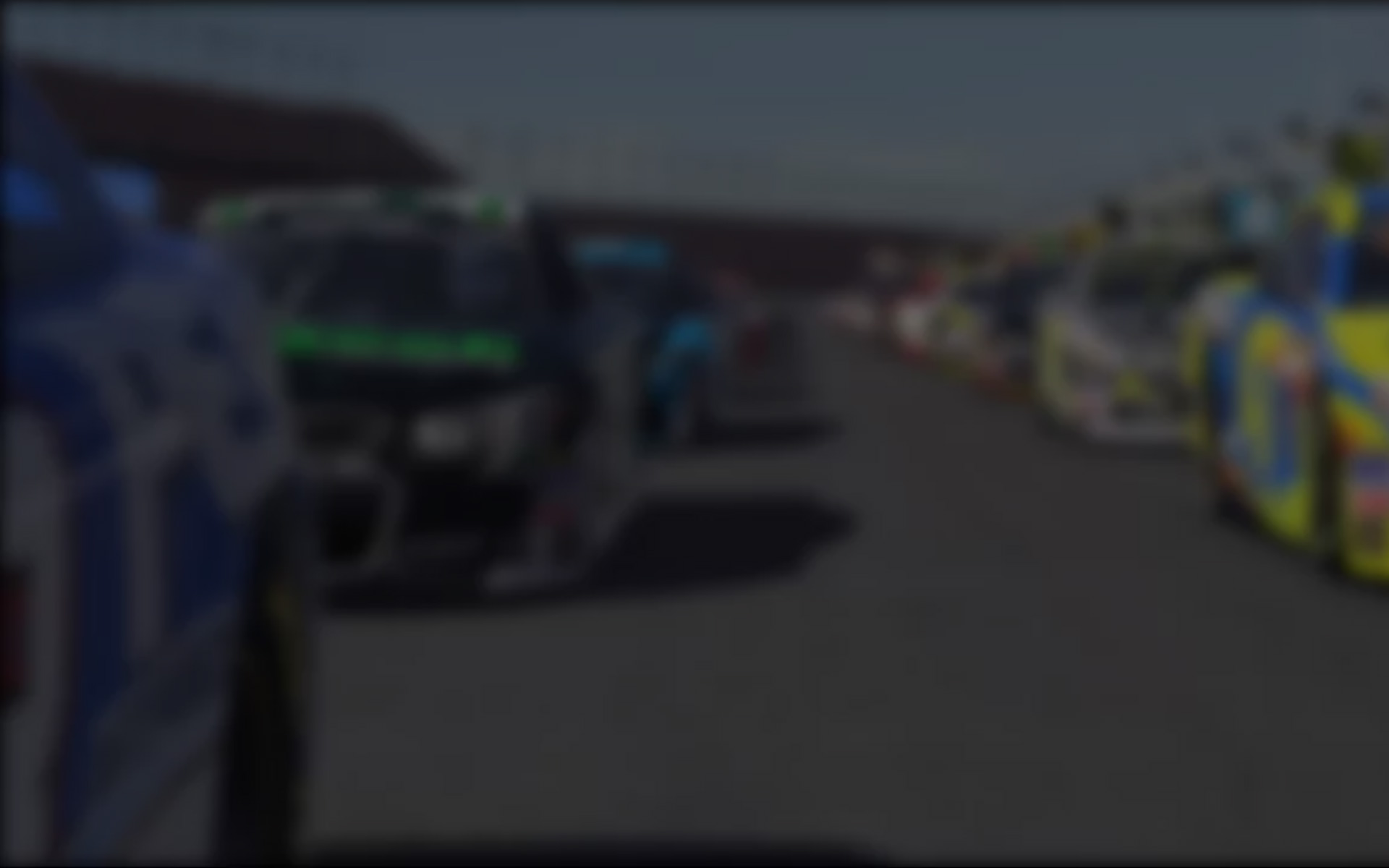 It didn't take long for Oscar Sahlin to make an impact on iRacing.  The postman from Södertälje, Sweden joined the service in the middle of 2011 Season 1 and, by the time the final checkered flag of Season 3 had fallen, he had bested the likes of Ryan Field and Brian Strodtbeck to claim the iRacing.com Mustang Challenge title.  The Ford Mustang FR500S remains his metier, as Sahlin had driven his personal virtual (or is that virtual personal?) pony car to third place the past two seasons of the iRacing.com GRAND-AM Sports Car Series.  With the finish line coming into view for 2012 Season 1, he finds himself in a familiar spot — third — behind Paulo Valente and Matthew Davis in the GRAND-AM series with seven wins and ten top ten finishes to his name in in ten starts.
Sahlin is also branching-out from the Mustang of late, taking a half dozen Corvette class wins so far in the iRacing.com Prototype/GT Challenge even as he learns the oval ropes in Street Stocks.   Still, the call of the Mustang is strong.  As if he doesn't get enough of the FR500S in official iRacing series, Sahlin is a fixture in the Continental Endurance Sports Car Series where a trio of podium finishes puts him in second place in the GS class behind the (so far) perfect Trace McRae…
Q: How long have you been sim racing?
A: I started slow, first offline with Nascar Racing 2003 Season, then a long break until GTR 2 came in 2006. Then I raced a couple of years with the RACE 07-series, until a friend there told me about iRacing. At first reluctant, I tried the three month deal and I got hooked right away.
Q: What attracted you to iRacing?
A: The laser-scanned tracks first of all. Second, the realism and the many series I felt tempted to try out.
Q: What are favorite iRacing cars/tracks?.
A: Brands Hatch is my favorite track, but sadly after one year now in iRacing, I haven't raced there yet.  Mustang and Corvette are my favorite road cars, Monte Carlo comes in third as a road course car, as oval car it's my favorite, closely followed by Silverado.
Q: What do you like most about iRacing?
A: The spectator feature. It's like watching motorsports on TV, only better. Picking camera views, rewinding to incidents you pick-up on voice chat, chatting with other spectators. Sometimes I just sit and wait for races to go official, then I pick a race to watch at random, sometimes I look in myRacers to see if teammates or other friends are racing at the time.
"The spectator feature.  It's like watching motorsports on TV, only better."
Q: What would you change about iRacing?
A: Add more cars to existing series and classes, instead of adding new series that will bring down participation in others.
Q: How many hours a week do you spend on iRacing?
A: Too many! I'd guess it's 20 hours or more..
Q: Tell us about the paint schemes on your helmet/car(s) . . .
A: Paint on helmet is just basic iRacing flames scheme. Flames have been red, blue and now finally gray flames. My Mustang paint is pretty basic, blue stripes on dark gray base color. Then I've added to it from season to season, last update was to add the logo of the racing team I joined recently, The Black Rebels. The Corvette paint scheme I use was painted by David Garcia for the racing team.
Q: What other sim racing activities (Forza, Gran Turismo, etc.) do you do?
A: I sometimes go back to RACE 07 and drive a few races in the BMW 320i E46 or BMW M3 E30.
Q: What are your favorite video games?
A: Right now, Battlefield 3. But I don't have time for multiplayer, and singleplayer is getting boring.
Q: What is your most memorable iRacing moment?
A: Hard to pick, there's a memorable moment almost every week. But if I have to pick, my two races so far in Continental Endurance Sports Car Series have been some of the best and most fun races so far.
Q: What is the iRacing moment you'd love to forget?
A: Start of 120 minutes of Sebring event, got too close to the car in front and locked-up just enough to unsettle the car. From there I was a passenger as the car started sliding left into the wall, flipped over and took one other Corvette with me to the outside wall, damaged the front on one other car coming behind us. . .   I'm not the one to just rage quit. I viewed the incident a few times, wrote private message to the one I took with me to the wall. I stayed to watch for a while, wrote good luck private messages to a few drivers I know. In other accidents I've had, it was only single car incidents where I crashed myself. This was different, and was super embarrassing. I'd love to forget this moment.
"I was a passenger as the car started sliding left into the wall…"
Q: What car/track would you like to see iRacing add to the service?
A: I'd love to see new GT cars Grand-AM series, particularly the BMW M3, Mazda RX-8 and Chevy Camaro. Nürburgring of course!
Q: What person, living or dead, do you most admire? Why?
A: Nothing comes to mind…sorry.
Q: What's your favorite real world racing series?
A: STCC has been for a long time, but this year there's a struggle between STCC and a new series called TTA. And I think TTA will win my interest, maybe a little because I'm a biased to Saab, which atleast one team I heard of will drive in that series.
Q: Name the title of the most recent book you read.
A: The Last Coyote by Michael Connelly
Q: Name of your favorite movie/TV show?
A: The Shawshank Redemption is my favorite movie, and Southland is my favorite TV show.
Q: Has competing with iRacers all around the world influenced your opinions/outlook on life/world events? How?
No.
---
You may also like...
---