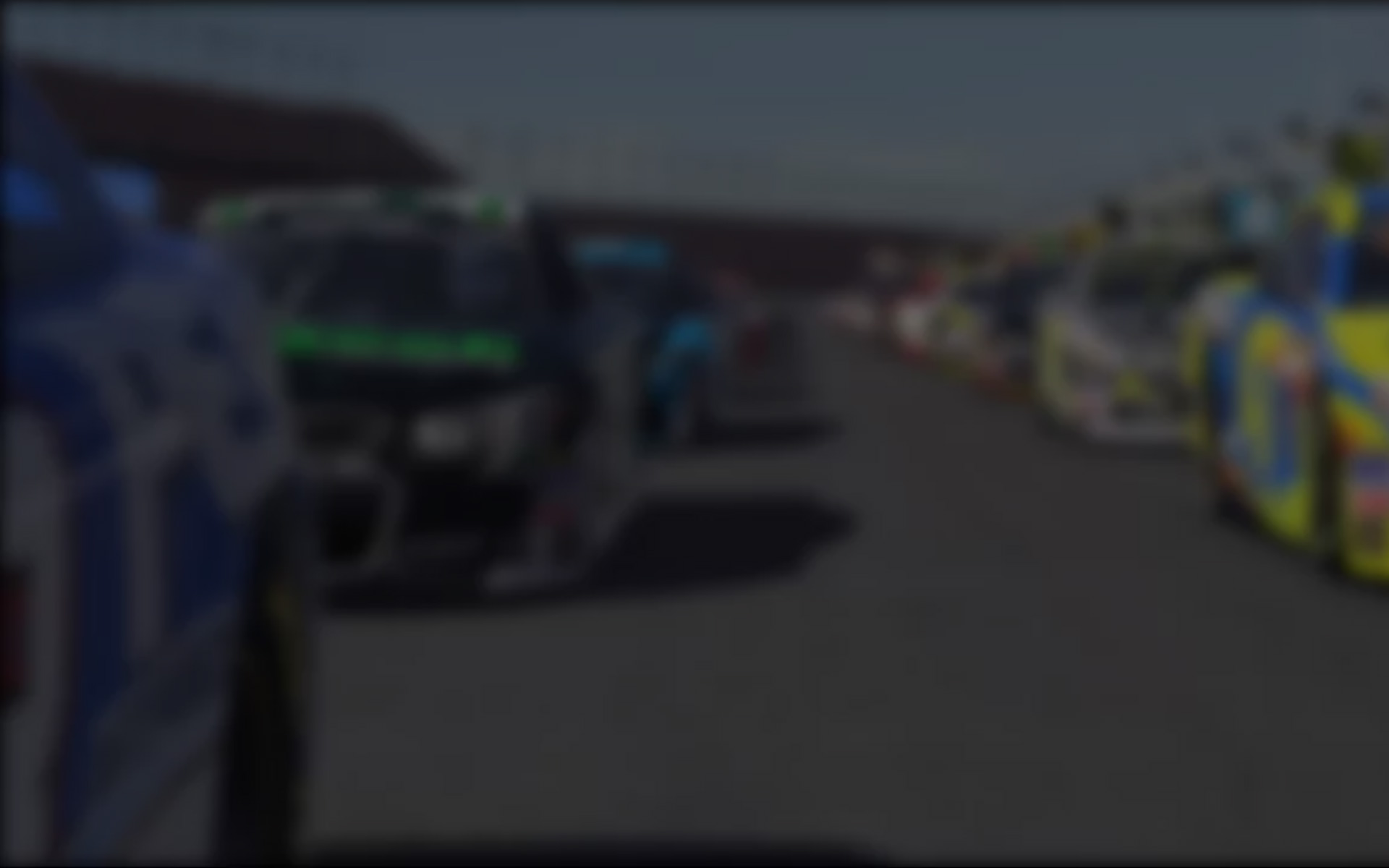 Trenton Moriarity embodies much that is good about the sport of sim racing.  Sure, he's a fierce competitor.  He currently enjoys a narrow lead over rivals Kevin Burris and David Ratler in the iRacing.com Late Model Series, thanks to taking six wins and five more top fives in a dozen starts so far this season.  But beyond that — well beyond that — is the fact the Monroe, WA-based Moriarity has his sim racing in perspective, seeking to leverage whatever success he may enjoy to support young Piper Needham's battle against leukemia.  Then too, although he may live and breathe NASCAR, Moriarity counts the sim racing community's tribute to IndyCar racing's Dan Wheldon – The Dan Wheldon 77 – among his most memorable moments.
All this is not to suggest that Moriarity is anything less than a young man driven to achieve his goal, namely, following in his father's success on the real race tracks of the Pacific Northwest and, perhaps, the rest of America.  But it is to say that, at age 19, Trenton Moriarity has a remarkable sense of perspective and maturity, attributes that will serve him well regardless of the degree of success he achieves on the race track, be it virtual or real.
Q:    How long have you been sim racing?
A:    I have been sim racing for just over a year 1/2
Q:     What attracted you to iRacing?
A:    Well what's funny is I am from the Northwest and back in 2007 and 2008 we had the Northwest Late Model Tour.   It was sponsored by iRacing.com and it caught my attention.  One day at Spokane Raceway Park, during the drivers meeting, they started talking about it and I was like 'No way!  I have to see this!'  So I looked into it, and I knew I had to get this.
Q:    What are favorite iRacing cars/tracks?
A:    My favorite car by far is the Late Model; just love the way it drives and how close the races are. By far one of the great series to race in each week in iRacing! Favorite track?  Hmmmm, that's tough. They're all great tracks, but I love Talladega in the trucks now.  It's so much fun. Thompson Speedway and South Boston, too, but all time favorite track would have to be Stafford Speedway.  That track is so fun to wheel the late model around.
Q:     What do you like most about iRacing?
A:    Overall the continuous effort to make this the most realistic simulation game out there. Just amazing at what they are starting to do now with the driver, and the NTM has brought it up one more notch closer to racing.  If you want to be up front in the top split races from the trucks to the Cup car you need to hit on your set up and make sure you can drive it 100% because if you can't. I've noticed you're just out to lunch. And I can say I have done that (out to lunch) in a couple of races.  haha.Q:
What would you change about iRacing?
A:     I would not know what to change. I mean they are doing a great job.  Why change it when it's already perfect!
Q:    How many hours a week do you spend on iRacing?
A:    Oh gosh haha if only iRacing had a 'total hours spent on iRacing' feature. lol  Well when I first started iRacing let's just say I would come home from school at 3:00pm every day and just skip doing homework and race as much as I could before the parents got home lol. But now I just race two times a week in the Late Model because I am leading the Division One and overall points standings! But by next year I will be focusing on the Class A car because I want to make a run for the Pro Series next year.
Q:    Do you do any "real world' racing? If so, do you use iRacing to practice or prepare for your real world races? If so, how?
A:    I do race but not circle racing.  I help with my dad with his super late model and spot for him. I race Motocross and Arenacross in the winter time!
Q:    Tell us about the paint schemes on your helmet/car(s).
A:     Oh where do I start on that one? The reason why I did this was because of Chad Needham, my fellow iRacer and buddy. I found out in one of my league races at In The Zone Racing (ITZR) that they were putting together a charity race for Chad's daughter Piper.  She is almost two and is battling with leukemia.  They are only giving her a 20% chance of beating the Cancer! But Piper is a fighter and is beating it and doing awesome.  Everyone at ITZR is pulling for her to beat it!
"Piper (Needham) is a fighter and is beating it and doing awesome."
So I went to John Ada, who is by far one of the best painters on iRacing! He hooked me up with a sweet deal and did the car, driving suit, and helmet! I was entered in the Tim's Corner SOBO 150 or you can call it the Late Model Championship. I wanted to get the word out about this and what they are doing over at ITZR. I ran the scheme for Chad and his family, they have a blog that they update all the time on how Piper is doing! If anyone would like to know more about what she has gone through here's the link http://needhamcrew.blogspot.com/.
I have to thank John Ada for the amazing job he did and the time he put into it in such a short amount of time! Because I came to him and because of how much I love the Late Model, I was asked to be a part of his team.
Q:     What other sim racing activities (Forza, Gran Tourismo, etc.) do you do?
A:    My sim of choice is iRacing.com.  Nothing can compares to it.
Q:     What are your favorite video games?
A:     Well this is no shocker.  Like everyone else, lol, would be Modern Warfare 3 or Mx vs Atv Alive.
Q:    What is your most memorable iRacing moment?
A:    I don't have one yet that's worth talking about lol!
Q:     What is the iRacing moment you'd love to forget?
A:    This season I was in a hosted session at Talladega in the trucks.  It was a 15 lap race and I was leading with like five laps to go.  Well, my buddies who were out of the race thought they would like to play a joke on me! So they say "Trenton, you've got to pit next lap. You need to pit for two tires. That was the rule." And I was like "Seriously?"  So when I was in Turns 3 & 4, my buddies say "Pit this lap." So I pull off and everyone just starts laughing at me because there was no pit stop rule. When I joined the session I never read the description, so I screwed myself out of a win! I was so pissed that I fell for it! haha.
Q:    What car/track would you like to see iRacing add to the service?
A:    I would love to see iRacing come up here to the Northwest and scan one of my local tracks.  I noticed there are no West Coast short tracks on iRacing, outside of Irwindale Speedway. I wish they would scan Evergreen Speedway.  It has three tracks:  5/8, 3/8, and 1/5 mile ovals . . . along with a figure 8 track, but that does not count. The car would have to be a Super Late Model.  Those cars could be like a Class B or C car only with more horsepower.  A lot of people have wanted this car.
Q:     What person, living or dead, do you most admire? Why?
A:    My dad Tom Moriarity, because of what he has done in 21 years of racing: 11 championships, eight in Super Late Models, and three in Mini-Stocks. In 2001 he was the final champion for the NASCAR Great West Region!
He started racing motocross before he got into car racing.  That's where he started me, and I know in a few years I'll be stepping into a race car.
Q:     What's your favorite real world racing series?
A:    NASCAR, of course.
Q:    Name the title of the most recent book you read.
A:   Transworld Motocross magazine lol
Q:    Name of your favorite movie/TV show?
A:    Tosh.O haha The stuff he finds and does is funny!
"My favorite was The Dan Wheldon 77 . . . that just shows we come together for a great event."
Q:    How many of your close friends are iRacing members?
A:    A lot of my friends have iRacing, but no one helped me as much as Toby Jenkins.  He got me to where I am now in iRacing and I can't thank him enough — especially for his help with Late Models by teaching me how to set-up the car to my driving style and line choice! Now I run for his team — Jenkins Motorsports.  Again, I cannot  thank him enough for all that he has done for me. I know if I make pro it will because of what he taught me.
Q:    Has competing with iRacers all around the world influenced your opinions/outlook on life/world events? How?
A:    Actually it has showed me how sim racing is as a major sport around the world. The world events are really cool to race in; I wish they would do more of those because everyone enjoys them. My favorite one was The Dan Wheldon 77.  There were so many people that raced in that.  It was very cool.  I was in the second split and we all agreed no one would talk on Lap 13, the lap that took Dan from us. Also, on the final lap everyone was quiet. We also did a three-wide salute at the start, but the front row missed one driver on the inside — that was for Dan!
That just goes to show that we all have that soft spot in us no matter what, and we come together for a great event.
---
You may also like...
---