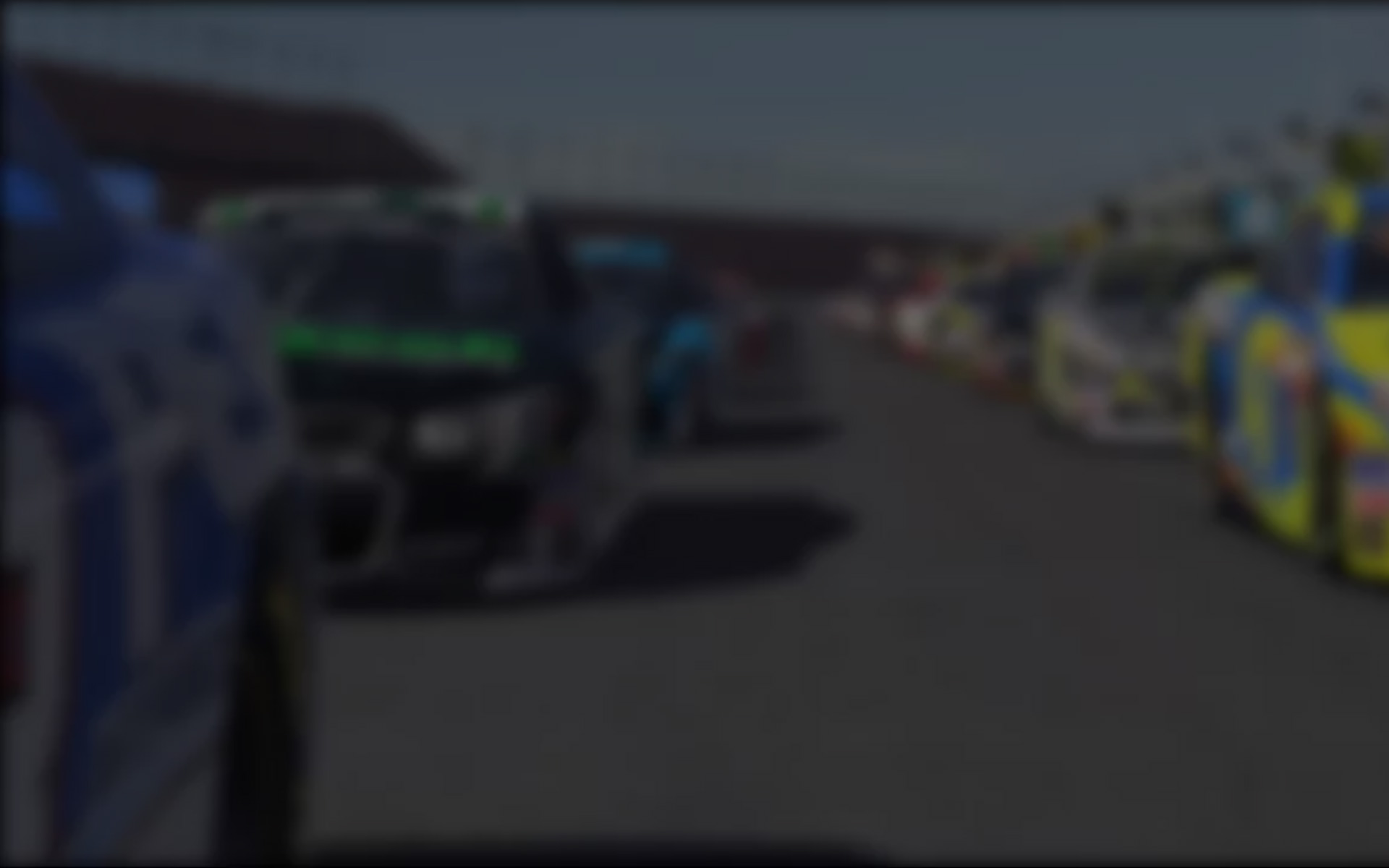 Versão em português abaixo
Last Tuesday, February 4th, started the 1st season of Masters of Track, a championship organized by iRacing Brasil league, to the road drivers, racing the RUF RT12 Track version, the most popular car at the moment. The 1st race was held at Road Atlanta, with 46 laps total and 36 cars on the grid. Among them, members of Club Brasil and Iberia were racing for the prize of 200,00 BRL (almost 100,00 USD) in cash for the final champion, to be declared after the total of 10 races scheduled. The series follows iRacing official calendar of GT3 Challenge, to make drivers' preparations easier, also running open setup and rolling start.
Bruno do Carmo, on the Ruf nº 7, was the pole position of the race and started side by side with Diego Rancãno Boudon, from Club Iberia, on the RUf 46, forming the 1st row at Road Atlanta. The start of the race, even with so many cars, was clean and only one sim-racer was seen going off-track on the green flag, showing a high level of maturity on the driving skills of the racers.
Unfortunately for Diego Rancaño, who started the race on the outside line and was a contender for the win, things didn't go as expected and on the 1st lap he had to serve a penalty by overtaking the leader while behind the pace car. Thiago Almeida gets the 2nd place then, on the car nº 1. Fernando Santti also had some trouble at the race start, racing the RUf 69, after losing car control by himself and falling from 6th place to 21st, embittering a big loss.
Jamison Sampaio aboard the RUf nº 20, with a livery remembering Ayrton Senna's F1 car, also didn't had things easier for him while he had to fight to keep on the top 10, on the 9th spot he tried to move ahead, suffering with a bad connection, blinking for the whole start.
The race lead was still from Bruno do Carmo after the first 10 minutes of the start, with Thiago Almeida on his tail. Both drivers had already got away with more than 5 seconds of difference for the 3rd place and were having a private competition, away from the rest of the field. Consistency was important on their battle.
At lap 18, Thiago Almeida get to lead the race after overtaking Bruno do Carmo on the outside lane at the main straight, taking advantage of the lapped cars ahead. Racing for the 3rd position, Kaique Piropo (17) and Lucas Smith (07) had also a fierce battle for a possible podium finish. Lucas had overtook Kaique, but after a few laps, with halfway to the finish, Kaique takes it back but is bumped from behind by Lucas, taking both cars to the walls of Road Atlanta. They had to fix the damages on the pits after that.
Things get busy at Road Atlanta. Thiago Almeida also did a mistake and does a self-spin, losing the lead to Bruno do Carmo. Thiago keeps the 2nd place thanks to the fast pace he had and the crash between Kaique and Lucas. Pablo Pohlmann on car 28 gets the 3rd place with that, being 15 seconds behind Bruno.
Drivers had to pit to refuel and some of them also had their tires changed. Bruno do Carmo, still on the lead, leaves his pit-stop close to the end of the race, getting on the pitlane with a little more than 12 minutes left. Johnny Miranda, on the 17th place, was the last driver to pit.
Bruno do Carmo left the pits with his lead, and no bigger worries, except for the lapped cars he found ahead of him on the end of the race. Luiz Gonzaga Filho (000) on his very damaged Ruf and Eduardo Nogueira (77) were racing for the 9th place and they didn't maked it easier for Bruno, who had to be patient and cautious to leave them behind with 3 minutes left to the finish.
By the end of the race, Bruno do Carmo becomes the winner, with Thiago Almeida coming 2nd. Wendel Parra was 3rd, Henrique Mandziuc at 4th place and Diego Rancaño Boudon, 5th, make the top 5 of the 1st race of "Masters of Track."
Watch the full race on the link below:
http://www.youtube.com/watch?v=6AIxgbxZdhM&feature=share
iRacing Brasil inicia 1ª temporada da Masters of Track
Na última terça-feira, dia 04 de fevereiro, teve início a 1ª temporada da Masters of Track, campeonato organizado pelo iRacing Brasil para atender os pilotos de Road, com o RUF RT12 Track, o carro mais popular do momento. A 1ª corrida foi em Road Atlanta, com duração de 46 voltas, teve 36 carros no grid, com membros do clube Brasil e Iberia participando e concorrendo pelo prêmio de R$ 200,00 em dinheiro para o campeão, ao final das 10 etapas que integram o campeonato. A série segue o calendário oficial do iRacing da GT3 Challenge com o intuito de facilitar o treino dos pilotos, que correm com setup aberto e largada lançada.
Bruno do Carmo, com o RUF nº 7, foi o pole position da etapa e alinhou seu RUF ao lado de Diego Rancãno Boudon, do clube Iberia, com o RUF 46, formando a 1ª fila em Road Atlanta. A largada, mesmo com tantos carros, foi limpa e apenas um piloto foi visto saindo da pista quando a bandeira verde foi dada, o que mostra o nível de maturidade da pilotagem dos participantes.
Infelizmente para Diego Rancaño, que começava na vice-liderança da prova e tinha condições de brigar pela vitória, as coisas não foram tão boas e logo na 1ª volta foi obrigado a entrar no pitlane para cumprir a punição dada ao ultrapassar Bruno do Carmo antes da bandeira verde. O novo vice-líder passa a ser Thiago Almeida, no carro 1. Também teve um começo de prova complicado o piloto Fernando Santii, nº 69, ao perder sozinho o controle do seu carro e cair da 6ª posição para a 21ª, amargando um grande prejuízo.
Jamison Sampaio com seu Ruf nº 20 pintado em homenagem à Ayrton Senna, também não teve vida fácil lutando para se manter no top 10, segurando a 9ª posição enquanto tentava avançar e sofria com problemas de conexão, tendo seu carro piscando por todo o começo de prova.
A liderança da prova continuava de Bruno do Carmo após os 10 primeiros minutos de corrida, com Thiago Almeida na sua cola. Os 2 pilotos já haviam aberto uma diferença de mais de 5 segundos para o 3º colocado e faziam uma disputa particular, isolados do resto dos participantes. Consistência foi importante na disputa entre os 2.
Na volta 18, Thiago Almeida obtêm a liderança ao ultrapassar Bruno do Carmo por fora na entrada da reta principal, tirando proveito do momento ao encontrar retardatários à frente. Na luta pela 3ª posição, Kaique Piropo (17) e Lucas Smith (07) disputavam intensamente por um resultado no pódio. Lucas ultrapassa Kaique mas, poucos giros depois, com metade da corrida pela frente, Kaique ultrapassa novamente Lucas, o que acaba ocasionando em um toque de Lucas em Kaique, na reta principal, levando ambos pilotos para os pits pelos danos provocados ao bater nos muros de Road Atlanta.
As coisas ficam movimentadas em Road Atlanta. Thiago Almeida também comete um erro e roda sozinho, perdendo a liderança da prova para Bruno do Carmo. Thiago consegue se manter na 2ª posição graças ao ritmo imposto durante a 1ª metade da prova, que o colocou muito à frente de seus adversários e também pelo acidente de Kaique com Lucas, que deu o 3º lugar à Pablo Pohlmann no carro 28, com 15 segundos de diferença para Bruno.
Os pilotos tiveram de ir aos pits para realizar reabastecimento e alguns também optaram por trocar os pneus. Bruno do Carmo, líder da prova, deixou bem para o final seu pit-stop, entrando no pitlane com pouco mais de 12 minutos restantes para o término da prova. Johnny Miranda, na 17ª posição, foi o último a ir para os pits.
Bruno do Carmo sai dos pits com a liderança garantida, sem maiores preocupações exceto pelos retardatários que encontrou no final da prova. Luiz Gonzaga Filho (000) em seu Ruf já bastante danificado e Eduardo Nogueira (77) disputavam a 9ª posição e não facilitaram para Bruno, que teve de ser paciente e cauteloso para passar pelos pilotos faltando 3 minutos para a linha de chegada.
Ao final da prova, Bruno do Carmo se torna o vencedor, com Thiago Almeida na 2ª colocação e Wendel Parra em 3º. Henrique Mandziuc em 4º e Diego Rancaño Boudon em 5º, fecham o top 5 da 1ª prova da Masters of Track."
Confira o vídeo da prova completo no link abaixo:
http://www.youtube.com/watch?v=6AIxgbxZdhM&feature=share
---
You may also like...
---