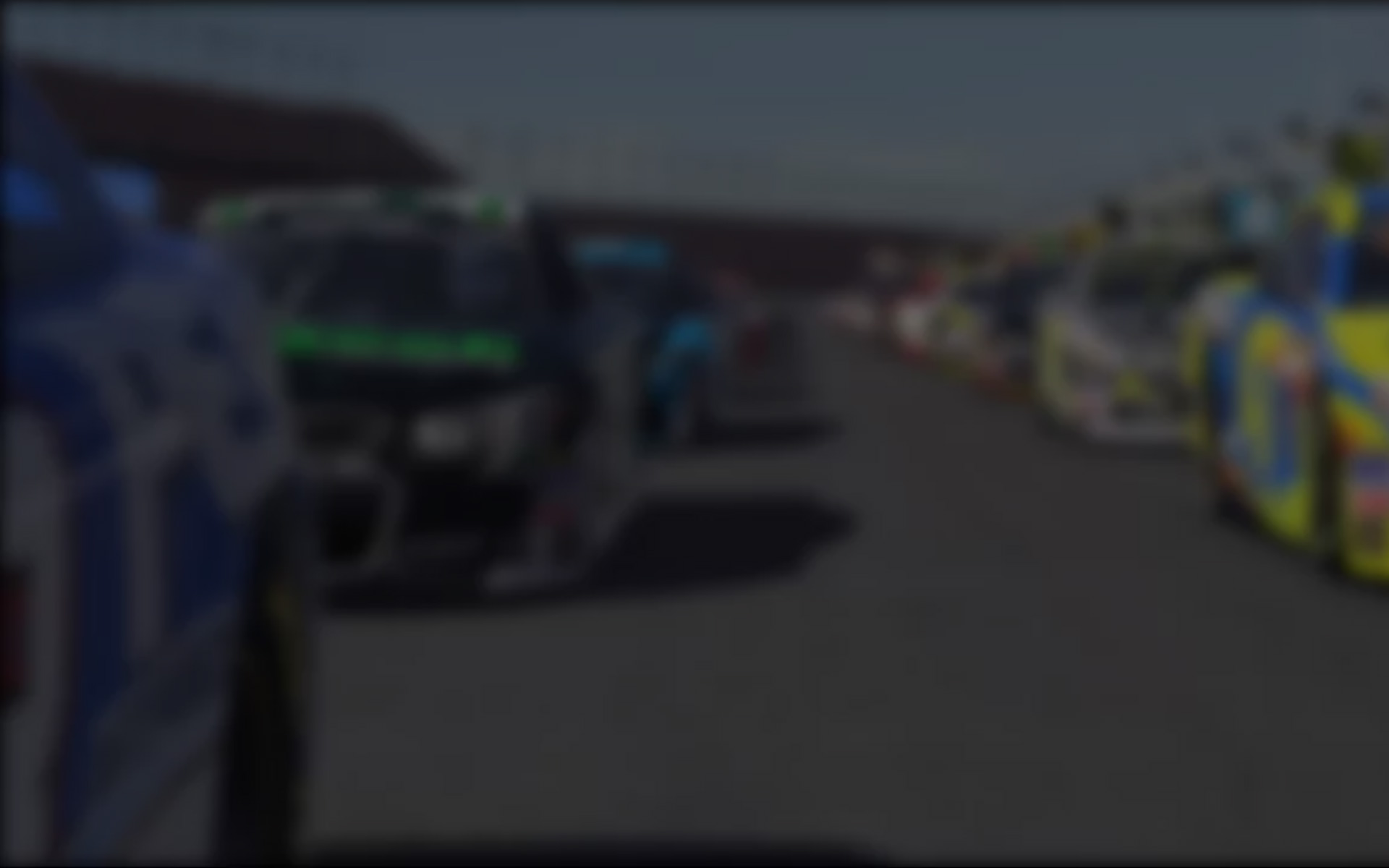 The iRacing Pros tackled the high banks of Michigan International Speedway for Week 23 of the iRacing Pro Series Oval. Michigan provides excellent racing for online racing competitors. The preferred line around the two mile track is from the middle to the top, but those who could conquer the challenge of setting their car up for the bottom would have a much clearer site out of their windshield. The draft is huge, making it all but impossible for any one driver to walk away and leave the pack, so it's anybody's race until the checkered flag flies.
One of the two Wednesday splits saw Josh Parker on the pole, with Jameson Spies to his right. Ray Alfalla, who started fourth, took the early lead and was followed by Spies for the first portion of the race. At Lap 29 the drivers went from conservation mode to "brawl" mode.  Parker, Spies, John Prather and Jake Swanson battled two and three wide for the good part of six laps, ending with Parker out front and Spies close behind.
Although there were two early cautions, the race was very clean, ending with a 92 lap green flag run to the finish.  Parker held-off Prather for the win, with Jesse Atchison hanging on, taking two tires on the final stop, to finish third from Daniel Pope, II, Swanson and Spies.  Parker was mediocre on the short runs, but really shined bright on the long runs which, given the 184 mile green flag run to the finish, made him unbeatable.  Afterwards Parker said his goal was to, "make a setup to be good on long runs and just ride behind some cars for a bit," which is exactly what he did, and earned 325 championships for the win.
Wednesday's other split saw, without question, the best racing of the season. Mike Kelley's pit crew got the job done on the money stop, putting him out front of the hard charging Tyler D. Hudson, Dale Earnhardt, Jr. and Brian Schoenburg. What ensued next was pure mayhem. Everyone was on close to equal tires, and it came down to a shootout. There was three wide racing throughout the top twelve, with the leaders two-by-two throughout the top eight. Even though it's a high banked two mile track, that didn't stop the drivers from rubbing fenders. When all the dust settled Hudson came out above the rest, with the surprising Kelley in second and Earnhardt rounding-out the top three. This race was huge for Kelley who is trying to solidify his place in the top fifty in iPSO points.
Friday morning was a very interesting race. It started with Josh Berry driving through the field from his below average starting position, then sliding up into eventual race winner Richard Towler in Turn One on Lap 30. Berry lost control and backed his number one Chevy Impala into the safer barrier, while Towler was unaffected by the incident. In a race that was filled with long green runs, Towler and Thomas Lewandowski had the two best cars on old tires. Florian Godard gave them a run though, making it three wide on the last lap for the lead.  But when it all settled out it was Towler who got the win followed closely by Lewandowski and Godard. Jani Penttinen and Spies rounded-out the top five.
Saturday hosted two splits. Brad Davies was able to slow down Richard Towler in the top split. Davies's win was never really in question as he led 59 laps and got the victory over Towler by a second. Ray Alfalla rebounded from a miserable Wednesday night to salvage the week with a third place finish, while a very strong Prather backed-up Wednesday's second place with a fourth in this race.
Derek Wood once again showed why he will be a favorite in the iRacing Drivers World Championship by leading an impressive 73 laps in his win on Saturday's other split. Lewandowski once again had the best view of the finish, as he crossed the line second, while Patrick Fogel continued his hot streak with a third in this race. Fogel is coming on extremely strong as of late, but still has not found Victory Lane, which is something that he wants to do very badly. Josh Berry attempted to rebound from his terrible outing on Friday but could only manage fifth, a solid finish, but the 231 points is not what he was looking for this week.
Earnhardt shined on Sunday afternoon. After contact took heavy hitters Berry, Parker and Alfalla out of position to win, Dale Jr. snagged the victory which, surprisingly perhaps, was only his third win of the season.  Bryan Blackford had a very strong race as he came home second, with Richard Crozier in his mirrors in third and Matt Sentell and Schoenburg rounding-out the top five.
This week at Michigan saw what could be a preview of the weeks to come: many of the top pros driving like they have nothing to lose. As we wrap up the season, the points are about set and the only thing for the top drivers to do is try to get huge points and drop some of their lower races. This provided lots of extremely hard racing, with lots of contact, and lots of pros rolling-out the backup car.
Next week is sure to be more of the same as the iPSO heads to Richmond. At this point all the drivers know their competition very well, and are sure to race extremely hard and not give an inch. We'll see if drivers can keep their cool as we head to the short track where tempers are known to flair.
---
You may also like...
---