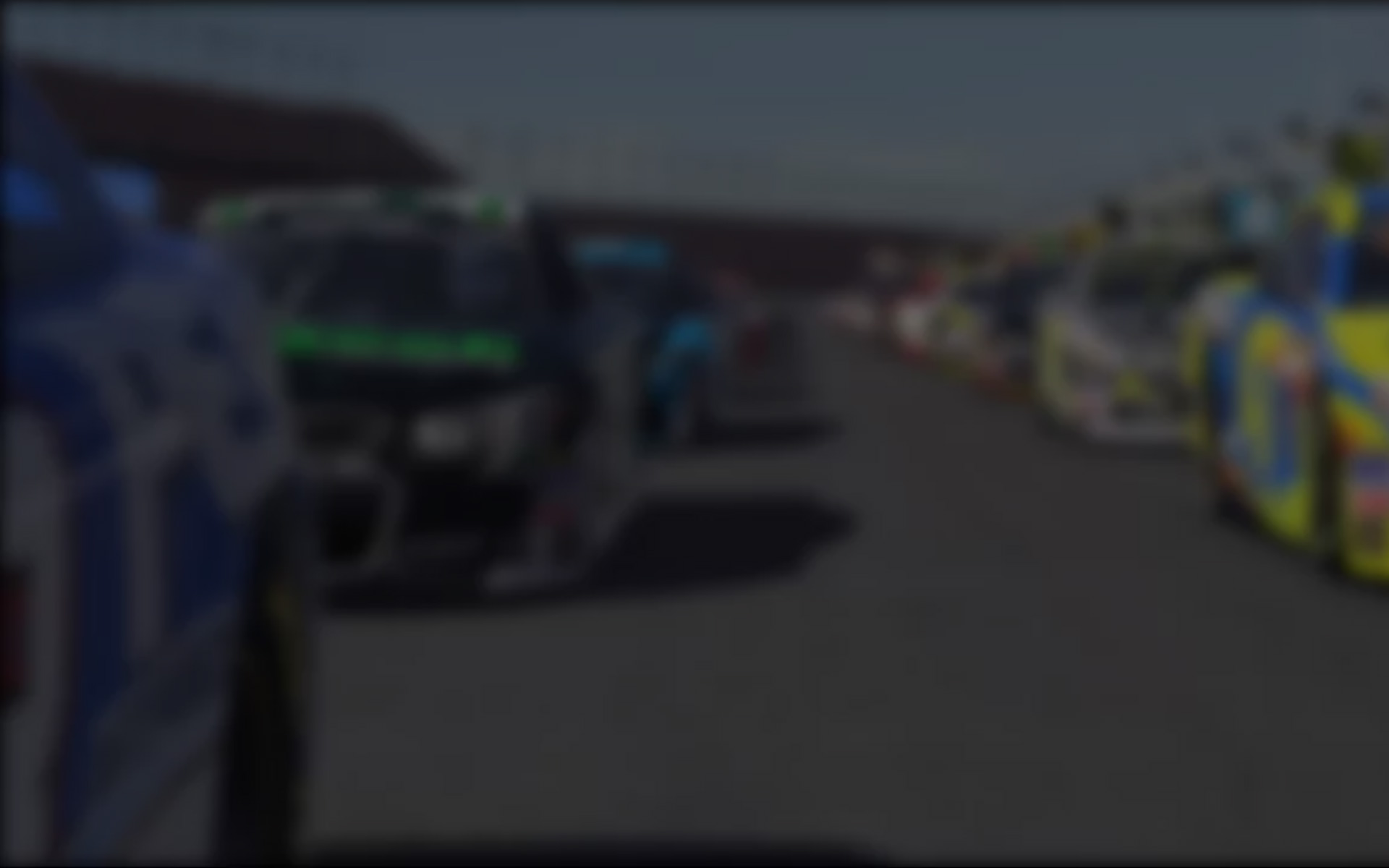 The Watkins Glen International Boot road course hosted week two of the Red Sox Racing League's 2011 Season 3 schedule.  Surrounded by scenic lakes and mountains, the track is a perfect location to kick back and relax… unless you are there to race!  Drivers don't have that luxury, because the 3.4 mile, 12 corner layout includes massive elevation changes, sweeping high speed corners, a tricky chicane at the end of the longest straight, and very few passing zones.  The track's fifty years of racing history means fans with a penchant for watching some of the most successful drivers in F1 history will be in attendance, making nervous drivers even more so as they try to live up to the standards set by their predecessors. 
Nineteen RSR league members participated in the race weekend festivities.  Of those, two failed to complete a lap once the race went green.  The remaining seventeen drivers gave the fans plenty to cheer about as they battled for position throughout the race. 
Pre-race practice and qualifying sessions were dominated by Brad Vincent.  Fresh off a win at Silverstone in week one, Vincent looked to be in perfect form for a repeat performance.  As if to put a stamp on the moment, Vincent blistered the field by posting a qualifying lap time of 1:21.481.  His lap was almost a full second faster than the nearest driver, Brian Irby, who grabbed the second grid position with a lap time of 1:22.378. 
Les Turner (1:22.651), Patrick Guerin (1:22.858), Jeff Thomas (1:22.867), earned the remaining top-five starting positions with the only other sub-1:23 laps posted during qualifying.
The remaining grid positions were hotly contested and filled in the following order; Justin Lukes (6th), Jim Albertson (7th), John Koscielniak (8th), Gary Jorgensen (9th), Terry Daul (10th), Jeff Sharp (11th), Divina Galica (12th), Kevin Kyle (13th), Ed Sutcliff (14th), William Kabela (15th), Bill Pawluckie (16th), Corey A. Wolf (17th), and Gary Clark (18th).  Wilbur Gildersleeve Jr. participated in the practice session but failed to qualify for the race.
Things began smoothly as the field safely negotiated Turn One and began to string out into a line of traffic up through the Esses.  Vincent spotted the field a huge advantage by sliding off the track in the Inner Loop.  His car escaped major damage, but the mistake allowed Irby and Turner to get past.  It is never a good idea to give those two drivers an inch on the track.
Vincent fell all the way to thirteenth place as he recovered from the incident.  Determination and good driving eventually saw him climb all the way back to 3rd place by Lap Fourteen.
Kyle's night was over before he completed a single lap.  His car received heavy damage after contact with the wall in the Boot.  Jorgensen escaped injury, but ruined his chances of a good finish after a mistake in the bus stop on Lap Three.  Galica was the next driver to experience a lack of concentration when she looped it in the Boot on Lap Nine.  Two more incidents on lap eleven cemented a poor showing for Galica as she was forced to retire.  Pawluckie had an uncharacteristic spin in turn one of Lap Twelve.  The incident wasn't fatal, but did cost him valuable time as he got back up to speed.  
Guerin made a brilliant save after a scare in the Boot on Lap Fourteen.  The quick thinking driver's ability to avoid damage ensured him a top-five finish.  Several other drivers had scares as the race wound down, but Thomas was the biggest loser when he scraped the wall exiting the Esses on Lap Fifteen.  The resulting damage dropped Thomas from 6th to 13th place, and eventually forced him to the pits for repairs. 
As Vincent negotiated his way through traffic, Irby, Turner, and Guerin battled for the top three positions.  Irby was repeatedly challenged, but never gave up and went on to lead every lap on his way to a six second margin of victory over Turner. 
Irby was eager to talk after his repeat performance in New York.  "The night was interesting from practice to the start of the race.  We qualified second and had nothing for Brad Vincent with the lap he put up.  I watched Vincent all night long during practice to see what kind of times he was going to put up and they were blazing fast.  I was going to short pit this race to try a different strategy to get around Vincent during the race, but to my luck and his misfortune, he spun it entering the bus stop."
"I was closely followed by Les and Patrick. Patrick applied a lot of pressure while we were negotiating cars that were pitting and he was able to come within .2 of my rear wing.  He decided to pit while I was in traffic and gave me some breathing room once again, but then there was Les.  We pitted about 3 laps after Patrick and luckily my pit stop seemed to go better than my competitors.  I came out of the pits clean but scared I didn't take enough fuel.  I was glad to see that my margin had grown from 4 seconds to almost 7 seconds.  This allowed me to take a few of the corners, that I would normally take in a lower gear, in high gears to conserve some fuel."
 
"I would like to thank RSR for having me and all the competitors for being so gracious on the track.  This is awesome to be able to repeat a win from last season on the same track. It really is awesome to be racing with the talented drivers that are here and to know that you can come out on top."
Turner swapped positions with Guerin twice en route to a clean 2nd place finish.  "We knew that Brad and Brian were going to be tough from the warm up and qualifying sessions", said the defending league champion after the race.  "We finally got a decent qualifying lap in the closing seconds and that put us 3rd on the grid.  Brad didn't launch well and once again we were forced to back out of a super start to avoid troubles in Turn One.  Vincent's early mistake in the bus stop was huge ensuring us a chance at the podium finish."
Albertson crossed the line in 3rd place after getting past Vincent in the latter stages of the race.  "We didn't have a great qualifying effort tonight, but climbing from 7th to 3rd on the track tells me this team has a bright future!  We had a nice clean start to the race with all the cars near me falling neatly into single file, waiting a few laps for the tire temps to come up and then it was on.  JT, followed by Lukes, myself, and Koscielniak had a tremendous 4 way battle going.  Justin drafted around JT on the back straight, then a lap later JT pushed up entering the outer loop and I checked up, and then stood on the gas for the pass."
"John did a super job of seeing the events unfolding and braked just enough to stay off me.  He and JT then had a great battle.  I caught Justin several laps later and was able to pass him when he had a boo-boo in the last turn.  A fantastic pit stop by the POW/MIA crew got us out in 3rd place to my utter amazement.  From there it was the battle of fatigue and trying to stay focused on my marks.  The Redhead was so excited about her team's finish that she took us all out for BBQ ribs."
Vincent's 4th place finish felt like a win after the Lap One incident.  Two top-five finishes in his first two races with the RSR league meant Vincent remained on top in the overall championship point battle.  His lead is four points over Irby and twenty-three points over Turner.
Guerin finished in 5th place to earn his second consecutive top-five performance of the season.  He is currently in 4th place in the championship race.  "I qualified 4th on the grid and was happy with that even though I didn't put down a time that I knew I could", said Guerin after the race.  "I got a decent enough start and when I saw Brad go off in the bus stop, I thought I had a chance for the win.  I closed up on Les and he gave way when I started applying the pressure."
"I got to within about 1.5 seconds of Irby before we hit lapped traffic.  At the end of the lap I saw there was more traffic to navigate, so I decided to duck into the pits in hopes of the traffic slowing up the leader while I was getting fuel.  The strategy would have worked if I hadn't have been nabbed for speeding in the pits!  The penalty cost me 20 valuable seconds."
Guerin was characteristically upbeat about the night.  "This was a race of epic mistakes.  One thing after another cost me time, whether it was putting too many tires off the track, spinning, or speeding.  But I'm still happy to have finished, let alone earned a top-5!  Congratulations to everyone on the podium on well earned finishes."
Wolf climbed the farthest during the race as he overcame a 17th place start to finish in sixth place.  Koscielniak was nipping at his heels when he crossed the line one second behind Wolf to earn 7th place.  Eighth place went to Sharp.  Daul and Sutcliff rounded out the top-10 spots and were the final two drivers to cross the line on the lead lap.
Kabela (11th), Thomas (12th), Pawluckie (13th), and Clark (14th) were all scored one lap down.
Jorgensen (15th) was two laps down, while Lukes (16th) finished five laps down.  Galica had a tough night, finishing 10 laps down in 17th place.  Kyle retired after an incident on lap one.
Turner, Wolf, Koscielniak, Sharp, Daul, and Sutcliff earned bonus points for avoiding incidents during the event. 
RSR drivers travel overseas to Circuit Park Zandvoort in the Netherlands for the "Tarzan F1 GP at Zandy" next week. 
Grand Prix Series Overall Standings after Race 2:
http://www.ileaguerace.com/champ/show_champ/Red-Sox-Racing-League/187
RASCARR Series Overall Standings after Race 2:
http://www.ileaguerace.com/champ/show_champ/Red-Sox-Racing-League/194
RSR YouTube Video Channel:
http://www.youtube.com/user/draftin11
---
You may also like...
---