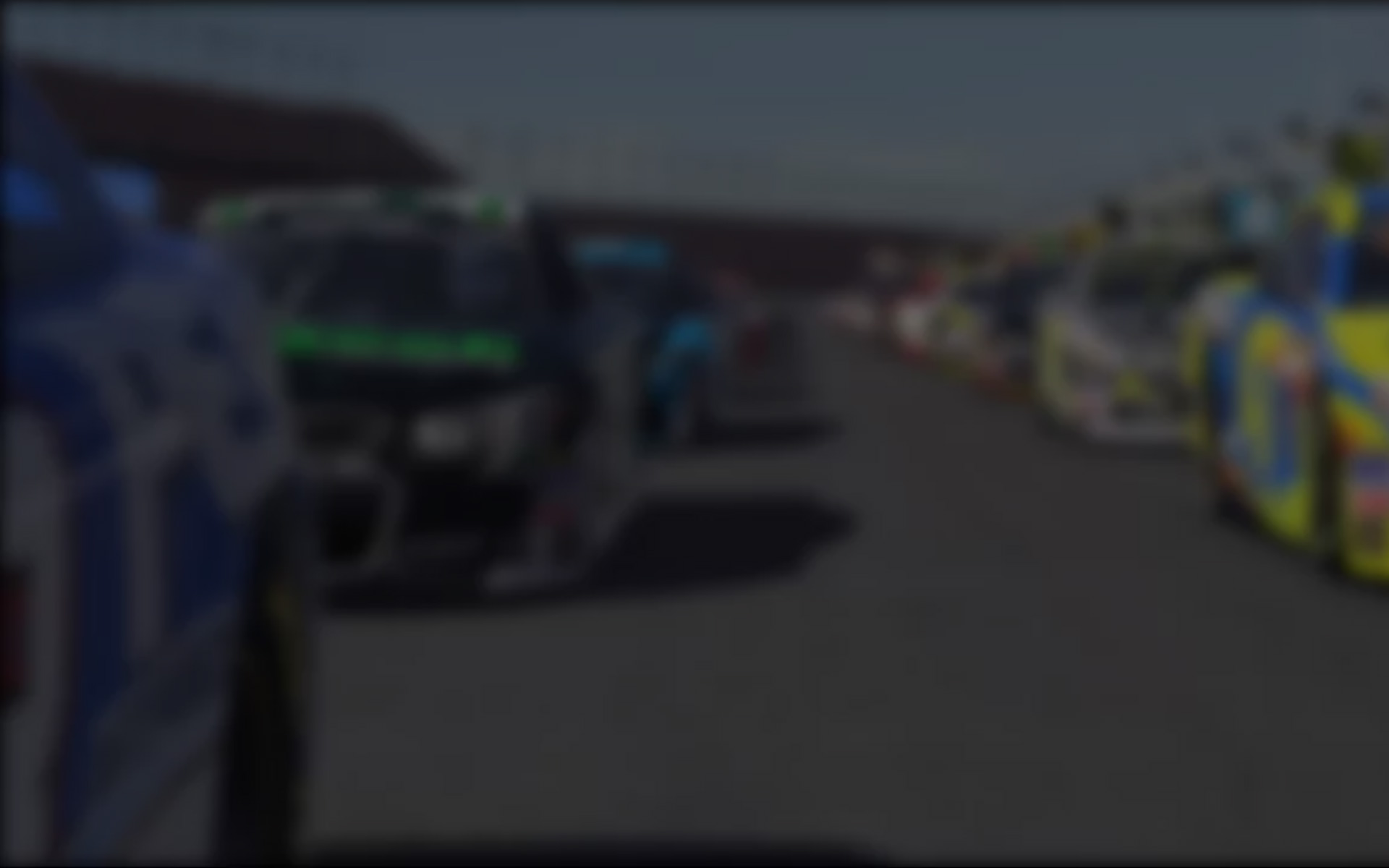 Following the iRacing.com V8 Supercar Series Presented by Big Pond's visit to Silverstone in Week 2, inRacingNews contributor Eric Forster had the opportunity to interview Joshua Muggleton.  Note that while Silverstone had not yielded much in the way of good results (a ninth and a 17th place in two outings), following his chat with Forster, Muggleton scored his second win of the season at Watkins Glen this week and the Sydney-based sim racer now finds himself in the thick of the battle for the series lead.
Eric Forster: Can I call you Muggo?
Joshua Muggleton: Of course! That's what everyone else calls me.
EF: The season is off to a bit of a rough start for you: two races down and it's pretty clear that your finishes aren't level with your ability.  How do you stay focused between races?
Muggo: I'm going through a bit of a rough patch these last few seasons with a bit of bad luck, and a few/lot of unforced errors on my part. It is really hard to stay focused at the moment and prepare for the next race. I am trying to do all the practice I can in between rounds to prepare the best I can. But as with any sport, when your confidence is down, it is really hard to pick yourself back up. That is where I am at the moment, and trying to figure out how to pick myself back up and get up the pointy end of the field.
"As with any sport, when your confidence is down, it is really hard to pick yourself back up."
EF: What about during a race, when things go wrong early—you had a tremendous run at Okayama (ending up last after spinning out of the lead 6), where you managed to come all the way back to 9th place against guys wheeling around in 1:32 (no small feat). How did you keep it together? Adrenaline? Red mist? Laughter? Zen?
Muggo: That was a really tough race for me. I made a silly mistake, which some might see as bad luck, but I call a lack of concentration. After I re-gathered the car, I put the in-game chat on mute, along with our Team Speak server (what TT-R [Trans-Tasman Racing: Muggo's team] use for race updates and spotting), and the red mist well and truly came down. I was really angry at myself for the mistake and put my head down and drove the wheels off the car to try and get back in to a respectable position. I was driving so hard that I knew the tyres weren't going to last, so the last few laps I was really trying to concentrate on keeping the car pointed the right way. There were a few eye-opening corners there, but all in all I was pretty pleased with the recovery I made. Now I just have to stop making those mistakes in the first place!
EF: What's it like racing against a guy like (Shane) van Gisbergen, who races the physical V8SC Ford Falcon all over Australia?  Is there some deference to a guy like that, or is he just another fast fella?
Muggo: It really is an honour. That might sound silly to some people, but from an early age the V8 Supercar drivers have been my idols all the way through until now [he's 24 now]. To look up to these guys and watch them every other week driving real Supercars around the globe, and then to be able to chat to them, and bang virtual doors with them is a real blast. They are excellent people with great personalities. But when we are in a race, you are mindful of who they are and what they do, and they are every bit as fast virtually as they are in real life. Speaking for myself, I tend to make sure that I don't make that desperate dive under brakes on them, or block too forcefully when they are coming up behind. It adds another level of realism to iRacing for me to race against these guys online.
EF: What are your goals for the season? Have you revised these from your goals before the run of hard luck or are you "staying the course."
Muggo: My goals now are different from the beginning of the season. I am really focusing hard now on consolidating results and making sure that I get rid of these driver errors that are costing me each race. With the way the drop weeks work (taking your best 8 results out of 12), I have to make sure that I have more good results than bad for the rest of the season. This means a bit of extra practice every week, and extra concentration during races. Qualifying I am pretty happy with, and I seem to have good pace each week and getting closer to the times at the top. I just need to work on piecing a full race together, and hopefully then I will be able to claw my way back up that championship ladder somewhere in the top five. That is my goal.
"This translates directly into iRacing . . . it adds another level of realism to the game."
EF: What's the deal with the Watts Linkage? I can't keep the Falcon straight unless I drop that thing all the way down.  How do you set yours up?
Muggo: The Watts Linkage is a vital part of how you set up the V8 in iRacing, and in real life. In the real world, you constantly see the teams making adjustments mid-race to add a bit more turn (increasing the Watts Linkage height), or to add a bit more drive out of the corners (lowering it). We don't have that luxury in iRacing to make adjustments on the move, so we need to predict how the car will be mid-race and towards the end, and compensate for that at the beginning. If this means starting with a tail-happy car to ensure we have enough turn, and not understeer at the end, then so be it. These cars require a lot of patience on the throttle also. If you look at real life pedal cameras on the drivers, they wait so long before applying full throttle coming out of a corner. This translates directly into iRacing, which is great! Again, it adds another level of realism to the game.
EF: Does it bug you to get bumped? Do you think iRacing should modify Safety Rating in top-class events, like V8SC, where a little rubbing is just part of the racing?
Muggo: It doesn't bug me when I get hit by other drivers—if it's just a harmless bit of contact here and there. If I get spun, or forced off the track, that's another story! What does bug me is the way we get penalised for those minor contacts, which affects our Safety Rating. I think it does need to be reviewed to reflect the V8's real life counterparts, where contact and rubbing panels is par for the course.
EF: I'm all about Rugby, mate, and I even enjoy Aussie Rules (and I know enough to know that they are not similar in any way), but Cricket, mate, really? I've seen you ANZAC types drooling over it, and I try to understand, really I do, but man . . .
Muggo: Haha, me too mate: if you search my last name in Google you'll find out where I am coming from!! Yeah cricket is one of those take it or leave it sports. I have played it at a representative level but had to give it up due to time restraints. It's just too long!
---
You may also like...
---