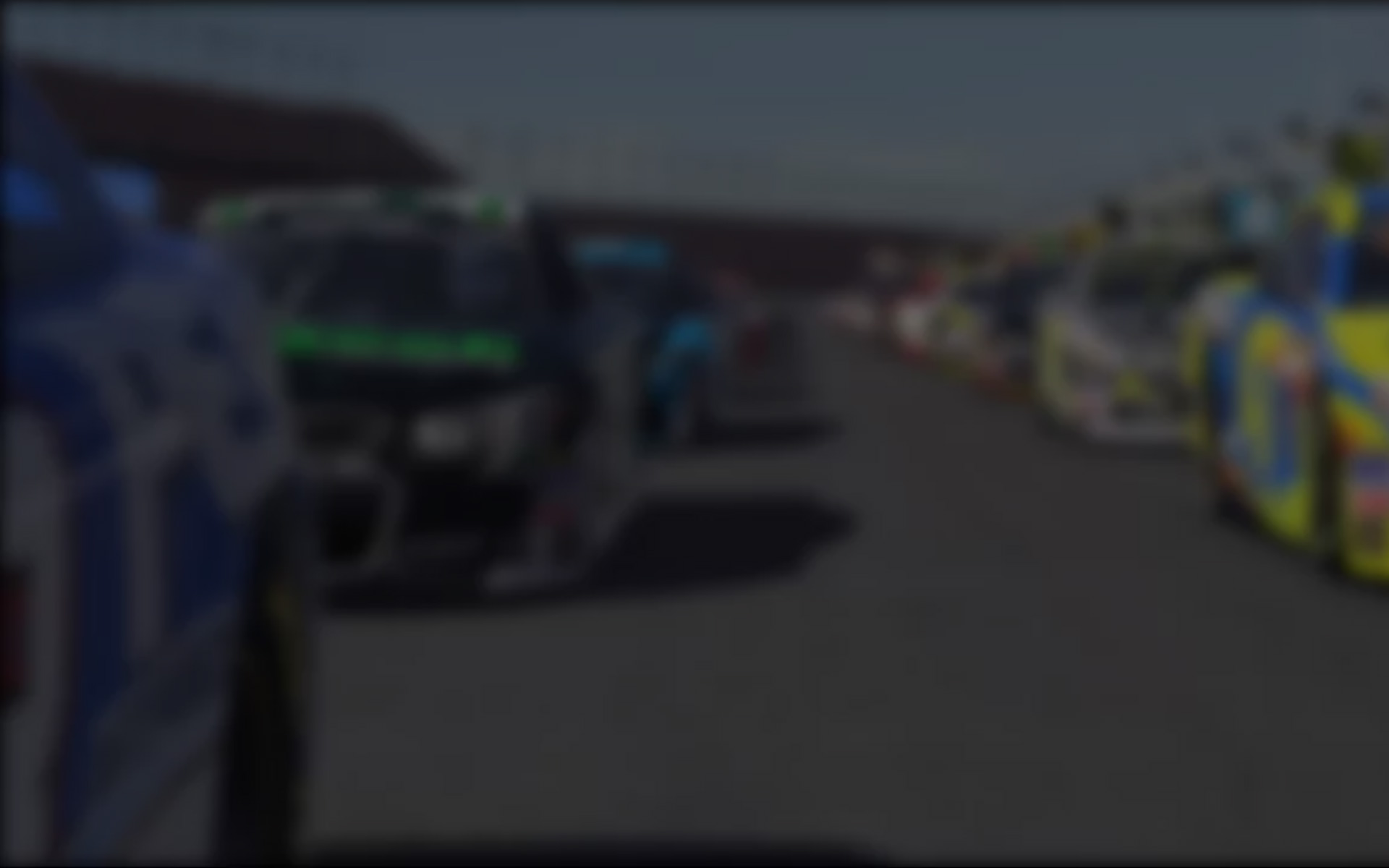 Week Six of the NASCAR iRacing Class B Series made its inaugural trip to the storied Rockingham Speedway in Rockingham, North Carolina.  The one mile oval in rural North Carolina has plenty of character and would prove to be a tough challenge for every sim-racer who took the green flag.  This week saw the lowest number of drivers on the season take the green flag with just 422 answering the call.  Of those 123, posted a qualifying time for the week.
The weeks highest Strength of Field took place on Friday night, December 7, with 25 sim-racers taking to the grid for one hundred laps around "The Rock." Ryan Luza (Texas) would start from the inside of the front row after claiming the overall pole position for the week with a 22.639 second time, with Trey Jarrell (Virginias) on the outside pole.
Luza led 74 laps before having problems and falling to the sixteenth position, one lap down.  The race would come down to a tongue-twisting battle between Trey Jarrell and Brandon Jerell (Atlantic), with Trey getting the upper hand and pulling away to win by 1.267 seconds. Anthony Kernich (Australia/NZ) finished third followed by Matthew Largen (Virginias) and Brian V Macklin (Atlantic) rounded out the top five.
With the win, Jarrell amassed 295 points for the victory, giving him the most points for the week, while Jerrell collected two hundred and eighty two points, second most for the week.  Kernich (270) came home third on the week,  followed by Nick Zautner (New York) with an even 233, a dozen more than John Schweickart (Ohio).
With Friday night's second place finish, Jerrell continues to build his lead in the NiCBS points.  He now has a 350 point lead over new second place man, David Cater (Carolinas) while Luza moves up to third, 402 markers back of the leader.  Nick Zautner makes his way into the top five following Rockingham.  He's up to fourth, 433 points back.  Taking the biggest hit of the week is Tyler D Hudson (Mid-South).  By skipping Rockingham, Hudson falls to fifth, 438 points back.
Travis Smith (Florida) would make the most starts of the week with 20, eight more  than Leon Landry2 (Mid-South) and Chuck Earnest (Plains).  Matthew Largen (Virginias) and Chad Pruitt (Mid-South) both took home five checkered flags, while Wes Weidman who saw the green flag first more than anybody, starting from the pole six times.
The NASCAR iRacing.com Class B Series heads to the Chicagoland Speedway in Joliet, Illinois for the seventh round in the season.  Can Brandon Jerrell continue his domination of the series?  Can Ryan Luza or David Cater catch him?  Who's going to gain ground in the Midwest?  Find out next week only on inRacingNews.
---
You may also like...
---