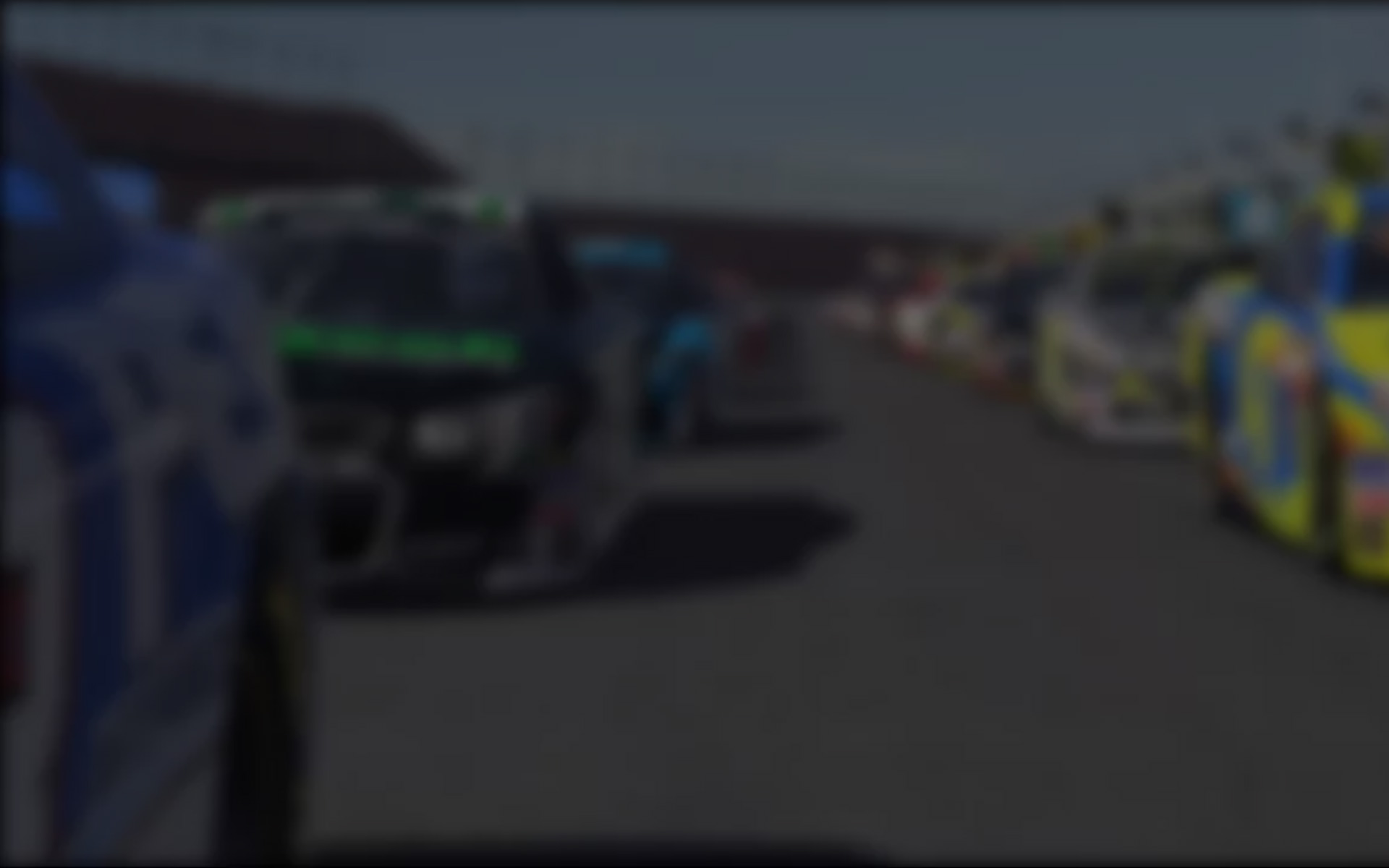 September 10th, 2015 by JaimeB
With many of the Pro Mazda sim racers realising that New Hampshire Motor Speedway's road course wouldn't have the best of turnouts for the finale of the season, they made sure to turn out in droves for the penultimate week at Mazda Raceway Laguna Seca. The circuit located in California, USA, notoriously has one of the most difficult corners out of any circuit (on the calendar) due to the great elevation change as they head down it: The Corkscrew. If anyone mentions Laguna Seca to you, The Corkscrew would more than likely pop in to your mind first. With a 19 strong field and just over a second separating the top 12 Pro Mazda drivers in qualifying it all seemed pretty close going in to this 22 lap race over the 3.602km track. With only 11 turns it seems short, but it's a circuit that will require no let off throughout and one lapse in concentration you'll be heading directly to the concrete barriers.
Mark Jarvis convincingly took pole position in his Carbon Racing Pro Mazda ahead of usual front runner Justin Brunner, whilst Wyatt Gooden made another one of his spontaneous returns for this round as he qualified in third. Jarvis made sure he kept his first position as he executed his start perfectly, Gooden also got a perfect start which left Brunner pushed out on to the outside of the Andretti Hairpin, Ghovand Keanie sensed an opportunity to get up the inside of the American and had his nose ahead by the exit. Brunner didn't want to lose out on two positions so early on and tried to keep it stuck in in to turn 3 which ultimately didn't work as Keanie got a much better run off which for now consolidated him in to third position. Unfortunately at the start it wasn't toally incident free. Bruno Domiter and Angus Waddell came together putting them a few seconds behind the pack and playing catchup with the latter sustaining damage which would end his race prematurely.
Michael Storm was running in fifth place -down a place on where he started due to the way Keanie catapulted off the line – had a huge moment coming on to Rahal straight. Fortunately for Storm he pulled off a fantastic save to stop the car spinning out of control and in to the wall. What this did mean was that the top four had now all but gone as he was now in behind a group led by Brandt Estes. With the leaders too far away to give draft to the chasing pack it seemed as though the fast pace Jarvis was leading them by would come back to haunt Storm.
Although it seemed as though Storm's off would have come back to haunt him . . . it certainly didn't. Mark Jarvis also had a huge moment whilst leading on the exit of turn 6 only to save the car after being half sideways on the curb.  Gooden took the lead and Keanie along with Brunner were set on the back of the UK&I driver, Keanie decided to leave it until the last moment to pull out to overtake an under speed Jarvis which sent the Dutchman out of control in to a spin leaving the track blocked momentarily at The Corkscrew.
Brunner had a job to catch up after some "interesting" thoughts by Keanie to pull out so severely only inches away from Jarvis' rear wing to get himself in to a spin. Instead of the top four drivers having a breakaway it now meant Gooden and Jarvis found themselves with a gap and Estes pack was on the back of Brunner and Keanie. I'm sure the American wouldn't have been best pleased by what he'd just witnessed after being seemingly happy sitting in behind and waiting for an opportunity to overtake, not looking for an opportunity to survive an almost crash!
Meanwhile further back in the battle for tenth coming out of turn 4 Joeri Steinmetz got loose and headed in to spin and directly in to the path of Oliver Connor. Wojciech Rabsztyn has the netcode to thank his day wasn't ended from when Connor tagged him as he scampered on through. Unfortunately for Connor his race was done and dusted after that incident.
On lap six it seemed as though Keanie was up to some usual antics of "defending."  The Dutchman got loose out of turn 5 as he overshot the entry by taking too much speed which sent him on to the gravel, this sent him sideways on the run down to turn 6 with lots of speed lost. Estes sensed an opportunity and had a good look to the inside to hopefully get the move done. For Estes it wasn't to be considering it seemed that Keanie plain ignored the fact he was there and squeezed him on to the deadly red inside raised curbing . . . the American was sent in to a spin and even though he didn't hit the wall, 15 seconds were lost in the process.
On lap twelve there was a move for the lead: Jarvis had gradually been collecting Gooden back in over the 9 laps the Radicals Online driver had led, he sensed his opportunity to regain the lead as they went in to the Andretti Hairpin, Jarvis was patient in the slipstream waiting until the braking zone to send one up the inside. Maybe not catching Gooden unawares but there wasn't anything that could be done to prevent a nicely timed move like that.
A few laps later Storm pulled an almost identical move to Jarvis to regain fourth position. The only difference this time was that Danilo Jacobs was following him through. Jacobs had every right to do this and it was a perfect opportunity, it didn't take much to realise what happened next. Ofcourse with Keanie being the one getting overtaken and "not realising" he has anyone on the track with him Jacobs' race gets ended through the incompetence of a competitor who full well knows he's there but still decides to steer across the Iberian as though he wasn't. Unfortunately this gave the Iberica Racing driver suspension damage and retiring him from the race 8 laps from the finish. What's ironic about this is that Jacobs wasn't the only one to finish 8 laps down . . . the instigator of their incident also happened to finish 8 laps down, no not from crashing, but from getting disqualified.
After this happened the race was quiet until the end. Brunner had done everything he could to catch back up and he did so, but it was too late with only 2 laps to go. For Mark Jarvis other than that huge moment on lap 3 he ran a flawless race to take the victory in this 3981 SOF which gave him 232 points. Gooden finished second with 219 and Brunner once again on the podium taking 206 points. Storm avoided most of the chaos finishing fourth as did Marcus Jensen who had a strong finish in fifth in his Apex Racing Academy car.
With this result Brunner all but wrapped up the championship and after the New Hampshire week it was confirmed that the Vortex Sim Racing driver had completed his target he'd set out to do: Win the overall Pro Mazda championship. After finishing third in season 1 and second in season 2, it was fitting that it was third time lucky and he'd gone one better! Storm finished second overall and took the division 2 championship whilst Ariel Eduardo Bernardi, Jamie Fluke and the season 1 champion, Gregory Tanson all rounded out the remaining top 5 positions. Well done to all respective division winners and see you for Week 1 at Road Atlanta next season!
---
You may also like...
---