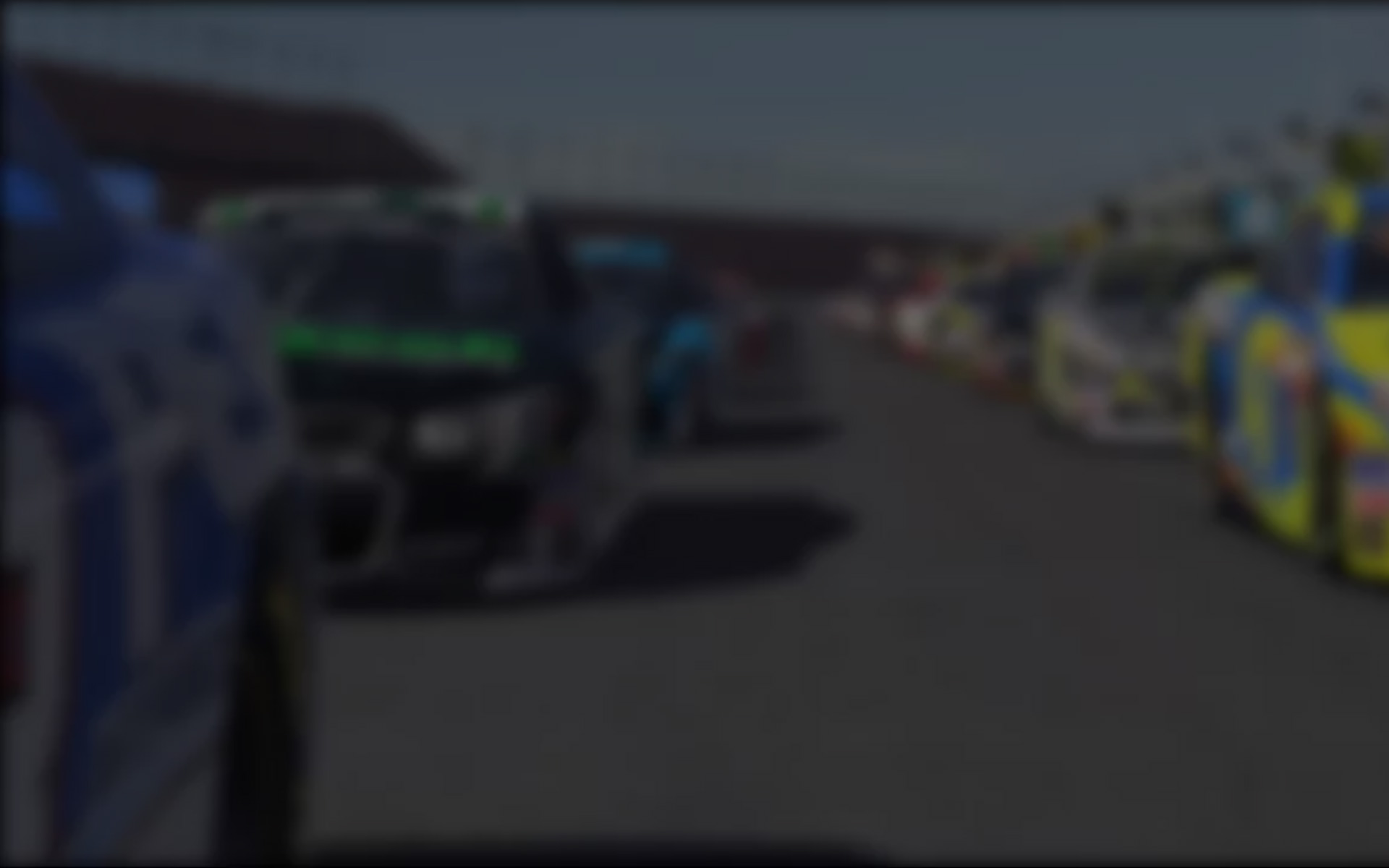 The fifth round of the iRacing Pro Mazda Series headed over to Asia where the notoriously slippery tarmack of Japan's Twin Ring Motegi awaited the competitors for 16 laps over its 4.8km, 14 turn layout. Once again Ariel Bernardi wasn't seen in this top SOF of the week, but the Italian had already earned 203 points for this week, so the pressure was on Govand Keanie and Justin Brunner to perform. Perform they did: Keanie took pole by just over a tenth of a second from Brunner.
For this race it seemed as though Keanie was going to have a rear view mirror full of Blue and Red Vortex Pro Mazdas! Brunner had a sluggish getaway but managed to survive a brief onslaught from his teammate Julien Oligo: although his second place wasn't set in stone since his teammate was right on his tail exiting the second turn. Jordy Lopez Jr meanwhile, started the race in sixth but had slotted in behind his two teammates by the time they reached Turn Two: His superb launch having enabled him to slot his Pro Mazda very nicely ahead of Gregory Tanson through the first corners of the race. Slightly further back it was a different story for James Barr.  He started seventh but had dropped to tenth by the time they reached Turn One.  To make matters worse, he got tagged on his rear to end any hopes he had of a good result this round. Although Oligo hadn't manged to make anything of his run on Brunner into the first turn, he ended-up having a better run down towards Turn Three.  The Frenchman didn't hold back and took second place from Brunner.
At the conclusion of the first three laps there was a clear pace difference between our top four and below, Keanie and the Vortex sim racers had turned on the afterburners and already had themselves at least a two second gap! At this time Brunner was well within reach of an overtaking manoeuvre on Oligo, but he waited until the straight between Turn Four and Five two laps later before moving in to second. To be fair, Oligo didn't make it hard considering he lifted off to allow his teammate through . . . although I don't think he planned to let Lopez through, but Brunner's fellow American seized saw his chance and snuck through into third place!
Not forgetting the pack further back . . . usual front runner Mark Jarvis moved himself up in to sixth place the following lap as he made a lovely late braking manoeuvre up the inside of Rodrigo Duran into Turn 11. His teammate Angus Waddell also passed Duran shortly afterwards into the first turn after the Iberian had a poor exit out of the final chicane which allowed Waddell to pull up alongside and ahead under braking for the first turn of lap seven.
From lap seven on the race was fairly dull . . . the top four had made gaps big enough from each other that no one could lunge, or get close enough even in the hugely overpowering draft, Tanson was in a race of his own, and Carbon Racing's Jarvis and Waddell would eventually reel-in Tanson too late to put up a fight.
Nonetheless the end of the race proved eventful since Lopez Jr and Oligo weren't separated by much at all. Lopez Jr had a couple of scruffy laps from lap ten onwards which allowed the Frenchman to inch ever closer until finally on the close of lap fourteen and beginning of fifteen he could finally attack his teammate. Lopez Jr went defensive into the first two corners, forcing Oligo out wide; for Oligo this wasn't a bad scenario as he'd be able to get the power down earlier than his teammate and also have the inside for the next two turns. The two Vortex drivers were neck and neck as they steamed towards Turn Three.  Oligo braked just that little bit later to make the corner his, although subsequently they both could have quite well been back in the pits had the Frenchman not saved his death wiggle into Turn Four. Fortunately he and Lopez managed to escape unharmed, with Lopez probably having a heart-in-mouth moment thinking his teammate would lose control and collect him. The American ultimately slipped to fourth while his teammate from across the Atlantic was up in to the final podium position.
In the end, Keanie emerged victorious after driving a brilliant and consistent race, leading all but one lap; the one lap he didn't lead was through a discontinuity I believe. Brunner took 209 points for his efforts to claim second, which meant he had closed-up a bit of ground on the absent Bernardi. Oligo and Lopez rounded-out the Vortex top 2-4 whilst Tanson had a lonely drive to fifth position.
The road course at the Indianapolis Motor Speedway is up next; a fantastic circuit in many cars, but will the draft once again play too much of a part in the sim races there with ts ginormous front stretch?
---
You may also like...
---