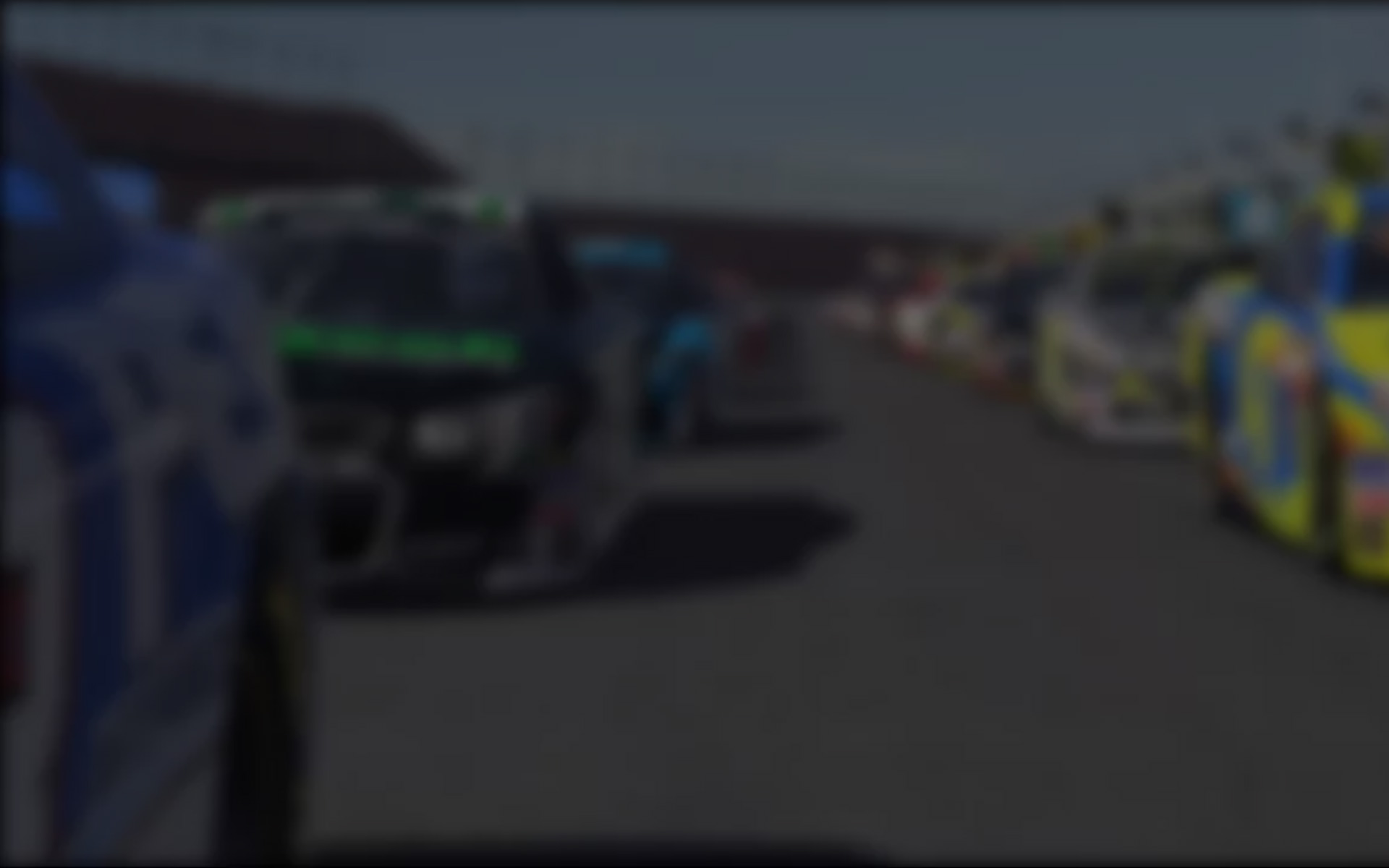 Winning back to back races for the first time this season, Justin Kirby kept himself in contention for the championship as he led all but three laps of the "Wil-Trans.com 31" at the Okayama International Circuit in Japan.  Twelve drivers made the trip to participate in the ninth race of the Red Sox Racing League's 2011 Season Two schedule.
Okayama is a relatively new track to iRacing members.  At 2.314 miles, the layout features eleven corners and plenty of challenges.  Several long straight stretches allow drivers to reach top speed before diving into hairpin corners and twisting sections of the course which demand deft shifts and a light touch on the brakes.  Even the most talented drivers find it hard to complete laps at Okayama without collecting incidents on the circuit, so the smart ones usually focus on just finishing on the lead lap.
Point leader Les Turner showed complete mastery of the circuit during qualifying.  His lap time of 1:10.059 secured the pole and was almost a full second faster than the 2nd place qualifying time posted by Justin Kirby.  Justin Lukes and Terry McCuin qualified in row two.  Clifton Cockrell, John Koscielniak, Jeff Thomas, Jeff Sharp, Terry Daul, Kevin Kyle, Mark Plank, and William Kabela filled the remaining grid positions.
In a move rarely witnessed by RSR fans, Turner was caught sleeping when the lights turned green.  By the time he could grab a gear and get underway, both Kirby and McCuin had blasted past into the top 2 spots negating any advantage from his hard earned pole position.  Kirby was quick to react to the mistake, and was almost impossible to catch as he led every lap until pitting on Lap Twenty-One.  Turner's former TeamDraft team-mate Terry McCuin of Hacked Domain Racing gave him the wave-by on the front stretch on Lap Two to allow him an opportunity to catch the speedy Kirby, but the Black Magic Motorsports driver was long gone by the time Turner took up the chase.
Turner took advantage of Kirby's pit stop to briefly take the lead.  It looked like it was going to be really close if he could maintain the lead exiting the pits, but time lost due to a collision with Daul entering his pit stall on Lap Twenty-Three, saw Kirby regain the lead for good.  "I suppose we should be happy with second place this week" said the dejected Turner after the race.
"We were racing with a bit of a heavy heart this week as it was one year almost to the day that I lost my best friend and faithful Crew Chief Koffee.  We had the car to beat in Japan and did not capitalize on it due to two costly driver errors.  You just cannot make mistakes in the Williams and expect good results.  We had an opportunity to secure the Season Two Championship at Okayama, and did not execute!"
McCuin held the third position after some early battles with Lukes.  Cockrell tried to give him a run for his money early on, but a miscue exiting Hobbs on Lap Twenty-One saw him hard in the wall at the entry to pit lane and out of contention with just 10 laps to go.  McCuin was happy with his team's effort.  "Been a while since I've had a podium finish, and it feels real good being back".
"This season started off horrible for us, and the last couple races we just concentrated on getting a car that would finish the race and keep it clean.  Now we're back on track running good.  Hoping to keep the clean race streak going for the rest of this season and see if we can salvage a decent result in the final standings.  Okayama is one of the toughest tracks we have this season and I'm glad we were able to keep it clean and finish 3rd.  We are looking forward to next week!"
Thomas and Sharp drove hard to gain track position as others fell by the wayside, and both ended up with top-5 finishes for their efforts.      
Living up to its reputation, the track forced everyone but McCuin and Kabela to make critical mistakes which cost them valuable track position.  Turn Ten (Mike Knight Corner) was the scene of many mishaps.  Koscielniak was the first to experience the corner's unforgiving curbs on Lap Two.  Kyle followed suit in the same spot on Lap Three.  Daul's team failed to warn him about the perils of putting two wheels over the inside curb, and he fell victim there as well on Lap Thirteen. 
Turn nine (Hobbs), was nearly as dangerous.  Mistakes there cost Lukes and Sharp valuable time on the track, and ended Cockrell's night littering the pit entrance with shards of carbon fiber just prior to the beginning of the pit cycles.
As their competitors were forced to slow for the off track incidents, Kirby, Turner, McCuin, and Thomas eventually pulled far enough away to be the only four cars to finish on the lead lap.  Jeff Thomas of TeamDraft was running like a scared rabbit with leader Kirby looming in his mirrors when the checkers flew.
Kirby had just enough to hold off the hard-charging Turner.  He crossed the line 1.974 seconds ahead of the Canadian's 2nd place car.  McCuin finished seventeen seconds behind the leader, while Thomas was over a minute behind when he crossed the line.  Sharp was a lap down when he crossed the line in 5th place.
Daul (6th), Koscielniak (7th), Cockrell (8th), Plank (9th), and Kabela (10th), were all scored one lap down.  Kyle (11th) finished fifteen laps down.  Lukes exited the race early and was scored twenty-five laps down.
Turner maintains the lead in the overall championship with only three weeks remaining on the schedule.
Next week the RSR Formula One drivers travel to the Netherlands for the "TeamDraft 28 Dutch Grand Prix" event at Circuit Park Zandvoort
RSR F1 Series Overall Standings after eight races:
http://www.ileaguerace.com/champ/show_champ/Red-Sox-Racing-League/125
RSR TNT Series Overall Standings after eight races:
http://www.ileaguerace.com/champ/show_champ/Red-Sox-Racing-League/149
RSR YouTube Video Channel:
http://www.youtube.com/user/draftin11?feature=mhum
---
You may also like...
---