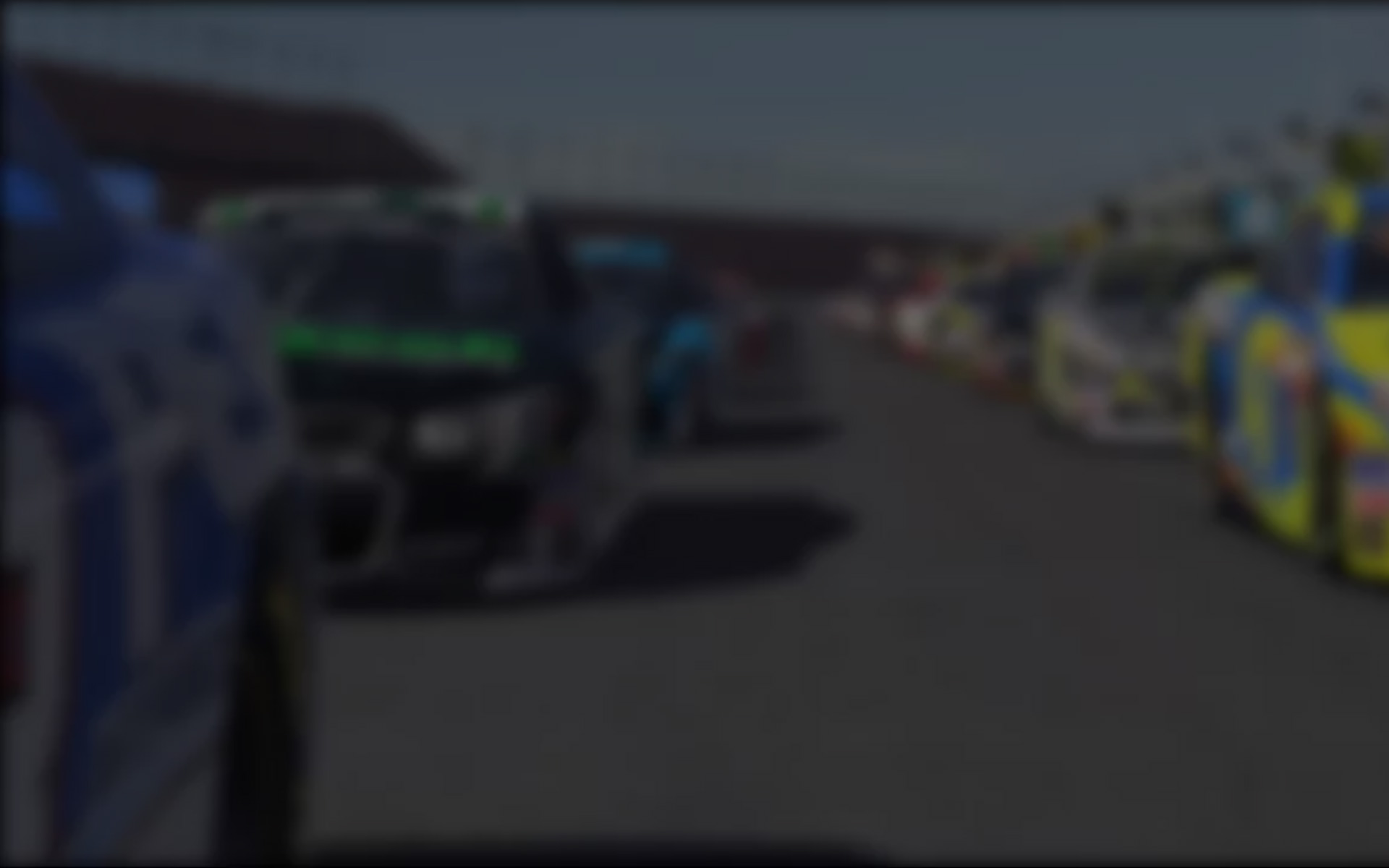 Klaus Kivekäs blasted his way to the front of the 35 car field at the dusty, arid cauldron of online racing known as Mazda Raceway Laguna Seca to dominate Round Seven of the iRacing World Championship Series Road Racing (iWCSRR) and claim his second win of the season. Starting from fourth on the grid, the My3id online-racer launched his Williams-Toyota FW31 F1 machine off the line on the 'B of the Bang', to get enough of a run to make it three abreast entering the Andretti Hairpin, with pole-sitter Hugo Luis and current iWCSRR Champion Greger Huttu on his inside. Holding his line around the outside of the turn, Kivekäs was then on the inside-line for the next two corners, where he was able to dispatch Luis and Huttu, to charge into the lead.
"The first few corners were incredibly exciting." — Klaus Kivekäs
"The first few corners were incredibly exciting. My launch was fantastic, best one I've had all season." enthused Kivekäs post-race. "I went on the outside of Greger which meant that I was three-wide with him and Hugo. I braked really late for the Andretti Hairpin which allowed me to get past Greger. I was still side-by-side with Hugo, it was actually pretty scary because most of the time I couldn't see him so I could only guess where he was."
Once at the front of the pack, it was no walk in the park for the Finn.  He had to fend-off challenges from his My3id team-mate Jesse Nieminen, who had followed Kivekäs into second position on the opening lap and then Hugo Luis who filled the leaders mirrors for the majority of the race.
"After the first lap it was Jesse behind me, "explained Kivekäs.  "After the first round of stops it was Hugo chasing me since Jesse had pitted one lap earlier than the two of us. Hugo was really flying and I on the other hand was struggling trying to get back to rhythm with fresh tires and a heavy fuel load."
Despite a couple of scares with lap traffic in the closing laps, Kivekäs was able to hold on to the lead to the chequered flag, to reaffirm his position at the top of the championship standings.
"The win I got at Zandvoort was all because of Jesse's internet issues so this victory felt much sweeter," added the series new-comer.
Whilst Luis found himself swamped at the start, dropping from pole position to third in as many corners, the Brazilian stuck to his game-plan and moved onto the tail of the leader when Nieminen had to pit.  But on a circuit notorious for limited overtaking opportunities, Luis was happy to consolidate second position behind his My3id team-mate.
"I was following Klaus for two-thirds of the race and I felt I was a bit more faster than him, but since we were near the end of the race, it would be good and ethical to not fight, specially at this track, so I just brought my car home." Luis shared this week.
"I had some hairy moments at many points in the race costing me two to three seconds on laps." — Luke McLean
Preventing what looked set to be a My3id podium sweep, Luke McLean brought his Team Redline Williams-Toyota FW31 to the finish to claim third place ahead of Ilkka Haapala.
"I started pretty well and jumped Rich (Towler), and just backed off from the leaders battling ahead on Lap One," McLean told inRacingNews. "After that basically I struggled with race pace, with terrible under-steer at all times. Laguna is not a track I go well at, and is probably my worst track on the calender so this was expected for me I guess. The first stint I had a nice gap behind but after changing back to heavy fuel again I totally lost my rhythm. Most back-markers were nice moving over, but I had some hairy moments at many points in the race costing me two to three seconds on laps, which totally kills the flow on your driving."
A high-speed pit sequence and early retirement for the likes of Nieminen (engine failure) and Aleksi Elomaa (suspension) afforded Haapala an unexpected top-five finish at iRacing's version of the gruelling Mazda Raceway Laguna Seca.
"My pit-stop must have been pretty good as I exited the pits not far behind Luke who had previously built a decent gap to Aleksi and myself," Haapala said. "Luckily I was able to leapfrog Aleksi in the process as well. I got a bit frustrated at myself for going wide in Turn Six while trying to follow Luke closely and completely messed-up my entry into Corkscrew. I half spun the car and lost 10 or so seconds and Aleksi got by me again. I thought my race was pretty much ruined, but thanks to his and Jesse's misfortune, I was running in fourth place after the last pit-stops"
Whilst Derek Wood may have been thinking he was in for a tough 85 laps of racing, once the Plains Club member overcame the scare of Ben Cornett making contact with the back of his Williams-Toyota FW31 on the opening lap, he met little in the way of resistance until battling for fifth position with Blake Townend with just a few laps remaining; a fight that Wood won to claim his first top-five finish of the season.
After scything back through the pack from an early off-track excursion, Alberto Baraldi secured his best finish of the season so far in sixth, a position gifted to him towards the end of the race. "I felt quite fast and confident, well prepared about the car, but I wasn't prepared for that ridiculous amount of dust in the entry of penultimate corner." the Twister Racing driver explained. "On one specific lap in which I was particularly near the front cars, I simply could not see where to put my tires, so I thought (wrongly) to be far too left with rear tire and to avoid a spin I straightened the line through the sand. After first stint I understood I was way longer on second pit than contenders, so I just tried to stay near on them, and in second stop I leaped both Towler and (Matthias) Egger. I gained another spot when Blake (Townend) half-spun while battling with Wood, for an amazing sixth final place. Another one of those tracks is gone."
"Sometimes my car was almost undriveable, other times horrible under-steer, other times insane speed." — Richard Towler
Despite struggling with a damaged front wing, Orion Racing's Egger managed to steer his ill-handling Williams-Toyota FW31 to a eventual seventh place finish, ahead of Towler, who was going through his own little world of torment at Laguna Seca. "Something strange was going on with the performance of my car through the race and I'm yet to understand why," explained the current NASCAR iRacing World Champion. "Sometimes my car was almost undriveable, other times horrible under-steer, other times insane speed."
Joining the likes of Klaus Ellenbrand and Andrew Slocombe as Pro Series qualifiers for the race, Jake 'The Steak' Stergios sealed his return to the iRacing.com World Championship Series Road Racing with a ninth-place finish ahead of Radicals Racing's Townend, who collided with Egger on the penultimate lap and finished with no rear-wing . It was a welcome return for the American, who made several appearances during the 2010 season, and notable débuts for Ellenbrand and Slocombe, who secured twelfth and fifteenth respectively.
With seven rounds of the iRacing World Championship Series Road Racing complete, Kivekäs has a commanding 74 point lead over his My3id team-mates Jesse Nieminen and Hugo Luis. After colliding with his fellow Redline Racer Darren Marsh, current champion Huttu plummeted from what seemed an assured podium to nineteenth position. As a result, Huttu now sits a distant 97 points away from the championship lead in fourth spot, one ahead of Haapala.
The next round of the championship brings the Williams-Toyota WF31s to the Finger Lakes region of New York for 56 laps of the Classic Watkins Glen Boot course. Will Kivekäs tighten his grasp on the championship lead, or will Huttu finally get a big bag of good luck delivered to his door in time?
---
You may also like...
---