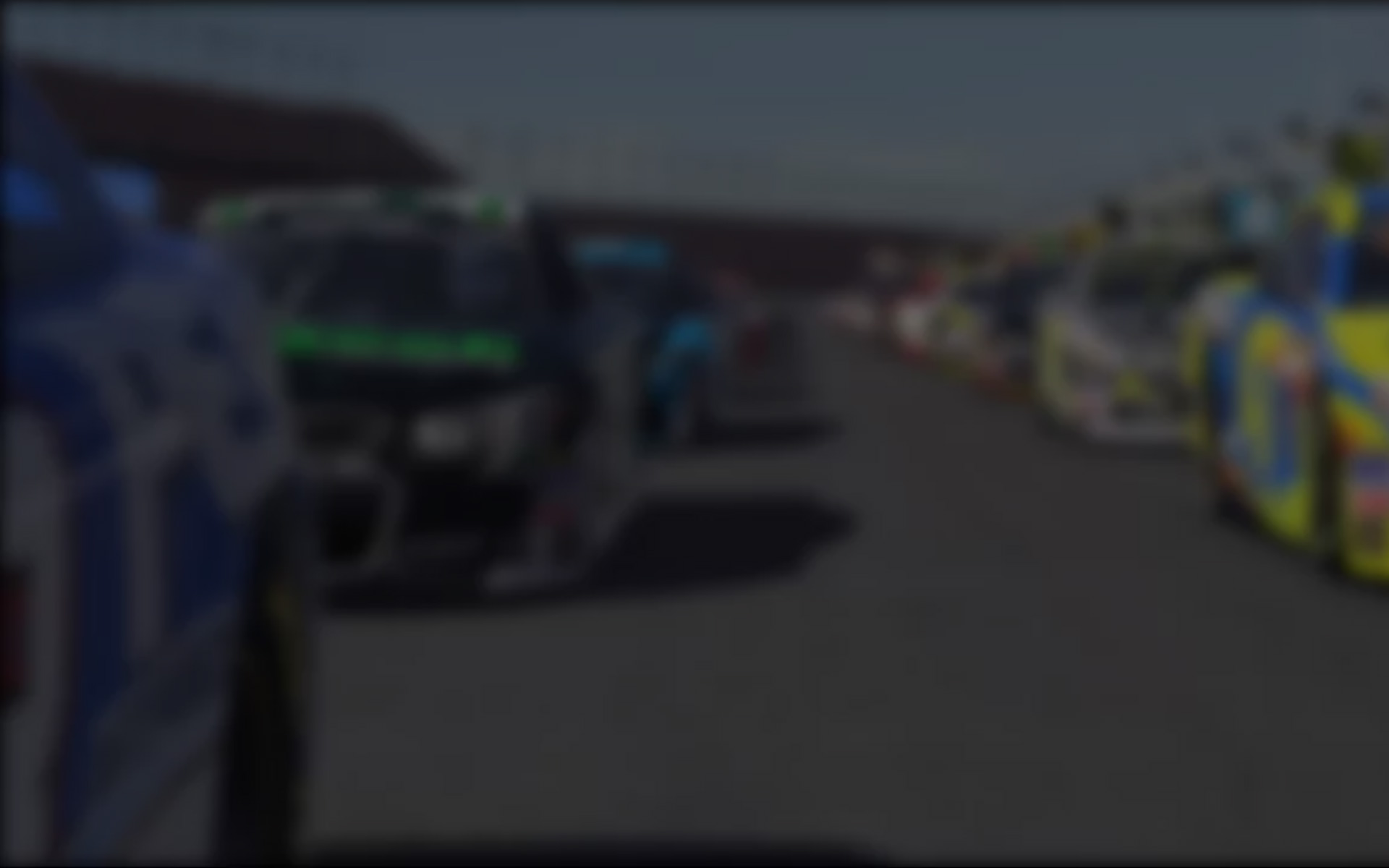 In an action-packed 75 laps around the hills of Road Atlanta, Klaus Kivekäs steered clear of trouble to claim his third win of the iRacing.com NVIDIA Grand Prix Series and extend his lead at the top of the championship table.  What's more, the My3id sim-racer benefited from the early exit of Greger Huttu, which leaves the current World Champion a mountain to climb if he is to retain his title in 2011.
When the green flag dropped, all 31 Williams-Toyota FW31s got away from the line cleanly, with pole-sitter Jesse Nieminen maintaining his position at the front of the pack ahead of Team Redline's Huttu and fellow My3id driver Hugo Luis. As the lead pair approached the end of the second lap, Huttu found himself with nowhere to go when Niemien got out of shape exiting the chicane and made contact with the back of the My3id entry. Whilst Nieminen was able to continue unscathed, Huttu's car bounced into the bridge over the penultimate corner, causing irreparable damage.
With the World Champion out of the equation, Nieminen led team-mate Luis to their scheduled pit-stops at the half-way point and the pair looked as if they would comfortably retain their lead positions once the remaining field had pitted. However, Team Redline's Luke McLean had elected to run long in his first stint and, with a lighter car, was soon passing Kivekäs into third and subsequently Luis, who took a harmless spin on Lap 43. McLean next latched-on to the tail of Nieminen's lead car, but the two made contact while attempting to run side-by-side battle through the final chicane.  While the Austalian emerged with the lead, Nieminen was sent tumbling down the order.
The drama wasn't to end there for McLean, who then traded blows with Ilkka Haapala when trying to regain the lead after his scheduled pit-stop.
"I didn't have damage (from the incident with Nieminen) so I started putting down some good laps," McLean shared post race. "However I did two or three half-spins which cost me one to two seconds each time and lost all the advantage I had against Ilkka, and when I pitted a couple of laps earlier I could not stay out in front. I quickly caught him and attempted a surprise late brake manoeuvre into the chicane but Ilkka braked super late and we ended up on a collision course. 100% my fault and I apologize to him, especially as he has had some terrible luck this year; he deserved a good result."
"I managed to steer clear of trouble despite some scary and strange moments and in the end that's what it took to win the race." — Klaus Kivekäs.
With the Team Redline challenge evaporating at the hands of McLean, it was left to Kivekäs to sweep up the pieces and lead a My3id podium sweep to the chequered flag, virtually untested in the closing 30 laps. "All in all it was without a doubt the weirdest and craziest race of the season with all kinds of stuff going on," Kivekäs explained. "I managed to steer clear of trouble despite some scary and strange moments and in the end that's what it took to win the race."
Despite his earlier spin after clamboring over the kerbs of Road Atlanta, Luis recovered and climb back up to second position following the adventures of Nieminen, McLean and Haapala. "My pit-stop was a bit more faster than Jesse's but I had no chance to pass him in the pit exit," Luis said. "So I decided to follow him again until I had the combination of curb and bump that results in an instant-spin. I lost around 13 seconds and a victory. Anyway, I was lucky to not crash, so I should be happy."
Following his My3id team-mates home for his first ever podium finish of the series was Aleksi Elomaa, who chose to bide his time, and was rewarded as competitors ahead of him fell by the wayside.
"I was just cruising and trying to not make mistakes," Elomaa offered. "I let some drivers by because they had different strategy. After the first stops I heard from team radio I could get fourth position. Jesse had some incident and then I knew I could get third."
McLean recovered from his batch of skirmishes to bring his battered and bruised Williams-Toyota FW31 home fourth, one better than the fourth My3id drier in the top-five, Marcus Saari. Amazingly, Saari had started the race from the seventh row of the grid on a virtual-circuit he considers his "least favourite track in the world," before gaining promotion up the order as attrition took its toll. Matching his highest finish of the 2011 season so far was England's Richard Towler, who chose a 'play it safe' strategy on his way to sixth place after tangling with Martin Macjon in the early going.
"From that point was just a case of running around and not falling off the track." — Richard Towler
"After the first few laps just took it easy until I was side-by-side with Macjon, not sure why but his car just shot left across my nose but I was lucky to get away with minimal damage," the current NASCAR iRacing.com Series World Champion shared. "From that point was just a case of running around and not falling off the track, had no real threats from behind so I knew if I kept it on the track I'd get a top-ten."
Despite the shenanigans, Jesse Nieminen was able to recover and grab seventh position ahead of Redline's Ben Cornett, with Team Podium Assault's Ryan Murray and My3id's David Williams completing the top ten finishers.
Not only did Kivekäs notch his third win of the season, it is now Luis who appears in his mirrors (albeit distantly) as Huttu sits 59 markers away from the lead. With his last place finish at Road Atlanta and no drop weeks left to play with, the World Champion will have to bag top finishes for the remainder of the 18 race season if he's to retain his crown for another year.  He'll get his first chance to do just that – even as Kivekäs looks to enhance his lead — at the Mid-Ohio Sports Car Course come August 13.
---
You may also like...
---