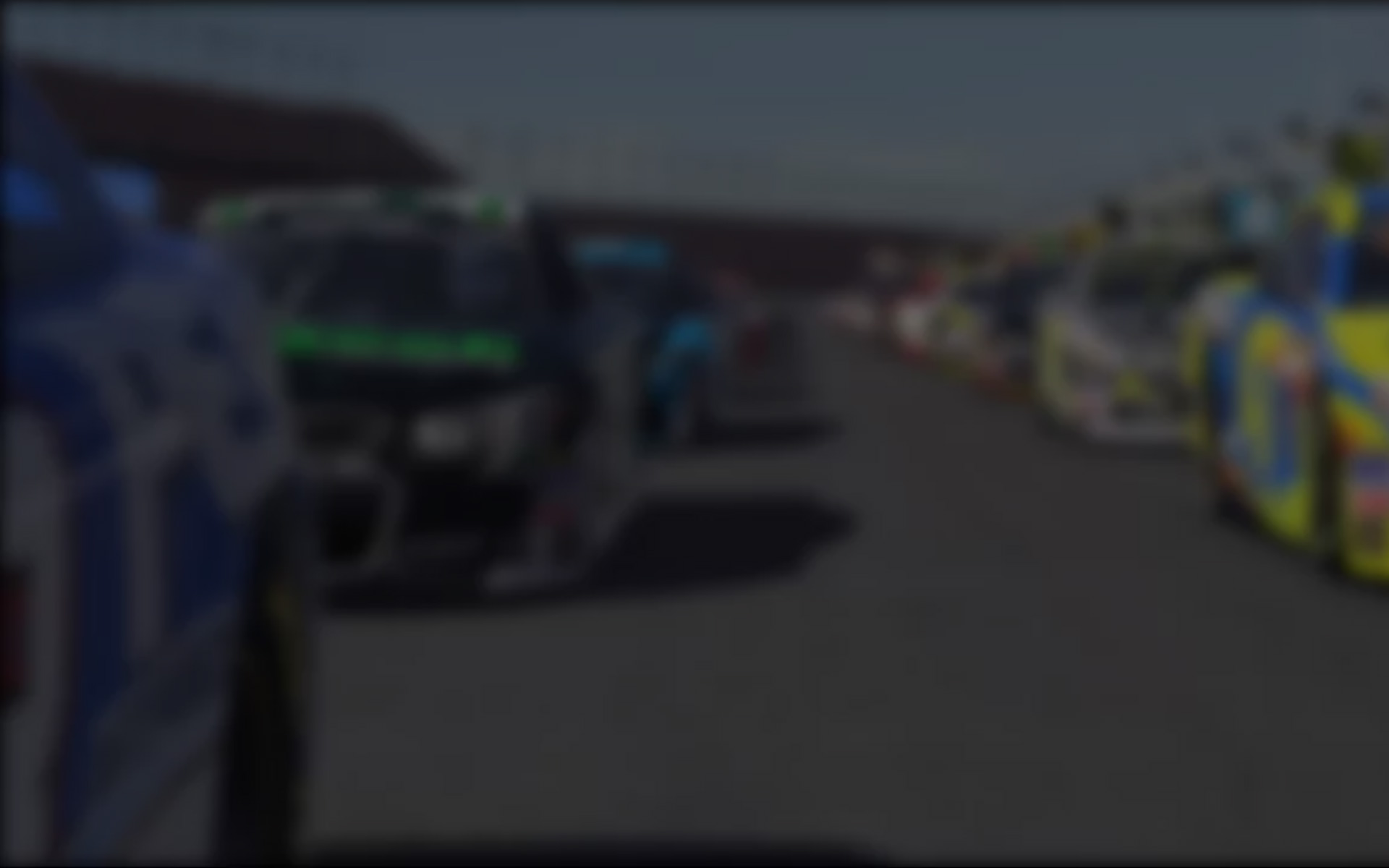 Langley Speedway is one of the most historic NASCAR-sanctioned tracks. Originating as a dirt horse track, it eventually was shortened in distance for auto racing, and then paved over. Back in its heyday, the track was host to NASCAR Grand National Series races with a roll call of winners including Ned Jarrett, Richard Petty, David Pearson, Bobby Isaac, and Bobby Allison.
Today, the track hosts weekly series including Late Models, Modifieds, and Legends, so it would only be logical that our iRacing.com Late Model Series faithful be able to suit up and hop on our virtual rendition of this historic track. The challenge for the drivers would be to stay off of the wall and protect the right front tire. Many drivers would use the apron just below the thick yellow line to get their cars turning in the center and exits of the corner.
The 2329 Strength of Field race saw Rocky Battenfield start on pole position followed by David Van Lanen. Sitting on his rear bumper was Jason Garrett3, who was flanked by Andrew Nausley. Steve Krumrei started fifth with Brandon McCabe to his outside. The following row featured Brodie Kostecki and Kevin J Myers — an interesting starting position for two sim-racers who are oh-so strong in the Late Models. Bryan Crawford, Matthew Eddy, Brent Thompson, and Bryan Crawford brought up the rear.
At the drop of the green flag Battenfield got off to a quick start and was closely followed by the #6 of Garrett. Kostecki launched an ambitious attack and by the exit of the fourth corner was knocking on the door of the top three. Myers was a little bit more patient, but by the dawn of Lap Eight he had already moved into the third position. Just a lap before Kostecki launched an attack and took away the top position from Battenfield. Myers would also pass in the following laps.
At the stripe it was Kostecki in the top spot leading 64 laps with Myers in his wake, clocking in ten seconds behind. Battenfield and Garrett both finished one lap behind. Nausley and Eddy each finished two laps behind, while Thompson followed five laps down. Crawford came across the line six laps behind our race winner, and Van Lanen was the last car running, 14 laps behind. Krumrei parked his car with 43 laps remaining as did McCabe on lap two.
As we head into the final weeks of the season, Heath Smith (1470) leads the points over Peter Fisher (1327) and Nathan Hammock (1320). Ty Majeski (1314) still only has registered seven weeks and could be a contender as he sits fourth. Kris Marlow (1216) sits fifth with Robert ONeal (1178) in sixth. Kevin J Myers (1164) is seventh while Kenneth Smith3 (1150) is eighth. Andrew Simmons (1038) has moved his way into the ninth position while Randy Schreck (1009) is looking to hold onto the last top ten positions. That however looks like a tall task as Kevin Burris (964) in eleventh and Brodie Kostecki (923) has only registered points in six weeks of racing. Daniel Mabry (909) also has only participated in six weeks and very well could move up to push a few drivers out of the top ten.
---
You may also like...
---