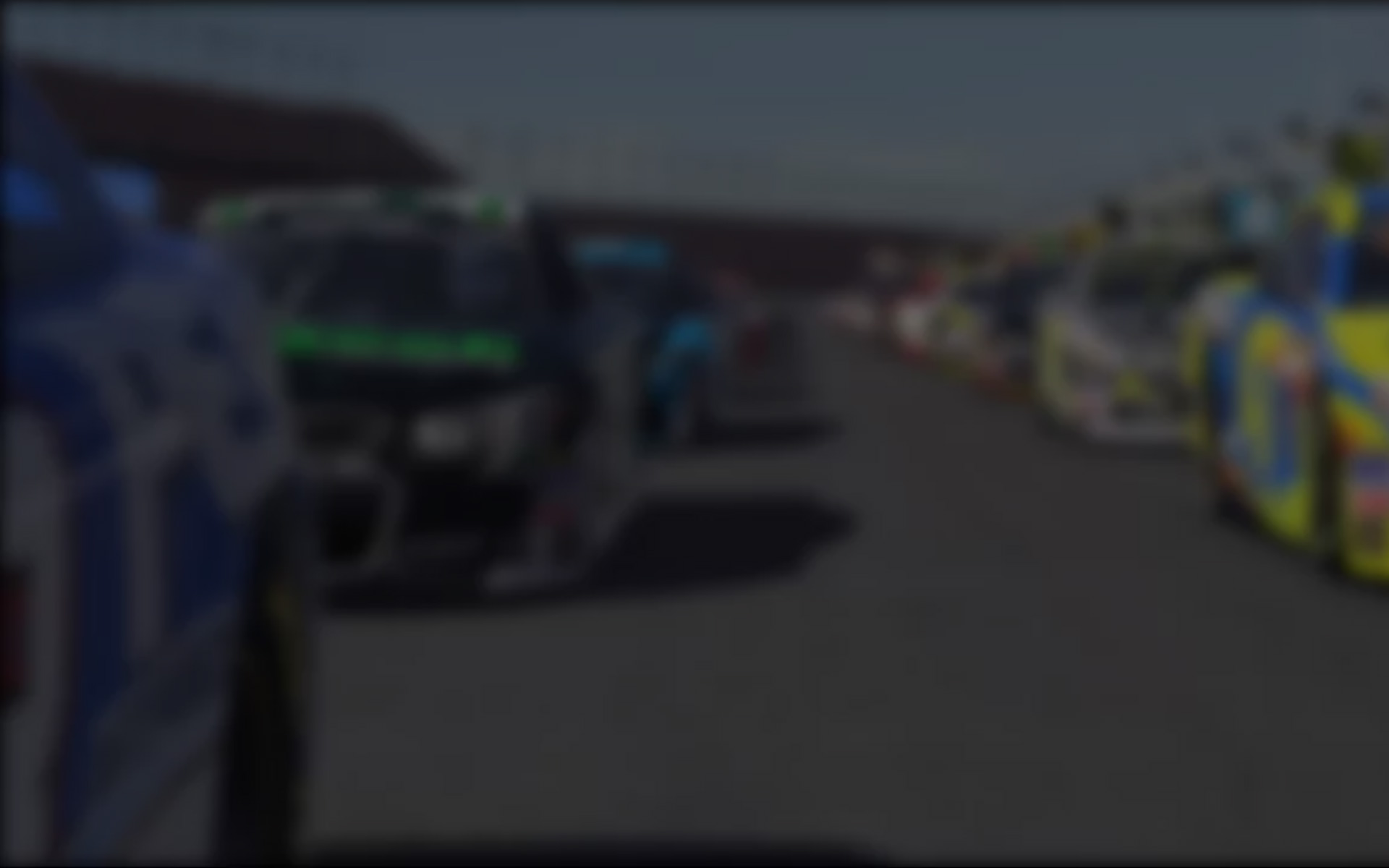 With his closest rivals missing in action, Monroe, Connecticut's Paul Kusheba padded his PEAK Stock Car Dreams National Series points lead at South Boston Speedway with what, in all likelihood, was a championship-winning performance before heading into the final week of competition.
Throughout the 12-week season, Kusheba has been at his best on the schedule's short tracks and he arrived at the virtual"SoBo" secure in the knowledge that, with a good showing at the .4 mile oval,  it would be virtually impossible for him to lose his championship in the final week of sim- racing at Charlotte Motor Speedway.
Kusheba entered the week with a 66 point lead over Ray Alfalla and an 87 point advantage on third place, Byron Daley.  Just as the week before, Alfalla and Daley were no-shows for the week giving Kusheba a golden opportunity to pad his championship lead.
Not looking a gift horse in the mouth, Kusheba ran off two wins in three starts tying him with Matthew Hicks for the top point total of the week.
The feature race of the week was Wednesday night's 7:45 pm event and this would be where Kusheba would stake his claim to the title with a dominating performance.  Starting from the pole, Kusheba nearly lapped the field in the 70-lap event.  Christian Pedersen and Jeff Ramsdell managed to stay on the lead lap, but finished over 11 seconds behind the race winner.  Jeff J Rogers and S Michael Allen rounded-out the top five.
With the win, Kusheba earned 184 Championship points which extended his overall lead to 87 points.
"I was surprised that Ray and Byron didn't run for the second week in a row," said Kusheba.  "That really helped me pad my lead on them even more.  South Boston is another one of my favorite tracks, and the setup was really fun to drive.  Now that we're heading to Charlotte, it's going to be some real close racing because of the draft.  Charlotte's a popular track so I'm expecting bigger splits and larger strength of fields next week.  It's been an awesome season so far and I'm going to do everything I can to hang on to my lead for one final week."
Hicks only ran one race at South Boston, but his win netted him 184 points as well.  Ben Kilcrease picked-up two wins in four starts to nail down third for the week with 176 points.  Pedersen's strong runner-up finish in his lone race got him fourth with 173 points while Ramsdell and Logan Seavey tied for the fifth spot with 172 points.
Alfalla and Daley continue to hold down the next two spots in the championship, trailing Kusheba by 87 and 108 points respectivley.  Division Two drivers, Wesley Wilborn and CP Allen occupy the fourth and fifth spots overall, but well behind the top three.
Division winners in week 11 at South Boston were: 1 – Paul Kusheba 184 (New England).  2 – Matthew Hicks 184 (California).  3 – Marlin Yoder 147 (Midwest).  4 – Mahlon Borntreger 120 (Midwest).  5 – Andrew Nausley 94 (Plains).  6 – Shawn Powell 96 (Carolina).  7 – Cole Fralick 87 (Mid-South).  8 – Cole Britton 80 (Carolina).  9 – Stephen Masse 71 (New England).  10 – Jordan Whitehead 85 (Texas).  Rookie – Blaise Brinkley 111 (Carolina).
Division leaders at press time are as follows: 1 – Paul Kusheba 1714 (New England).  2 – Wesley Wilborn 1301 (Georgia).  3 – Kyle Heckman 1204 (California).  4 – Lewis King 889 (Mid-South).  5 – Shawn Baisden 690 (Ohio).  6 – Carl Stange 647 (Plains).  7 – Bill Rowlands 577 (Atlantic).  8 – Derek Edwards 605 (Carolina).  9 – Rick Shauntz 465 (Canada).  10 – Tim Allen 494 (Carolina).  Rookie – Jeremy Canute 580 (New York).
The final event of the 2014 Season 1 schedule brings the PEAK Stock Car Dreams National Series to 1.5-mile Charlotte Motor Speedway.  If Kusheba can hold on to his lead, his next trip to Charlotte will be in person as the winner of a seat in the 2014 PEAK Stock Car Dreams Challenge driver combine.
The PEAK Stock Car Dreams National Series offers one iRacer the chance of a lifetime: a reserved seat in the 2014 PEAK Stock Car Dreams Challenge driver combine conducted by Michael Waltrip Racing in June. The seat will be awarded to the overall winner of the PEAK Stock Car Dreams National Series, an official twelve week series featuring the Chevrolet Impala SS stock car. The winner must be at least 16 years of age, reside in the United States and be able to safely enter and exit a race car. In addition, every iRacer who displays a PEAK logo on their Impala and competes in at least one race in all twelve weeks of the PEAK SCD National Series is eligible to win an Obutto r3volution chassis and one of 50 custom PEAK /iRacing hats.
---
You may also like...
---