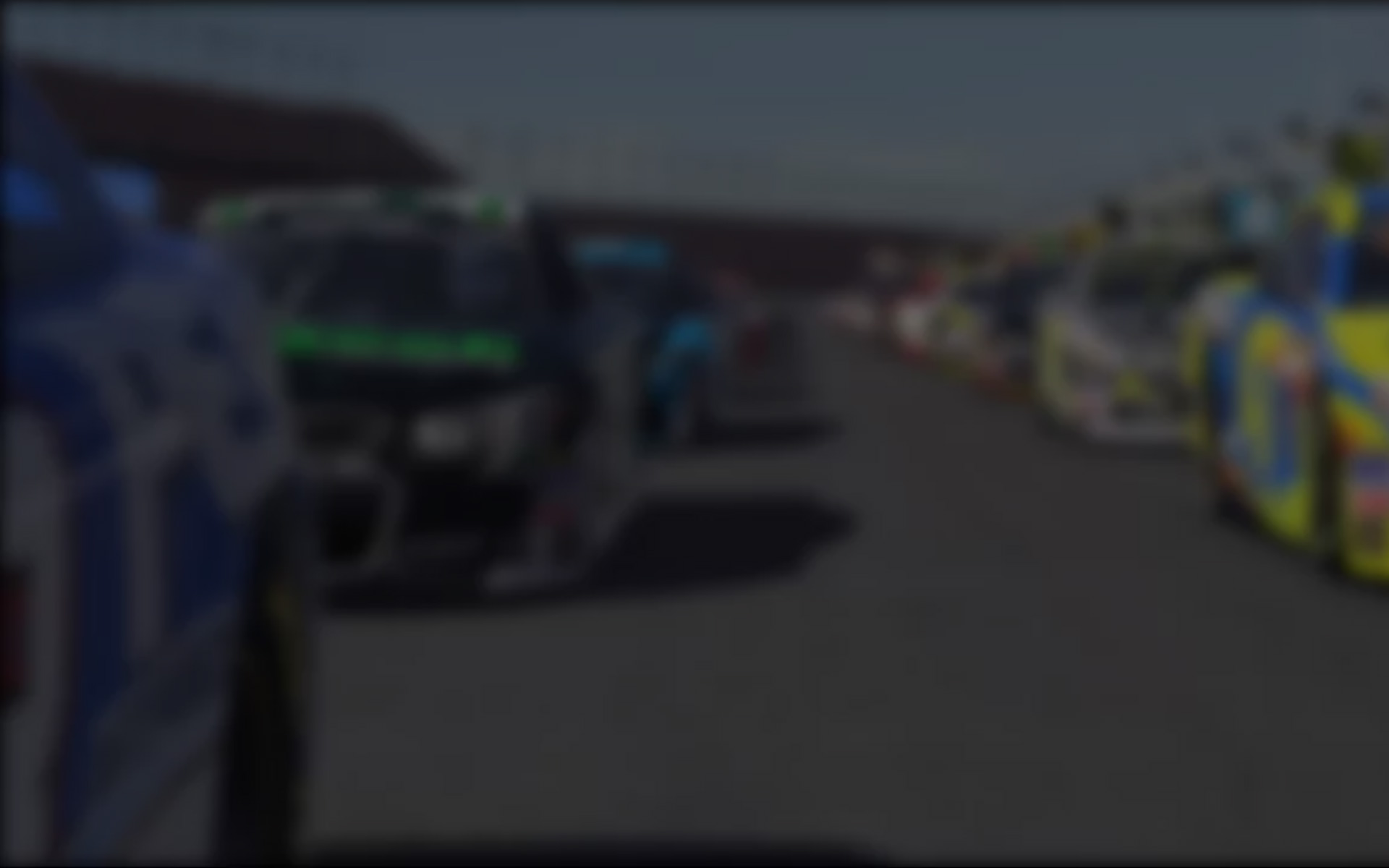 The chase for the big prize in iRacing.com's PEAK Stock Car Dreams National Series has turned into a three horse race as the season heads into the home stretch.  Week 8 of the 12 weeks season saw Monroe, Connecticut's Paul Kusheba power his way to four wins in as many starts — including one over his closest competitors — to extend his points lead heading into the final third of the schedule.
USA International Speedway in Lakeland, Florida hosted Week 8 of the PEAK Stock Car Dreams National Series.  The 14 degree tight banked turns stand out as the 3/4-mile oval's most unique features and once again, would provide some close quarter sim-racing.
Kusheba entered the week with a 108 point lead over pro driver, Byron Daley.  Fellow pro driver, Ray Alfalla loomed not far behind in third.   Kusheba won all four races he started at USA International, but his head-to-head win over Daley and Alfalla on Saturday night earned him 198 points giving him the top spot for the week.  Kusheba started from the pole and never looked back in the week's feature race cruising to a seven-second victory over the second placed Daley with  Alfalla finishing third almost nine seconds back.  Tyler Edwards and Eric Barnes rounded-out the top five.  Adding an exclamation point to his win, Kusheba set the fast lap of the online race at 20.652 seconds.
"I was really looking forward to the USA race since it's one of my favorite tracks on the service," said Kusheba.  "I was very thankful to be able to hold off Byron and Ray to score the highest points of the week.  That helped a lot and padded my lead.  It's not a huge lead, but I'm trying to stay consistent and keep the gap between me Byron and Ray as big as possible."
Although Daley scored a win in his other race, his runner-up finish to Kusheba earned him 183 points which was good enough for second place for the week.  Alfalla and Division 3 driver, Barr Wilborn tied for third place with 169 points.  Pro driver, Brandon Hauff rounded-out the top five for the week with 160 points.
"I'm trying to stay consistent and keep the gap between me Byron and Ray as big as possible."– Paul Kusheba
Other notables from the week were Timmy Hill, who finished ninth for the week, started 15 races and won them all leading 720 of the 750 laps he ran.  Hill also had 14 poles.  Eric Barnes turned the most laps at USA International with a total of 796 in 16 starts, picking-up three wins and leading 128 laps led in the process.
Realistically, Daley and Alfalla look to be the only two drivers with a chance to track Kusheba down in the overall points battle.  Kusheba now holds a 123 point lead over Daley while Alfalla stands 202 points back.  Tyler Hill and Wesley Wilborn are both more than 350 points back of Kusheba and it would take a major turn of events for the fourth and fifth place drivers to get back in contention.
However, Week 9 begins the drop process where a driver's worst scores for four weeks of the 12 that are run are dropped from the overall total.  If Kusheba slips any as the drop weeks start to factor in, his points lead could shrink quickly.
Divison winners in Week 8 at USA International Speedway were: 1 – Paul Kusehba 198 (New England). 2 – Tyler Edwards 155 (Georgia). 3 – Barr Wilborn 169 (Georgia). 4 – Michael Horwath 127 (DE-AT-CH). 5 – Shawn Baisen 94 (Ohio). 6 – Casey McMullen Sr 115 (Pennsylvaina). 7 – Andrew Lynn Simmons 91 (Virginias). 8 – Corey Masson 72 (Florida). 9 – Ronnie Williams 91 (New England). 10 – Bobby Pochmara 57 (California). Rookie – Matthew Merrell 112 (Texas).
Division leaders at press time are as follows: 1 – Paul Kusheba 1637 (New England). 2 – Wesley Wilborn 1204 (Georgia). 3 – Kyle Heckman 1159 (California). 4 – Lewis King 831 (Mid-South). 5 – Shawn Baisden 682 (Ohio). 6 – Carl Stange 597 (Plains). 7 – Bill Rowlands 519 (Atlantic). 8 – Derek Edwards 513 (Carolina). 9 – Rick Shauntz 418 (Canada). 10 – Tim Allen 415 (Carolina). Rookie – Jeremy Canute 580 (New York).
The PEAK Stock Car Dreams Challenge heads to the first of two races in North Carolina in the final four weeks of the season.  The first stop in the Tarheel state is in the sandhills at Rockingham Speedway.  Known by fans and drivers as "The Rock," the bumpy 1.017-mile oval features unique corners and an abrasive racing surface.  Patience and tire wear will be huge factors in determining who will find success in Week 9.
The PEAK Stock Car Dreams National Series offers one iRacer the chance of a lifetime: a reserved seat in the 2014 PEAK Stock Car Dreams Challenge driver combine conducted by Michael Waltrip Racing in June. The seat will be awarded to the overall winner of the PEAK SCD National Series, an official twelve week series featuring the Chevrolet Impala SS stock car. The winner must be at least 16 years of age, reside in the United States and be able to safely enter and exit a racecar. In addition, every iRacer who displays a PEAK logo on their Impala and competes in at least one race in all twelve weeks of the PEAK SCD National Series is eligible to win an Obutto r3volution chassis and one of 50 custom PEAK /iRacing hats.
---
You may also like...
---