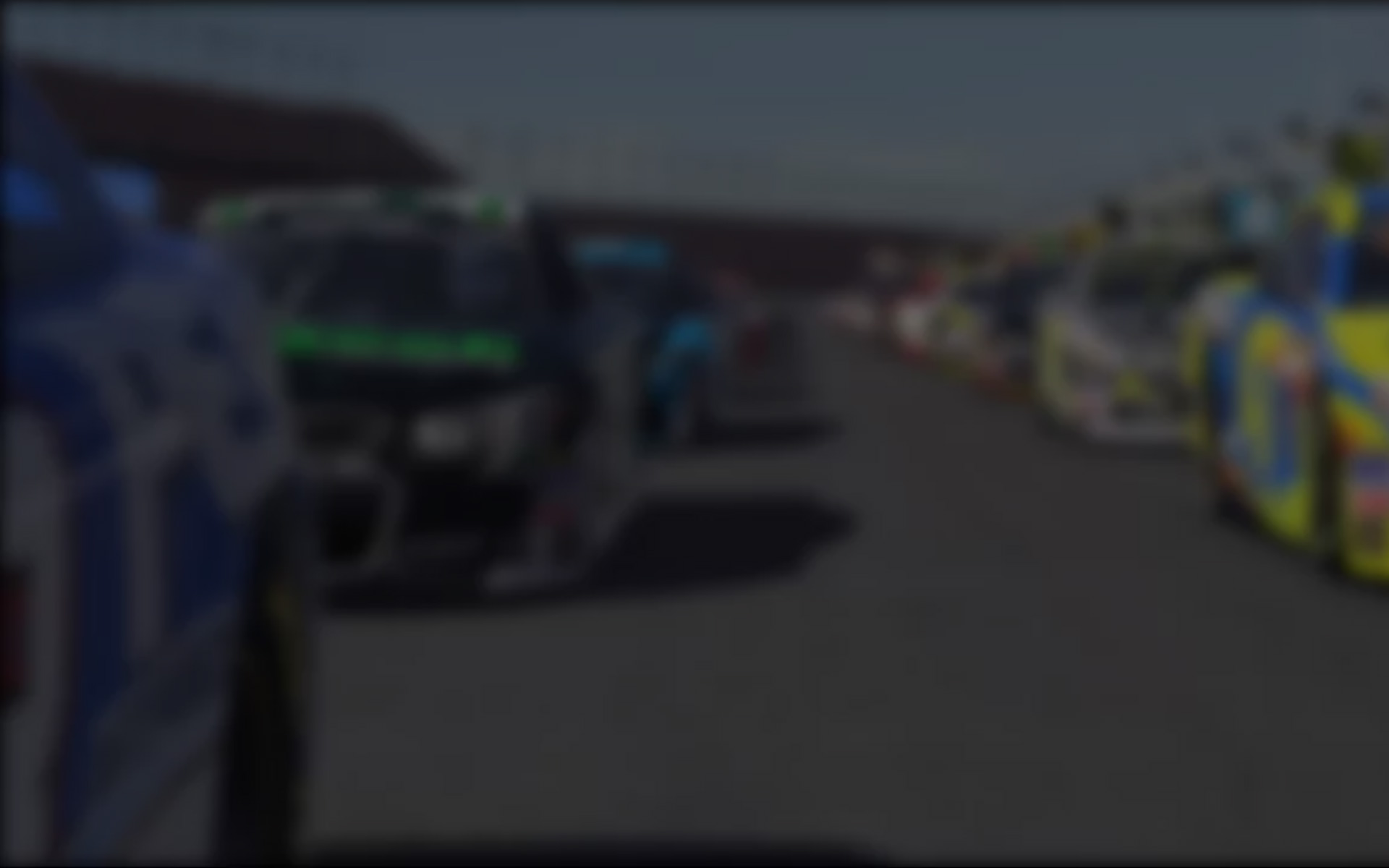 Thirteen sim-racers lined up on the grid at Mazda Raceway Laguna Seca in their Lotus 49s for a 2834 SOF race.  The top three qualifiers (Michel Dudognon, Mick Claridge, and Jason Shadd) all posted times in the low 1:24s and were separated by less than a quarter of a second.  Behind them came another set of three (Gary Teall, Peter LeBlanc, and Jack Ulstad) who were all in the 1:25s and less than half a second apart, while a group of four at the back didn't qualify and had big question marks looming over them.  Claridge was only ninth in the points last week at COTA and was certainly looking to regain some ground in the championship after qualifying 0.022s slower than Dudognon.
The many changes of altitude at Laguna Seca mixed with lack of tarmac runoff areas make this track especially exciting to navigate for anyone in a car such as this (read – lots of power, no downforce) , more so if you're pushing for lap times.  The start was clean for everyone as the cautious braking downhill towards the hairpin of Turn Two prevented any major incidents.  Claridge was taking a fairly normal racing line while Shadd behind was trying to take an early apex, let the car run deep, and then cut back for a good run.  However as their racing lines intersected they experienced a very small contact which affected Claridge more than Shadd, although neither driver seemed responsible for the incident.
Claridge was dropped to P4 after going wide through Turn Two and immediately went on the offensive with Teall just ahead but almost got squeezed off the track at the exit of the corner.  Claridge dropped back for a bit before diving up the inside of Teall at the final corner.  Teall seemingly didn't see or anticipate the overtake attempt, and took his normal racing line causing minor wheel-to-wheel contact and compromising Claridge's exit.
Up at the front, after only one lap, Dudognon and Shadd had already pulled an impressive gap which would prove difficult for Claridge to reduce, and he was still stuck behind Teall.  Claridge knew he had to clear Teall soon if he would have any chance at challenging Shadd and Dudognon later in the race, but also would need to be cautious attempting a move in this particular car and at this particular track.  Thankfully for him, Teall made a mistake at Turn Six and ended up with two wheels in the dirt.  Claridge got a better run up the hill towards the Corkscrew and moved into third.
A couple laps later and a few positions lower, Zoltan Gönczöl simultaneously tried to stay with Ulstad who had recently passed him while defending from Mate Lorinczy.  At Turn Three of Lap Four Gönczöl struggled and Lorinczy ran into his rear right wheel, damaging the rear axle of Gönczöl's car.  Gönczöl attempted to limp back to the pits but the damage spun his car right around as he tried to drive in a straight line between Turns Four and Five.  The spinning Lotus 49 caught Todd Laribee off-guard and he hit the practically stationary Gönczöl at almost 100mph launching him skywards in a fantastic display of how dangerous these cars can be.
It took more than half the race, but by Lap 11 Dudognon had finally pulled a bit of a gap (albeit only a few seconds worth) to Shadd while Claridge was catching him from behind.  At this point in the race it was less about man versus man and more about man versus track as the tricky corners tested the endurance and focus of all.  Claridge was actually the first to crack when he took a bit too much curb at Turn Six and ended-up off the track, losing valuable time to the cars ahead.
By the penultimate lap (17) Claridge had clawed back the time he'd lost running off the track (while Dudognon's gap was more like five or six seconds at this point) and had a look at Shadd in Turn Two but couldn't get along side.  Unfortunately for Shadd, his battle was not with Claridge but with the track itself, as he struggled under braking for the Corkscrew and ended-up shooting off the track and down to fourth behind Teall with only one lap remaining.
In the end, after all the sim-racing action and thrill of more than a dozen Lotus 49 at Laguna Seca, the top six finished in the exact order they qualified, except Teall and Shadd who swapped positions thanks to Shadd's Corkscrew adventures.  Dudognon earned himself 174 points with his victory, Claridge got 159 points for his efforts, Teall grabbed 145 points to help his championship, and Shadd still managed 130 points (giving them first, second, fourth, and sixth places in this week's points standings).  Mike Dam scored the third most points for Week Three earning 154 points in a 2511 SOF race where Michael Morrison also came away with 140 points, a second place finish, and fifth for the week.
---
You may also like...
---