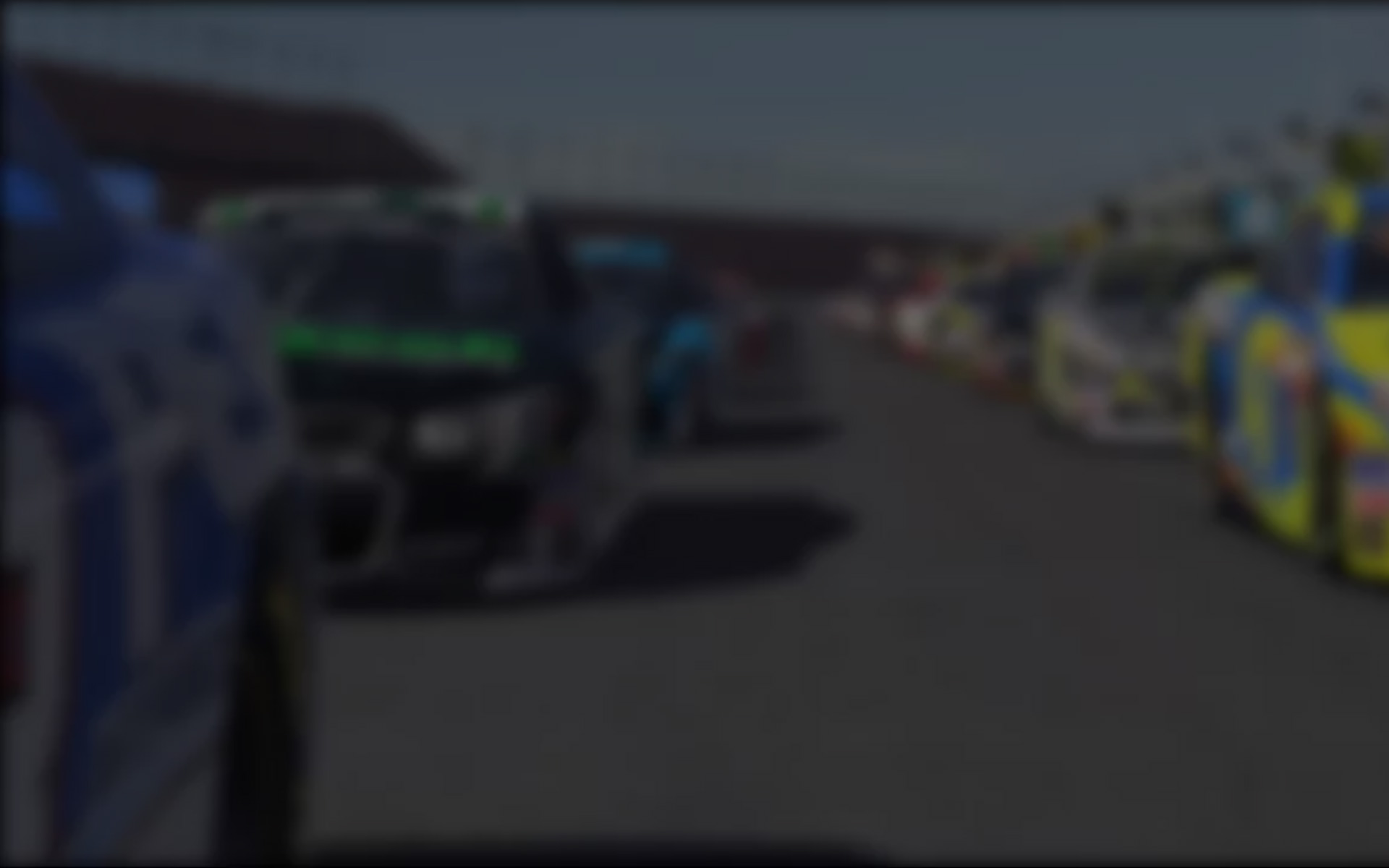 Week 2 of Season 2 found the NASCAR iRacing.com Class A Series (fixed setup) at Darlington Raceway in South Carolina. Drivers piloted their Chevrolet SS and Ford Fusion Gen-6 machines around the tricky 1.366 mile egg-shaped oval in 50-lap online races. This track is incredibly line sensitive, as it requires technique and finesse to stay in the preferred groove. Drivers take Turn One off the throttle and let it roll up towards the wall, then drive it back down the hill off of Turn Two. Avoiding the wall is not exactly easy, as bumps near the wall in Turns One and Two enjoy tossing cars into the outside SAFER barrier. Drivers can take a few different approaches entering Turns Three and Four, although the top lane is preferred due to a little higher grip. On exit, some drivers like to keep the car in the middle if they are loose, while others drive it down the hill towards the apron in order to help their car rotate.
Qualifying: Two-time and reigning NASCAR iRacing.com Series World Championship champion Ray Alfalla (Florida) topped the qualifying charts at Darlington. Alfalla put down a screaming 27.483 second lap, averaging 178.926 MPH around the 1.366 mile oval. Fellow NiSWC competitor Cyril Nousbaum (France) had the second best time of 27.564 seconds, and Justin Trombley (New England), fresh off gaining his Pro License from Season 1, was third quickest at 27.607 seconds. Casey Tucker (Georgia) was fourth with a 27.629s and Rafael Doninelli (Brazil) was fifth with a 27.630s.
High SOF Race: Liam Lambert (New York) took the victory in the high strength-of-field (SOF) race of the week, which featured a 3400 SOF and paid 214 championship points to the winner. Lambert led 35 of 50 laps en route to his win. Although there were two caution flags for eight laps, the last 31 laps went caution-free. Justin Crider (Carolina) finished second, just under a half second back of Lambert. Garry Loney (Ohio), Craig Stykes (Mid-South), and Casey Tucker (Georgia) rounded-out the top five.
Points Update: Big-split race winner Lambert claimed the highest weekly points for the week with 214. Crider, who finished second in that race, had the second most points with 202. The rest of the top five were Greg Spears (Texas; 196 points), Loney (190 points), and Brad Mahar (New England; 186 points).
Division Point Leaders after two weeks are as follows:
Division 1: Clayton Celovsky (Canada)
Division 2: Chris Wonnacott (Canada)
Division 3: Tom Riker (New England)
Division 4: Joshua Hanner (Carolina)
Division 5: Jarred Cherry (West)
Division 6: Troy Lee (Indiana)
Division 7: Thomas Beane2 (Carolina)
Division 8: Edward White (New Jersey)
Division 9: Casey McMullen Sr. (Pennsylvania)
Division 10: Mike Burnell (Midwest)
By the Numbers:  A total of 532 drivers took to the abrasive racing surface of Darlington Raceway during Week 2. John Atkinson (Texas) started the most races during the week with 13. The aforementioned Nousbaum led the series this week in wins (8), top five finishes (11), poles (all 13 races he ran), and laps led (491 of 646 laps). Usually, statisticians are the only people who care to look at who had the most incidents during the week, but Darlington is a special case, as the walls of "The Lady in Black" are quite welcoming to all vehicles that drive on its hallowed surface. This week, Michael Rivera (Georgia) was the category leader, racking up 64 incidents in the five races he ran.
Next on the Schedule: Week 3 will bring another challenging track: Rockingham Speedway. Located in North Carolina, "The Rock" is a sentimental favorite track of many NASCAR fans due to its rich history and tendency of allowing great racing.
---
You may also like...
---