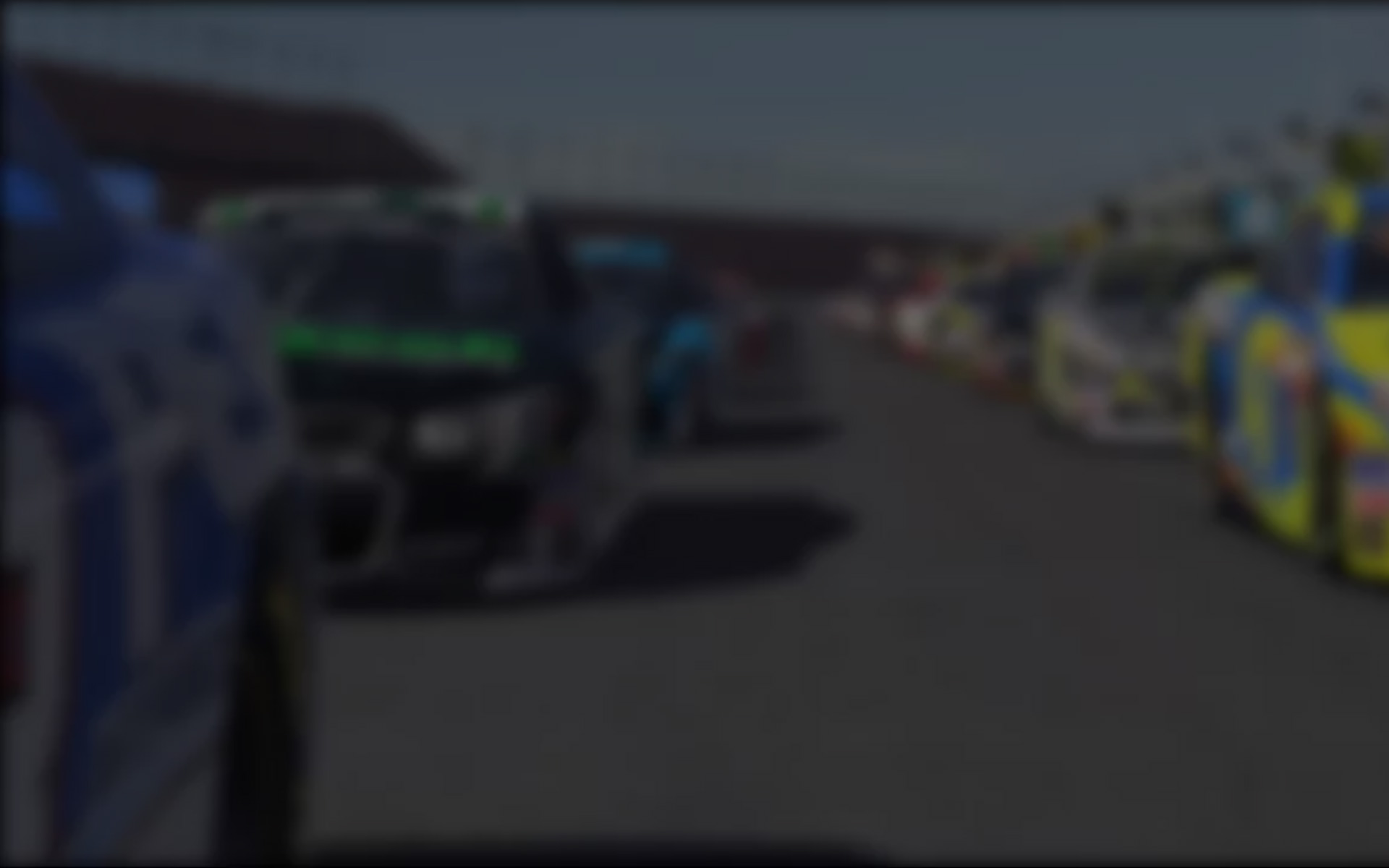 The NASCAR iRacing.com Late Model Series visited famed Bristol Motor Speedway for the third week of 2013 Season 4.  Virtual sheet metal was bent and real tempers flared, as the Late Model Chevies took to the fastest track they will see this season. The 2152 strength of field race quickly got the tempers going and the metal bent in an event worthy of a track known as Thunder Valley.
When the green flag flew Austin Lamberth jumped to a commanding lead over Michael Vanosdol, but with the remainder of the field still running two wide it didn't take long for the first incident.  On Lap 3 David Butterworth2 slammed the wall coming out of Turn 2 while running the high side, backing-up the field and taking himself from seventh to thirteenth spot.  From there things only picked-up.  Running in sixth place on Lap 5, Matt Botempi got loose and spun coming out of Turn 4.  Kevin J Myers narrowly avoided the spinning car, but the loser in the exchange was Corey Lawerence who was unable to avoid Botempi and slammed into his left front with Tony Smith2 splitting the two cars just as they separated.
The action continued when Blake Southerland spun on the backstretch collecting Garret Konrath and Myers on Lap 9.  Although Myers continued with signs of right front damage, as Konrath tried to get his car off the track he pulled down into the path of James Linkiewicz who had barely avoided Southerland's spinning car only to get collected when he hit Konrath, ending his race.
As the race started to settle down Myers was up to fifth and gaining ground on Devon Timmerman and Todd Sipe.  By Lap 20 Myers had overtaken Sipe for third and was gaining ground quickly on Vanosdol.  After starting from pit lane, Cole C Anderson ran seventh having take full advantage of the misfortunes of the other sim-racers.
Up front, Lamberth still enjoyed a very comfortable lead over Vanosdol and Myers.  But the complexion of the race would change on Lap 30.  Peddling for all he was worth to stay on the lead lap, Timmerman touched the apron, got loose and slid sideways in front of Lamberth, who was running two wide with Southerland at the time.  Southerland moved up the track to avoid Timmerman, pushing Lamberth into the outside retaining wall in the process.
Vanosdol and Myers had been gaining over a tenth of a second a lap on Lamberth before the incident, but seemed unlikely to have enough time to run down the leader.  By Lap 42, however, they had caught Lamberth and the next 28 laps saw the three cars battle for the win some eight seconds clear of the fourth placed Sipe.
On Lap 45 Vanosdol made his move under Lamberth.  Myers made it three wide only to quickly back-off, causing Vanosdol to lose some momentum and enabling Myers to take second spot.  The next time around, Myers made his move under Lamberth and the two proceeded to run side-by- side for the next 10 laps.  Lap 56 and it was time for Vanosdol to return the favor on Myers, breaking his momentum off the corner and reclaiming second place.  With Lamberth running the high line to maintain speed, Vanosdol took to the low side for the next five laps but was unable to complete the pass and yielded second spot to Myers who duly got under Lamberth on Lap 64.
The lead pair ran virtually even past the start/finish line for the next four laps until Myers got a little loose and lost momentum allowing Vanosdol to get on his high side.  Unfazed, Myers simultaneously renewed his attack on Lamberth while attempting to hold Vanosdol at bay.  With two to go Lamberth took advantage of the side-by-side action behind him to gain a slight advantage.  Then coming out of Turn 4 to the white flag, Myers and Vanosdol touched, sending them careening into the outside wall and collecting the unfortunate Konrath who was just unable to avoid the wrecks this race.
Lamberth thus took the victory with Sipe coming home P2, eight seconds behind the leader. Smith2 would finish third three tenths behind Sipe with fourth going to Anderson another one and half tenths behind.  Myers salvaged a fifth place finish, while Vanosdol came home sixth one lap down, followed by Konrath in seventh two laps in arrears.  Finishing eighth was Butterworth2, followed by Botempi and Lawerence.  Timmerman was credited with eleventh some 41 laps down ahead of Southerland and Linkiewcz.
Week 4 brings the NASCAR iRacing.com Late Model Series to Lanier National Speedway, where we will see more great online racing and likely more paint being traded and those bumpers (still) in full force.
---
You may also like...
---