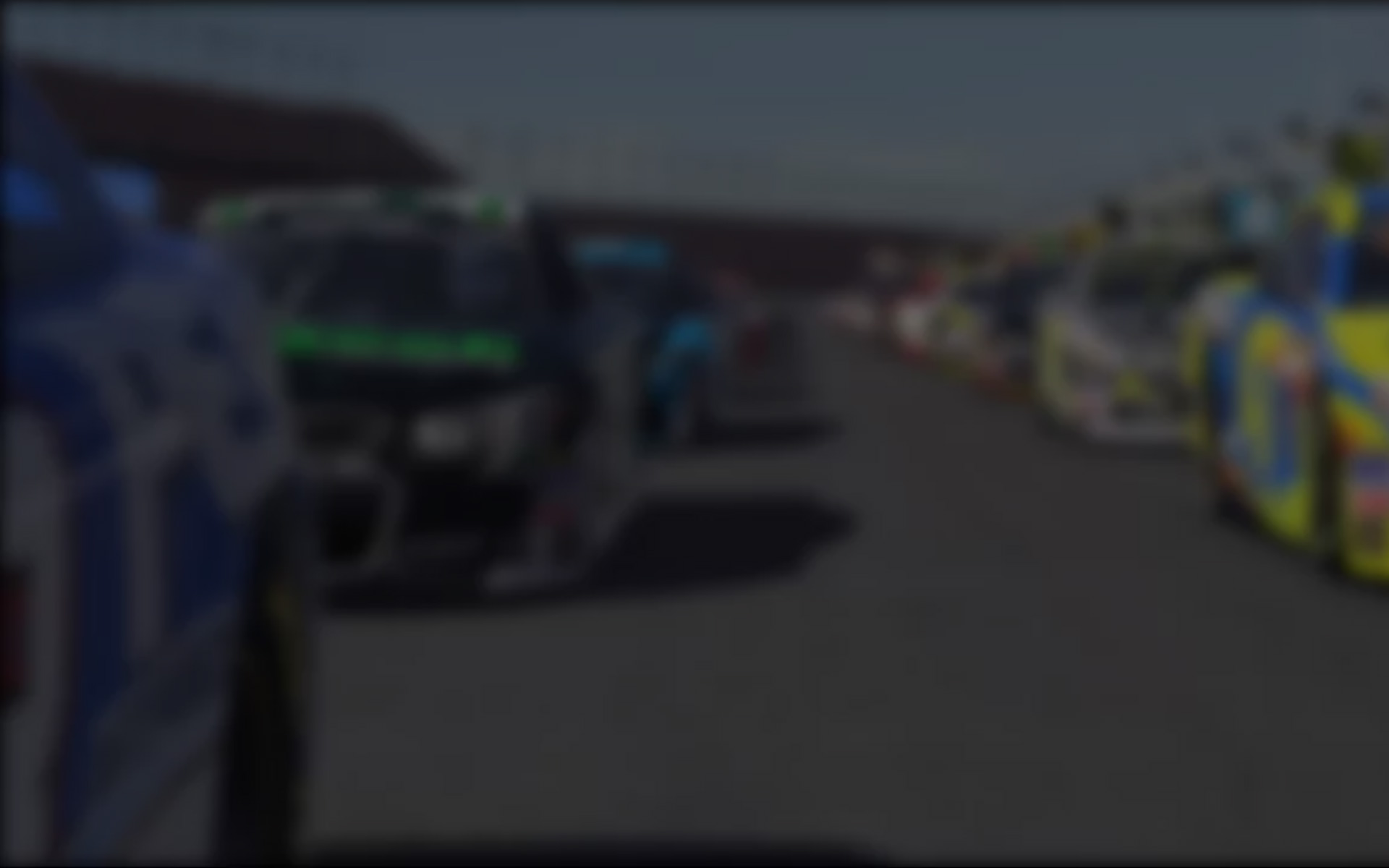 September 18th, 2013 by JaimeB
Martinsville – aka NASCAR's Bull Ring, "Marty," "the Paper Clip," the most iconic short track in the world . . . and a magnet for clean racing and minimal tempers? Usually not, but that was the story for the top guns in the NASCAR iRacing.com Late Model Tour as they duked it out on the concrete flats of Martinsville. With drivers having quite a few options to overtake other drivers at this track, the hard bit would be keeping pace to make a move while fending-off attacks from behind. Meanwhile, trying to restrain yourself from taking advantage of an opponent with a strategic dive bomb, a dive for a gap as they run up off the apron, or maybe even making use of your chrome horn while trying to keep your race craft intact is a hard task for sim-racers used to racing door-to-door week-in and week-out.
In the week's 3238 Strength of Field race, Ty Majeski led the field to the green and set a blistering opening lap to quickly spread the field in a frantic single file line as they tried to catch the pole-sitter who clocked an opening lap a tenth and a half faster than the others. Nathan Hammock started on the outside pole and was able to clear the third place starter of Peter Fisher to start his pursuit of Majeski. Derek Robinson2 started fourth before mistakes dropped him behind fifth-starting Robert ONeal. Jason Sizelove started sixth but after being stalked by Kevin J Myers for a few laps decided it best to duck to the side and let his pursuer pass with ease. Clay Snider started seventh but, with a fastest lap half a second off the leader's pace, quickly slipped behind.
After sweeping past Sizelove, Myers also got around pass Robinson2 who yielded to Myers enabling him to set off in pursuit of the top five.
In the end it was Majeski across the line in first with a dominating performance followed some two seconds later by Hammock with Fisher exactly seven seconds behind in third. ONeal came home fourth from Myers, who started ninth and made up four spots en route to a fifth place finish just under ten seconds behind our leader.  Robinson2 finished sixth, with Sizelove just behind in seventh while Christoffer Ruden was the last car on the lead lap, finishing just over 19 seconds off of our winner.
Scott Sanderson and Clay Snider finished one lap behind while JB Reeves finished two laps behind. Jonathon Tracey did not finish the race after making contact with the wall lead to a mechanical failure on Lap 30.
With the championship battle heating up as we head into Week Eight, Heath Smith (1191) sits in first with Hammock just 30 points behind. Myers has rebounded from a rough start to the season to move into third at 1137 points. Peter Fisher (1115) is fourth followed by Kris Marlow (1079) while Robert ONeal (1047) sits just outside of the top five followed by Randy Schreck (954), Daniel Mabry (909), and Andrew Simmons (871). Reigning champion Kevin Burris (803) sits on our tenth position having just run five weeks this season. Adam Jordan2 (783) is on the outside looking-in with Stan Bragg Jr. (775) also within shouting distance. Ty Majeski (756) and Nick Zautner (741) are mathematically very likely to contend for the championship, assuming the final weeks of racing offer enough points . . . and should they minimize mistakes . . . despite having started just four of the seven weeks thus far.
In Week Eight of the NASCAR iRacing.com Late Model Tour, sim-racers will pack their gear and head to northern Connecticut's Stafford Motor Speedway. Just like the other two tracks from Connecticut iRacing.com offers, Stafford is a track with a rich history and an awesome racing atmosphere.
---
You may also like...
---