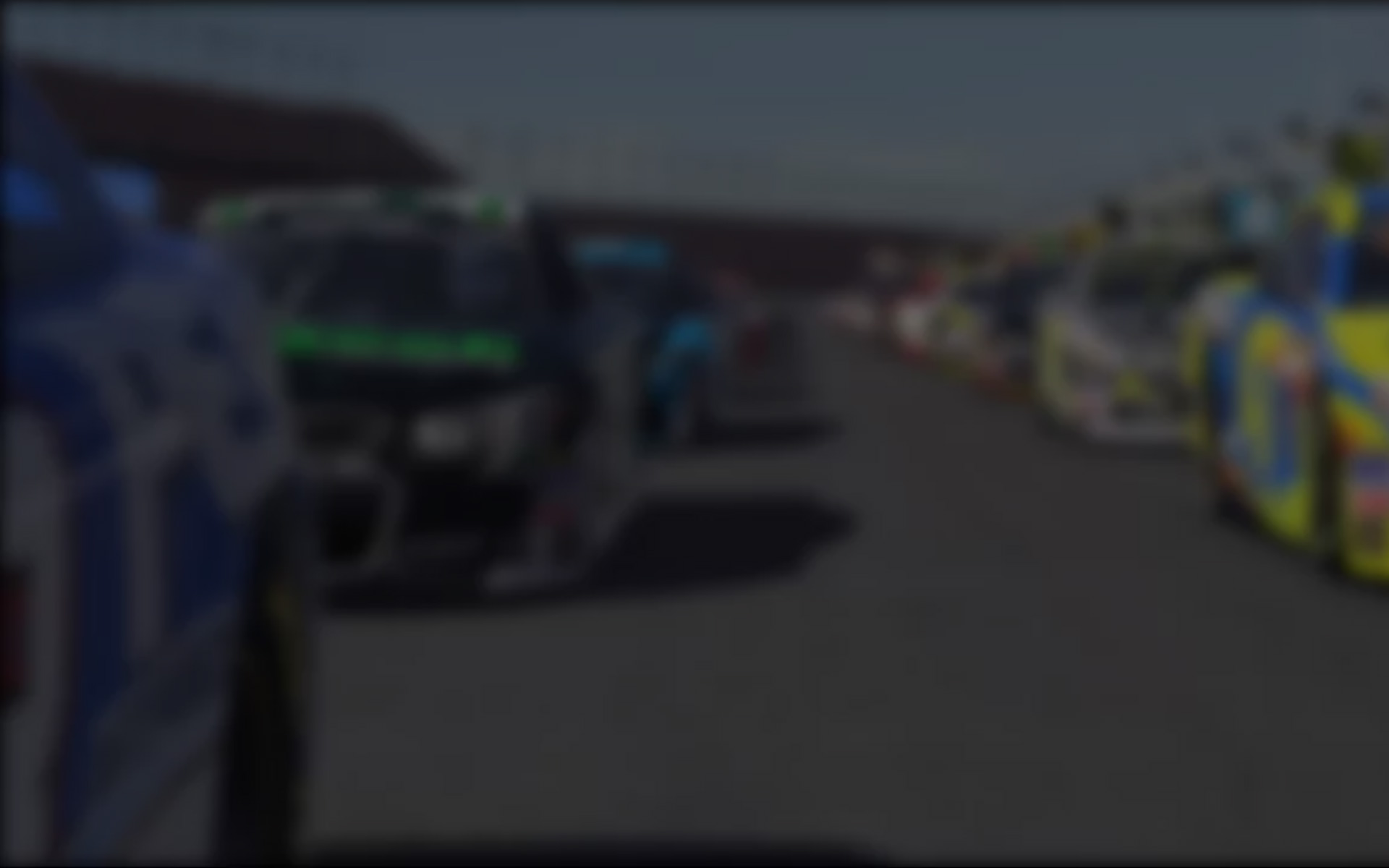 For Week Two the NASCAR iRacing.com Late Model Series headed to Irwindale Speedway's "Inner" configuration.  Irwindale is considered the home of short track racing in the Los Angeles area and surely the Late Model boys would not disappoint. The track is a four-turn oval with zero degrees of banking, just a third of a mile long but plenty long enough to ensure some action with sim-racers taking their tire-hungry Chevy Monte Carlos to the track. On this flat track, who could best keep their tires within a reasonable heat range, in both the front and the rear?
The week's 2874 strength of field race found Bill Tomer on the pole position followed by Jay Walker, Clay Jones, Raymond Emmons, and Simon Morrsion.  Tomer would go on to lead 13 laps but, after getting involved in some carnage, he fell back, leaving Clay Jones and Jay Walker to battle for the top spot. Jones would go on to win the race after leading 50 laps, while Walker led 27 tours and finished just under two seconds behind Jones. Jared Fountain managed to keep his race-craft — and car — clean to land in the third place, nine seconds off the leader. Then came Tomer eleven and a half seconds behind in the fourth position, having turned the fastest lap of the race at 14.486s. In fifth came Emmons, just a second behind Tomer. Morrison would finished another two seconds behind, with Rocky Bettenfield finishing 16 seconds behind and the final driver to go the distance. Kevin J. Holley and Jason Miller would finish one and two laps down.
Thanks to his Strength of Field race victory, Jones finds himself on top for this week's standings with 171 points for his only race of the week. Walker made two starts, leading 78 of 180 laps and capturing one win for 160 points. In third was Stephen Moore with 152 points in his one start, a second place finish. Dale Shaw was fourth with six starts, two wins, one pole and all but one top five, good for 150 points. Next in points but first in effort came Nick Zautner with 11 starts, 11 wins, and nine poles while leading an astonishing 964 of 990 laps en route to a 146 points week.
As Week Three begins, some drivers have already started turning laps and recording scores for the overall championship, leaving some drivers a bit behind in the points. As a result of his strong performance at Irwindale, Jones is on top of the season standings with 482 points, closely followed by Daniel Mabry with 473 and Walker with 463. Ty Majeski, last year's champion, sits fourth with 434 points. Kevin Burris follows for fifth position at 416 points.  Notably, Kenneth Smith and Lewis Crisp Jr. are yet to make a start this week and once they do they should be found near the top of the point's table.
Week Three of the NASCAR iRacing.com Late Model Series takes the sim-racers to New Hampshire Motor Speedway where they can take on the long straightaways of the largest track that they have faced thus far. Check back next week on inRacingNews for another update on the standings. Until next time!
---
You may also like...
---