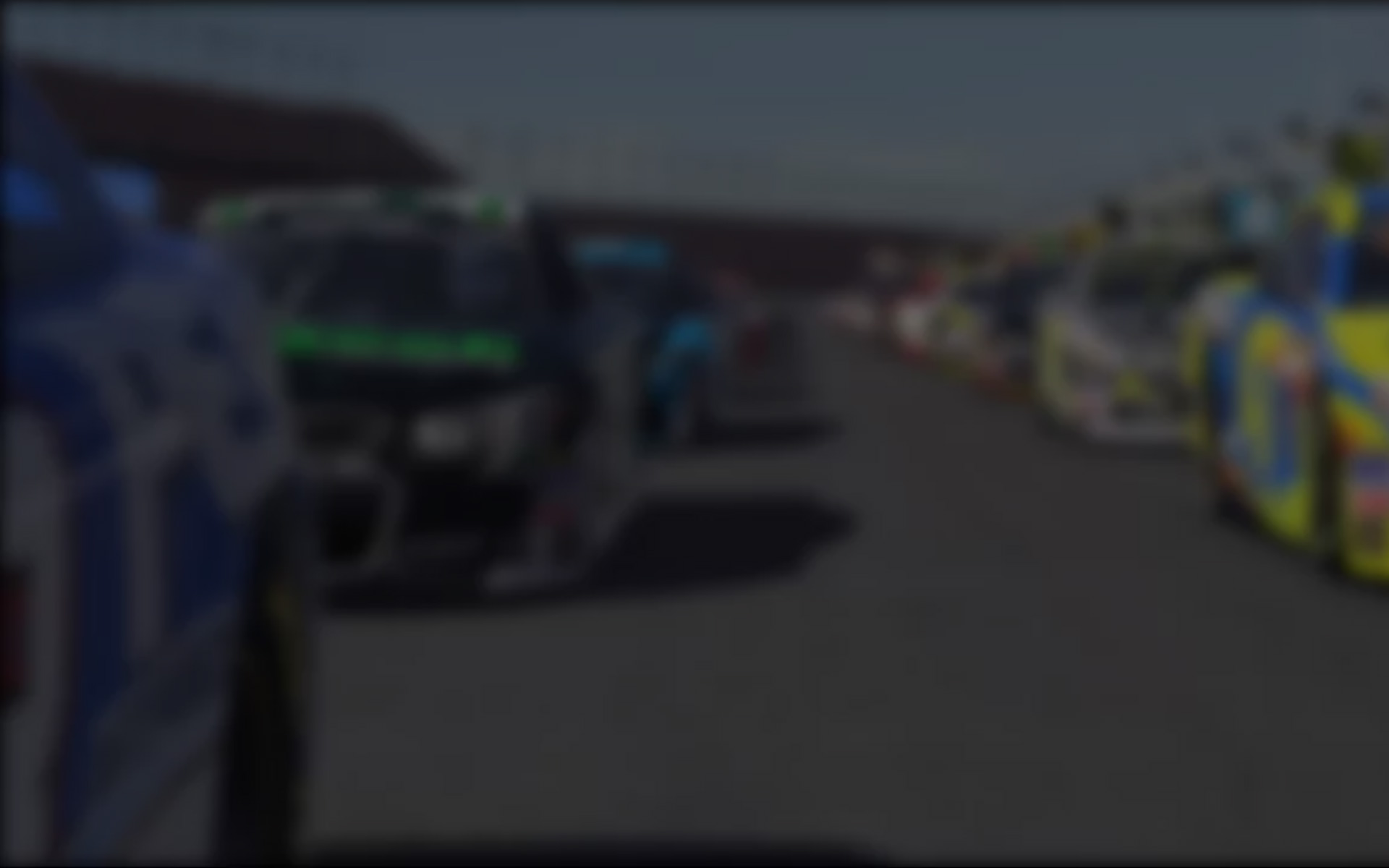 Week Four of this season's Grand Prix Legends championship returned to the site of one of the most exciting races from last season, Mazda Raceway Laguna Seca.  There were 18 sim-racers on the grid for an 18 lap race up, down, and all around this hilly and twisty American classic.  Michel Dudognon took pole position posting a 1:20.335 ahead of the Lotus 49s of Victor Perelman, Kalle Ruokola, and Daniel Garrison Jr. who were all within one second of Dudognon's qualifying time.  As the sim-racers filed into the tricky Andretti hairpin Dudognon maintained his lead while Bogdan Dumitrescu broke rank with oversteer at the outside of the corner, dropping him to last place from sixth.
Raimond Brakenhoff ended the first lap up a position thanks to Dumitrescu's troubles, but a spin of his own at Turn Four sent Brakenhoff into the barrier at nearly a 100mph and he was forced to retire on the spot.
Two corners later and there were two more drivers having their own issues with the track.  First came Ruokola, whose oversteer at the apex of Turn Six led to a snap which sent the Lotus 49 off the track and into the dirt, losing valuable time.  A second or two later and Duncan Coppedge in P7 experienced his own oversteer which sent him in the other direction.
Ruokola's second lap woes didn't end there however, as a heavy spin at Rainey Curve put him into the dirt at the inside of the corner and dropped him to dead last.
A lap later and a sixth-placed Karl Modig found the same gravel that resulted in Dumitrescu's DNF, but managed to keep the car pointed the right way.  Darwin Meints was running just behind Modig, however, and jumped at the opportunity with an inside line for Turn Five.
Kevin Kosiorek had arguably the best start of anyone on the grid from P12 and by Lap Three was already into eighth spot until Coppedge came through on a mission to regain as many positions as he could.
On Lap Seven Modig's struggles continued in a mysterious fashion when he started experiencing technical difficulties at the Andretti hairpin.  His malfunctions continued later in the lap at the Corkscrew before he was forced to pit.
As the race approached the halfway point Meints was still maintaining his sixth place position until Robert Arnott seemingly conceded fifth place at Rainey Curve.
Six laps after passing Kosiorek, Coppedge was hounding Glenn Dyson for seventh spot.  Hounding turned to hunting at the Andretti hairpin as Coppedge took the position by force.  Dyson needn't have worried though as Coppedge got the Corkscrew all wrong and returned the position half a lap later.
After ten laps of sim racing Dudognon had a commanding lead to Perelman in second place and seemed to have the race under wraps until a wayward backmarker suddenly drove into the side of him at the final corner on Lap 11.  Dudognon suffered heavy mechanical damage shortly after passing the pit entrance and retired from the race.
After gaining yet another position from Dudognon's retirement, Coppedge was up to sixth.  His advance was furthered when Arnott did a 360 spin at the exit of Turn Six just in front of him, promoting Coppedge into fifth with another lap still remaining.
The last move of the race came from Ruokola in P12 who had struggled throughout the event after his two spins on the second lap.  He, along with Kosiorek, was a lap down by the end of the 18 lap race, but that didn't stop him from making a last-minute dive-bomb on Kosiorek at the final corner to sneak P11 after dropping to last place 16 laps earlier.
In the championship reckoning, Perelman's clean race to victory earned him 140 points while Garrison's equally calm second place puts him 131 points higher.  Uwe Jacobsen rounded-out a surprisingly quiet podium and received 123 points for his efforts.  The top three in this race were the first, second, and fourth highest scorers for the week while Dudognon's 129 points from another race was enough for third.
---
You may also like...
---