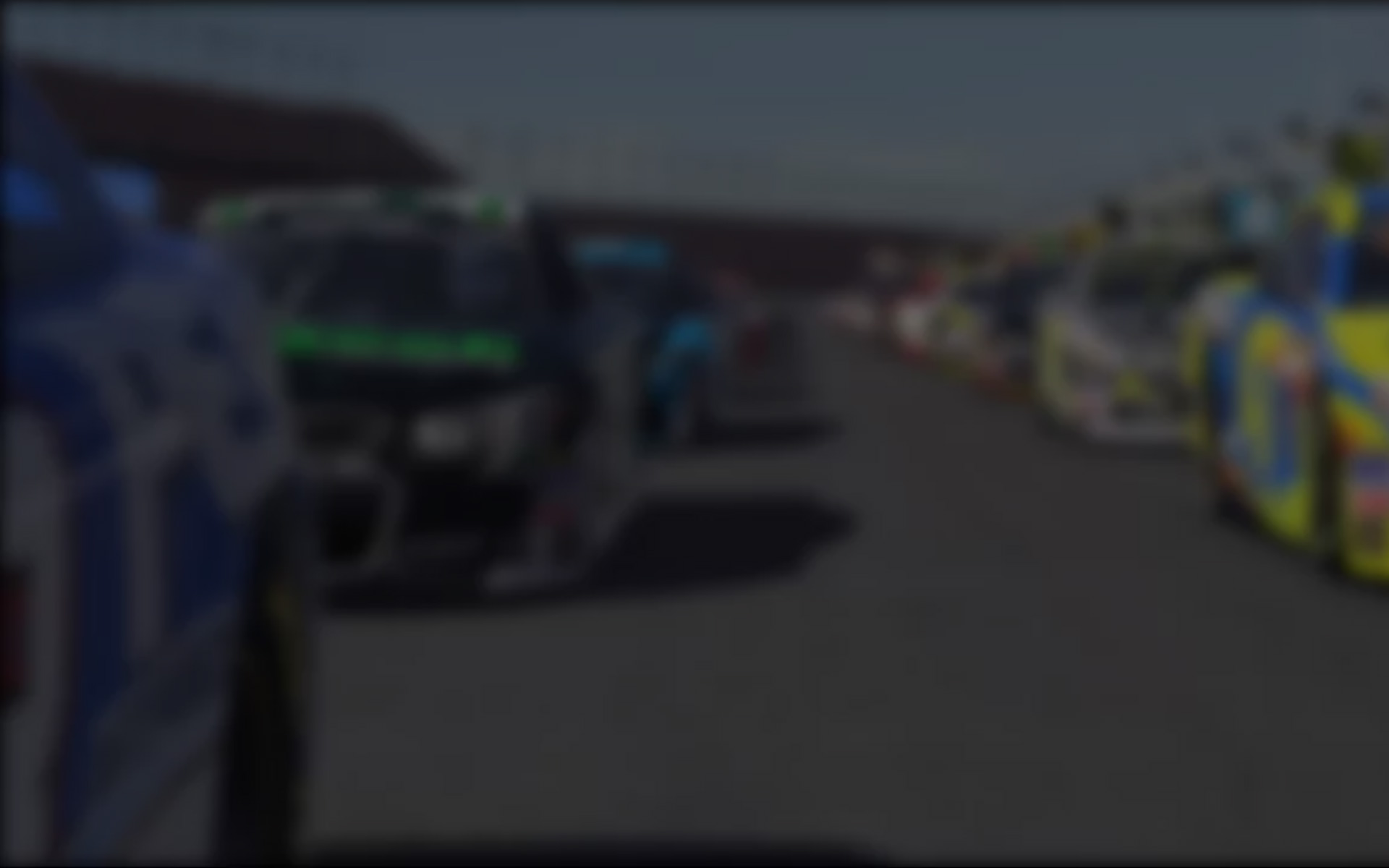 September 23rd, 2014 by JaimeB
With eight weeks down and four to go in the NASCAR iRacing.com Late Model season, sim-racers would be tested at Thompson International Raceway. This single groove monster is known for handing-out the "Thompson 2x" and this week would keep pace with that sim-racing tradition. Lapped cars and passing would be the biggest issues this week. Even if drivers were two to three tenths faster than another sim-racer, if they were not in the preferred groove it was next to impossible to complete a pass without some slight "dooring" to move the slower driver up the track in the center of the corner.
This week's feature race would see James Linkiewicz starting on point with Ryan Piland rolling off second.  When the green flag dropped Linkiewicz would cleared Piland before Turn 1. Piland applied pressure on Linkiewicz for the next 20 laps, but lapped traffic would prove to be his demise. As the leaders went under the lapped car of Matthew Ritchie, Piland straddled the middle groove and got loose on exit allowing Linkiewicz to set sail for the win,
Further back, David Lam moved-up quickly from his seventh place starting spot, his only hiccup coming on Lap Six when he and Alexander Encarnacao disputed the same piece of track. Encarnacao made a late entry into Turn One leaving the preferred groove open for Lam but, as they hit the center of the corner, he tried coming down on Lam.   Contact resulted with Encarnacao sliding up into the outside wall in the process of ceding third spot to Lam. Meanwhile, Piland was fighting a "loose-off" condition and was destined to yield to Lam on Lap 37.
As the final laps approached, Piland adjusted his racing line to cope with his oversteer and began closing on Lam only to run out of  laps, giving Linkiewicz the win with Lam following 2.4 seconds back and Piland another .8 tenths in P3.
A fierce contest for P4 through P8 raged for all 50 laps with Encarnacao initially trying to keep Garrett W. Stoegbauer at bay.  Lap 18 saw Stoegbauer clear Encarnacao for one straight away but, on the following corner, Encarnacao applied the bumper to the fourth placed car.  Forced deeper into the turn than he intended, Stoegbauer pushed-up, allowing Encarnacao to regain the position. Stoegbauer then fell into the clutches of Shawn Russell for the next 20 laps.
Further back, Darek Gress got by Russell for P6 and it would only take a few laps for Gress to get to Stoegbauer's bumper. Gress got past Stoegbauer on Lap 43 only to push up through Turns Three and Four.  The door open, Stoegbauer needed no second invitation and pulled even with Gress only for contact to ensue existing the corner. As they both spun to the inside, Russell cruised by to claiming fifth.  The twosome regrouped and Gress set about running down Stoegbauer — again.  On the final lap he made a move for sixth place only for contact to ensue (again) on the corner exit, this time spinning-out Gress and pushing Stoegbauer into the outside wall. Although Stoegbauer held on to sixth, Gress dropped to eighth as Mark Boston cleared his spinning car claimed P7.
Top Ten Overall Points after 8 Weeks
1. Ty Majeski 1299                        6. Joe Schafer Jr 1077
2. Bill Martin 1257                         7. Cody Kelley 1060
3. Tim Bills 1174                           8. James Linkiewicz 1008
4. Stan Bragg Jr 1131                   9. Bill Elmore 982
5. Kevin J Myers 1097                 10. OJ Dumpier 964
---
You may also like...
---