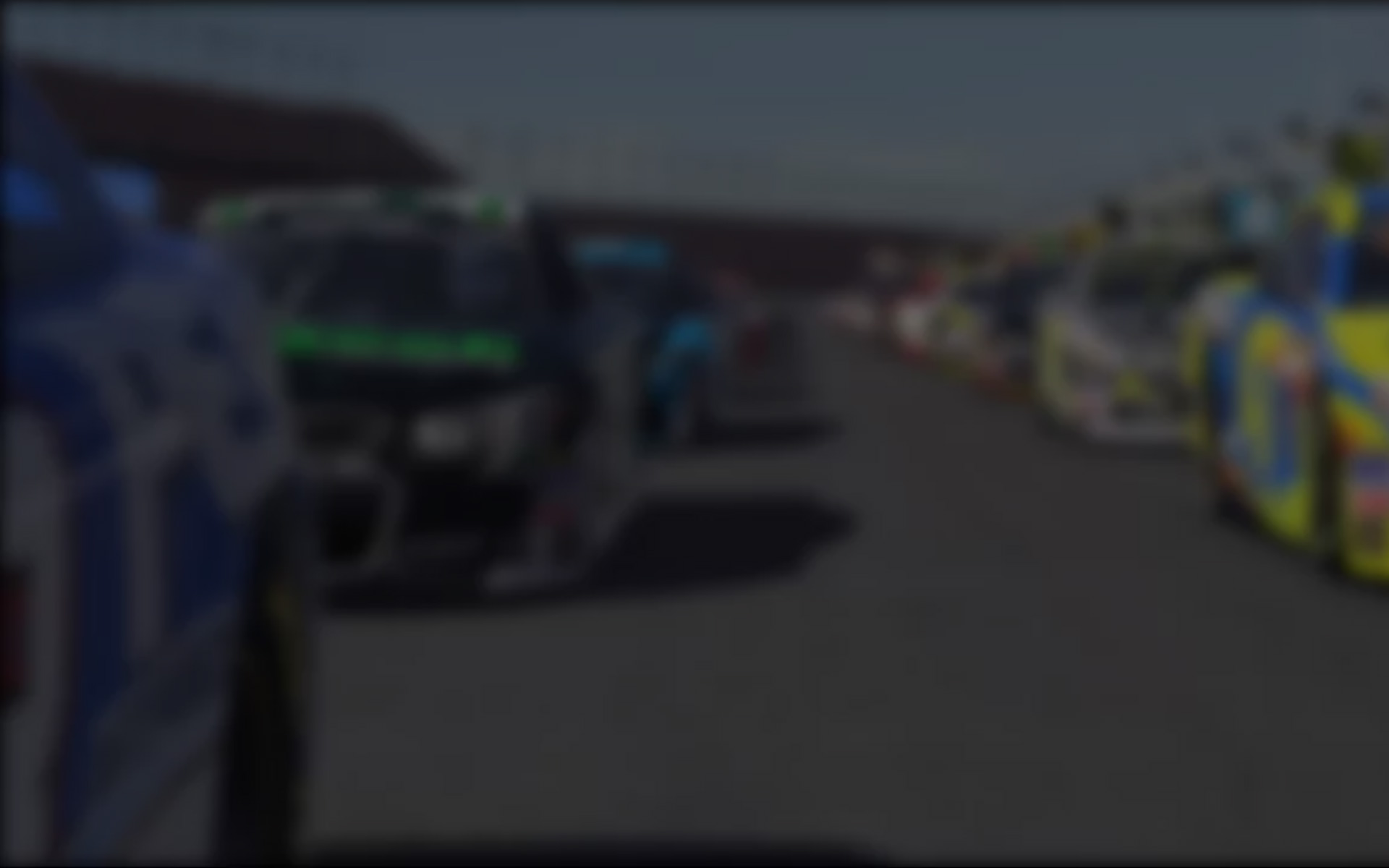 Circuit de Spa-Francorchamps hosted the third week of the iRacing Pro Mazda championship.  Located deep in the digital Ardennes forest, it makes for a picturesque location for a racing circuit, a very long 7km circuit at that. On a track with the slipstream effect as strong as it is in the Pro Mazdas it would inevitably bring plenty of close-knit, pack sim racing throughout the 12 lap race duration.
Justin Brunner dealt the first blow to his competitors by navigating the circuit's 19 turns the quickest to take pole position, the American certainly helped by a lovely tow from his teammate Jordy Lopez Jr to qualify two tenths ahead ogf his closest title rival Ariel Eduardo Bernardi. Even though Brunner had qualified at the head of the field, at Spa it didn't mean so much. Due to the fact that from the exit of La Source to Les Combes promised over 30 seconds of full throttle dicing, he'd have his work cut out to still be leading by the time all 19 drivers had reached sector two.
With the focus on our pole man and if he'd be able to keep his position by the end of the first sector . . . well it was certainly more premature than I expected him to be overtaken! Bernardi was able to overthrow Brunner before they reached La Source for the first time. The Italian shot off the line like a bullet which resulted in him now being the target man as soon as the pack exited Raidillion and on to the Kemmel Straight; in a way this was a nice respite for Brunner who could slot in and hopefully play his cards, although everyone behind him would also be thinking the same thing: "When do I overtake for a chance to get a breakaway?"
Govand Keanie made an early move into second just prior to Eau Rouge on Brunner to now be in a prime position to move ahead of Bernardi by the time they reached Les Combes; with the guaranteed overspeed he'd be carrying by following in the Italian's draft it's hard to see how he wouldn't have the legs on his vehicle to pull ahead. Much to everyone's surprise Lopez Jr appeared from absolutely nowhere to slot his Vortex Pro Mazda down the middle of Keanie and Bernardi to streak marginally ahead to take first position into Les Combes.  Closely following the American was David Gimenou Bou who also moved up in to third position and further demoted Bernardi. With the top two knowing Gimenou Bou only managed to place so high up the grid based on how he tucked perfectly in to Paul Ilbrink's draft in qualifying, they would know there was a realistic chance to bridge a gap and disappear in to the distance.
With only just over a third of the first lap completed Gimenou Bou had his mirrors full of a clearly agitated Bernardi. The Italian tried desperately to regain the spot at Rivage, but to no avail – meanwhile only a few tenths ahead at this point Lopez Jr seemingly let Keanie through without a fuss seeing the brief squabble behind him. The "brief squabble" eventually turned in to a train forming behind the Iberian, a train in which Brunner had fallen a fair way down due to a slight moment whilst avoiding a potential disaster between the two who were battling extremely hard around Rivage.
On the second lap Gimenou Bou exited La Source in third and positioned his car nicely to keep third for the time being when they reached Les Combes for the second time. Bernardi unfortunately didn't have the best of times trying to pass down the back stretch as he was left hung out to dry on the outside of Gimenou Bou and Gregory Tanson, which led to him taking evasive action on the grass to avoid a potential disaster. Whilst this was occurring the top two had checked out and seemingly Lopez Jr was happy for Keanie to tow him along at a vast rate of knots.
Seemingly it was third time lucky for most to get past the Iberian . . . but typically it wasn't to be for Bernardi. Much to his annoyance he chose the wrong side and got boxed-in, leaving him with no choice but to back out and concede even more positions. Ilbrink moved up to third whilst Wojciech Rabsztn cleverly stuck inches behind the Dutchman to make it through in to fourth.
By the looks of how this race had already panned out it was incredibly surprising we hadn't seen any "fireworks" in the opening three laps, although we only had to wait a lap later for some to appear:  Bernardi finally seemed have sealed the move on Gimenou Bou to move up to sixth by slotting his Pro Mazda up the inside in to Les Combes, but it wasn't to be this easy since the Iberian lost the rear of his car under braking which sent him loose and in to Bernardi's left rear tire. The contact resulted in the instigator falling down to eleventh whilst Bernardi would have definitely suffered some sort of suspension damage to his left rear; although it didn't seem terminal just yet. What did end his race was an abnormal spin on the exit of the Bus Stop, quite possibly due to the damage he had sustained. Tanson also got the brunt of the hit which would mean he'd be retiring his Pro Mazda for the day, but only after hitting the wall hard at Turn 9.
With the top two gone in the distance and now our third and fourth place runners scampered off, the remainder of the field was left to battle it out for fifth. Lap after lap Rabsztyn and Ilbrink traded positions for the final podium place whilst keeping the gap to Pedro J Morais. Up until lap 11 Morais wasn't being troubled even when they reached the optimal overtaking points each lap, not even Brunner could do anything about it; although Brunner's front wing was more than likely the reason, having got crumpled early on after a huge check-up in the Bus Stop. Once he'd lost the draft of Morais' group it was game over for Brunner, which I'm sure wasn't the most pleasing result knowing he had the pace to challenge for the win but only having to settle for ninth.
Not forgetting about our top two, they were still in the race! But it wasn't until the last lap when the race hotted up. After patiently sitting behind Keanie all race Lopez finally launched his attack after Raidillion on the final lap.  He drew alongside and marginally ahead for a small time but Keanie braked just that bit later to keep his first position . . . only until they reached Malmedy though. The Dutchman's known for pushing hard but so far this season has been very controlled when pushing hard against others.  This time it was Keanie versus the track and the track came out on top. Around Malmedy Keanie was marginally too greedy on the entry curb which resulted in a huge slide through the corner allowing Lopez Jr to scrape on through before they reached Rivage for the final time. Nonetheless the Dutchman wasn't giving up and made sure to stick on the American's tail all the way until they reached Stavelot, when Keanie made his move — albeit an audacious one — around the outside of Blanchimont!  The sim racers were wheel-to-wheel with inches to spare but it was Keanie who was ahead, just.
Into the Bus Stop the final time and it was a reversal on the brakes: Lopez Jr was able to brake later and hang it around the outside whilst Keanie gave it a wide berth – too wide in the end – to try to get the power down and pull alongside and ahead before the line. Unfortunately for Keanie it would be huge commiserations whilst for Lopez Jr there would be some jubilation after claiming a closely-fought first SOF win by just over a tenth of a second. Rabsztyn came out on top for the battle for third ahead of Ilbrink whilst Morais reclaimed fifth to take home a good haul of points.
Next week the Pro Mazda's head to Zolder, where the curbs will send you flying if you're not careful! Bernardi luckily got in a good race to keep the pace at the top of the championship but Brunner is right on his tail.
---
You may also like...
---