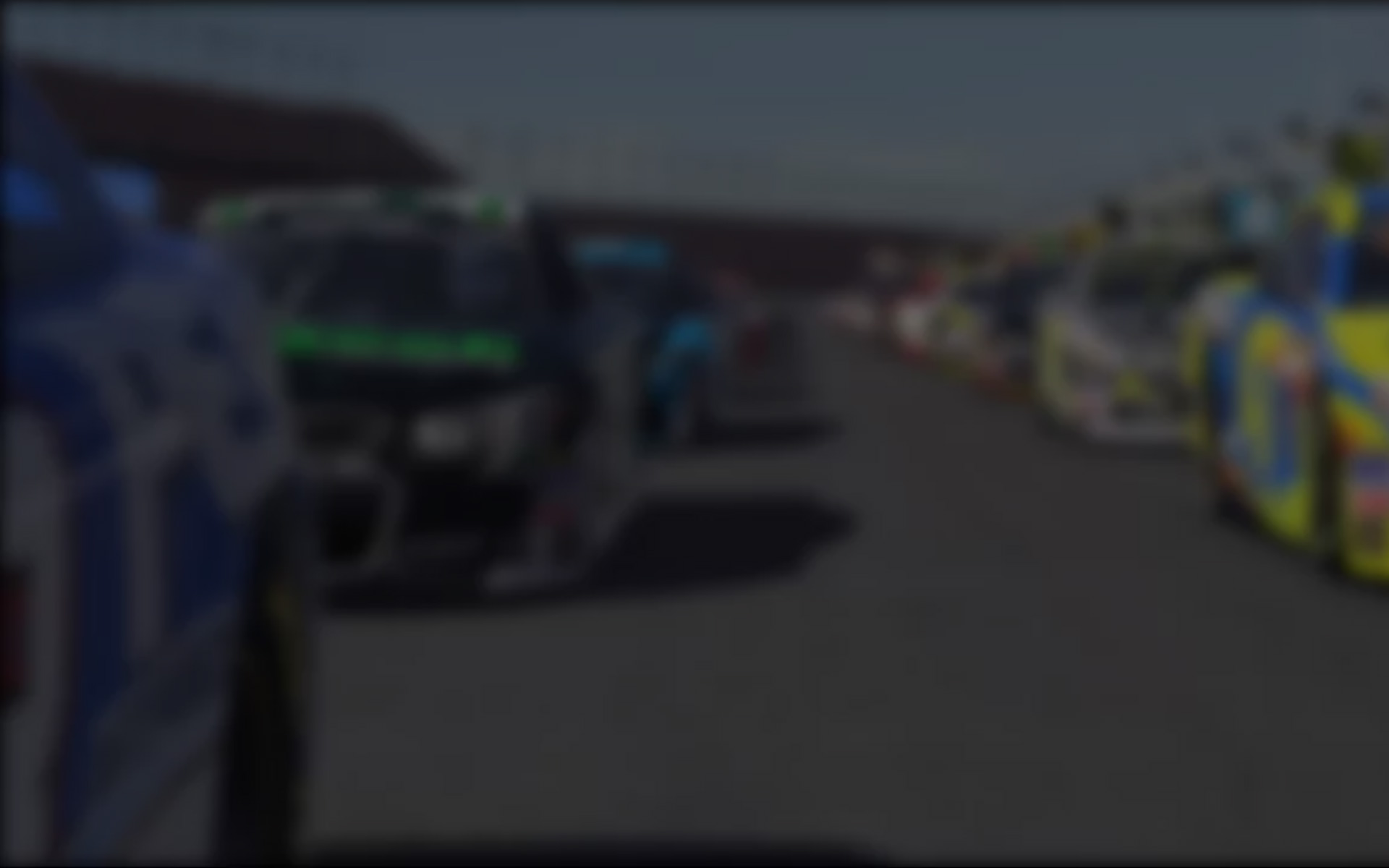 For Week 11 the Grand Prix Legends series packed up their Lotus 49s and headed to Australia for 16 laps of the visually stunning — and technically challenging — Phillip Island for a Sunday race of 16 sim-racers from across the globe.  Only four of the cars on the grid actually qualified before the race, and Uwe Jacobsen took pole position with a 1:33.003 with Greg Longfield only three tenths behind.  The second set of qualifiers were Joe Peak with a 1:34.493 and Duncan Coppedge with a 1:34.678, while Mark Hewitt started from fifth as the highest of the non-qualifiers.
As the lights went green it was immediately obvious that the best launch of the day came from Kevin Cox in sixth position as he shot in between Hewitt and Coppedge.  Approaching Turn One three wide, Coppedge braked first at the outside of the corner and lost positions to both cars, as Hewitt stuck to the inside and managed to narrowly keep the fast-starting Cox at bay.  Peak also had a good launch, even if overshadowed by Cox, as he took second place from Longfield before braking for Turn One.
While Cox's launch was the best, he only gained one position from it.  Best start of the day would have to go to Alex Uelk who started in seventh and had a great view of Cox's Turn One excitement.  The cars ahead of Uelk appeared to be a bit on the defensive or cautious side (potentially both) and at the exit of the first corner stayed to the left as they entered Turn Two.  Uelk took a different line through Turn One, stayed to the right for Turn Two, and took both Coppedge and Cox with some very impressive late braking, moving into fifth place after just two corners.
Lap Two was equally exciting, as both Coppedge and Berke Yalci went deep into Turn One.  The fate of both cars was almost identical as they explored the oversized runoff area, with Coppedge mostly staying on grass and Yalci going a bit further into the dirt.  Both drivers lost positions as a result.
Turn One was once again the focus of attention on Lap Four when Uelk took to the inside of Hewitt and breezed by the Brit to take fourth position in a race where he was predicted to get seventh.
Although Turn One might be the least interesting corner on the track from a driver's perspective, because of the fact it resides at the end of the Phillip Island's longest straight means it's the most viable location to perform an overtake.  On Lap Five, however, Longfield appeared to be caught off guard by the appearance of a back-marker (or maybe he just missed his braking point) and went straight off the track in the same fashion as Coppedge and Yalci on Lap Two, and giving Uelk yet another position.
Lap Seven saw Uelk pull alongside Peak for second place at (surprise, surprise) Turn One at 180mph and brake late enough to hold the inside line.  At this point in the race Jacobsen was already a few seconds up the road, however.
Later that same lap the heavens opened and the angels sang as we saw an actual overtaking maneuver completed somewhere other than Turn One.  Hewitt got more oversteer at the exit of Turn Six than he anticipated, and while it wasn't much, it was enough to put Cox alongside him as they accelerated towards Turn Seven.  Ahead of them was a back-marker and Hewitt was forced to concede the position before Turn Eight.
For a few laps in a row there were no overtakes at the front, but the pack began to get closer together.  By Lap 11 Uelk was within a second of Jasobsen, Peak was still hanging on to the back of Cox with Hewitt not far behind and Longfield had caught-up to the top five.  At Turn One, once again, Hewitt went off the track in the same way the other victims had, and lost the position to Longfield and put him under attack from Coppedge who was also fighting back through the field.
On Lap 14 Hewitt's struggles continued as he caught snap oversteer exiting Turn Two.  He counter-steered to correct it but when the rear wheels suddenly gripped while the front wheels were pointing the wrong way he was launched off the track and lost sixth place to Coppedge.
On the final lap Cox was maintaining third place ahead of Peak with Longfield was not far behind when he got the braking wrong for Turn Nine.  While still turning left, his right wheels dipped-off the track and he spun nearly 540 degrees down to fifth with only three corners remaining.
So after 16 eventful laps Jacobsen regained his lead from pole position with a zero incident race to earn 118 points.  Uelk (and who also drove a zero incident race, coincidence?) came home just 0.342s behind the winner, earning 110 points for his championship.  Peak and Longfield were still less than 11 seconds behind the front-runners when the checkered flag fell and collected 102 and 94 points respectively.
---
You may also like...
---