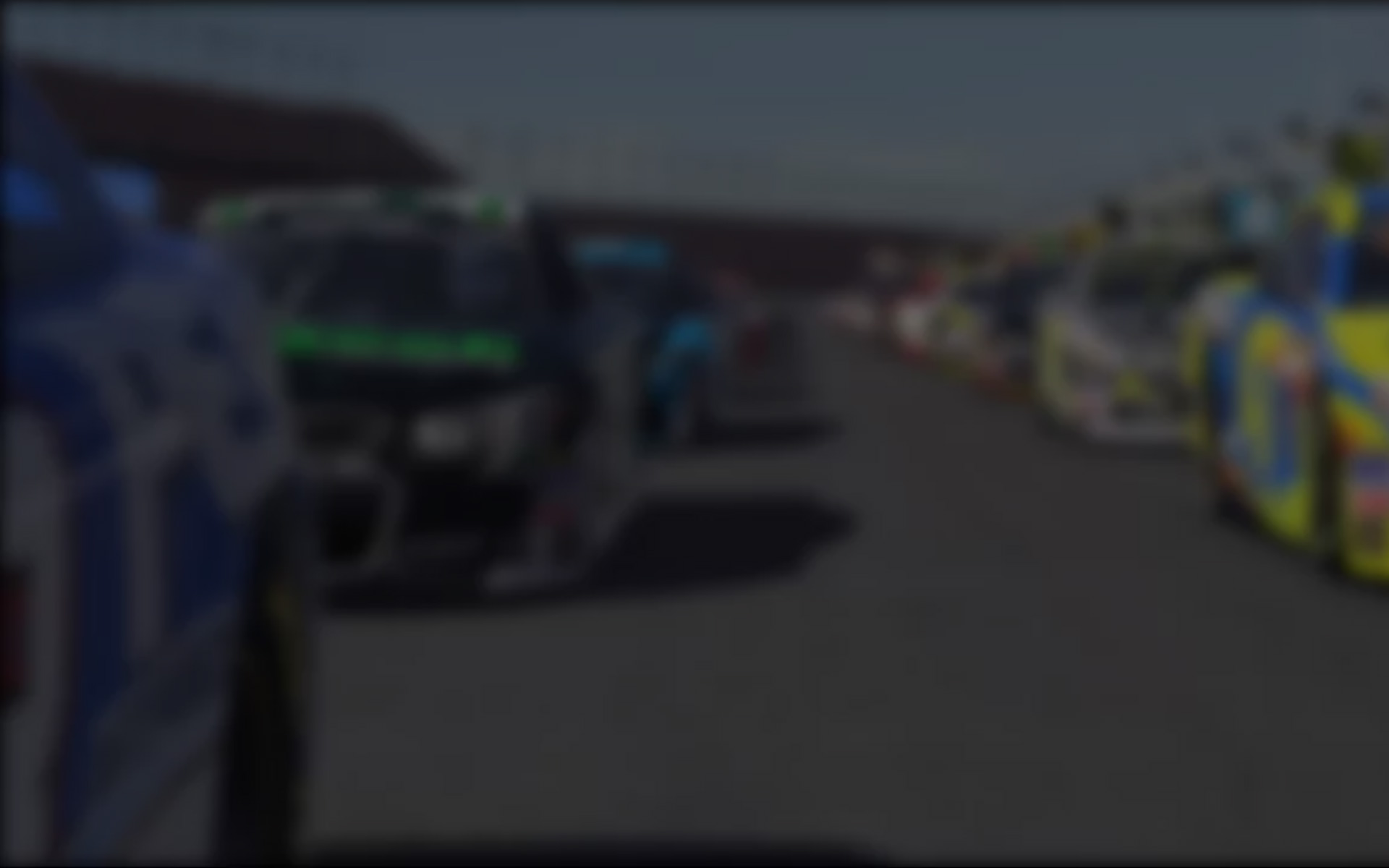 December 14th, 2016 by Jason Lofing
Ryan Luza kept his perfect NASCAR iRacing Pro Series record alive, taking the checkered flag at Atlanta Motor Speedway for his fourth victory in as many starts. Luza passed Nickolas Shelton with seven laps to go, using his fresh tires from pitting an extra time during the long green flag run that ended the online race.
Darik Bourdeau finished second, 3.9 seconds behind, after playing a similar strategy. Adam Benefiel came from twenty-second on the grid to finish third. Brian Schoenburg was fourth, the first sim racer across the line on a one-stop strategy, followed by Shelton who fell all the way to fifth on his old tires.
The race started with Blake Reynolds on pole, but he would lead just a single lap before third-place starter Keegan Leahy took over at the front. The first caution flew on Lap 4 and most of the leaders pitted for tires, knowing how valuable fresh rubber is at Atlanta.
Reynolds and Leahy were both mired back in traffic on the restart, but Luza had a better pit stop and would restart ahead. On Lap 11, these few positions would make all the difference when a massive crash was sparked off Turn Two when a four-wide battle turned ugly. Todd Garren made contact with Casey Kirwan, which sent Kirwan down the track into Leahy. Before anyone could slow down, the track was blocked and more than a dozen cars, Reynolds and Leahy included, were wrecked on the backstretch.
With several fast cars suddenly out of the picture Luza, and Shelton, along with Bobby Zalenski, had a stranglehold on the positions at the front. After another quick caution, Zack Novak also entered the fray after a stellar pit stop allowed him to inherit the lead. Novak took advantage of the track position, pulling away after the restart and leading 22 laps before Luza and Bourdeau passed him on Lap 50.
A caution just a couple laps later brought the leaders to pit road, and this time it was Shelton getting a great pit stop and taking over the lead. With Shelton out front the next run played out quite differently, as Shelton successfully maintained the lead, stretching it out to more than a second over Bourdeau as Luza dropped to fourth, struggling with his handling.
That run came to an end when the final caution of the race waved on Lap 83 after Jeremy Allen crashed hard after contact with Colton Davis. Shelton won the race off pit road again, but this time Luza had the pace to keep up. As the run wore on Luza looked the stronger of the two and finally passed Shelton on Lap 101 to reclaim the lead.
Luza, however, would only lead until Lap 113 when he chose to short pit for fresh tires. While many of the front-runners chose an identical strategy, Shelton and Schoenburg, along with a couple others, tried to stretch their tires to make it on just one more stop.
In the end, the two-stop strategy was far superior. Luza exited the pits around 28 seconds behind Shelton with 20 laps remaining, but was nearly two seconds a lap faster than the race leader, allowing him to quickly close and make an easy pass as laps wound down.
Despite his four wins, Luza does not lead the championship due to missing a race earlier in the season. Zalenski owns the top spot after five of nine races have been completed, with a 96-point margin back to Luza. Schoenburg is third, an additional 96 points back and just a single point ahead of Malik Ray in fourth. Bourdeau completes the top five, a dozen markers adrift of Ray.
With only one race left until the holiday break, Luza is firmly in the driver's seat in his quest for the NASCAR iRacing Pro Series championship. While he does currently trail in the standings, drops have not been factored into the equation yet. Can anyone stop Luza's dominance, or will he ride into the break as a five-time winner?
---
You may also like...
---