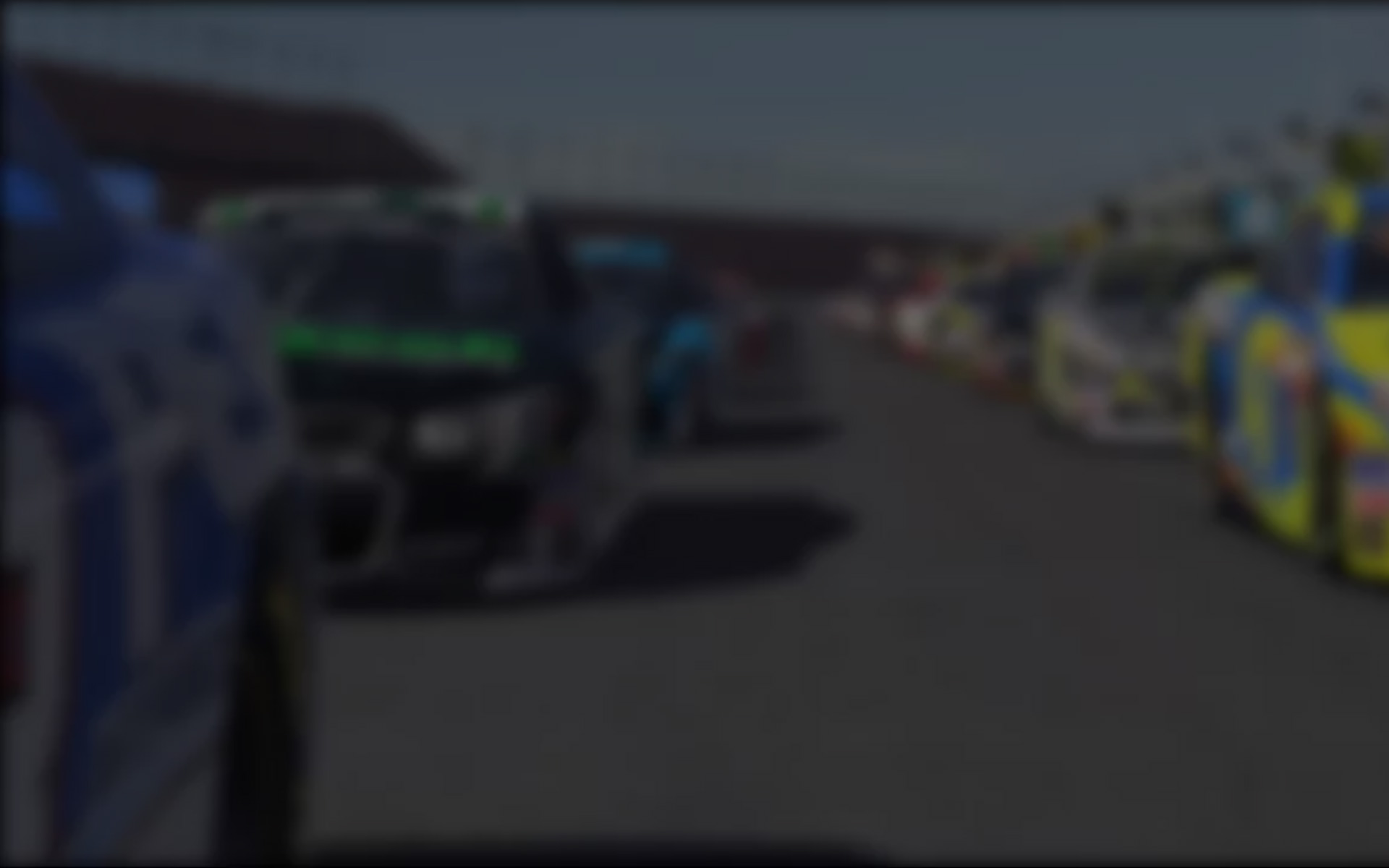 For Week Three the NASCAR iRacing.com Class B Series (NiCBS) traveled to the famous track known as "The Lady in Black." The famed South Carolina track has a rich history and sim racers looked to add their own history as they pursue an iRacing championship. 241 racers would attempt at least one race during the week while 63 drivers turned at least one qualifying lap at Darlington . . . the track too tough to tame.
Week Three's Strength of Field race took place on Thursday at 9:30pm EST as have all the SoF races this season. The 3997 SoF race paid the winner 252 points to win and was broadcasted live on ETV (http://www.etv-eplay.net/wordpress/?review=iracing-thursday-nite-thunder-3#2). Brad Mahar (New England) would find himself in victory lane when was all said and done. Mahar qualified third but opted to start from pit road. He quickly made his way to the front and made the winning pass on KPM teammate Brian V Macklin (Atlantic) on Lap 74. Mahar led 45 laps in all and received 252 points for his victory.
"I want to thank my Kingpin Motorsports teammates for putting in a ton of effort to get the car driving flawlessly at such a tough track like Darlington," Mahar said after his victory. "Brian dominated the early part of the race while I tried to figure out what line he was running, then towards about half way I started picking it up and after a few tire pressure adjustments my car was a rocket ship. I got lucky with a good restart and was able to make the pass on the high side in Turn One and we just set sail from then on."
"After a few tire pressure adjustments my car was a rocket ship." — Brad Mahar
Macklin went on to finish in the second position after leading 51 laps during the race. For his efforts, Macklin netted 238 championship points. Jeffrey Parker (Florida) finished in the third position after starting 15th and collected 224 points. Season point's leader Brandon Buie (Atlantic) had a disappointing race, finishing ninth after starting 14th and only gaining 140 points.
Not only was Buie able to maintain his first position in the point's standings despite the disappointing week at Darlington, his lead grew from six to nine points. Parker made the jump in to the second position after his third place finish in the SoF race, bringing his season point total to 493 points. John Bunton (Carolina) dropped to third after a less than stellar week at Darlington, earning Bunton a pair of top two fiinishes in lower SoF races while also finishing 14th in the week's high SoF race. Bunton only gained 134 points at Darlington, bringing his total to 490. Phil Juhring (New Jersey) and Armando Vargas (California) rounded out the top five with 480 and 434 points respectively.
At the end of the week, Jared Crawford (Michigan) was on top of the speed charts. Crawford set a blistering lap of 27.982s, nearly two tenths faster than second fastest Ben Burnett (Carolina), who finished the week with a 25.155. Macklin turned a 28.186s, good enough for third, with Gary Cooksey and Mahar rounding out the top five in qualifying with a 28.187s and 28.199s respectively.
Week Four sees the NiCBS traveling to the Sunshine State where drivers will compete at the 2.5 mile Daytona International Speedway. This will be the first time the NiCBS will visit Daytona with the new aero package. Excitement will be high as racers will look to tango their way to the front. Who will finish the week on top? Find out next week at InRacingNews!
---
You may also like...
---