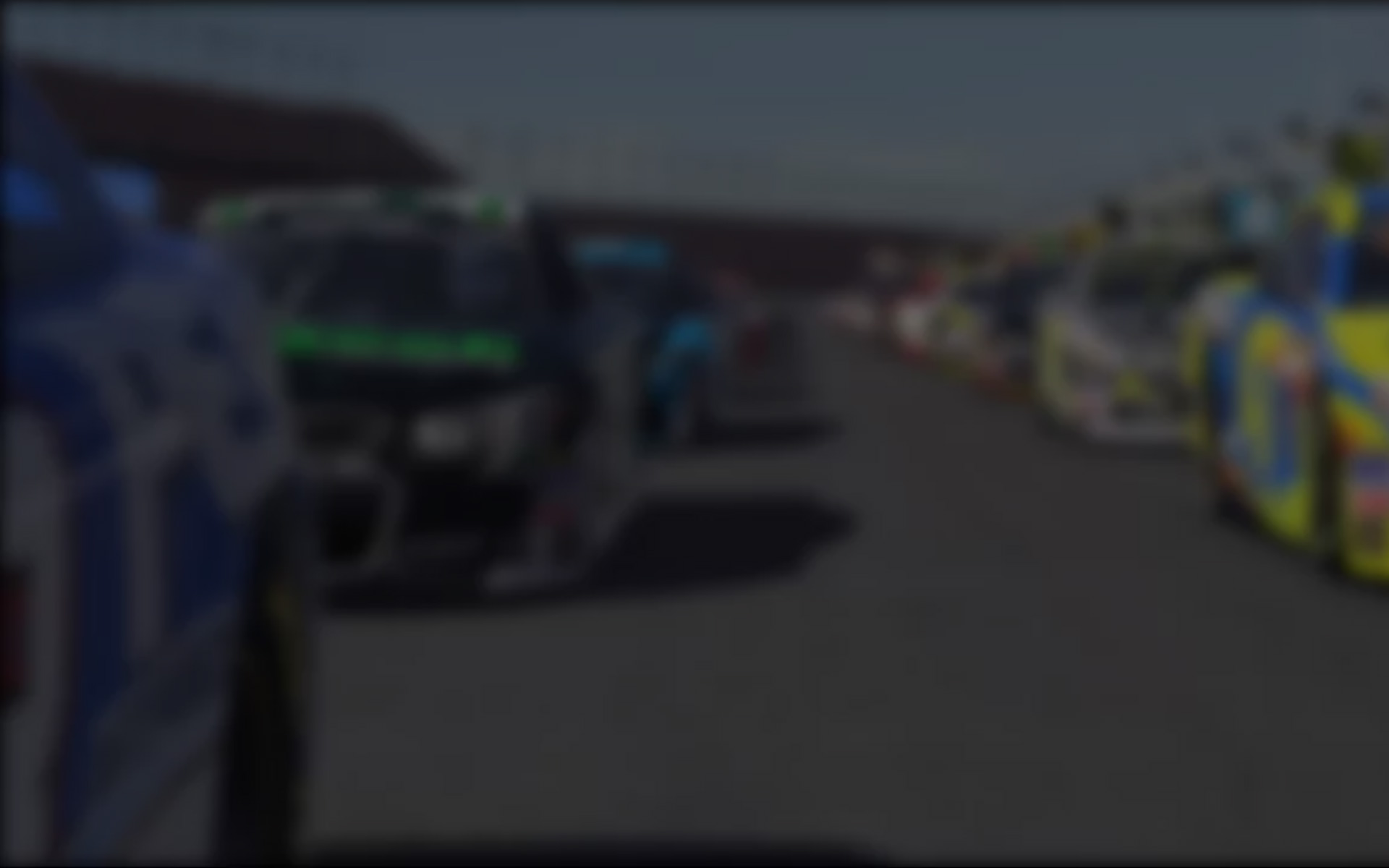 Like USA International Raceway, Oran Park and scores of other great tracks, Lanier National Speedway has closed its doors and joined the list of mothballed or demolished race tracks.  As with USA and Oran Park, sim-racers continue to have the opportunity to graze the walls and bang doors with their competitors at Lanier thanks to the fact that iRacing had the foresight to build a virtual version of this epic short track.
With the addition of night time lighting in iRacing's version of the track, competitors in the NASCAR iRacing.com Late Model Tour expected the racing would be something completely different on the same facility short track racers love. With the new night setting, speeds will be higher and grip will be greater, and we can expect a completely different balance on the car. Last season many drivers battled a tight race car on exit.  In contrast, this season they battled tight in and loose off, struggling to maintain a balance between tire wear on opposite ends of the car. Those who do, manage to succeed.  And the walls of Lanier await those who don't . . .
In the 2813 Strength of Field race, Nathan Hammock dodged bullets – and cars – to bring home the checkered flag after a race-long battle with Daniel Mabry and Heath Smith. Smith started on the outside row and quickly dropped to third as Mabry took advantage of his starting spot on the inside of Row 2. The top three broke away with Chris Furman, Andrew Simmons, and Peter Fisher grasping for any bone they could get their hands on at the end of the train.
Unfortunately, some drivers they were unable to join this chase as drama unfolded in the early stages of the race. Jim Smith lost it in the middle of Turn Three and then managed to regain control, but unfortunately had drifted into the racing line. Josh Northcutt's #10 machine smashed into the bumper of the #14 Monte Carlo as he made an attempt to checkup. Northcutt caught a break when James Thorndike had time to slow up behind him and avoid an even greater collision. Even still, Northcutt was forced into Smith's bumper and sent him spinning across the bottom of the track into #5 of Jack Breuker.  Breuker would slide to a halt on the bottom line of the track just far enough to the side that the leaders would be able to drive by in marginal safety.
Eventually, Furman was able to muscle his way into the second position to finish a half second behind the dominant Hammock. Mabry finished third just a second behind Hammock whilst clocking the fastest lap of the race. Heath Smith took home fourth position two seconds behind our race leader while Simmons clocked in 12 seconds behind as the last car on the lead lap.
Joseph D'Allesandro avoided all the drama to finish sixth, the first car a lap down. Fisher followed in seventh ahead of Joshua Schwarz and Thorndike while Northcutt salvaged P10 two laps down after some dents to his radiator forced him to back his pace down. Chef Martin finished three laps down in eleventh followed by the unlucky Breuker in twelfth, some four laps down on the winner. Jim Smith finished six laps down in thirteenth while Tucker Wingo only completed ten laps of the race before pulling behind the wall. Jesse Schwarz was scheduled to start the race but was unable to pass technical inspection and was sent packing.
Season One champion Ty Majeski sits in the top spot for the week with 221 points, followed by Josh Berry and Heath Smith at 184 apiece. Fourth place is the property of Steve Wright (180) who is closely followed by Daniel Williamson (177), Justin Wariner (175), Nathan Hammock (175), Nick Zautner (170), Peter Fisher (165), and Robert ONeal (162) to round out our top ten. Breuker (160) placed eleventh as Kris Marlow (158) and Kevin Burris (157) followed behind. Daniel Pope II (156) sits fourth as Scott Howell and Kevin J Myers tie at 155 points to finish this week's top 15.
As the Late Model action at South Boston is nearing its completion, Heath Smith is our points leader at 880 with Nathan Hammock just behind at 846. Daniel Mabry (826) sits third with Peter Fisher (802) and Kris Marlow (799) just behind to round out the top five. Kevin J Myers sits sixth with 767 points, as Nick Zautner (741), Kevin Burris (721), and Robert ONeal (652) remain just in their wake despite only having raced four races this season. Tony Housman (634) completes our top ten as we look forward to finishing out the week at "SoBo." South Boston is much the same as Lanier, but with a narrower racing area and a bumpier groove. Check back next week for a recap of the action!
---
You may also like...
---