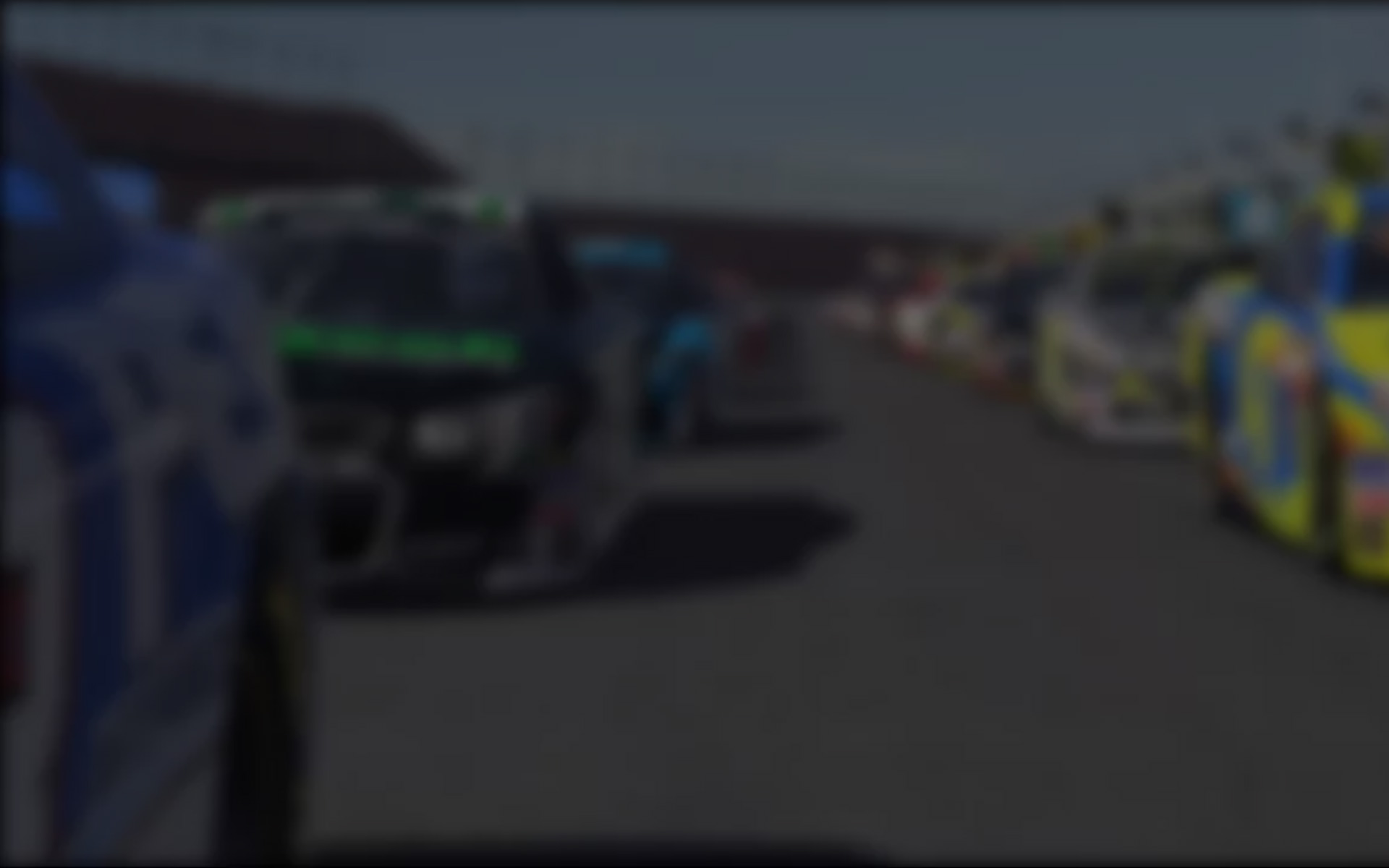 Sim-racers have a unique opportunity to race at USA International Speedway, a track with a short yet eventful history. In its one and a half decade of existence, USA International Speedway hosted various series and was once a popular testing ground for the NASCAR Sprint Cup Series. Though the now defunct track simply remains as an open lot, like Australia's Oran Park, it lives-on – virtually — thanks to iRacing.com. The .75 mile concrete oval with turns banked at 14 degrees is one of the few tracks that perfectly suited the opening week of the NASCAR iRacing.com Late Model Series.
This week we decided to shift our focus away from the Strength of Field race and towards another Strength of Field race which had some of the most competitive driving of the week. The 2513 SoF race featured side-by-side action and even some bump-and-run tactics. Ricky Howell started on pole position, followed by Steven Burnett, Gary Hensley, Timothy Suprenant, and Christopher King. The group started off immediately with some close racing and quite a bit of position trading.  By the half-way point Howell remained in control of the lead before Burnett dove to his inside with Kurdziel following suit.  As the three drivers came off of Turn Four, Howell's Late Model had effectively worn all grip out of the rear tires resulting in a spin. This allowed Burnett to sneak by and win the race with Kurdziel two and a half seconds behind. King finished just a second behind that with Levi Poland just half a car length behind him. Andrew Simmons was just behind them at the same margin and only two seconds later came Kyle Pitts. Hensly would cross the line two seconds (seven off the leader) later with Darren Kikolski almost scraping up the position just one tenth behind him. Adam Heili and Ricky Howell also finished on the lead lap, 12 and 14 seconds behind. Scott Garner, Dennis Mikkelson, and Timothy Suprenant all finished a lap behind the leader.
The weekly and overall standings were topped by none other than Ty Majeski. Majeski claimed a perfect seven which claimed him 175 points. Bill Tomer made one appearance this week and his second place finish was enough for 169 points. Tyler Hudson made a clean sweep of both races in which he participated to claim 168 points. Better yet, Justin Trombley made a clean sweep of six races, leading all but six laps, which was enough to get him 157 points. Jeffry Tanghe tied Trombley after making 10 starts in which he won four. Next-up is Daniel Mabry who made three starts, all of which resulted in top five finishes, good for 156 points. Burnett made three starts, captured two wins, and 155 points from the aforementioned race, a total matched by Tyler Sutton who earned a single win.  Next up was Lewis Crisp Jr. who made 21 starts, captured 12 wins, 20 top five, 15 poles, and led 763 laps all for 153 points. Austin Thompson finished off our top ten with a start, a win, and 152 points.
Next week in the NASCAR iRacing.com Late Model Series we will see how the iRacers fare at Irwindale Speedway's inner configuration. As we grow nearer and nearer to the Strength of Field race during Week Two, we may see a clearer indication of who the real players will be in Season Two of the NASCAR iRacing.com Late Model Series. Check back again next week at inRacingNews!
---
You may also like...
---