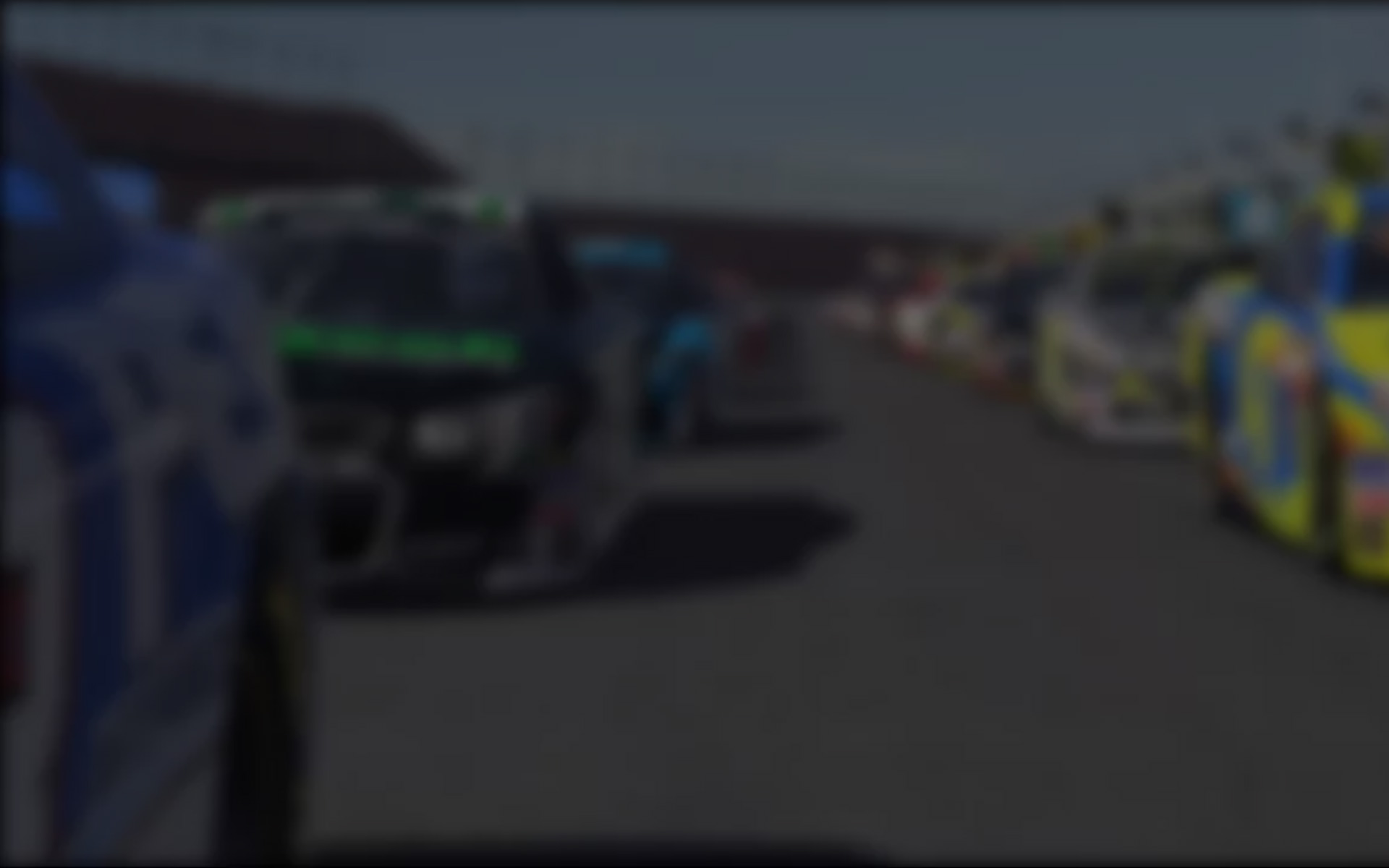 Versão em português abaixo
iRacing Brasil's NASCAR Pro Series is coming to a conclusion – but yet, nothing is defined. Anderson Paes has been leading the point standings since Race Three, doing a great campaign. But he is always followed very closely by Igor Kops, Luis Piccolo, Alysson Pereira and JC Nóbrega. With two more races to go, it's not easy to guess who's going to be the next champion of this very popular series in the Brazilian league iRacing Brasil.
The eight race of the season took place at Martinsville Speedway. With a good field size of 28 participants, the half-mile track had 14 caution flags, and drivers had to watch their backs to come out in one piece after 180 laps. Paes had the pole, his fourth of the season, sharing the first row with Ricardo Gonçalves, while Anderson Perez and Rafael Hubie were on the second row. Half of the grid decided to not go for a qualifying lap, which resulted on only 14 sim-racers participating in the qualifying session.
No sooner had the green flag waved than the first caution of the day came out after an incident at Turn One, caused by Anderson Perez, who bumped Ricardo Gonçalves making the car 144 spin and hit the wall. No one else was involved, but a few cars had to stop on the outside line to avoid crashing.  The restart came at Lap Nine, with Paes and Jr. Borborema at front. Perez continues on the second row with Kops on his side now, while Gonçalves was back in 26th place. But the caution would be out again at the very same Turn One, just after green flag was waived. This time, Caique Ribeiro had trouble and involved Leandro Morissawa, causing a big crash. Five other drivers were  involved as Rafael Matta went past the accident thanks to a quick and good decision on his driving. This would be one of the keys for his victory, 170 laps later.
A second restart took place on L ap 14, only for the yellow flags to waive again.  This caution was caused by Alex Montoanelli, driver of the 85 Chevy, who lost control and spun off, involving also Rodrigo Lellis.  Montoanelli goes to the pits for repairs, but would leave later with connection problems.
By Lap 22, the green flags were out again and this time the sim-racers could race, with no incidents happening at this time.  Paes could finally lead the pack without a pace car ahead of him, followed by Kops until Lap 44, when Rodrigo Lellis had a self-spin, causing a new caution. Rodrigo Lellis would also leave the race after this incident. Taking advantage of this moment,  many of the lead drivers made their ways to pitlane, including Paes and Matta, who is 5th by this moment already.  As the race continued, fourth-placed Rafael Hubie in car 21, lost control and spun on Lap 50, involving other drivers.  Matta continued to climb his way for the victory, escaping of one more crash. Only Kops and Paes ran ahead of Matta now, and soon Matta challenged Kops for second, overtaking him at Lap 74 on a restart happened. But Kops fought back and regained his position, leaving Matta in third again.
A new challenger appeared at Lap 95 in the form of  Sergio Abella, who challenged Paes after a restart, going side-by-side with the championship leader. They had contact at Turn One, with Paes falling to third place. Abella now had Kops by his side while Paes spun out after more contact, this time caused by Sergio Calizario. The caution was out again at Lap 96, and Paes would lose even more positions, sliding down to the 10th spot.
Lap 102 and Matta challenged Kops again, now for first place. But it would take 22 laps before he finally overtook Kops and grabbed the lead of the race. Kops counter-attacked, taking the lead again again on Lap 148 before stopping by the pitlane three laps later, while race was under caution. Matta decided to stay out and restarted the race at Lap 156 as the leader, again with Kops and Abella on his tail. This situation would not last, as Abella and Kops made contact right after the restart, seriously damaging both cars. Nor were they alone.  Several other drivers were involved and the race was (again) under yellow flags.  Abella had to quit the race, but Kops continued.
After that, Rafael Da Matta had his last challenge: He needed to hold-off Paes and keep himself out of danger for 20 more laps. And he did it, winning at Martinsville to earning his second victory at this season . . . a good thing for the sim-racer who lost his dad a few weeks ago and could enjoy a good moment. Paes finished second ahead of Luis Piccolo with Rafael Hubie and Carlos Feruti closing the top five.
Watch the full race here:
http://www.youtube.com/watch?v=2CXKth_MD1o&feature=share
Rafael Matta vence em Martinsville
A Nascar Pro Series está chegando ao seu final, mas nada está definido. Enquanto o campeonato se desenrola, Anderson Paes tem liderado a tabela desde a 3ª corrida, fazendo uma ótima campanha. Mas ainda é seguido de muito perto por Igor Kops, Luis Piccolo, Alysson Pereira e JC Nóbrega. Com duas corridas para a final, não se pode dizer quem será o próximo campeão de uma das séries mais populares do iRacing Brasil.
A 8ª corrida foi em Martinsville Speedway. Com um grid de 28 carros, o oval de meia milha teve 14 bandeiras amarelas e os pilotos tiveram que ser muito cautelosos para terminar a prova de 180 voltas inteiros. Anderson Paes conquistou a pole, sua 4ª até agora, dividindo a 1ª fila com Ricardo Gonçalves. Anderson Perez e Rafael Hubie ficaram com a 2ª fila. Metade do grid decidiu não qualificar tempos, o que resultou em apenas 14 carros saindo na sessão classificatória.
A bandeira verde é dada e imediatamente a bandeira amarela também, após um incidente na curva 1, causada por Anderson Perez que toca em Ricardo Gonçalves fazendo o carro 144 girar e bater no muro. Ninguém mais foi envolvido mas alguns carros tiveram de estacionar linha de fora para evitar uma batida maior. Relargada aconteceu na volta 9, com Paes e Borborema na frente. Anderson Perez continuou na 2ª fila com Igor Kops ao seu lado agora, enquanto Ricardo caiu para a 26ª posição. Mas outra amarela viria novamente na mesma curva 1, logo após a relargada. Desta vez, Caique Ribeiro ficou em apuros e envolveu Leandro Morissawa, causando um grande acidente. Cinco outros pilotos foram envolvidos enquanto Rafael Matta passou pelo acidente em uma boa e sábia decisão em sua pilotagem. Este seria um momento crucial para sua vitória, 170 voltas depois.
A segunda relargada aconteceu na volta 14, mas a corrida ainda não começou em Martinsville, já que a terceira amarela era lançada. Agora causada por Alex Montoanelli, piloto do Chevy 85, que após perder o controle do carro, roda e envolve Rodrigo Lellis. Alex busca reparos mas deixaria a prova depois com problemas de conexão.
Durante a volta 22, mais uma vez a bandeira verde era agitada e dessa vez os pilotos puderam disputar, sem incidentes acontecendo. Anderson Paes finalmente liderou sem o pace car em sua frente, seguido por Igor Kops até a volta 44, quando Rodrigo Lellis rodou sozinho, fazendo o pace car retornar mais uma vez. Rodrigo Lellis também deixaria a prova após o incidente. Tirando proveito desse momento, os pilotos foram ao pitlane, incluindo Anderson Paes e Rafael Matta, 5º colocado então. Quando a corrida continuou, Rafael Hubie no carro 21, perdeu o controle enquanto estava na 4ª posição, rodando e envolvendo outros pilotos. Isto aconteceu durante a 50ª volta e Rafael Matta continuava sua escalada rumo a vitória, escapando de mais uma batida. À frente de Matta, apenas Kops e Paes. Matta desafia Kops e o ultrapassa, subindo para o 2º lugar na volta 74, quando uma nova relargada aconteceu. Mas Kops ainda não deixaria sua posição ir facilmente e retomou sua posição, deixando Matta em 3º.
Um novo desafiante aparece na volta 95. Sergio Abella avança contra Paes após a relargada, indo lado a lado na curva 1 com o líder do campeonato. Há contato e Paes vai para o lado de fora, caindo para o 3º lugar. Abella agora tinha Kops ao seu lado enquanto Paes novamente recebia um toque, dessa vez rodando, causado por Sergio Calizario. A bandeira amarela era ativada novamente na volta 96. Anderson perderia ainda mais posições, ficando em 10º.
Volta 102 e Matta disputa com Kops novamente, agora pela liderança. Mas ele conseguira ultrapassar apenas 22 voltas depois, finalmente liderando a prova. Kops ainda lutaria pela vitória tomando a frente novamente na volta 148. Mas o piloto do Fusion nº 8 para no pitlane 3 voltas depois, quando a corrida estava sob amarela. Matta decidiu permanecer na pista e reiniciou a largada na volta 156 como o líder, com Kops e Abella vindo atrás. Isto não duraria muito tempo, pois Abella e Kops teriam contato logo após a relargada, sofrendo sérios danos em seus carros. Mais pilotos se envolveram e a corrida novamente sob amarela. Abella teve de deixar a prova mas Kops pode continuar.
Após isso, Rafael Da Matta tinha um último desafio: Segurar Anderson Paes e se manter fora de riscos por mais 20 voltas. E ele conseguiu, venceu em Martinsville, sua 2ª vitória nesta temporada. Uma boa conquista para o piloto que perdeu seu pai alguma semanas atrás e pode aproveitar um bom momento. Anderson termina a prova no 2º lugar, com Luis Piccolo em 3º. Rafael Hubie e Carlos Feruti fecharam o top 5.
---
You may also like...
---