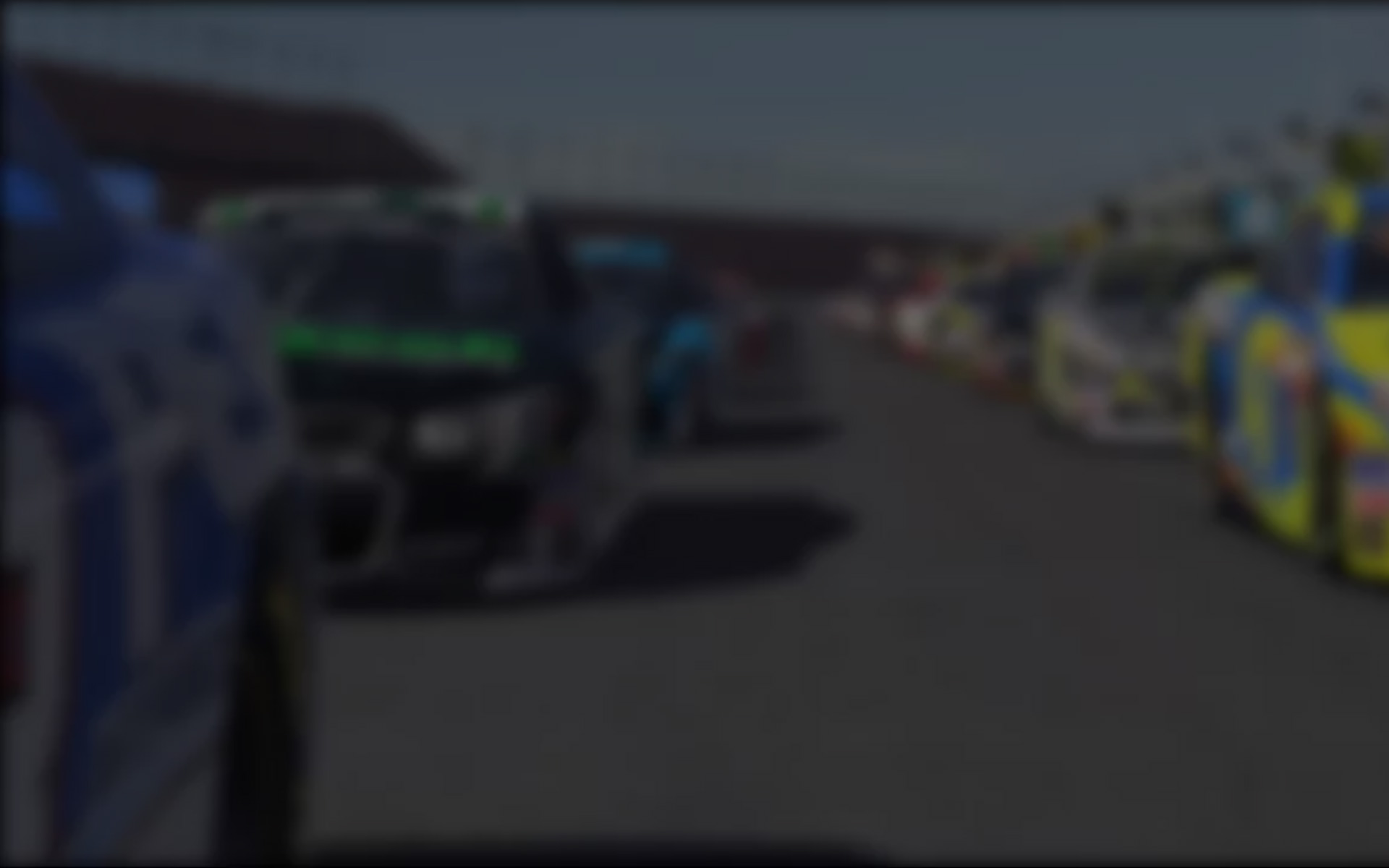 September 24th, 2013 by JaimeB
VIR (Virginia International Raceway) was the destination for Week Seven of the iRacing.com Grand Prix Series (iGPS).   Arguably one of the more unpopular venues of the season, VIR is also undisputedly one of the most challenging for the drivers thanks to its very narrow, technical layout – one noted for its extremely high curbs and tightening radius corners. Not surprisningly then, it was a black stripe lockout at the sharp end of the qualifying order – the top five places all occupied by Pro-licensed sim-racers – whilst Samuel de la Fuente (Iberia) took the honour of securing fastest A-Class qualifying time of week, and not far behind the men he attempts to be racing alongside in the 2013 Pro Series.
As expected, the high difficulty nature of VIR put-off a lot of competitors, with just one Strength of Field (SoF) emerging all week, though there could've been as many as three or four had a few more chanced their name into the hat. Prior to the SoF race, the Sunday 16:00GMT timeslot saw 22 drivers register (three shy of what was needed for an official SoF), with Yuho Abe (Asia) lining-up on pole position.
Sadly for the pole sitter, his race ended in a rather untidy first lap. Olli Pahkala (Finland) gathered the lead and dominated from start-to-finish, pulling out a 17 second lead before making his pit stop, and retaking the lead when eventual second place finisher de la Fuente in-turn made his pit stop.  De La Fuente resumed in second spot and was closely followed home by fellow countryman Javier Jose Martinez Arrieta (Iberia), although with only 162 points for the winner, the race offered little in the way of championship points.
The same could not be said for the eventual SoF race of the week – Sunday 18:00GMT.  There were plenty of points on offer, but only one chance to get it right – at the most unforgiving circuit of them all.
Pole sitter Pahkala got just the launch he needed, protecting his lead from fast-starting Michele Chesini (Italy). After a frantic first two laps, Pahkala emerged in the lead from Chesini, Arrieta, de la Fuente and Rafa Bordoy (Iberia).  However, de la Fuente soon got a taste for the difficulty of this circuit, losing control of his Williams-Toyota FW31, but not sustaining damage as he (temporarily) continued on in eleventh place. Likewise Arrieta endured a painful lesson in survival on Lap Five, as a momentary visit to the grass quickly converting to a hard impact into the wall.
These early incidents promoted seventh placed starter Bordoy to third, but seemingly with no answer to the strong showing from Chesini and leader Pahkala upfront, who continued to glide away lap after lap, whilst Frank Levick IV (New England) occupied fourth place.
Just as the race started to settle, a collision between Lee Thompson (UK and I) and Jan Niesiolowski (Central-Eastern Europe) erupted, taking both drivers out of the race on a very narrow part of the track, and almost collecting the oncoming de la Fuente in the process. So with the customary race incident out of the way, Pahkala continued on his relentless charge, halted only by the chequered flag, with Chesini following swiftly, claiming second place and 224 crucial points. After a strong comeback drive, the Spanish two-some of de la Fuente and Bordoy came home third and fourth respectively, whilst Levick finished fifth, no doubt disappointed his impressive qualifying pace wasn't converted into race pace, but nevertheless still picking up vital points.
Just before the week concluded, 21 drivers put their name forward for one last 'near-split' 2700 SoF online race. Troy Schulz led every lap from pole position to achieve victory, way ahead of a handful of drivers who held second position at some point in the race.   Eventually second fastest qualifier Niesiolowski came out on top, recovering from an early spin to finish where he started. Taking the final podium spot was LJ Garnett (UK and I), after passing Rasmus Tali (Scandinavia) in the pits and finishing directly ahead of his rival.
Despite a poor number of championship points on offer, Michele Chesini leaped ahead of Lee Thompson into the lead of the series standings for the first time this season, whilst Frank Levick IV sits in third. The highest climber of the week Rafa Bordoy finally broke into the top ten despite only contesting five weeks, but sitting on the "bubble" is Britain's Matt Hannagan, just on the right side of the fence as the fight for points becomes more intense.
Week Eight sees the iGPS stay on an American road trip, going from one very difficult venue to another, albeit one with very different challenges: Sebring International Raceway.  Notorious for its bumps, particularly in the first and last corners where the uneven track surface becomes exaggerated and eye-catching as the cars bounce their way across the circuit, Sebring is a guaranteed spectacle to cherish in any car.
---
You may also like...
---