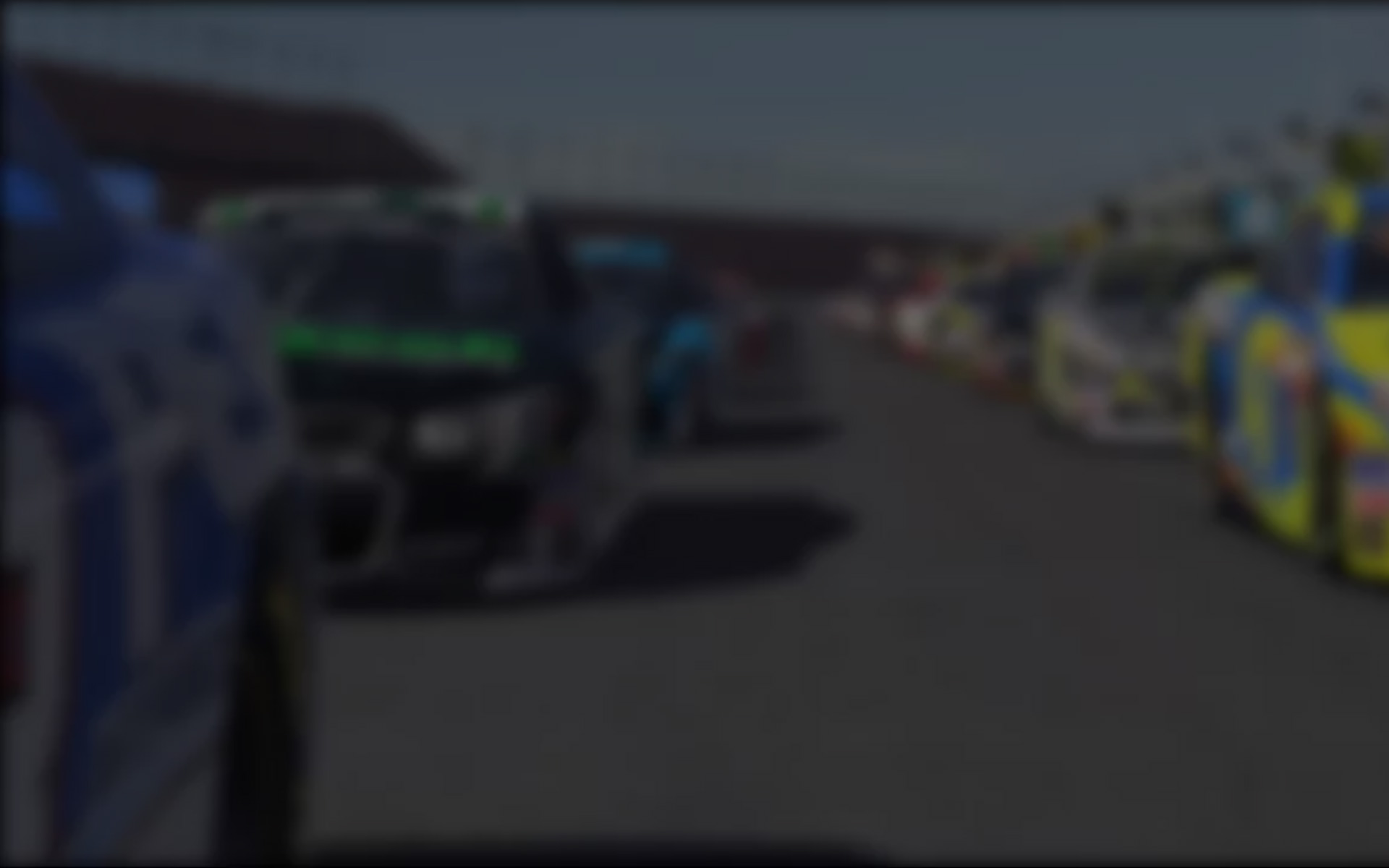 A field of nearly three dozen sim-racers sat on the grid for the 16 lap race at Mosport prior to what would be one of the hardest fought races seen recently.  Paul F. Grillo took pole position with a 1:32.731, just two and a half hundredths quicker than Wojciech Swirydwocz.  Simon Povey sat in third alongside Sebastian Job, both of whom have yet to win a race this season despite being in fifth and second in the championship respectively.
Marc Mercer (also yet to claim a win this season) could only manage tenth on the grid but made up a position almost immediately after the start.  Not far behind Mercer, Jonathan Maycock had started in P11 and was keen to follow Mercer's lead of first lap overtaking by relegating P9 grid sitter David Burnett to 11th.  Contact between Maycock and Burnett at the exit of Moss Corner, however, gave Burnett rear wing damage and Maycock oversteer which cost him a position to George Streetley on the run up the Mario Andretti Straight.
The nature of the Mosport circuit is such that overtaking isn't always easy, but getting a run on someone is.  The long run toward The Esses gave anyone in a slipstream a shot of at least attempting an overtake.  Many were successful.  Grillo traded positions with Swirydowicz a few times until Lap Four when both Swirydowicz and Povey grabbed the inside line heading into The Esses and dropped Grillo to third in the space of two corners.
Unsurprisingly, Grillo didn't back down since he knew he had the pace to win this race.  By the time Lap Six was completed Grillo was back into his first place starting position.  Just a few cars behind Grillo, Graham Carroll was up to fifth after starting in P8 and had even managed to drop Job to sixth until contact between him and Povey at Turn Two caused a major incident involving both sim-racers and also Job, Mercer, and Dominic Brennan.  Povey was battling Tom Ward for third place and Ward had the inside line for Turn Two.  When Carroll tried to follow Ward's line to overtake Povey at the same time Povey was moving back towards the racing line they made contact at nearly 100mph.  Povey spun off to the right and into the grass but Carroll spun more in a straight line and was hit by Job, avoided by Richard Avery, struck by Mercer, and forced Brennan off the track in avoiding action.
Thankfully for the top three of Grillo, Swirydowicz, and Ward the incident behind had no effect on them so plenty of intense battling lay in wait with still over half the race to complete.  In fact, on the same lap of the Turn Two crash Swirydowicz made the first move in a battle with Grillo that would last until Lap 10, trading positions several times.
By Lap 11 Ward had declared his intentions by dropping Grillo to third; immediately after that he took the lead from Swirydowicz with the outside line at the end of the Andretti Straight.  Similar to what happened with Grillo, Ward's overtake proved to be the catalyst a very tense battle with Swirydowicz, again changing positions lap after lap.
At the end of Lap 14 and with just over two laps remaining the mood was becoming more nervous and frantic as Avery and Job both got into the mix as well.  Quickly the battle for the lead had become a five-way free-for-all and when the claustrophobia finally set in it was Grillo who came off worse for wear as he spun at the entrance to The Esses with Avery on his outside and Job on his inside.
Grillo nearly spun off the track but regained the tarmac with a pack of battling Skippies approaching him, unsighted, at over 90mph.  Too late, Grillo tried to get out of the way as Burnett plowed into him, giving badly damaging both cars.  Brennan wasn't hit by Grillo but, in taking evasive action he launched over the curb into the barrier, where he retired (while Burnett and Grillo made the short trip to the pit entrance).
At the start of the penultimate lap Job was in third place and Swirydowicz led Ward.  Coming out of Moss Corner, Swirydowicz had a poor exit and Ward ducked out of the slipstream early to avoid hitting him.  In contrast, Job had a great exit and slipstreamed between both cars to take the lead heading into The Esses.
With only four cars remaining in the lead group, Avery was a car length or two from a podium finish and began harassing Swirydowicz's third place.  When Swirydowicz got oversteer at Moss he was easy prey for Avery who took third place with only three corners remaining.  Just ahead, Job was defending the inside line for the first Esse but was forced to stay around the outside for Turn Nine.  He just about managed it and grabbed the inside line for the final corner which gave him just enough advantage to take the victory by 0.132s to Ward, 0.292s to Avery, and 0.351s to Swirydowicz.
In the championship, Job's first win of the season also moves him into the lead with 89 points, followed by Ward and Stuart Adcock who both gained positions this week due to Carroll not scoring any points (who dropped to fourth with 60).  Ironically enough Maycock was the driver who made the most movement this week, despite his Lap One incident, gaining ten places and moving into P22.
---
You may also like...
---