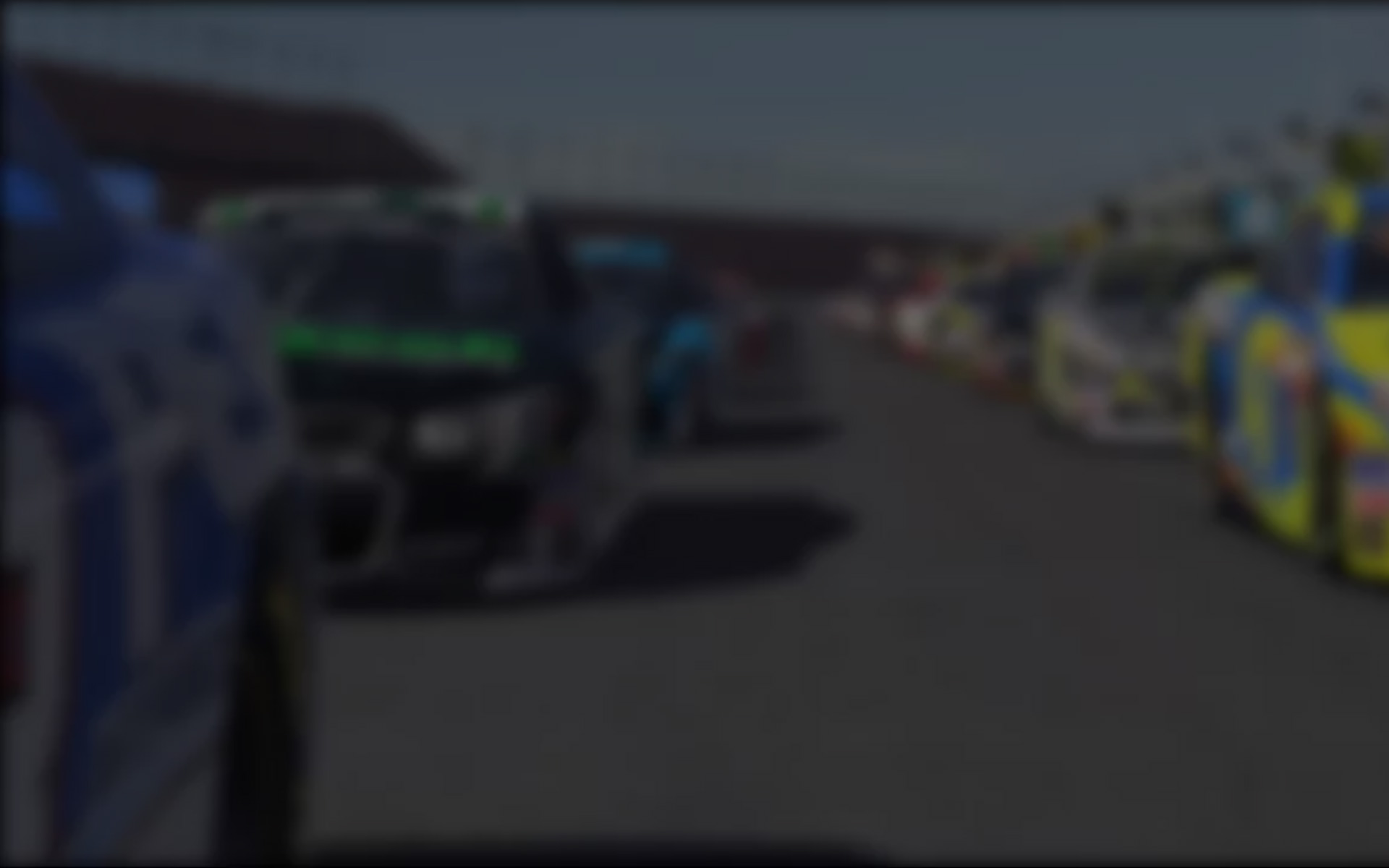 Round 11 of the iRacing.com V8 Supercar Series headed back to one of the more popular tracks on the calendar: Autodromo Jose Carlos Pace also known as Interlagos. This tricky 15 turn track in Brazil features a long main straight with a number of slow speed corners through the middle section of the lap, so chassis setup would be tricky.
Josh Muggleton got the setup and the driving right to take the pole, the first driver in a couple months to break Madison Downs' stranglehold on pole positions.  Muggleton put down a time of a 1:34.184 ahead of Down and Justin Ruggier (both on a 1:34.296) with Down starting from second and Ruggier third. Vail Riches and Leigh Day rounded-out the top five starters. Shaun Kelly and Rens Broekman would start from sixth and seventh ahead of John Emerson, Jon Latham and Tony Autridge.
Muggleton got a fast start when the lights went green, in contrast to Down.  As a result, Ruggier got up alongside Down into Turn One and they went side-by-side through the Senna Esses before Down claimed the runner-up spot into Turn Six. Kelly would be the first driver to tour the lane following a drive through penalty for jumping the start.
Lap Three saw Emerson get into the back of Richie Stanaway, turning him around on the exit of Turn Eight.  A repentant Emerson redressed his mistake and now both drivers where at the back of the pack with their races all but over. However, Stanaway's race went from bad to worse when he got turned again — this time into the last corner — by Carwyn May.  A lap later May followed Emerson's lead and gave his spot back to Stanaway.
A bit of a train was forming-up behind Latham but it got de-railed when Leigh Ellis just got Leighton Fine a little loose and then went down the inside into Turn 10 with a good move.  Fine tried to put it back down the inside, but he hit and pushed Ellis off the road in the process. On Lap 10 Broekman got a good run along the main straight and, with the help of the draft, was able to snatch fourth from Riches into Turn One and set-off in pursuit of the third-placed Ruggier.
The end of Lap 15 saw Muggleton become the first sim-racer into pit lane with Ruggier, Broekman and Riches following suit.  The next lap saw Down enter pit lane and, once the field was fully through the pit stop cycle, Muggleton found himself with a commanding lead over Down while Ruggier was just behind in third place.
May would be the first driver to retire from the race when he lost it on pit exit, hit the wall and blew his engine, Emerson joined him on the sidelines when he took too much kerbing coming onto the main straight and lost it in a big way, luckily with no one else involved.
At the front, Muggleton was making no such mistakes and he capped a fantastic day to take his second main race win of the season and move just that little bit closer to Ruggier in second in the championship chase. Down came home in second place, all but securing his seventh iRacing.com V8 Supecar title. Ruggier once again came home third place behind the two Tatts.com, still wondering how he can break their domination this season.
Broekman came away with a fourth place finish with Riches rounding- out the top five.  Michael Fabian kept Leigh Day at bay to finish sixth with Tony Autridge holding off the train behind him to finish eighth with Jon Latham, Brad Ryan and Leigh Ellis finishing right behind, the trio covered by 1.2s at the flag.
Top Five Drivers – Championship Points – Overall
1. Madison Down – 2141
2. Justin Ruggier – 2040
3. Josh Muggleton – 1990
4. Vail Riches – 1680
5. John Emerson – 1679
Split Two Winner: Dean O'Brien
Split Three Winner: David Jenner
Split Four Winner: James N Scanlan
Broadcast done by the crew at www.v8sonline.com.au
---
You may also like...
---