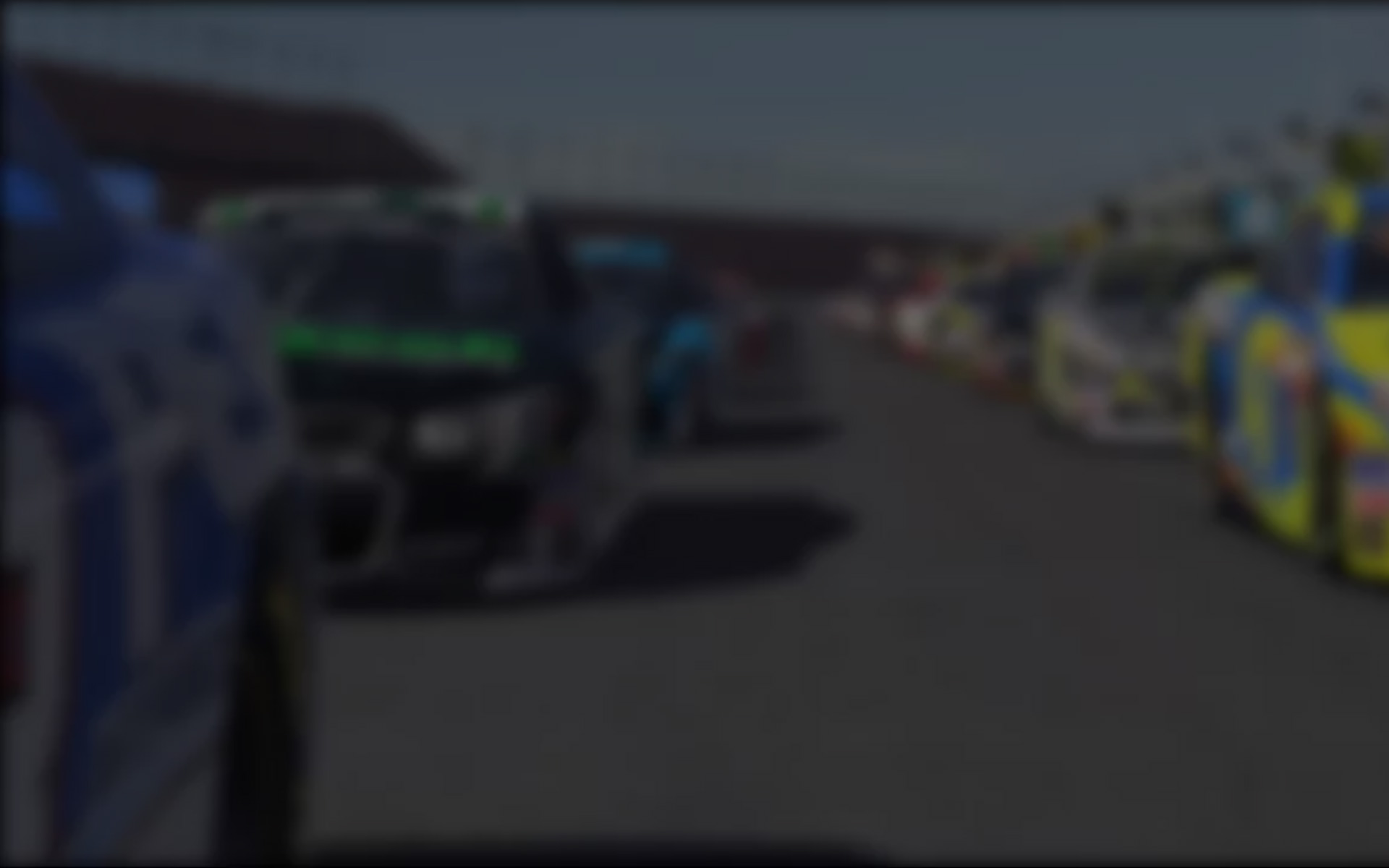 The club course at Sebring in Week 4 was just the appetizer for the main course – Daytona – in Week 5 of the iRacing.com Mustang Cup's swing through Florida.  Indeed Mustang sim-racers feasted on the fast road course at Daytona with 224 drivers taking the grid in at least one of the 31 official races this week.  The door-to-door, bumper-to-bumper racing produced 19 different winners, giving several drivers an opportunity to close the gap on series point-leader Vedran Broz.
Every race featured agonizingly close finishes throughout the field – nail the Bus Stop to get on the bumper of the car ahead of you and you'd have the other guy crying as you slipped by at the line.  A late race on May 31st featured six cars running nose-to-bumper for 25 minutes with four lead changes and an amazing charge by eventual winner Travis Mihm.  After starting the race in eighth, an early slip sent Mihm back to 11th.  While the leaders battled, by Lap Nine Mihm clawed his way up to third .  On the final lap, Mihm out-braked Darren W Jump into Turn One to grab second and set his sights on the leader, Gregory L Ellis. By the time they reached the Bus Stop, Mihm was on Ellis' bumper and Jump was right there waiting for a mistake by the front two.  Instead, Jump ran wide in the grass while Ellis put two car lengths on Mihm with a better exit onto the final straight.  It would not be enough.  As Mihm crept closer, Ellis blocked high twice as Mihm went for the pass.  But Mihm countered with a dive to bottom, catching just a scratch of Ellis' bumper causing the leader to wiggle. Door-to-door now, both drivers stretched for the finish line with Mihm taking the lower line to a 0.041s victory.
In the overall standings, Broz did his part to maintain the points lead, again turning in a perfect eight wins in eight races entered.  But while Todd Honczarenko "only" turned in a perfect three wins in three races at Daytona, he found some high Strength of Field races to bring home the top points earned in Week Five at a whopping 147.  Other drivers closing the gap on Broz' points lead were Mihm with 134 points, Patrick Bieri (128), Oliver Stackhouse (122) and Antti Pihlaja (120), while Tiago Carvalho2 nabbed 110 points, just one more than Broz's 109 for the week.
In qualifying, Brian Strodtbeck was unable to repeat his 2:03 time from last season.  Nevertheless, he took top qualifier at 2:04.137, just 0.093s. better than Honczarenko, who was just 0.023s faster than Patrick Bieri.  The only other two drivers in ":04" club were Broz and Yuri Budnik.
For Week 6, the iRacing Mustang Cup makes it first ever run on the Summit Point Short Course, with the narrow road and shorter distance providing a big contrast to the length and speed of Daytona.  Keeping the sheet metal clean is going to be a challenge when drivers try to stuff the Mustang FR500S into Turn One two-wide.  Patience and discipline appear to be the advice of day from Broz and other class leaders who have already posted helpful videos, set-up tips, and other advice on the series Forum.  Rookies should take advantage of this opportunity to try out the Mustang after checking out the Forum and watch some of best sim-racers go it with big power on a little track this week.
---
You may also like...
---