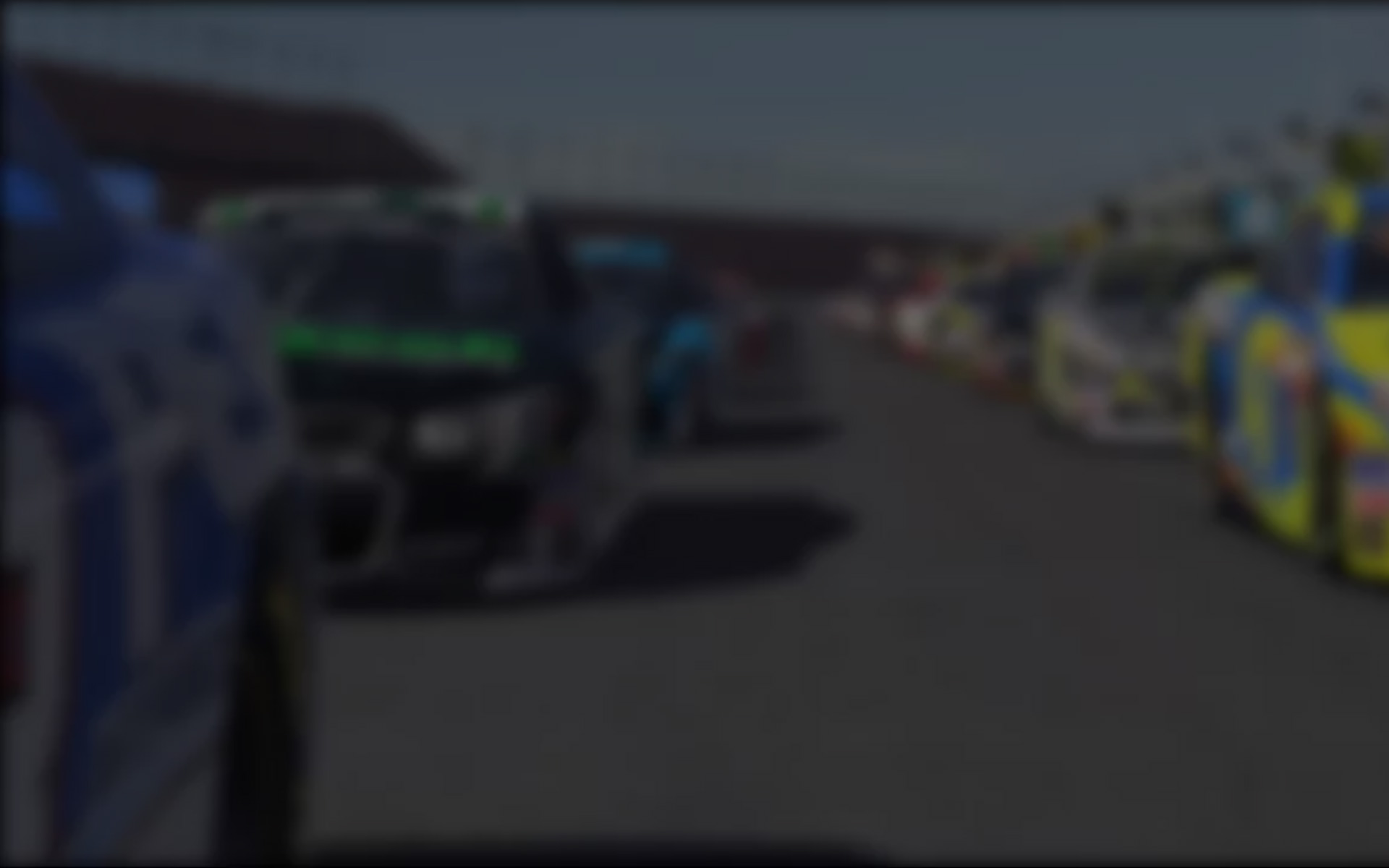 April 27th, 2016 by Michel Van Dijk (French translation by Anthony Drevet follows)
After an outstanding win by Kamil Franczak at Phoenix International Raceway last week, the European MX-5 Cup made its return to Summit Point Raceway for Round Six.  Earlier in the season, the West Virginia facility hosted Round 2 of the series on its 2.0 mile, ten turn "Full" circuit.  This time 'round, the sim racers would tackle Summit Point's 1.46 mile (2.35km) 9 turn "Short" configuration in pursuit of a top twenty finish in the series and the chance to compete for a starting spot in the MX-5 Global Cup Final at Mazda Raceway Laguna Seca.
At the halfway point in the season the championship is shaping-up as a battle between Franczak and Aday Coba Lopez, with the former narrowly edging his rival in their first visit to Summit Point.  This time it was Coba Lopez grabbing the pole with a qualifying time of 1:04.599 followed by Franczak just .022 seconds behind and Jesus Sicilia in third all of .044 seconds off the pole-winner's time. Jeremy Bouteloup, Pablo Lopez, Evan Maillard, Dave Gelink, Adria Perez Soler, Ruben Fanarraga and Piotr Smialek completed the top ten.
Although languid getaways compromised Coba Lopez in the opening rounds of the season, this week saw him make a good start and maintain his first place from Franczak through Turn 1 of this 23 lap sim race. Behind the lead duo came a little gap to Sicilia and Bouteloup with Maillard in hot pursuit of Pablo Lopez for fifth place on a first lap that would see Sven Deml's race end against the barrier.
Maillard kept the pressure on Pablo Lopez during the second lap, and was rewarded by taking fifth place ahead of Gelink who was under attack from Soler.  Up front Sicilia was making things difficult for Franczak by attacking his second place with Bouteloup and Maillard working hard to close the 1.5 second gap to third.
Next time around Franczak made a move on Coba Lopez into Turn 1.  With Coba Lopez protecting the inside line, Franczak ran a bit wide.  In an effort to take advantage of the situation, Sicilia found himself as the meat in a sandwich between Franczak and Jeremy Bouteloup.  Forced to abandon his race as a result, Sicilia would have to be content knowing he set the fastest lap of the race with a time of 1:04.495.
The completion of Lap 8 found Coba Lopez in the lead with Franczak less than a second behind and Bouteloup in third a little less than two seconds off the number one spot.  Bouteloup was trailed immediately by Maillard, with Pablo Lopez and Gelink in a battle for P5 that saw the two trade paint through Turns 4 and 5 to the detriment of Gelink.
By Lap 11 the lead pair had pulled clear of Bouteloup and Maillard to the tune of 3.5 seconds with Pablo Lopez joining the battle for third.  Maillard would soon get around Bouteloup after his countryman clobbered the curb in Turn 5 as Pablo Lopez looked on from fifth ahead of Smialek.  Behind them came a nine car train headed by Andras Kiraly, Gelink, Soler, Ruben Fanarraga, Norbert Leitner and Sam McAleer.
Heading into the final laps, Franczak was looking in every direction for a way around Coba Lopez, to no avail.  Undeterred, Franczak took another look at Turn 5 on Lap 20, prompting Coba Lopez to close the door, make contact and spin.
"We were side by side through T4," explained Franczak.  "I managed to keep outside of the turn so I was in a better position going into T5. Suddenly Aday appeared in front of me causing himself to go sideways. Aday was probably not aware my car was there and ran into me through T5. I did not expect him to do it."
Coba Lopez quickly recovered and rejoined just ahead of Maillard and Bouteloup but now well behind Franczak.
Try as he might, Coba Lopez could make little impression on Franczak over the next two and a half laps.  The leader took the white flag with a comfortable 2.1 second cushion in his pocket before easing-off through the final corners to come home the winner ahead of Coba Lopez with Maillard, Bouteloup and Pablo Lopez completing a top 5 covered by 1.7 seconds.
Smialek finished a lonely sixth while Soler emerged from the furious midfield scrap for seventh ahead of Gelink and a new name in the form of Paul Willemsen.  Fanarraga completed the top 10 ahead of Kristian Kwietniewski after Leitner, Kiraly and McAleer encountered trouble in the closing laps.
In the end, the series' second visit to Summit Point produced a very exciting race with lots of damaged cars, perhaps the result of a lack of familiarity with the track's "Short" configuration.  Next week the European MX-5 Cup heads to another track long on challenges and short on mileage: 1.53 mile (2.462 km), 7 turn Lime Rock Park.  Some drivers like it, some don't.
Be sure to catch all the sim racing action on iRacingLive this Thursday starting at 20:30 GMT (4:30 ET).  In the meantime, enjoy a replay of RaceSpot TV's coverage of Round Six at Summit Point.
Coupe MX-5 Europe : coups de pare-chocs à Summit Point !
Après une victoire magistrale de Kamil Franczak sur le Phoenix International Raceway la semaine dernière, la Coupe MX-5 Europe effectuait son retour sur le Summit Point Raceway dans le cadre de la sixième manche.  Plus tôt dans la saison, le circuit situé en Virginie-Occidentale avait accueilli la deuxième épreuve de la saison, une course qui se déroulait sur la version « longue » du tracé. Cette fois-ci, les pilotes avaient affaire à la version courte, 9 virages pour une longueur totale de 2,35km, afin de tenter de décrocher une place dans le top-20 du classement général et ainsi prendre part à grande finale MX-5 Global Cup qui aura lieu sur le Mazda Raceway Laguna Seca.
A la mi-saison, la bataille entre Kamil Franczak et Aday Coba-Lopez bat toujours son plein. Ce dernier, après être parti de la pole, avait battu d'un souffle Franczak lors de leur précédente visite à Summit Point. Bis repetita pour Coba-Lopez qui s'élançait de nouveau de la position de pointe cette semaine grâce à un chrono de 1:04.599, soit 22 millièmes de mieux que Franczak et 44 devant Jesus Sicilia ! Jeremy Bouteloup, Pablo Lopez, Evan Maillard, Dave Gelink, Adria Perez Soler, Ruben Fanarraga et Piotr Smialek complétaient le top-10.
Généralement handicapé par des départs moyens depuis le début de saison, Coba-Lopez réussissait cette fois à s'envoler impeccablement pour conserver, dès le premier virage, les commandes de cette course de 23 tours devant Franczak. Derrière le duo de tête, Sicilia et Bouteloup étaient en bagarre alors que Maillard se lançait à la poursuite de Pablo Lopez pour le gain de la cinquième place dans un premier tour qui était fatal à Sven Deml, victime d'un accident.
Maillard maintenait une pression sur Pablo Lopez lors de la deuxième boucle avant de s'emparer de la  cinquième position juste devant  le duo composé de Gelink et Soler. Aux avant-postes, Sicilia menait la vie dure à Franczak en l'attaquant pour tenter de prendre la deuxième place alors que Bouteloup et Maillard s'appliquaient à combler le trou d'une seconde et demie les séparant de la troisième position.
Au tour suivant, Franczak plongeait à l'intérieur au virage 1 afin de tenter un dépassement sur Coba-Lopez mais le leader protégeait parfaitement sa position et forçait Franczak à sortir un peu large… Opportuniste, Sicilia essayait de tirer profit de cette erreur mais se retrouvait pris en sandwich entre Kamil Franczak et Jeremy Bouteloup. Contraint à l'abandon après cette manoeuvre, Sicilia devra finalement se contenter du meilleur en course en 1:04.495.
Au 8e tour, Coba-Lopez menait la course avec moins d'une seconde d'avance sur Franczak et moins de deux sur Bouteloup, troisième, suivi de près par Maillard, Pablo Lopez et Gelink. Ces derniers se livraient une bataille acharnée pour le gain de la  quatrième place, au point de se donner quelques coups de portières dans les virages 4 et 5, au détriment de Gelink. Au 11e passage, le duo de tête avait déjà creusé un écart de 3,5 secondes sur Bouteloup et Maillard rapidement rejoints par Pablo Lopez. Maillard prenait l'avantage sur Bouteloup peu après, profitant d'une erreur de son compatriote au virage 5. Pablo Lopez devait prendre garde au retour de Smialek et d'un petit train de neuf voitures emmené par Andras Kiraly et suivi par Gelink, Soler, Ruben Fanarraga, Norbert Leitner et Sam McAleer.
A l'approche des derniers tours, Franczak essayait de se montrer dans les rétroviseurs de Coba-Lopez pour l'intimider, sans succès. Déterminé, Franczak tentait sa chance au virage 5 dans le vingtième tour mais il voyait Coba-Lopez fermer la porte et les deux voitures entraient en collision.
"Nous étions côte-à-côté dans le virage 4," expliquait Franczak après la course.  "J'ai conservé la trajectoire extérieure pour être en meilleure position dans le virage suivant. Soudainement Aday est apparu devant moi et je l'ai poussé en travers. Je pense qu'il ne savait pas que ma voiture était à sa hauteur et il s'est rabattu sur moi au virage 5. Je ne m'attendais pas à ce qu'il fasse cela."
Coba-Lopez repartait rapidement et reprenait la piste juste devant Maillard et Bouteloup mais à bonne distance de Franczak. Essayant de revenir par tous les moyens, Coba-Lopez ne parvenait pas à impressionner Franczak dans les deux derniers tours de course. Le leader passait sous le drapeau blanc du dernier tour avec une avance confortable de 2,1 secondes avant de relâcher son effort pour couper la ligne en vainqueur devant Coba-Lopez, Maillard, Bouteloup et Pablo Lopez à 1,7 seconde de Kamil Franczak.
Smialek terminait à la sixième place devant Soler, Gelink et le surprenant Paul Willemsen.  Fanarraga complétait le top-10 devant Kristian Kwietniewski après avoir profité des ennuis de Leitner, Kiraly et McAleer en fin de course.
Pour la deuxième visite de la Coupe MX-5 Europe sur le Summit Point Raceway, les pilotes ont offert une course excitante mais également émaillée de nombreux incidents certainement dû à une connaissance moins importante de la version courte du tracé. La semaine prochaine, ils se dirigeront  vers un autre tracé court et spectaculaire : Lime Rock Park. Long de 2,462 km et comprenant 7 virages, il est certain que ce circuit ne fait pas l'unanimité, soit les pilotes l'adorent, soit ils le détestent.
Ne ratez pas ces courses sur iRacingLive ce jeudi à partir de 20h30 GMT (4:30 ET).  En attendant, n'hésitez pas à revivre les meilleurs moments de la sixième manche disputée sur le Summit Point Raceway grâce à la couverture proposée par RaceSpot TV.
---
You may also like...
---