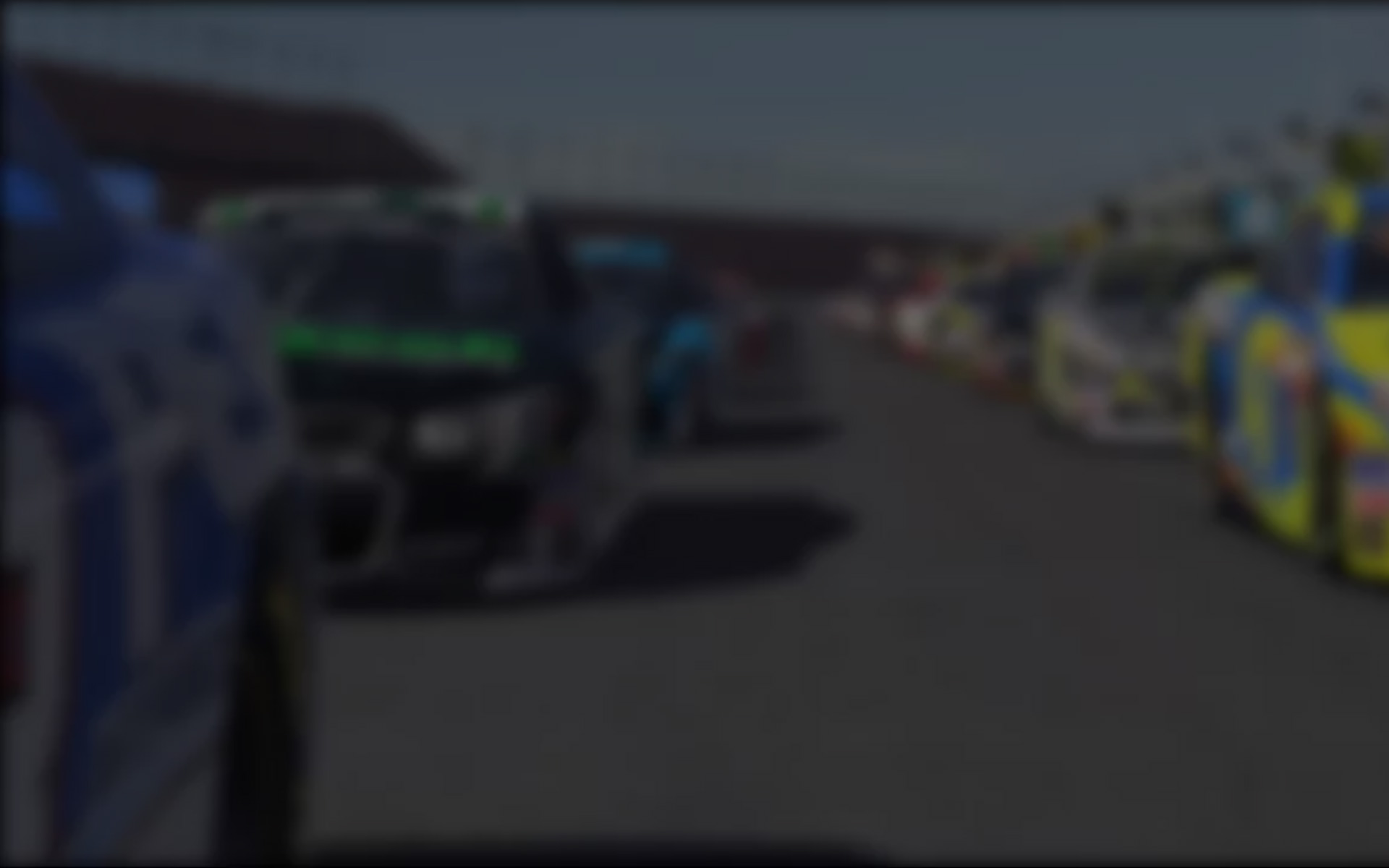 Interlagos Circuit – known officially as the Autodromo José Carlos Pace – played host to Round Three of the iRacing.com Grand Prix Series (iGPS), and the dawn of potentially a new era with the whole paddock anticipating the hyped changes to its open-wheel racing car, the Williams-Toyota FW31. With discontent lingering on many fronts, a change was overdue . . . and a change was delivered. Within hours of its release, hundreds of sim-racers took to the online servers to practice in an active environment, and within hours, the resulting changes were being heaped with praise.
With great pleasure came great numbers, as it was anticipated the Strength of Field (SoF) races scheduled for later in the week would reach season high points totals, and this proved to be the case.  Setting-off on the right foot was once again experienced racer Daniel López (Iberia), securing pole position for the week, which would be the least of his glories. Unbelievably, all but one of the top twelve qualifiers of the week comprised of Pro and iWCGPS (iRacing.com World Championship Grand Prix Series) licensees. Even the exception to this bunch was quite familiar to the other competitors, namely Jesse Nieminen (Finland), the former iWCGPS race winner of two years ago making his return in the new car – a potential comeback, perhaps?
Although the Finn showed he hasn't lost his speed and posted a decent qualifying time, he did not race this time around. Instead the highest starting A-Class driver was once again Kazuki Oomishima (Asia) showing he's in no trouble on this build.  Within touching distance of the pole was the Spanish trio of Rafa Bordoy, Javier Soto and David Domínguez, all setting competitive qualifying times in close proximity.
Saturday 16:00GMT gave face to the first SoF race on the new, improved physics. It wasn't all smooth sailing this time around for pole sitter López, as he was once again beaten to the first corner by his main rival — Alex Simpson (UK and I) — as the two distanced themselves from the pack within minutes of the lights going out.  However, it took just nine laps for the Spaniard to reclaim the lead and set about his forward march.
As López and Simpson performed their vanishing act, third placed starter Aleksi Elomaa (Finland) began dropping through the field like a stone, raising questions of his fuel load.  Momentarily taking third place was Christiaan Tanahatoe (Benelux) after Michele Mancusi (Italy) had a poor start.
For the second week in a row, Mancusi began a charge through the field.  Despite being as low as ninth at one point, the Italian was up to fifth as the pit stop sequence ended. Predictably, Elomaa opted not to make a fuel stop during the race, and as the rest of the field called on pit lane the Finn found himself in P3, right in Simpson's wheel tracks. After being stuck in the turbulent air for five laps, Elomaa grabbed second place as the two made contact, with Simpson suffering some damage.   Subsequently lapping well over three seconds off the pace for the remaining 15 laps, Simpson soon dropped to sixth where he would remain until the chequered flag.
In the closing laps, Tanahatoe's third place came under attack, as Mancusi closed right up to the Dutchman's car. With just one corner to go, Mancusi pulled-out and drag raced Tanahatoe to the finish line, remarkably claiming the final podium spot by just 0.014 seconds in one of the closest battles in iGPS history. Long before — and in a far-distant dimension of his own — López had crossed the line over thirty seconds ahead of fellow-iWCGP competitor Elomaa on his zero stop strategy. With Mancusi third and Tanahatoe fourth, Lee Thompson (UK and I) came home fifth with the wounded Simpson trailing home sixth.
The absence of López for the following 18:00GMT race opened the door for a new race winner, and a game of two strategies took over. Jason Lovett (UK and I) lined-up on pole position with Simpson again alongside on the front row.  A bad start from Lovett dropped him down to third behind Simpson and Elomaa before he repassed the Finn on the second lap.  Meanwhile, Simpson began building a convincing lead, suggesting he might be on a different strategy than Lovett and Elomaa.  By Lap 22 of 48, Simpson had built a seven second lead, but then surprisingly pitted two laps later race, temporarily promoting Lovett to the lead.  Nevertheless, Simpson exited the pits way in front of Elomaa, as a few early mistakes put the Finn out of contention for the win.
Lovett would clearly need to make a second pit stop to go the distance, but after he stayed-out five laps longer than Simpson to make that stop, no-one knew who'd be leading the final portion of the race. But a quick in-lap gave Lovett the edge, as he exited the pits just in front of his rival . . . where he would stay the remainder of the race.  For that matter, Simpson looked like he might come under threat from Elomma, who rapidly closed ground in the closing laps.  However, Elomma ran out of time to make a challenge for second place and had to settle for third. Tanahatoe made it to fourth place for the second race in a row with Michele Chesini (Italy) claiming his highest score of the week in fifth place.
Next up was an early bird race at 14:00GMT, with López back and starting from pole position.  The Spaniard this time enjoyed an unchallenged run to the first corner, before quickly setting about making his car less and less visible to those trailing in its wake. His task was made easier by Paolo Muia (Italy) and Ariel Eduardo Bernardi (Italy) getting up close and personal on the first lap, inflicting substantive damage to their cars.
Like last year's European football championships, Italy's loss was Spain's gain as David Domínguez (Iberia) leaped three places at the start, before duly dispatching zero stopper Elomaa on the second lap, with fellow Spaniard Rafa Bordoy following his wheel tracks into third on Lap Three.
The status quo held until the pit stop phase, where the non-stopping Elomaa regained the ground he lost earlier, meaning Spain's 1-2-3 standing was only temporary.  Which of the Spaniards was destined to take the final podium spot was uncertain, however. Bordoy began slowly catching Domínguez, before the latter's mistake them close together again. With six laps remaining, Bordoy pounced and forced his way past Domínguez for P3, but without a chance to rest until the chequered flag as his countryman pressured him all the way.
López again crossed the line unchallenged to make it two out of two, with Elomaa finishing closer behind this time in second ahead of Bordoy and Domínguez while Bernardi recovered from his earlier incident and a first lap pit stop to take fifth.
The weekend's most defining moment would be the 16:00 GMT race – usually the most hotly-contested race of the week.  The suspense didn't last long for many. López again had a good getaway, leading second-placed starter Simpson into the Senna Esses  As the track narrowed on the approach to turn 1, the density of the field did not, turning a minor collision into a devastating multi-car pile-up . . . so devastating that Colin Cunniffe (UK and I) rose a meteoric 13 places from P21 to P8, despite having to negotiate the roadblock ahead which included Paolo Accurso (Italy) engaging take-off.
Back on Earth, López showed no signs of letting anybody else take the glory as he continued on the relentless demolition of his rivals.  Simpson again found himself engaged in a race-long scrap for P2, with strategy again coming into the equation. Initially he had a small cushion over Bernardi, but the Italian stayed-out longer and managed to jump into second after the pit stop phase.
Another familiar face in the race was that of Javier Soto (Iberia), who narrowly missing out on a Pro license in Season 1.  The Spaniard set a respectable qualifying time and remained in fourth place for the balance of the race, eventually finishing just ten seconds off the podium. Behind him Lee Thompson had a similarly steady race to P5, but sixth placed Jörn Jens had a race to forget, eventually finishing a lap down after suffering damage during the race.
Points galore for 18:00GMT race, as a decent-sized field combined with a high SoF meant good points were on offer. López again took the pole position grid slot, leaving little suspense about the identity of the eventual race winner. Elsewhere Kazuki Oomishima finally managed to find time to attend a race, but seemed off the pace from the outset, suggesting damage or even possibly a zero stop strategy. This, we will never know, as his race ended in misery when a  problem with his computer sent him plunging into the wall at high speed, prematurely ending his race.
Lee Thompson and Muhammed S Patel (UK and I) looked to be in the pound seats from the beginning, keeping a steady gap over the cars behind in their second and third places respectively. But from seventh place on the grid, Samuel de la Fuente (Iberia) looked to be having the best race of them all, and seemingly on a slightly heavier fuel strategy than the two UK & I duo.
On track, Patel muscled past Thompson in a move that enabled him to solidify second place in a very high points field.  Courtesy of a competitive out lap, Patel did indeed hold second place over Thompson, whose mirrors were now full of de la Fuente.  Despite the pressure, the Englishman never put a wheel wrong and held him de la Fuente at bat to seal a podium position, directly behind fellow countryman Patel and race winner López. Finishing in a very satisfactory fifth place was LJ Garnett, doing everything he needed to move from ninth place on the grid to secure a points score in the 200s.
As it happened, 200 plus point scores weren't uncommon. In Watkins last week we saw 13 drivers surpassing this target; the week at Interlagos that number rose to a mammoth 15 in total, as the popular new F1 car raises the bar of competition and the level of drivers with it. At this point in the season, despite Alex Simpson officially leading the championship, Lee Thompson has staked an early claim to iGPS bragging rights as the highest-scoring A-Class driver, and the only one to deliver a competitive performance across all three weeks so far. His three nearest rivals are the three Italians — Paolo Accurso, Michele Chesini and Michele Mancusi — all within a relatively close proximity in the points table. With motivation high and points scores booming, that should surely carry forward into next week as we make the trek from South America back to North America in preparation for Round Four of the championship at the recently-released Circuit de Gilles Villeneuve in Montréal, as the iconic Canadian track hosts its first A-Class races. Stay tuned . . .
---
You may also like...
---