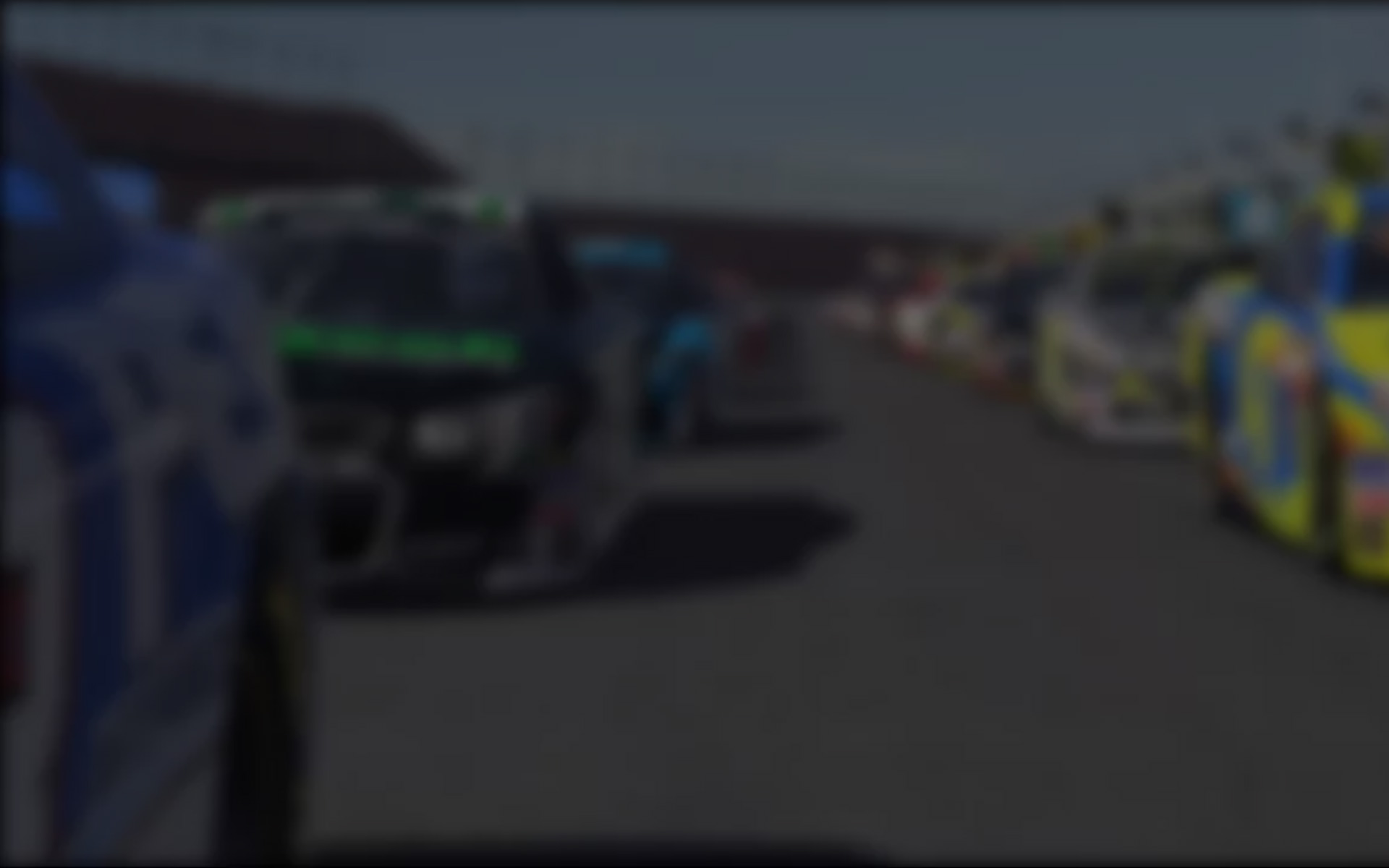 Classic Teams Championship Round 5: Twin Ring Motegi, Japan
For the first time the Classic Teams Championship visited Japan's Twin Ring Motegi for Round 5 of the championship. The racing was tough as usual, but the circuit found few supporters. In fact,  as the sun set on our week in the Land of the Rising Sun, just 52 sim racers had competed over 10 races resulting in just about as many changes of position on the championship tables as we had seen on the track.
QUALIFYING
Fritsche and Ferrari were back in full flight in Japan taking another storming pole with a 1.37.727 second lap. But this time just 2 tenths back, and again showing exceptional pace, was Hulbert's Chevron. There were only 3 other drivers under the magic 1.39 mark and they were Ruokola 3rd and Jacques 4th, the two Williams drivers separated by less than a tenth. The second of the very rapid Graham Eden Chevrons was in 5th, this one in the hands of the on-form Moreira, one of the few drivers actually singing praise for the circuit. First man in the 1.39's and 6th fastest was Schmidt, again impressing in qualifying with a 1.39.110. Also qualifying well was Nicol (Interscope), his smooth style reaping rewards on the stop/start style layout and well outpacing his team mates. 8th was De Rooij having a great qualifying session, but his week would never really get any better or worse than it started. 9th was Dobie on a 1.39.262 leading a full Tyrrell team for a change. A couple of tenths back and 10th fastest was StAman (Alfa Romeo). Unfortunately that was also the last time we would see StAman during the week, the Frenchman mysteriously failing to take any further part in the round. Also missing in Japan was the entire Ligier team including Championship leader Valantiejus, Herfjord and Rossow, as well as Nixon's Lotus, Moric's Arrows and Ventura's Renault. Other notable performances in qualifying included a great 13th fastest for Konieczny (Shadow), Smith putting his Madom entry into 18th making him also the last man under the 40 second barrier and newcomer Van Velsen (Surtees) booking a spot in the top twenty for the first time. Fastest of the division runners was Div 3. Konieczny (Shadow), Div 4. Smith (Madom), Div 5. Estes (Merzario), and Div 6+. Wiltshire (Penthouse Rizla).
RACE WEEK
The long straights and tight turns of Motegi may not be the most rewarding for a driver, but they did provide plenty of opportunity for overtaking. Lucky they did for round winner Fritsche, the reigning champion making a few uncharacteristic mistakes which left him back in the field early. In the end he was once again up to the challenge and chaged back through the field to secure the top spot on the podium with 189 points. Second in Japan was Hulbert (Chevron) who also had some problems early. Hulbert pledging to do some more work on his starts so as to really challenge for that top spot in future. An excellent third overall went to Jacques (Williams) having a great run and taking almost 30 points more than his round one winning team mate Ruokola, who took fourth place. Fifth was Moreira, who should be well pleased with both his efforts and his 135 points.
Another well pleased with their result if not their driving was Roberts. A fantastic 6th his reward for persistence on a circuit he openly despised. A deserved Schmidt was 7th, his performance proving to all, he really does deserve his place in the top split. Equal 8th were the Interscope of Nicol and Dobie's Tyrrell, both men taking away a well earned 110 points. Tenth went to a quietly achieving Buscher, his 109 point haul by far his best of the season so far. Other outstanding results came from Van Velsen, his first ever Classic Championship win helping him to 12th and 103 points. Pelzer (Brabham) had a great week ending up 16th just in front of Brattemark (Ram Tit-Bits) in 17th. Race winners at Motegi were few and far between. In addition to Van Velsen, Ruokola took 2 wins, Fritsche one and Dobie grabbed the last of the extremely rare Japanese successes.
DRIVERS CHAMPIONSHIP
Returning to the top of the table after Round 5 is Ruokola (Williams). The fast Finn turning a 45 point deficit into a 90 point lead due to the absence of the Ligier team in Japan. Valantiejus now sits second just ahead of Hulbert (Chevron) who moves up 5 spots and into the top 3 for the first time. In a surprising fourth is Roberts (Interscope), up from 7th after a great week on a track he almost didn't bother running. Just 12 points back is Garese who has asserted himself as lead runner in the Alfa team and a further 8 points away is Lavecchia (Renault). These three are having a great fight between them and it will be interesting to watch them battle it out over the coming rounds. In 7th is the flying Fritsche fast making up for missing the opening rounds, he should leap the pack of 3 over the next round or so and be back at the front where he belongs. Herfjord, another of the missing Ligiers dropped five positions and now sits in 8th. Moving into the top ten for the first time this season is Schmidt, 5 spots a great reward for his efforts at Motegi. Tyrrell drivers Dobie and Beyer swapped spots as a result of Motegi. Dobie moving up two places to tenth and Beyer down two to 12th. Biggest movers of the week were Jacques up 16 places, Moreira up 14, Fritsche up 12, and Pelzer, St Peter and Van Velsen, all gaining an impressive 10 positions.
CONSTRUCTORS CHAMPIONSHIP
It seems there is one European Union that's working, and that's the one between three French drivers and an Italian constructor. Alfa Romeo now lead the Championship albeit by a slim three points, but a lead is a lead. Ligier, having lost the top spot to the series newcomers now sits second. Third is Williams taking equal top points with Chevron for the round. The latter moving up 9 places and sitting 6th on the table.  Fourth and Fifth are Renault and Interscope, the pair separated by just one point. Interscope had a great week with 3rd best points haul of the round. Lotus, Tyrrell, Penthouse Rizla, Shadow & Fittipaldi occupy places seven through eleven, and a mere four points covers the lot of them. Shadow and Fittipaldi actually tied for 10th on 111 points each, whilst Tyrrell on a charge moved up 5 places. Of the rest, the best performances came from McLaren and Brabham although they are still down in 18th and 19th places respectively.
AURORA SERIES
Hulbert continues to stretch his lead and remains unchallenged at the front. Second and third once again are Strang and Arnall for Penthouse Rizla. Strang still holding a slim margin over his team mate. Patriksson had another solid round but is fast being hauled in by Moreira, now just 50 points behind the Swede. Best of the number threes again was De Rooij, others to shine in Japan included Boscus (Alfa), Taylor (Renault) and Knoll (McLaren). The latter making a big difference and helping Pappenbrock and Hentschell deliver McLarens strongest showing so far this season.
DRIVER OF THE ROUND
Van Velsen/Surtees: A sensational first ever CTC win under pressure and 103 points, his best ever haul, gains Edward the 'Driver of the Round'. "I've won plenty of races before but somehow winning this race felt like something else entirely." Great stuff Edward.
NEXT WEEK
With a history that dates back to before WWII, Zandvoort is one of the classic Grand Prix venues on the CTC Championship calendar. Unlike Motegi it is also a drivers favourite and should see a much more active week of online racing for Round 6.
---
You may also like...
---