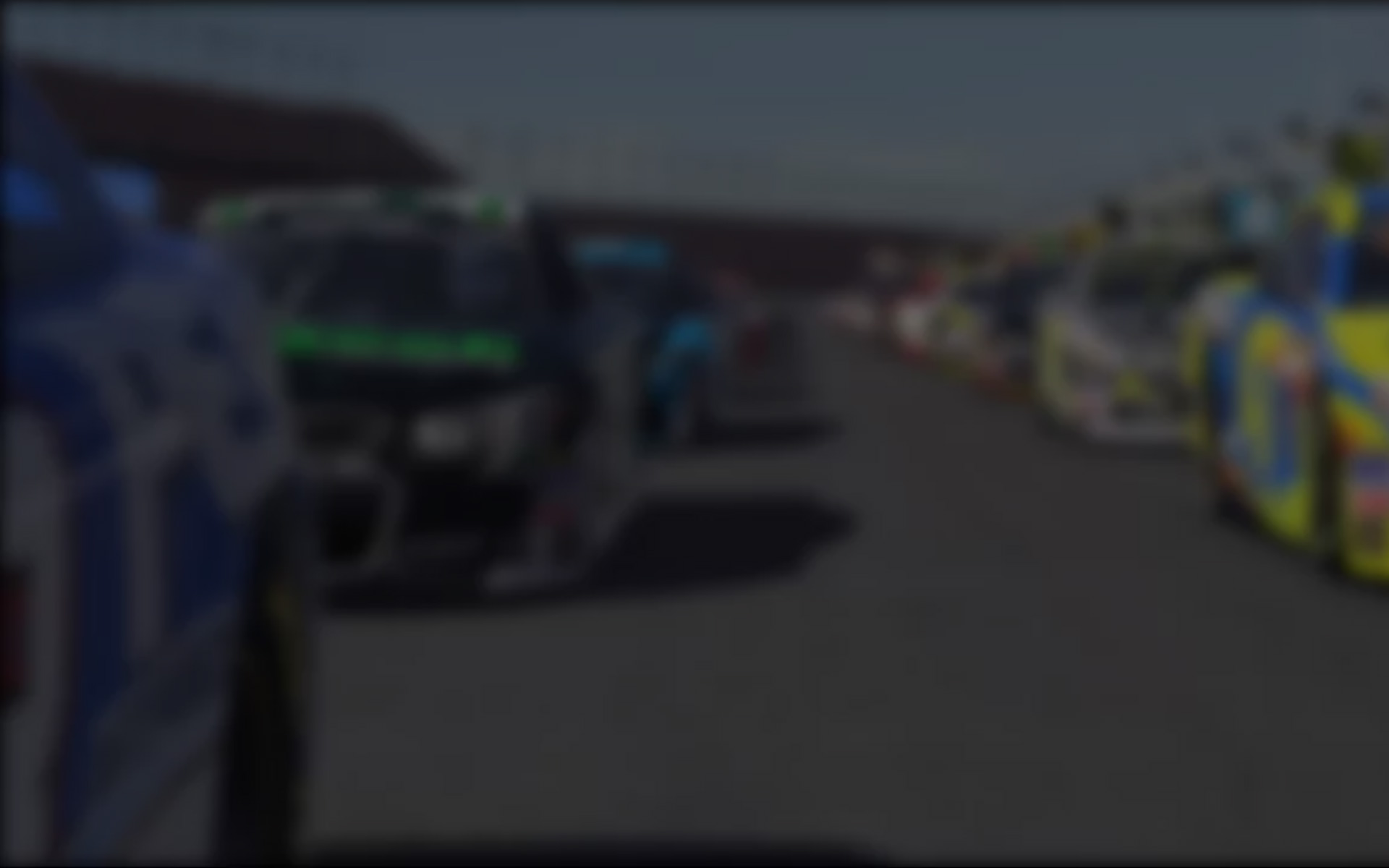 Talladega.  When it was included on the 2012 Season Three IZOD IndyCar Series schedule, the controversial choice was met with some drivers saying that they would not race that week at that facility.
This presented some non-regular top split participants the opportunity to race with the big guns.  However, in spite of those sitting-out the week, a large number of the usual suspects were in attendance.  In fact, all of the top ten finishers were series regulars.
Some sim-racers predicted gloom and doom, but the dreaded "big one" never happened.  Instead it appeared that the racers treaded lightly not wishing to sacrifice their iRatings.
In the first race of the week, Jeremy Poole had the honor of being the first pole winner at Talladega in an official Indy car race.  However, his evening would not end on a high note as he finished last of the 24 cars entered after he encountered difficulty on track early on.
The finish came down to a two man fight between Ryan Norton and Jonathan Goke.  Norton edged-out Goke for the win by a mere 0.005s after both traded the lead a half dozen times over the final six laps.  Norton won by utilizing the outside lane, a strategy he had planned on during testing.
"Most of those guys are racers at heart and put all of the other issues aside." — Ryan Norton
"During testing it became quite apparent that the high line is viable," he explained.  "It seemed like even with two cars on the bottom, the high line could still challenge for the lead at the line.  It was a lot fun being able to come to the front in the second lane; Randy Crossno made a huge charge up there at one point."
Asked if he was surprised to see so many of the regulars show-up at such a controversial date on the schedule, Norton responded "in the end most of those guys are racers at heart and put all of the other issues aside.  Admittedly it was great to see such a high strength of field though. I think it was the second highest SOF so far this season; it was a pretty tough race up front."
Top 10
1) Ryan Norton
2) Jonathan Goke
3) Terry Matthiensen
4) Randy Crossno
5) Erick Davis
6) Brad Sanford
7) Dave Judson
8) Brandon Traino
9) Rob Unglenieks
10) Michael DuTemple
Lap Leaders: Norton (36) Jeremy Poole (34) Goke (4)
Lead Changes: 8
Cautions: 1
Wednesday night's race had a lot of similarities to Monday's event.  There were few cautions and plenty of give-and-take racing, but the ending was straight out of the bizarre.  Goke, coincidently an Alabama resident, set the world record pole speed (as of this writing).
Brandon Traino held point for most of the race until he spun while taking the green on a re-start, forcing the other drivers to take evasive action.
Goke and Norton, who had been running second and third, were both given black flags for passing before the start/finish line.  Thus, Jon Porzuc moved from fourth to first without passing a car!
 "We're not inexperienced at this sort of thing." — Jon Porzuc
Porzuc maintained the lead during a frantic last few laps when the final caution of the night waved with four laps remaining, sealing his victory.
"It's not the way I wanted to win," commented the victorious Porzuc.  "I was racing just to stay in the hunt and keep out of harm's way while saving fuel."
Asked if he was surprised at how clean the racing has been, Porzuc said "I'm surprised but not very surprised.  We have raced in close quarters previously at places like Texas and Atlanta, so we're not inexperienced at this sort of thing."
Top 10
1) Jon Porzuc
2) James Avalos
3) Dave Judson
4) Brandon Traino
5) Chuck Eisenbarth
6) Todd Laribee
7) Al Nagy
8) Ian Plasch
9) Jarrett Bolyard
10) Jeff Yeager
Lap Leaders: Traino (45) Porzuc (26) Jonathan Goke (2) Yeager (1)
Lead Changes: 6
Cautions: 3
Notes: The biggest mover was Todd Laribee who started 18th and finished sixth.
Next week the series downsizes in track length with Iowa Speedway.  At .875 miles in length, Iowa is quite the opposite of Talladega.  No matter the size, for title contenders Judson, Traino, and Poole, it's crunch time as the season heads into its final weeks.
---
You may also like...
---