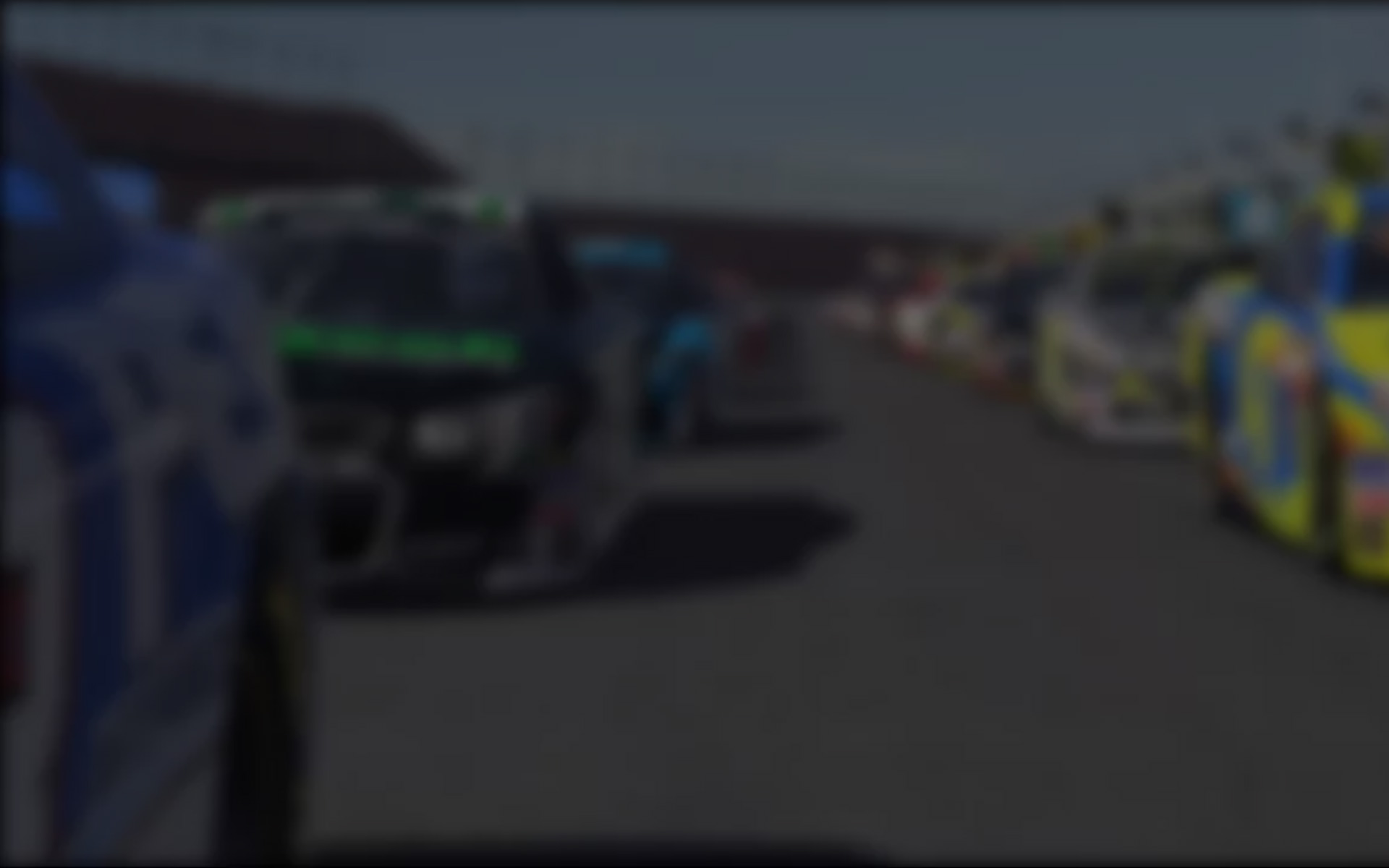 Danny Hannigan first encountered Justin Brown on the high banks of Daytona International Speedway last year.   Funny thing is, neither Hannigan nor Brown was in the Sunshine State, let alone at Daytona.   Rather, the two iRacers were practicing for an upcoming Chevy Silverado Championship race from their homes in Alabama and Georgia, hundreds of miles from where Bill France Boulevard intersects with West International Boulevard in Daytona.
As Hannigan tells the story, Brown's truck was all over the road, at least initially.   However, it wasn't long before Brown was the fastest driver in the session, prompting Danny to inquire if Justin had figured a way to remove the truck's (virtual) restrictor plate.
Brown's response — "What's the matter?  Haven't you ever had a man in a wheelchair outrun you?" – led Hannigan to inquire about Justin's circumstances.  He learned the 37 year old Brown has been paralyzed from the waist down with limited use of his hands since the age of 16, the result of injuries suffered as a passenger in an automobile accident.
Hannigan also learned that Brown is an avid iRacer.  He further learned that, in order to race online, Brown operated his steering wheel with his right hand, applying pressure to the wheel and essentially turning it with his shoulder.  Brown's pedal set-up rested on adjacent table, enabling him to work the brakes and throttle with his left hand.
Brown did amazingly well with this awkward set-up overcoming, among other things, the fact that he could not apply the brakes and throttle simultaneously.  When he and Hannigan met "at" Daytona, the Gadsden, Alabama resident had a Class C rating and had recently scored his first win in iRacing competition in a Silverado race at Michigan International Speedway.
Beyond his impressive accomplishments as an iRacer, what Hannigan found more remarkable was Brown's approach to a life some (perhaps many) would be hard-pressed to find worth living.
"I will admit that I felt sorry for him.  But this is not a man to feel sorry for," Hannigan says.  "To say the least, he is one of the most inspirational people I have ever met.  He has had a very special woman – Amanda — with him now for the past five years and she loves him more than life.  He is such a happy man who feels he has no handicap at all.
"He says it's all about how you look at things. You can sit around and do nothing or you can make the best of what you have . . . Once he tried to participate in a race driving school at Talladaga, but the school officials wouldn't let him do anything but ride.  Justin would love to drive a race car.  Believe me, if I had one he could drive it."
Hannigan doesn't have a race car for Brown to drive.  Recently, however, he did the next best thing . . .
"I started thinking about some of the tracks that would require the brake and the gas at the same time," said Hannigan.  "I didn't see any way he would be able to be competitive using one arm to control both the gas and the brake pedals.  As we talked more I asked him what he thought it would take to give him the ability to race on all the iRacing tracks competitively.  As he explained how he drives his van using a hand controller for the brakes and gas, I was thinking we could do the same thing using a hand controller on iRacing."
Initially, Hannigan built a mounting system that would have enabled Brown to attach a dual action throttle/brake lever (move up/down to steer, push in to apply the brakes).  However, he soon realized the forces applied to the throttle/brake lever while mounted to a standard issue computer desk moved the desk around like a flexible chassis.
He went back to the drawing board, building a custom-designed desk for Brown out of 2×12 pieces of lumber based on measurements supplied by Amanda.  The desk had to be high enough to accommodate the wheels on Brown's wheelchair and sturdy (read "heavy") enough not to move when the throttle/brake lever was applied.
"I'm not a carpenter," Hannigan says, "and I got a little carried away with the desk.  I was nearly finished with it when I thought 'What if he has to move it?'"
Hannigan solved the mobility issue by installing what amounts to retractable wheels at the corners of the desk, wheels that stow away when the desk is in position and yet which can be readily deployed if and when Brown needs to relocate.  As a final touch, Hannigan created an access panel on the front of the desk in case the throttle/brake mechanism ever needs repairs.
To top it off, Hannigan and his son Chris delivered the desk to Brown, driving round-trip from their home near Savannah to and from Gadsden.    Although the Hannigans had originally hoped to have Brown's iRacing desk in place in time for Christmas, some emergency repair work on Brown's home delayed the delivery by a week or two.
As might be imagined, Brown was enormously grateful for Hannigan's efforts.
"I couldn't thank Danny enough," Brown says.  "He's a very good-hearted person.  People just don't go out their way to do something this kind very often.  He's become a very good friend, and all thanks to the fact we met on iRacing."
As well, Brown has become an even better iRacer in the few weeks he's had his desk.
"Like anything new, it took a little while to get used to," he says.  "But it's made racing so much easier.  I guess it's kind of like the difference between a joy stick and a steering wheel and pedals set: It's as close to driving my (real) car as I can get.
"It's really made racing at Talladega and Daytona easier," Brown continues.  "In the draft at those places you have to work the throttle and the brake at the same time; now I can drag the brake.  But you have to be careful.  You don't want to hit the brake too hard or you'll eat the steering wheel . . . just like with my real car!"
The numbers back-up Brown's enthusiasm. He's won three more Silverado races and is on the cusp of moving up to a Class B license.  Can the iRacing Pro Series Oval be far away?
"I sure hope so," Brown says.  "That's my goal."
Thanks to his own determination, and a lot of help from the iRacer who befriended him "at" Daytona, it's a goal that's within reach.
---
You may also like...
---